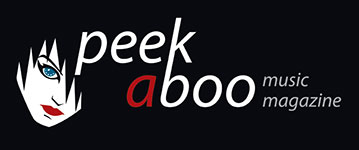 like this interview
---
ONMENS
Some of them are even shocked by our live performances.
14/09/2015, Didier BECU
---
On Saturday 28th of November both DAF and Absolute Body Control will be playing in Sint-Niklaas, and a band named Onmens (Dutch for Non-Human). Never heard their name before, but after some research on YouTube, I immediately heard they're fantastic. It is a weird mixture of EBM, harsh synthpop and other electronics, and (that's probably most important) it works! We had a chat with Sigfried Burroughs to reveal us some secrets about Onmens…
The first question is an obvious one. Who are you and how would you describe your music?
Onmens is an electronic dance outfit from Ghent, Belgium. Our unit consists of Sigfried Burroughs on vocals and Kasper Van Esbroeck on several guitars with tunings he invented himself. Programming is a brotherly process. Our music is a mixture of the different musical inputs we experience. I've been told we're quite aggressive… Our songs are like a fit of anger. But on the other hand we're creating a kind of dance music. Onmens is an electronic music group, blending EBM, industrial, big beat, power electronics, new beat, or whatever you'd like to call it. Just not the kind you're used to…
Up until now we've been using only hardware gear to compose our music. That means that there are no computers involved in the process of music-making. I have no idea how we initially started to work like that. It just happened. Working like that narrows the options we have. So we had to work our patterns carefully. Since we don't have the unlimited possibilities you have when using software. We're obliged to get the maximum of the sound out of a machine that confronts us with its limitations. It's challenging to work like that. On the other hand it has a big influence on our songs and sound. I sincerely hope this means that we're creating our own sound. I want to sound like myself.
Why should anyone listen to your music?
I can't force people to listen to us of course. We're a band that wants to be out there. The more people that discover, hear, listen and like our music, the better. But you're clearly fishing for a deeper meaning.
I guess … to experience something they might not want to share with the world. Because they might feel embarrassed about it. Once they've found that, they're not obliged to tell or share it with anyone. It's personal you know… Just celebrate the shit out of it. They should listen to our music to celebrate their own dirt. Find some inner peace. I'm not saying that we're able to deliver that on a plate. I experience our music on that level. Releasing my demons. Most people don't know me like that. They never expected me to behave that way. Some of them are even shocked by our live performances. Not that I think it's shocking. But it might be an advantage for anyone new to our music! Just kidding.
What inspires you and who or what influences your music?
Auch, that's not an easy one. Regarding art in general I'd like to get inspired by artists who put their heart and soul into their work. Regardless whatever art-form they're into. I like to be sucked into the honesty, ideas, emotion, ingenuity, perspectives… you can discover in someone else's work. Mankind also inspires me. How people act and react, how they behave, who they are, why we, what we, … this topic is a constant factor in our work. Man's inhumanity to man. This morning there was that front-page picture of Aylan Kurdi. What more is there to say …
Well, you're an EBM band. EBM from Belgium, it used to sound so logic, but now they're like a dying breed.
They're not dying. They're transforming. I'm glad to see that there are no exact copies of bands like Front 242, The Neon Judgement, A Split Second … These bands are heritage, they all created something unique but with similar influences. It used to sound like that. Today it needs to sound like now, if you get what I mean? We have to take stuff in our own hands. We're beat music. We want to make you dance. Onmens is loyal to the Belgian format in terms of using fat distorted synths, in using that typical European aggression. We're originating out of our former flourishing club scene. But we have to find our own voice, stand strong and keep kicking.
You recently played at the Kinky Star in Ghent. These guys really do a lot for the dark underground in Belgium, not?
Definitely. It's a down to earth place where you can attend shows frequently. On top of that they have Kinky Star Radio, which plays a lot of cool music. These past months they've been treating us as sons. Love them!
There is a lot of discussion about the format. Some consider physical albums on CD or vinyl quite useless in this digital age. What's your opinion?
I don't bother. If you like some band's music, you should get your hands on it. Misdracht is the first album we've put out and for some non-specific reasons it's exclusively released on CD… If I see a cool band, I'll buy their albums or shirts or whatever I can afford in whatever format without shitting about the latest fashion. I sincerely hope you'll do the same.
It is a simple question, but the answer always intrigues me, why did you decide to make music?
It's a way of losing reality. It's a way to face my worst self.
Musicians want to play, of course. Is it easy to get a gig these days or is it a struggle every time again?
We started out in March. We can't complain so far.
What is your future plan for the band? Where do you want to be as a band in a few years?
We're working on a new album at the moment. Next month we'll be playing Incubate in The Netherlands and early October we have an East Europe tour planned, so we're quite excited about that. In the future we'll try to stay as open as possible, I think that's healthy.
You soon will play with DAF. What can we expect? I guess it's a sort of dream as DAF was one of the inventors of the genre you play!
We'll be handling this show as any other show. Of course it's awesome to share the bill with such an influential band as D.A.F. They're pioneers. First of all as EBM act. On the other hand they made way for house, techno or whatever electronic music later on. We have common grounds. We make electronic dance music. We have that dark European background. But we both have our ways …
I can only have an enormous amount of respect for them and for their work. It's unbelievable that they decided to hit the clubs again. I guess we're not the only ones who are excited about experiencing D.A.F. live. This will be a once in a lifetime chance.
What's your favourite record of all time and please state why!
Sightings, Through The Panama, 2007.That's some freaking honest music! Love that band. I dream, I wish, I hope they'll reunite one day. Until that day, I'll be listening to this record with pleasure.
Let's end with a fun question. With whom wouldn't you mind to be alone with in an elevator for 8 hours and what would you then?
I'd absolutely hate it to be stuck in an elevator. If ever … I'd pick Kurt Cobain. I'd be very happy to spend some time with him, wouldn't you?
The final words are yours….
My brother's blood is sacred.
Didier BECU
14/09/2015
---
Wie op 28 november besloot om zijn zaterdagavond in De Casino van Sint-Niklaas door te brengen zal beslist nog wel eventjes met zijn vingers in de oren gaan, want de drie bands die op de affiche stonden zorgden elk op hun eigen manier voor de nodige dosis energie, kracht, geluid en vooral kwaliteit.
Voor Onmens was het beslist wat wennen, want de Gentse band van Sigfried Burroughs en Kasper Van Esbroeck stond geprogrammeerd met twee iconen (een die het beste uit de donkere Belgische scène vertegenwoordigt en een ander die zo waar de EBM uitvond). Geen nood, want de twee Gentenaars hadden geen seconde schrik om plat op hun bek te gaan, en dat deden ze ook niet, vanaf de eerste tot de laatste seconden vuurden zij hun explosieve salvo's zonder genade op het publiek af. Onmens haalt zijn inspiratie wel o.a. uit de EBM, maar doet daar compleet zijn eigen ding mee zodanig dat het uiteindelijke resultaat bitter weinig met EBM heeft te maken, behalve dat het je tevens wakker schudt. Muzikaal bevinden Sigfried en Kasper zich ergens tussen Vandal X en Atari Teenage Riot. Je ziel uitschreeuwen, een halfuur de demonen uit je loslaten en de toeschouwer verpletteren met lawaai. Neen, niet iedereen is gek op deze geluidscocktail, zoveel is waar, maar er zijn er minstens evenveel die dat wel zijn en die genoten van een oorverdovende show van twee kerels die zichzelf niet al te serieus nemen, maar meer moed en karakter hebben dan vele "wonderkinderen" die je tegenwoordig in de Belgische scène aantreft. Begin volgend jaar brengt het duo een nieuwe cd uit, en alweer een mogelijkheid op je opnieuw wat onmens te voelen…
Didier BECU
14/09/2015
---