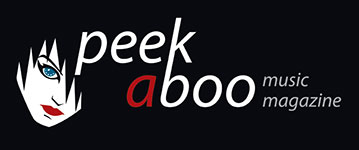 like this interview
---
TOLCHOCK
It´s important to express what you think is wrong in this screwed up society.
10/09/2015, Didier BECU
photos: © Peter Hamberg, Jan Olby, Joakim Ekström
---
"Just like The Spice Girls, if only those girls would have listened to Ministry or Revolting Cocks", that's how I described the music of the Swedish electropoprock band Tolchock. Elements Of Rage is indeed one of the finest albums in this genre, and so it's time for a chat, and no, Posh Spice wasn't there…
Who are Tolchock?
The core of Tolchock concist of Jens Persson (voice and lyrics) and Christer Lundmark (composing, programming) who writes and compose all the music. Michael Forslund adding guitars, and some synths… mostly to the liveshows. Jenny Runa is our latest member. She's been around since our cover album "Rewinded" (2009). Jenny's voice and appearance have an important impact to our new sound.
You are already around since 1989. That's quite a long time, so there's a lot to tell… What about the highlights?
I see Tolchock today as the third generation of Tolchock. Tolchock 3.0. First there was Tolchock 14, a rather underground constellation of me (Jens) and Christer. A duo with Cabaret Voltaire, Front 242 and Sisters of Mercy as our main influences. Then there was Tolchock (new bandname from 96) when we released our debut album "In the Name of Tolchock" (98) (Energy Rekords) and Michael our guitarist became a member. An album with influences in the spectre Prodigy to Nine inch Nails. Then we have Tolchock today when we have formed our new sound together with Jenny as a real and important member. One artistic highlight, and milestone was when Tolchock at a certain point (playing with S.P.O.C.K -95) shocked the audience and surprisingly changed from a "two man with synthesizers" experience to a brutal four man act covered in mud, smashing instruments, performing techno trash songs in a furious tempo. That was an important turning point.
There has been a sort of pause before recording your new album. Why?
Yeah… why? First of all we have done some other things. Like our side-project "7e Inseglet" (The Seventh seal) that transforms and interprets classic Swedish post punk songs to our own. I was also involved in a band called Electrolyx that mixed metal with songs from the eighties. Then it took a while for us to understand that we didn't need a record company to release an album these days. We produced and did all the work our selves and maybe we got stucked in the studio a little too long sometimes..
Elements Of Rage is a superb album I think. Of course you agree with that, but what can you tell us about?Thanks! Really nice to hear that you like it. We are overwhelmed with the fantastic reviews and reactions we got on the album. We were seriously quite insecure to how the album would be recived but we are very pleased with the result even though the songs are still too close to us. We´re kind of damaged by the mixing process. Our idea for this album was to follow up the political punk focus from "Wipe out, burn down, annihilate" album.. but to add some more hooks and melodies, and let the guitars tune in to the soundscape rather than stand out from it. It seems like we managed that quite well. ;-)
I recommended the album as "a Spice Girls-album, if only those girls would have listened to Ministry or Revolting Cocks" as I hear irresistible pop mixed with a KMFDM-style. Like that description or do you prefer never to talk to me again?
Ha ha!! Kind of heard that before, "catchy tunes in a doomsday outfit" was how COP International described us in the press release. We have no problems with that description. It's a challenge to mix our EBM and industrial roots with infectious melodies.
This is a question you can't answer I guess, but why is Sweden coming up with all these great electro bands?
I think there´s still a lot of fans of this subculture left in Sweden.Maybe because there was quite a big scene for this kind of music some years ago. At least in the southern parts of Sweden. We have always worked on our own up here in the north, but if you get stuck by the electro music, you will be infected for life. It's a chronical disease. Theres still some infected people wandering around here in Sweden.. that's why!
What inspires you and who or what influences your music?
Films, different sounds and the sick and twisted world we live in. There's so much to scream and yell about today. We´re also in love with all the new music technique, it's like an enormous playground for electroheads like us… When we started we did a whole album/cassette with only one synth and a drum-machine. With all the electronic toys of today we can almost drown in inspiration.
You come from the punk area. What does punk mean in 2015?
Yes! Punk is to not give a damm about rules and expectations and just do it, no matter what other people think, or if its hip or not. It´s also important to express what you think is wrong in this screwed up society. You can´t just dye your hair and wear the clothes and sing about hate.
What are the future plans for the band?
We´re always planning for a world tour, of course but.. some gigs in Europe would be ok too. Seriously...we´re quite fed up with the studio thing now and some live gigs would be very nice. Hey: fans and bookers out there, don't hesitate. We'll see what happens in the future..
What's your favourite record of all time and please state why!
It has to be the Spice Girls and Ministry.. Ha ha.. Seriously.. we have chosen Pretty Hate Machine by NIN.. Because it was so fantastic when it was released and we still listen to it and love the songs. The way Trent Reznor combines melodies with destruction, industrial sounds and a great voice (he´s really singing), is not so common in the harder synth, and industrial music genre.
Let's end with a fun question. With who wouldn't you mind to be alone with in an elevator for 8 hours and what would you then?
To avoid a nervous breakdow, I'm kind of claustrophobic, I think a shrink would be the best choice, or maybe a buddistic munk. The elevator repairman would be nice too.
The final words are yours….
Hope the world finally is ready for us now… cause we´re ready for the world. ;-)
Didier BECU
10/09/2015
---