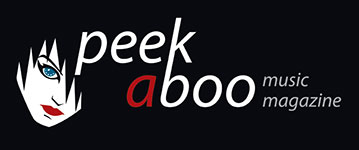 like this interview
---
DECODED FEEDBACK
Horror movies are great fun to write soundtracks for.
31/08/2015, Britta Tabrit
photos: © Marquis(pi)X
---
Britta: Thanks for taking some time out for answering a few question for Peek-A-Boo Magazine. Since I know your music from the late 1990s, I really appreciate doing this interview with you guys! So let's talk a little about your recent work:
You told me that you're releasing a new single soon. Tell our readers something about this!
Yone: We are releasing a single called "Waiting for the Storm" at the beginning of March, 2016. The single will contain the our new song "Waiting for the Storm", plus remixes of it by Leaether Strip, Velvet Acid Christ, Grendel, Chrysalide, etc… There will also be some exclusive songs that we collaborated on with other artists on this single.
There's also a full length album planned next year. Can you give away some basic information on this? What can your fans expect and is there a release date you can already tell?
Yone: We are releasing our full length album "Dark Passenger" at the end of March 2016 worldwide. There will be a physical CD, a digital version and a digital deluxe. The digital deluxe will contain some of the exclusive unreleased material as well.
Is there anything else planned? Other releases, videos etc?
Yone: Also, the official music video for the single will be released at the same time as the single. Rogelio Salinas, the filmmaker who made our last music video "Another Loss", is working on it right now.
You told me about some movie soundtrack. I'm dying to know more about that! Can you particularize what kind of movie it's going to be? The name maybe?
Yone: Rogelio Salinas is also working on his first feature film named after our song "Waiting for the Storm". The movie is related to the song, but has a fully developed story about a home invasion. They have finished shooting the movie and now are onto post production. We will be writing the soundtrack for this movie, and of course we will include our song "Waiting for the Storm" in the soundtrack. This is a very interested concept of combining releasing a single, a music video and a full length movie all of the same title and music. It's like cross promotion for all the elements. The movie will promote the album and the video, and vice versa.

Did you apply for this "soundtrack job" and in what way is it different to writing "ordinary" music for an album?
Yone: When we played the song for Rogelio and asked him to create a music video for it, he came up with this amazing idea to create a full length movie based on the same idea as the song. I don't know if that has ever been done before. So, we were naturally going to write the soundtrack too. It was the logical choice I guess 
I have done soundtrack work before. I wrote the soundtrack for a Canadian short horror film by Cindy Murdoch called "Red Men Walking". It was a 15 minute short film about communist zombies. A really cool horror film and quite funny too! I watched the footage and played along live to get a feeling for what I should write. The music came out quite naturally from me. Horror movies are great fun to write soundtracks for. I had a blast!!! I am really looking forward to doing the soundtrack for "Waiting for the Storm".
Soon you're heading for NCN Festival in Germany (your show is on Sunday, 06.09.). What are you looking for the most? Is there something German Festivals are famous for?
Yone: Yes, we are playing the NCN Festival in Deutzen, Germany on Sunday, Sept 6 from 13:40-14:20 on the Main Stage. We can't wait! It's the 10th year anniversary of NCN and our very first time playing it. We have heard many great things about NCN. They say it's a more intimate festival. Everyone has said great things about it. I am really looking forward to playing our very first Vintage Set in Germany. We will be playing everything from our first album Overdosing to Shockwave. I am also really excited to see Legend!!! I have heard amazing things about them. Can't wait to see and meet them! German festivals are amazing! They are so well organized, for the artists and the fans. We absolutely love playing German festivals. We hope to play many in 2016 to premiere our new album "Dark Passenger".
I guess, the next question is one of those asked most of the times. But I'm sure your fans want to know about your Tour plans: What kind of shows will be waiting for the audience, when and where?
Yone: We have so many things in the planning stages right now, but we are not allowed to announce anything until the contracts are signed. However, for the rest of 2015, we have a few really cool shows lined up. We will be playing a show in Italy (TBA) and possibly Madrid. That would be the first time we have ever played in Spain. We hope it gets confirmed soon. But the big news for touring in late 2015 is Mexico. We will be playing some shows with Front Line Assembly and Hocico in early November. We will play in Mexico City with FLA and Hocico, then Guadalajara with FLA. We are really excited about this  As for touring in 2016, we are planning extensive touring to promote the new single and full length album. Definitely we will do a European and North American tour following the release of the album. As for festivals, we have been in contact with a few festivals in Germany and we are right now negotiating the contacts, so we hope to make an announcement very soon. Also, we have some really exciting plans, but we can't post anything until it's 100% confirmed.
Thanks a lot for the interview and have fun on tour!
Britta Tabrit
31/08/2015
---