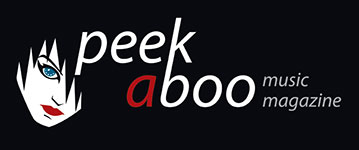 like this interview
---
SYSTEM OVERTHROW
We are team players.
23/08/2015, Wim GUILLEMYN
---
Peek-A-Boo is always interested in hearing and discovering new sounds. Wim had a chat with System Overhrow.
I was pleasantly surprised by your self-produced debut album. Was it a difficult process or rather easy?
Good preparation is half the battle, so is the recording of a cd. Of course, it was still partly a learning process because everything is self-produced. Ultimately we are pleased with the end result, and we also have an idea of ​​how the realization of the next album will be like, thanks to the experience we have gained now.
Was the experience with earlier groups helpful?
It was clearly helpful that the band members already have some experience. On the other hand it remains "fresh", because you have to work from the character of the band and the song: you can't rely blindly on your previous experiences.
You make rather classic metal. Agree? Was that a conscious choice or did it grow spontaneously?
We make music with a wink to old-school metal, and this is a conscious choice. The music comes first, and in this genre we find the highest "bliss".
How do you write a System Overthrow song? Can you explain that?
The songs originate mostly from strong riffs. With those we go to a deeper level to build up a good song. If the song stands, we write a text that fits the feel of the instrumentation.
Do you already have the possibility to test the new songs on stage?
On August 29th we will be in the Hertog Jan in Eisden for the first time with this line up to play the set. We look forward to go back on stage! Then we have a gig in Tilburg during the Incubate Festival on the 19th of September.
Will there be a performance in Belgium to promote the album? What can we expect live from you?
Right now, we are busy arranging shows. Live we want to bring a tight set and take the audience into a whirlwind.
What current bands do you like? And have the all-time bands influenced you?
The current bands we like are rather diverse as our members have different backgrounds. The all-time bands that have inspired our music include bands from the trash metal of the Bay Area, but also other regional groups, as well as heavy metal and speed metal bands.
Can you mention of each band member one or more qualities?
Important qualities to the members of System Overthrow are our musical performances and personality: we are team players.

I heard mostly positive reactions to your album.
So far we are very satisfied with the response we have received. Of course, tastes differ, but we have done our best to achieve the best possible result.
What do you want to achieve with your debut?
If there are new opportunities, like a tour or a contract with a record label, then of course we are interested. For now we are concentrating on the live version of the CD.
I suspect that sales are not an indicator these days, so when will you be satisfied ?
It is true that sales of CD's reveal nothing in 2015. We are satisfied with our work if the listener can appreciate our music and if we can go on stage and can prove ourselves as a live band.
Final words?
Currently, we are mainly concentrating on preparing live shows and we are busy arranging performances. We do plan to record a second album. To be continued!
Wim GUILLEMYN
23/08/2015
---
Omdat Peek-A-Boo altijd wil weten wat er zich in de underground afspeelt, besloot Wim om een gesprekje te hebben met System Overthrow.
Ik was aangenaam verrast door jullie debuut. Het is duidelijk dat jullie niet over één nacht ijs zijn gegaan, want alles klinkt uitstekend. Was het een moeilijk proces of juist gemakkelijk?
Een goede voorbereiding is het halve werk, dat geldt ook voor het opnemen van een cd. Uiteraard was het deels ook nog een leerproces omdat alles zelf geproduceerd is. Uiteindelijk zijn we tevreden over het eindresultaat, en hebben we ook al een idee van hoe de realisatie van het volgende album eruit zal zien, dankzij de ervaring die we nu hebben opgedaan.
De ervaring bij vroegere groepen zal ook wel geholpen hebben, vermoed ik?
Het spreekt voor zich dat het enerzijds helpt dat de bandleden al wat ervaring hebben. Anderzijds blijft het "nieuw" voor elk nummer dat opgenomen moet worden, omdat je vanuit het karakter van de band en het nummer moet werken: je kan je niet blindelings laten leiden door je vorige ervaringen.
Jullie maken eerder klassieke metal. Zijn jullie het daarmee eens? Was dat een bewuste keuze of is dat spontaan gegroeid?
Wij maken muziek met een vette knipoog naar old-school metal, en dat is een bewuste keuze. De muziek komt op de eerste plaats, en in dit genre vinden wij het hoogste "speelgenot."
Hoe ontstaan jullie nummers?
De nummers ontstaan veelal uit sterke riffs. Daarmee gaan we dan structureel aan het werk om een goede song op te bouwen. Als de song op poten staat, schrijven we daar een tekst over die bij het gevoel van de instrumentaria past.
Hebben jullie live de nieuwe nummers al kunnen uittesten?
Op 29 augustus zullen we in de Jan Hertog in Eisden voor de eerste keer met deze bezetting de set spelen. We kijken er ongelofelijk naar uit om weer op te treden! Daarna hebben we een optreden in Tilburg tijdens het Incubate Festival op 19 september.

Komen er ook optredens in België om de cd te promoten? Wat mogen we van jullie live erwachten?
Op dit moment zijn we volop bezig met het regelen van shows. Live willen we een strakke set neerzetten en het publiek meenemen in een wervelwind. Hou dus zeker de concertagenda in de gaten!
Welke huidige bands vinden jullie goed? Welke groepen waren een invloed?
De huidige bands die we goed vinden zijn nogal uiteenlopend aangezien al onze bandleden een verschillende achtergrond hebben. De all-time bands die onze muziek geïnspireerd hebben zijn bijvoorbeeld bands van de Bay Area thrash metal, maar ook andere regionale thrash groepen, alsook heavy metal en speed metal bands. Het is niet zo dat we er slechts enkele namen op kunnen plakken.
Als je van elk bandlid één of meerdere kwaliteiten moet opnoemen wat zouden die dan zijn?
Belangrijke kwaliteiten bij de leden van System Overthrow zijn de muzikale uitvoering en hun persoonlijkheid: we zijn teamplayers. Iedereen draagt op zijn/haar manier bij aan het team en dat gebeurt met een natuurlijke flair.
Ik hoor voornamelijk positieve reacties op jullie album. Jullie ook?
We zijn tot nu toe erg tevreden over de reacties die we hebben gekregen over het album. Smaken verschillen uiteraard, maar we hebben ons best gedaan om het zo goed mogelijk te realiseren.

Welke deuren hoop je met jullie debuut te openen?
Als er zich nieuwe kansen voordoen (bv. een tour of een contract bij een platenlabel) dankzij de release van ons debuut album, zijn we uiteraard bereid om daarop in te gaan. Voorlopig concentreren we ons op de live-uitvoering van de cd.

Ik vermoed dat de verkoop van een cd geen graadmeter meer is dezer dagen, wanneer ben je tevreden over jullie album?
Het klopt dat de verkoop van cd's geen graadmeter meer is anno 2015. We zijn tevreden over ons werk als de luisteraar onze muziek weet te waarderen en als we het podium kunnen opgaan en ons als live-band kunnen bewijzen.
Laatste woordjes?
Momenteel concentreren we ons vooral op het voorbereiden van live-shows en zijn we volop bezig met het regelen van optredens. We zijn wel van plan om een tweede album op te nemen. Wordt vervolgd!
Wim GUILLEMYN
23/08/2015
---