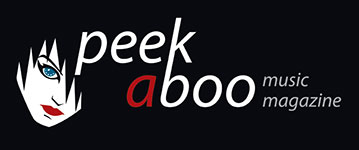 like this interview
---
TWENTY SIX TEARS
Be yourself, don't be a follower, and don't let other people do your thinking for you.
02/08/2015, Xavier KRUTH
---
Twenty Six Tears is the Brussels batcave pride. In 2008, they released the album 'Let's Split Up, It's Safer ', but they are above all a true live-experience. They will perform on September 11 at the twelfth edition of the Dark Entries Nights in Ghent. We pulled Batsy singer Reagan Batsy Kirkbride by her ear and subjected her to an interrogation.
There's not much information on 26 Tears on the internet. So tell us, when and how was the band created?
Floch (guitarist) and I (Reagan, singer) got to know each other through a mutual friend who played in Floch's band (K-Oz Office). I did a bit of backing vocals, violin and synths. Twenty Six Tears started around 2000. At the time it was just Floch and me. We started recording, just the two of u,s with the help of a cheap drum machine. Floch was playing guitar and bass. Later on, Dan joined the band for the purpose of performing live.

Your music should perhaps be categorised as 'batcave', but it also includes basic rock influences and even poppy electronics. Do you feel you have found your own style in the scene?
Certainly, I feel that we have our own style, with influences ranging from blues, rock, punk, post-punk, goth, etc. I don't like to limit myself to a particular style. All my influences are in there, creating an intricate landscape of sound. The result can best be described as batcave, but we don't limit ourselves to that. That's Twenty Six Tears in a nutshell.

Twenty Six Tears is mostly known as a live band. Perhaps your appearance is an important aspect of the show. What do you think?
My appearance doesn't change that much between live shows and everyday life. In life, I'm quite a reserved person (apart from my appearance), but on stage I can let go and show my true self, visually expressing my innermost feelings and demons, matching the lyrics and music of our songs.

I really loved the 'Cara pils' T-shirt your bass player wore on a recent concert in Brussels. Daniel was also a member of EBM-band Parade Ground in the Eighties, which had close ties with Front 242. Was he responsible for the electronic influences in your music?
That T-shirt was excellent! Yes, we have quite the sense of humour. No, Dan isn't much into electronics (he's more your typical bass, guitar, drums guy, raw post-punk if you will). He used to be a member of M.H.Z. (which later became Parade Ground), but at the time was still a basic non-electro band. I wanted to include more electronic elements, inspired by Alien Sex Fiend, Gary Numan, etc. I wanted a mix of electronics and guitars rather than EBM and other purely electro-style bands. As I mentioned before, I like to mix things up.

During the years, you grew from a guitar-bass-vocals trio to a band of five musicians, including live drums and keys. How did that evolve?
The original trio evolved into a more complete band, because we wanted to start replacing the backing tracks with the real thing.

Are you happy about the current sound?
Yes, the band is like a living organism, constantly evolving. We'll see what happens in the future.

The only CD this far - Let's Split Up, It's Safer - dates from 2008. How come nothing was released since?
Well, we've been wanting to bring out a second CD for ages, but we'd like it to be a professional production, not auto-produced. Lack of finances has hindered us, and the addition of actual drums makes things more difficult. Several offers of help from people have sadly fallen through because of the current economical crisis, so now we're back at square one.

You posted some demo's from 2014 on YouTube. Can we expect a new release anytime soon?
We've been in contact with a label, but things are moving way too slowly for our liking, so in the meantime we're producing our demos.

What does 'punk ethos' mean to you nowadays?
Be yourself, don't be a follower, and don't let other people do your thinking for you.
Any last words?
ALWAYS DRINK YOUR TEA BEFORE IT GETS COLD!
Twenty Six Tears will play at the twelft Dark Entries Night on September 11, at the Kinky Star (Vlasmarkt 9, Ghent). The first band will be The Mystress Of Jersey, playing covers from the early Sisters of Mercy.
Xavier KRUTH
02/08/2015
---