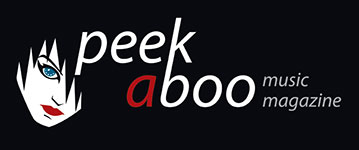 like this interview
---
MACHINISTA
Every time you create music you find new better tricks, so let´s hope we can push the sound even more for the future.
05/07/2015, Wim GUILLEMYN
---
After their debut album 'Xenoglossy' and the 'Arizona Lights' EP in 2014, the Swedish duo Machinista released its second full album 'Garmonbozia' through Analogue Trash Records. Electropop driven music with melody and empathic lyrics. So time for a little chat with John Lindquister and Richard Blomqvist.
First of all congratulation with your album 'Garmonbozia'. It sounds really uplifting with good meaningful lyrics. Which is not always the case in Electropop, EBM etc… What does the title mean?
Richard: 'Garmonbozia' is a word that David Lynch came up with for Twin Peaks. It means "Pain and sorrow". Both me and John are big fans of David Lynch and we wanted this second album to have a darker touch, so we thought that word would really fit. Our first album "Xenoglossy" also had an odd title, so we stuck to that idea.
I have the impression that the themes on this album are more personally or written from a visual point of view. For example 'Dark heart of me'. On 'Xenoglossy' there are more observations on the current society? Like 'Arizona Lights' for example. Agree?
John: Yes and no. 'The bombs' for example is about war and the horror of it. But overall that are reflections of the inside of me and my thoughts, but also stories I make up. One song can have 2-3 stories in it. I have thrown in some Twin peaks references here and there. Find them out, hehe...
The main difference to me, musically at least, is that the sound is more coherent and fuller then on your previous album. It sounds more mature.

Richard: Well yes, as a musician you always try to evolve so that´s great to hear! The first album was more like me and John started to work with Machinista and a search to find a direction. I think we had a more clear picture for making 'Garmonbozia': what kind of emotion and vibe the songs should have and so... Every time you create music, you find newand better tricks, so let´s hope we can push the sound even more in the future.
How's the balance between you both?
John: I write the lyrics at home and make changes during recording and Richard does the music at his place. Of course we give each other inputs along the way of the creating process.
Machinista produced and mixed 'Garmonbozia' itself. Is there a reason for it?

Richard: Well, as a musician it is attractive to control both the final mix and the mastering. Sometimes I have to jump between those steps a lot to get the whole sound picture right. Of course we have discussed to work with producers, etc. But so far we have done it all by ourselves. When we have a demo of a song I more or less hear how the final result should sound. Of course then, the finished song never sounds like the one I had in my head from the beginning, haha. I do enjoy to have control when I work with music, but you never know if we will work with others in the future.
'Bombs' features the guest vocals of Mårten Kellerman of Statemachine. Can you tell us something about that?
John: We wanted to have a guest or two and we really like Mårten's voice since way back.
How are the reactions so far on the album?
John: Top all the Way. It' s crazy really!

Richard: Our first album did receive a really great feedback and for 'Garmonbozia' it looks even better.
It´s easy to see that our name has grown if you look at Facebook, YouTube, etc. Every day we see people sharing our stuff and reflecting about 'Garmonbozia'! We are more than happy!
At the moment you perform mostly in Sweden and Germany. In which countries do you hope to get on stage also?
John: Everywhere!
What do want you to accomplish on stage with the performances? What can we expect live from Machinista?
Richard: It´s lovely if we can pass energy and a lot of motions to the audience. The goal is to please the people and see them go home with a smile on their face. We have done a video we enjoy to have along on stage. It´s like a theme for each song and this is a good effect that hopefully can add even more to the experience. From now on we also have a live guitarist with us all the time. This also adds a lot to the music! Live is the same as when we create music. We always try to evolve and find new things.

Do you have other aspects you want to share with readers, please do…
Richard: A big thank you to all our fans out there! It´s really nice to see people sharing links and discuss our songs, etc. Keep it up and in return we will continue to give you new music! See you out there!
Thanks for your time and good luck with the album and the band.
Richard/John: Thanks!
Wim GUILLEMYN
05/07/2015
---