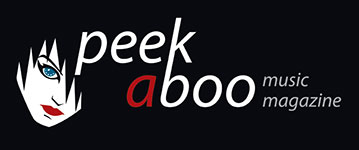 like this interview
---
LESCURE 13
I like to do something different than Suicide Commando sometimes.
14/05/2015, Benny CALUWE
---
After 15 years of silence, the cult project Lescure 13 returned on BIMfest 2013 with an energetic show. Soon they will mount the stage of Eurorock in Neerpelt. Johan Van Roy (aka Suicide Commando) will play in his backyard, that means fireworks for sure! We talked with him and his partner in crime, Stefan Bens, the force behind Stin Scatzor.
Did you eventually get your holiday for Eurorock, Stefan?
Stefan: Hahaha, it was a bit of a struggle, but in the end I got my holiday. But for Lescure13 it wasn't a problem as we play on Saturday.
Stefan is working as a truck driver. And I believe Johan is a warehouse worker. Do you live on the proceeds of Suicide Commando nowadays?
Johan: I work as a warehouse worker for Sharp Packaging Solutions, already for 20 years now. I work half time. I think I could live of Suicide Commando, but I prefer financial security because I have a family that depends on me.
Stefan: Truck driver is a big word. I do work full time as a professional driver, but I drive a van, a Sprinter.
I have seen the ressurection concert of Lescure 13 at BIMfest in 2013. What an interaction between you two! You must be confident for the things to come?
Stefan: Obviously, I have heard that more often. Of course we were curious how it would be playing together for the first time in 15 years. But it was fun! And I believe the crowd got a great time as well.
Johan: It wasn't like we didn't perform for many years. In the meanwhile I had tons of concerts with Suicide Commando and Stefan with Stin Scatzor, that helps. And off course we were looking forward to be on stage together after all those years. So now it's more than one year ago since we played together at BIM, so we will be hungry for sure.
Last year you did miss Familietreffen in Sandersleben due to Johan's knee injury. Are you completely recovered now? Will there be a second chance for Familietreffen?
Johan: Unfortunately, I'm still not fully recovered. Last weekend I had to end a Suicide Commando concert halfway the set because of my knee. I hope that with some extra rest for Eurorock my knee will hold. Familietreffen is already confirmed a while. So that's certainly on the programme (if my knee cooperates)...
Both your main projects evolved to a different style. Is Lescure 13 the ideal means to release old school EBM?
Johan: It never really was the purpose to make old school EBM and I believe that especially on our older tracks you can hear different influences, but after yet another new record with Suicide Commando (When Evil Speaks), I wanted to do something differently. I used simple EBM beats because I sometines work several weeks on a Suicide Commando track and I defintely wanted to avoid that. It had to be fun and relaxed. I believe we completed the Lescure13 album in only one month; what a difference with Suicide Commando.
Stefan: With Lescure13 the people more or less expected old school EBM. With Stin Scatzor you can hear those EBM influences too, but then differently...
Are you satisfied with the way Too Much... Motherf***ers was received?
Johan: Could be better. Although it got numberous good reactions, somehow this album got lost in the oversuply of releases. But that's not so important for us. Lescure13 is mostly for fun and it worked
When I'm not mistaking there were 4 new tracks on Too Much..., two of those were in German. Is that important for the German market?
Johan: It might help, but that was not the purpose. My wife is German, so for me it's easier to write in German sometimes. And I believe German goes well with old school EBM. The German language sounds kind of agressive, that fits perfectly with this musical direction.
Any plans for the future? Will there be a new L13 record?
Johan: Time will tell, I suppose, but when I find the time I will create some new tunes. I like to do something different than Suicide Commando sometimes.
Stefan: As in other projects time is the biggest issue.
Female Killer is my favourite L13 track. Will it be on the setlist for Eurorock?
Johan: It's a pity we only have 25 minutes on Eurorock. It will be for another time.
Stefan: Maybe on future gigs, those lyrics are still too far away in my head. It might happen one day, but not on Eurorock.
Any last words for the fans?
Johan: EBM is not dead! :-)
Stefan: Let's have some fun on Eurorock, for about 25 minutes!
Benny CALUWE
14/05/2015
---
Na een stilte van 15 jaar keerde het cultproject Lescure 13 terug met een energieke show op BIMfest 2013. Binnenkort staat het op Eurorock in Neerpelt. Johan Van Roy (aka Suicide Commando) speelt als het ware in zijn achtertuin en, dat zal vonken geven. We praatten met hem en zijn partner in crime, Stefen Bens, de drijvende kracht achter Stin Scatzor.
En Stefan? Is uw vakantie in orde gekomen voor Eurorock?
Stefan : Haha, ja, na veel vijven en zessen wel ja, maar voor Lescure 13 was dit geen probleem, vermits we op zaterdag spelen...
Stefan is dus vrachtwagenchauffeur en als ik me niet vergis was Johan vroeger magazijnier? Is dat nog steeds zo, Johan? Of leef je nu volledig van Suicide Commando?
Johan : Ja, ik werk nog steeds half time als magazijnier bij Sharp Packaging Solutions in Hamont, nu al 20 jaar. Ik zou wel kunnen leven van Suicide Commando, maar ik kies toch liever voor financiele zekerheid, zeker met een klein gezinnetje dat van mij afhankelijk is.
Stefan : Vrachtwagenchauffeur is een groot woord. Ik werk full-time als chauffeur bij een K.M.O., met het type Sprinter, geen truck dus ! :-)
Ik zag eind 2013 je reünieconcert op BIM fest. Wat een interactie tussen jullie beiden! Dat moet vertrouwen geven voor wat komen gaat …
Stefan : Blijkbaar, heb dat nog horen zeggen. Natuurlijk was het voor ons beiden afwachten wat het ging geven na bijna 15 jaar stilte. Maar het was wel fun, ja. En ik denk dat de mensen zich wel geamuseerd hebben toen...
Johan : Het is ook niet zo dat we allebei jaren hebben stilgelegen hé. Ikzelf heb ondertussen hopen optredens gedaan met Suicide Commando en Stefan met Stin Scatzor, dus dat helpt wel. Bovendien hadden we er beiden echt zin in om eindelijk nog eens samen op een podium te staan. Ondertussen is het ook alweer meer dan een jaar geleden dat we met Lescure 13 hebben opgetreden, dus de "goesting" zal er zeker weer zijn.
Vorig jaar hebben jullie onder meer Familientreffen gemist wegens Johan's knieblessure. En? Volledig hersteld nu? En komt er een 2e kans wat Familietreffen betreft?
Johan : Volledig hersteld ben ik helaas nog steeds niet, heb afgelopen weekend zelfs een optreden met Suicide Commando moeten staken halverwege de set wegens mijn knie. Ik hoop dus dat het met wat rust nog goed komt tegen Eurorock. Familientreffen is ondertussen al enige tijd bevestigd, dus dat staat zeker op het programma voor dit jaar (als de knie meewil)!
Jullie hoofdprojecten evolueerden naar een andere stijl. Is L13 het ideale vehikel om old school EBM uit te brengen?
Johan : Goh, ik denk dat het nooit echt onze bedoeling was om pure old school EBM te maken en ik denk dat vooral onze oudere nummers ook wel andere invloeden hadden, maar ik wilde na de zoveelste cd ("when evil speaks") van Suicide Commando eindelijk eens iets anders doen en dan zijn simpele EBM-beats het ideale middel om af te kicken. Bij Suicide Commando werk ik soms weken aan 1 nummer en dat wilde ik bij Lescure 13 absoluut vermijden. Voor mij moest het simpel en relaxed zijn. Ik denk dat we de hele Lescure 13-cd in goed 1 maand hebben afgewerkt, een groot contrast met Suicide Commando.
Stefan : Bij Lescure 13 verwachten de mensen ook wel min of meer wel old-school E.B.M., alhoewel ik de E.B.M.-invloeden wel kan terugvinden bij Stin Scatzor, maar dan anders... :-)
Ben je tevreden over de manier waarop Too Much … Motherfuckers ontvangen is?
Johan : Dat had beter gekund. Hoewel de reacties heel positief waren, is de cd een beetje verloren gegaan in het overaanbod van releases. Nu, voor ons was dat ook niet zo belangrijk, we doen Lescure 13 enkel voor de fun, en dat is goed gelukt.
Als ik me niet vergis stonden op Too Much … 4 nieuwe songs, waarvan 2 in het Duits. Is dit belangrijk voor de Duitse afzetmarkt?
Johan : Dat zal misschien wel helpen, maar was zeker niet de bedoeling. Mijn vrouw is Duitse, dus is het voor mij ondertussen ook makkelijker om af en toe teksten in het Duits te schrijven.
Bovendien denk ik dat Duitse teksten goed passen bij old school EBM. De Duitse taal heeft zo'n agressief kantje, wat natuurlijk goed past bij deze muziekrichting.
Wat zijn de toekomstplannen? Komt er nieuwe L13?
Johan : "Time will tell" zeker, maar als we de tijd vinden denk ik wel dat ik nog wat nieuwe deuntjes ga verzinnen. Ik vind het wel leuk om af en toe eens iets anders te doen buiten de lijnen van Suicide Commando.
Stefan : Net zoals bij onze andere projecten is "tijd" het grootste probleem...
Mijn favoriete L13 track is Female killer. Enige kans dat hij in de setlist voor Eurorock komt?
Johan : We hebben helaas maar 25 minuten op Eurorock, dus ik vrees dat het voor een ander keertje zal zijn.
Stefan : Misschien op toekomstige optredens, die teksten zitten nog te ver weg in mijn geheugen, maar ooit kan dat er wel eens van komen ja, maar niet op Eurorock...
Het laatste woord: nog een boodschap voor de fans?
Johan : EBM is not dead !
Stefan : Let's have some fun for about 25 minutes at Eurorock !
Benny CALUWE
14/05/2015
---