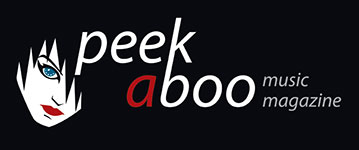 like this interview
---
HOCICO
A violent storm approaches the world - Hocico about the ongoing tour, the new single and their music in space
27/04/2015, Britta Tabrit
photos: © Pirkko667 (Britta Schmaglinski)
---
On April 17th I went to Arnhem, Netherlands, to see the Mexican masters of Hard-Electro "Hocico" in the club Willemeen, one of the stops during their "Violent Storm Tour" this spring.
Supporting act was the Dutch band "Benjamin's Plague". (Facebook: https://www.facebook.com/BenjaminsPlagueMusic?fref=ts; Review on Peek-A-Boo: http://www.peek-a-boo-magazine.be/en/reviews/benjamin-s-plague-a-band-to-discover-benjamin-s-plague/ )
The show started around 9.30 pm, the gig in the small club was well-attended. "Benjamin's Plague" really did a great job, I enjoyed their music a lot! Powerful and very danceable electronic beats, really a decent opening act for Hocico's tirades of hate that were about to come. Benjamin's Plague were on stage for approximately 45 minutes.
In the break between the two bands there was a DJ playing a set of Industrial–Techno tracks. Quite an entertaining relief compared to other boring idles you know from many concerts or festivals.
At around 11 pm Erk Aicrag and Racso Agroyam from Hocico entered the stage and filled the small venue with their unique sound-and-voice onslaught. Almost 1 ½ hours with classics such as "Forgotten Tears", "Dead Trust" "Poltergeist" or "Bite Me" and both new songs from the single "In the name of violence", that has been released in March. Two additional songs were played after the wild and colorfully mixed audience had firmly asked for more. Now the aftershow-party started. All together a fantastic evening in Arnhem!
I was lucky to do a short interview for Peek-A-Boo Magazine with Erk and Racso in the backstage area of Willemeen after the show.
It's good to see you here in Arnhem. How are you doing?
Erk: Well, I'm doing really, really fine at the moment. Everything is working well and I'm very happy! That's great!
So let's talk a bit. You are on the "Violent Storm Tour" at the moment promoting your new single "In the name of violence". You've been to Russia, England and did some gigs in Germany as well. Now that the tour is halfway over, what's your résumé so far?
Erk: Yes, we're more than halfway done now. So far, I think, it went really well. Playing the new songs is quite weird in some countries. Uhm, let's say it is like this: it seems that people don't really know how to take the new stuff and they don't know what to do when they hear it. That's weird. But the songs are new, they have been released a few weeks ago. But I think they like them, it takes some time. But for the most part of the shows it's going pretty well. It's been lots of fun, actually!
I saw that Hocico is playing in Mexico at the Force Metal Fest in Guadalajara in May with bands such as Judas Priest and Overkill. That's kind of strange, isn't it? I mean it's a Metal festival. Do you like Metal music?
Erk: Oh yeah, I like Metal music. I like that, I like that! Yes, it's actually a Metal festival. We were talking about this in the morning already. I mean, look, at the moment lots of people seem to complain about the line ups of festivals here in Europe. For example, in the UK we played at the Resistanz festival and people there were saying: '"We don't wanna do it anymore!" They say that there are no new, no fresh bands coming up. It's getting harder and harder to make the people go there and it's not easy to catch them with the renowned bands. So in some places, some countries, it seems as if the scene is dying somehow. But luckily for us it's going well because we manage to infect people from other scenes somehow, especially people from the Metal scene. I mean, you saw it tonight during the show. I truly love Metalheads! They are quite alive! And they want to move their asses, too. (laughs) It feels good to have Metal fans in the crowd as well. Also in Mexico I realized that they enjoy our music. And we don't use guitars and stuff at all. That's weird, you're right. I can't explain it. But it feels alright. At least now it seems to me that we're getting fresh fans from this scene. But sorry, honestly I can't explain this. (laughs)
Well, I also like this development! That's something positive I guess. So you've just published your new single. 2 new songs, 4 remixes. Tell us something about "In the name of violence". What's the meaning behind it?
Racso: Well, the song is about Mexico. About us. About all these wars in the world. Yeah, I don't know how to say it. But Hocico usually is about the darkness and about being human in this world. Today is a different world than let's say 30 years ago. There are more aggressive people, more every-day wars between cities and countries. This song is different. It's reflects just reality. Reality right now in this minute. Maybe Erk can explain the lyrics a bit more. (laughs)
Erk: Well yes. (laughs) He put it right actually. I don't want to add something to it.
Ok, well then tell me something about "Silent Crow", the second new song on the single.
Erk: Oh…. "Silent Crow" is about a surreal trip. It's kind of a monologue; talking to a crow. Kind of a dream. A very surreal picture. A picture of you talking to a crow that doesn't answer. Just a very surreal trip. Yeah, that's "Silent Crow".
Then there are the remixes… How do you chose who's going to remix one of your songs?
Erk: Oh, that are mostly people close to us. People we met during the last weeks or months. Well, for example, Hardwire from the US. They are good friends, we were touring together last year. It was much fun to travel with these guys. We really enjoyed that time. And it was very cool that they did the remix stuff…. Oh f***. Wait. Hardwire didn't do that! It wasn't them. Well sorry, actually this was for Rabia Sorda (laughs) I'm mixing up bands now. F*** , I guess I must stop doing two bands. (laughs)
Hahaha, Racso, can you please take over!
Racso: (laughs)…. Ok. Uhm yes. Well, let me think. Ok, my idea was to take other bands this time. Not the typical electro bands and it's really funny to see the different styles in our songs. And it worked well. Our friends from Colts, a Mexican band from the electro scene, did one remix. Than the great guys from Faderhead and of course, Xotox.
But there's another remix. You did one mix yourself (the "Sex-O-Sex Version by Hocico"). Whose idea was it to modify your own new song and how did it feel?
Erk: It's very funny to remix yourself, it allows you to see your song from another perspective and at times it feels like working with someone else's music. It was Racso's idea to make the remix a bit more "Hard Style", we put together some ideas and finished it.
Do you sometimes argue about lyrics and sound elements? And what do you do then? Finding a compromise or ban the song for ever and never talk about it again?
Erk: We argue all the time. Sometimes it happens that we don't talk about a song anymore and forget about it, but usually we talk about what's good and what's bad. We argue a lot. And I guess a good band has to argue. And we enjoy it. It's part of our job and we love that!
You're currently working on a new album. What's the actual stand?
Racso: We have many ideas. Many, many, many. Hundreds and hundreds of ideas. Too many maybe. So it's hard to decide which of those we can put on the next album. So sometimes it's rather complicated. But we don't have any limits though. For example, we composed a new song together some days ago here in Europe. Maybe tomorrow another one. Maybe in the car. Maybe somewhere else. It doesn't matter where. It's just there.
Erk: At the present time we're on tour at the weekends but during the week we work on the album. It seems as if it's going to be done real soon. I would say sometime in the fall of this year. And yes, it's working damn well at the moment.
Can't wait to hear it! Ok, something different now. Imagine one of your songs would be sent into space to find out if the ones out there are interested in dark electronic music. Which one would you chose and why?
Erk: Mmh…. I think I'd take "Forgotten Tears". It's actually the song that connects people the most. It's maybe our most popular song. Our biggest hit if you want to call it that way. It's about the kids living on the streets of Mexico City. And maybe about all the kids living on the streets somewhere. Even though this song is about a sad life, it has something positive, It makes people happy. It makes our fans happy. We have to play this song on every show. It's a must. So I guess I'd take this one, yes. Send "Forgotten Tears".
Erk, you told me on Christmas that you're writing music for a German movie. Back then you weren't allowed to tell more. Maybe now you are…?
Erk: Oh noooooo. I'm sorry! Well, I'm working with the director currently. He wants to hear my music. Maybe you can hear something from me soon. But I can't say more now. We have to wait. Ask me next time, ok? (laughs)
Alright, no problem. I won't forget about it! Racso, one question only for you. What about Dulce Liquido?
Racso: What about…? (laughs) I don't really care about Dulce Liquido at the moment. Well, people ask me this one question all the time. I don't have a plan, no fixed date. I'm working with Hocico a lot at the moment. This keeps me busy. Of course, I really love composing songs for Dulce Liquido and I have material for 4 CDs but at the end, Dulce Liquido is only me. Me alone. I have to do everything, vocals, music, everything. Maybe there'll be something next year but I don't know. People might say, that I told the same thing last year. Yes, because I really don't know.
It seems that after more than 20 years Hocico is still big in business. Can you imagine doing another interview with me in 2025?
Erk: Why not? No really, why not? (laughs) I think we'll still be around and I hope you'll still be around, too! There are no guarantees of course, but now I say: Yes, we'll be there to do an interview! What do you think, will you still be around here with us? Of course, of course I will! No doubt about it! (laughs)
So at the end just something apart from music: What are your wishes for the future?
Erk: Oh, puh. That's difficult. There are lots of wishes in my mind. But I want to keep it simple. I want to keep doing the things I love to do in my life. That's all I want, that's all!
Racso: Wishes… personal or professional?
Either one is fine!
Racso: Ok, well, I have many wishes but I can't name them now. I work on accomplishing them every day. And yeah, I have lots of energy to give to the people. Hocico takes all of my mind and I'd like to feed that animal. To do this is all I wish right now!
So thank you very much for your time guys! And thank you for a great show tonight! See you soon again at the Dark Munich Festival !
Hocico on Facebook: https://www.facebook.com/hocicoofficial?fref=ts
Homepage: www.hocico.com

Britta Tabrit
27/04/2015
---