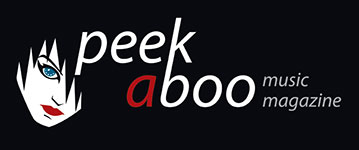 like this interview
---
THE PSYCHIC FORCE
We are still walking!
07/04/2015, Jurgen VANVLASSELAER
---
After 2 fantastic albums , released in the beginning of the 90s, it became very quiet around the German dark electro outfit The Psychic Force. In 2012 they decided it was time for a comeback,including gigs and a new album which will come out later this year. We thought it was the perfect timing for an interview.
Welcome Jörg. How did it all start back in the early 90s?
It all started 25 years ago in a record store in our hometown Bielefeld, called Gemini Records. Michelle was searching for a rare Swedish record of the band Asfalt (A Hell Of A Place) there, when he saw a guy with a gothic outfit and teased hair, carrying exactly that record. It was all a bit strange for him as he was just 15 and I was 7 years older. He asked me where I found it and we started talking. I told him I was going to a club called PC 69 in the weekend where they were playing gothic/wave/ebm, and he decided to go there too to listen to more of this music. Thanks to his fuzzy beard they let him in, aged 15. We talked further and I invited him to my studio at home where we jammed. I had already made a tape with Marc Ilsemann under the name Nuclear Error. After some time, Michelle decided to sing by himself and we founded the project The Psychic Force.
Who came up with the bandname and why did you choose The Psychic Force?
It was Michelle who came up with the name. He was interested in psychology and he wanted to express the power of the mind, which has the force to move mountains as we say here in Germany. This force sometimes can lead to real physical strength and also change the way an individual or even a whole generation lives. The Psychic Force stands for a vast amount of things including mental diseases. A lot of Michelle's lyrics are dealing with that matter.
The first album Mutilation came out in 1992 on KM-Musik. Can you remember what you felt when you were holding that baby for the first time?
Yes, it was a cold winter day and we drove to Gütersloh where we got the copies. It was a great feeling, even though we wished we had taken more time to improve the cover/booklet/backcover design. But still it felt great, it was a dream come true.
I always liked that label a lot. It was one of the most interesting German labels in the 90's. They released several great albums and bands. Lost Image, Paranoid, Tyske Ludder, The Psychic Force etc..
Yeah, Klaus and Michael from KM Musik were really really nice guys, who let all the artists their complete freedom and supported them as much as they could. This could not be taken for granted in those days and it lead to some very nice outputs that were ahead of their time and are still celebrated these days.
Mutilation was a very harsh album, pounding beats, distorted vocals. Traces, Your second album, released in 1994, was completely different. No more distortion on the vocals, more synthpop orientated. Why this change?
Not completely correct. Traces contains distorted vocals too. But it is correct, that it was more synthpop orientated. Maybe it was the psychic force in us. After all the rage had been screamed out it was also time to let the deeper and darker thoughts come to light. It was also at that time when a lot of bands changed their style. And we got new instruments and tried to get more melodies and harmonics out of them instead of hammering with the beat machines.
On Traces we find a very cool cover version of John Foxx's classic Underpass. A risky choice I have to say, because that track is close to perfection. But you did a great job – it became even a little dancefloor hit if I am correct.
Yes, thanks to Kai Hawaii and Gero Herrde at Synthetic Symphony with their compilation Scanning Vol. 1, on which Nuclear Error also appeared with a cover of Stratis' timeless classic Herzlos, Underpass was already a hit before our second CD came out. We had some nice concerts in Hannover, Leipzig and so on, thanks to Kai and Gero. And Ecki Stieg also played Underpass and other songs of us in his Grenzwellen on Radio FFN.
After Traces The Psychic Force went through a silent period. If I remember well there were plans for a third album, but that never saw the light. What happened?
At the time Michelle had to decide what to do with his life. I already had a fixed working place, but Michelle went to parties every weekend and dropped out of school too early. After some time he decided to attend evening school. He even began to study psychology at the University Of Bielefeld. But after studying 5 years he decided to go back to the roots and turn towards the music again. This time however as a DJ. We didn't have much spare time, so we met less and thus produced less music. Also KM Music was undergoing some changes at the time and all this lead to the project retreating into the background. I continued to make music under the name Network Access together with Christian "Hegge" Hagenau.
In the 90's you also performed twice in Belgium. I had the privilege to see both gigs. The first one was on a Side Line festival in Sint-Niklaas ('t Syndroom) with acts such as P.P?, Suicide Commando, Oomph! And Placebo Effect. What a fantastic line up if you look back at it now. The second gig was a few years later with your labelmates P.P.? in the same venue. What do you remember of these gigs?
From the first gig we remember the strange tasting food in a vegan restaurant. Oomph!, who ordered the food for everybody,l were very ahead of their time with their eating manners and whilst nowadays vegan food has become normal, it was a strange thing back in the early 90s. The unripe spelt grain soup really was nothing for us. The gig however was great and though Oomph! were in their own world a bit apart from all of us, we had a lot of fun with Johan of Suicide Commando and Mark and Stephen from PP?. Lots of smoke on the stage and raw power.
Jörg, next to The Psychic Force, you were also involved in projects such as Systemfehler, Nuclear Error and Network Access. I think you released a few tapes with all these projects. Are all these projects dead and buried.
The project Systemfehler was a noise project of me and Michelle. It was way more experimental and noisy than The Psychic Force. As Systemfehler we only released a tape and some contributions to compilations. Maybe we will have another noise project in the future. But unfortunately the name Systemfehler was taken by another band 20 years after we founded the project. It was for a movie called "Wenn Inge Tanzt" here in Germany. So we have to take another name if we want to release something in that direction again.
Nuclear Error was founded by Marc Ilsemann and me. Later Michelle joined Nuclear Error too. But an album was never released. And it is very unlikely that Marc will join us again for Nuclear Error.
Network Access really had a growing fanbase. Maybe Christian and I will meet again some day, who knows. But for the time being no further collaboration is planned.
A few years ago I was pleasantly surprised to read that you were going to reboot The Psychic Force. What was the trigger to start again? And is the line up the same as in the old days?
The lineup is the same as in the old days. But everything else has changed. While we were doing our music with an old Atari ST computer with Midi and a lot of outboard gear and an analog mixing desk, we are now producing the music more in the box in Michelle's studio in Herford. The attitude is still the same. But the sound will be a more modern mixture of oldschool and new school sounds.
In the meantime you made already a few remixes for bands such as Plastic Noise Experience, Hidden Place, [aesthetische], Edriver69, etc.
Yes, I made some nice connections with these bands and we were lucky enough that they all agreed to let us remix them. It was a lot of fun and it was our ticket back into the music business. Even though it is still more fun.
You also performed live again as well. How did it feel to be on stage again? Any more gigs in the pipeline?
At the moment we are planning some smaller gigs by the end of this year. But I think things will really start when we release our new material. Maybe there will even be a tour.
You were also working on a new album. What can we expect 20 years after your latest release Traces? Will it all be new tracks or will it contain also older tracks that were written just after the Traces period?
Indeed we are working on new material and there are some remixes of older songs as well. So we will unite the best of the oldschool and newschool material. Surely, the sound will be going more in the Traces direction. But we also will work with harder influences and sounds and maybe we will even do some tracks in the Mutilation style.
What are the future plans for The Psychic Force?
Well we can announce now that The Psychic Force has signed with Alfa Matrix Records. This is so exciting. We know Séba of Alfa Matrix for 20 years and we were so glad when he offered us the contract. So, great things are to come.
There will be a digital download EP first by May this year with two brand new tracks and a new version of Still Walking, as well as great remixes of some great artists. Later this year we hope to release our third album finally, over 20 years after Traces!
Final word?
We are still walking!
Thank you Jörg for the answers and we are really looking forward to that new album and let us hope we can welcome you in Belgium again for a new gig.
Jurgen VANVLASSELAER
07/04/2015
---