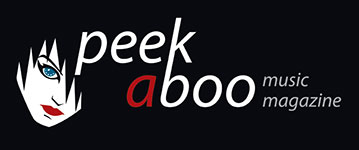 like this interview
---
GEOMETRIC VISION
We cannot prescind from modern sounds which, mixed with the old school atmospheres, create things really, really cool
21/03/2015, Pascal VERLOOVE
---
Geometric Vision is a trio from Naples and it doesn't like colors that much, which you feel when listening to their music, a subtle blend of eighties post-punk and modern dark-wave synths. They have just released their second album, and they will be playing for the first time in Belgium in May, the perfect moment to learn more about them.
Ago, Gennaro, Roberto, thank you so much for answering a couple of questions for Peek-a-boo magazine. It's a pleasure getting to know you better! Let's start with some "traditional" questions, so that those who don't know Geometric Vision yet get to know you. Unless I am wrong, Ago, you created the band on your own. When was that? And when did you realize you wanted to create a real band, and that Gennaro and Roberto joined you. Was this because you primarily wanted to add bass and guitar to your music?
Ago: I began my "career" as a musician in 2005, I played synth and used to sing in a very melancholic post-rock band. I left the band in 2007 and since then my attention was focused on the musical genre that now characterizes Geometric Vision and in 2008 I co-founded with a friend an EBM project. In 2011, I created the first experiments of less aggressive and darker beats, so I started composing these melodies in my room, in solitude. Then I proposed to Gennaro and Roberto to enrich the sound of the first songs I had composed, which were too "skinny", and I must say it was all worth it!
You are coming from Naples. With Ash Code and Hapax, you are the third band from Naples, playing excellent post-punk/dark-wave music. How could you explain such an "explosion" of talents coming from Naples?
Ago: I am very happy with the fostering that is currently happening in Naples. Besides being a musician for almost 10 years, I organize underground "goth" events, and I always dreamed that, in my town, this kind of music would grow up. As if our first record of 2013 had given rise to a real "new Neapolitan dark movement", and we hope that this wonderful thing continues over time (do not forget Dark Door, another good Neapolitan synth/electro wave band).
Roberto: Unfortunately our city is often wrongly associated with "negative" phenomena, ​​but maybe people have more this perception in Italy than abroad. With regard to music, Naples has a great tradition of classical baroque music and classic traditional songs. Perhaps the concept of "song" was even born in Naples, just think about O' Sole Mio [Neapolitan song written in 1898 – Ed.]. But today people believe that we listen and play mainly a new kind of "pop" music, so called neo-melodic, often associated with immoral behavior and mafia in the suburbs of the city. But it is not like that, because Naples continues to be a place of experimentation and fusion of various musical genres, just think about the 80's "Neapolitan Power" that mixed NuJazz, popular Neapolitan music and rock-blues. Or the deep link that the city had with the trip-hop scene of Bristol in the 90's, in particular with Massive Attack (Robert Del Nanja has Neapolitan origins). Regarding dark music, there was always a big movement, because Naples is a city with a very long history and a strong esoteric and obscure character (although it is often associated with the sun and the sea). For example, the city has one of the most interesting Neofolk scenes in Italy (with Argine, Corde Oblique, Ashram...), and today the new electro-wave projects like us, Hapax, Ash Code, Dark Door and Froe Char (a talented Neapolitan girl who now lives in Paris, where she also founded the minimal synth duo Illustration Sonore). There are also very good indie rock, dream-pop and shoegaze bands, sometimes even known abroad (Trees, Stella Diana, Candya, L'Inguine di Daphne, Blessed Child Opera, Starframes...). These musical genres often do not get the same attention as other kinds of music, the important thing is to exist, right?
Unless I am wrong, you and Hapax are quite close. You have been touring together, and Michele (Mozzillo) is also your sound engineer. Even though you are different, I feel a "link" between the two bands – do you feel it too?
GV: It is true, Michele, besides being the music producer of our two albums, and our sound engineer on several occasions, is a dear friend. So, the influence was certainly mutual, and we are really happy that our two bands, originating from the same geographical area, are now sharing gigs around Europe.
How would you describe your music? You have some roots in the post-punk of the eighties (The Cure, The Chameleons for instance) and you also have this very modern catchy synthetic side. Is this a mix that you are consciously trying to create?
Ago: Probably the post-punk of the 80's has totally fucked up our brains (hahaha), bands like the ones you mention are really fundamental for us, but I would add also The Sound, Sad Lovers And Giants, Fad Gadget, and a lot of the French cold-wave bands. Obviously, being in a band born in 2013, we cannot prescind from modern sounds which, in my opinion, mixed with the old school atmospheres, create really, really cool things.
Roberto: the three of us come from different musical backgrounds, but definitely the link is the music of the 80's, especially the post-punk, but also electropop and cold-wave. For instance, I was born listening to the Beatles, but I also love shoegaze, dream pop and lately I have started to follow new musical stuff such as chillwave, nu-gaze and bands like Ariel Pink's Haunted Graffiti. Gennaro instead started with metal, especially black metal, so the step towards darkwave was rather substancial.
Your second album, Virtual Analog Tears, is just being released. I have had the chance to listen to it and it marks an evolution from your first album Dream, that was released a bit more than a year ago. I think it is darker than your debut album, it has somehow "lost" a bit of the synthpop side of Dream - do you agree with that analysis?
GV: Virtual Analog Tears, which is our second work with Swiss Dark Nights label (and we take this opportunity to thank Valerio to still believe in us ;-), is definitely much darker and more mature than our previous album, because we learned more about ourselves and about the other members of the band. In fact I think that our musical nature came out more than in the first album. Maybe it is a more visceral work, more punk (in attitude) and perhaps less easy listening.

Virtual Analog Tears. Could you tell us what is the meaning of the title? Does it somehow refer to the sadness you feel with the world (of music) going all "digital"?
Ago: That is right!! Imagine a creature born from our frequencies, a human and non-human who cries to the sound of musical notes, analog, geometric and virtual. Sometimes it is as if the fears and joys and tears are so trivial, fake, and virtual.
Who did the drawing/the design of your album cover? What does it represent? Is this a kind of alien?
Ago: It is a precious gift from Elettra Cuivre, an artist who has an infinite ocean inside herself and where I personally got lost. In addition to the cover she drew 12 designs, each one drawn while listening to a song of the album... We wanted a minimalist work, totally handmade, we wanted to share all the awkwardness that characterizes our lives every day (hahaha).
What/who is the "Generation A" – one of the titles of your new album?
GV: The title stands for "Generation Anxiety", and represents the idea that we have of our generation, of our peers and of ourselves. Compared to our fathers, we live daily with the anxiety of an uncertain future and we don't know what we can expect, and this situation influences our attitude towards the people and the world.
You use just black & white for your album covers, your band logo, most of your band photos are in black & white too – are you angry with colors? Or is this just a way to align the visuals and the music?
Roberto: I worked on the graphics of the first album and I also created the logo of the band, and I think that I have represented well the mood of the whole band. In addition it recalls a certain type of post-industrial culture such as the Bauhaus, the Futurism, the Postmodernism; starting from the name we always wanted to evoke that sense of detachment and alienation from reality and towards human feelings, but despite everything, this aim is never accomplished completely. So the mechanism crashes, we go back down to earth to face our fears. Is it not true that black is the absence of color, while white contains them all? I believe that this vision of the world was also marvelously interpreted by Elettra for the artwork of our second album. Finally, I would add that we don't wear colorful clothes since 1999 or so...
You will play at the "Ceremony Festival" in May in Brussels – will it be your first concert in Belgium? What is the most rewarding thing for you when you are playing your music live?
GV: Yes, it will be our first concert there and we are very proud to play in a country which has contributed so much to the music that we love and play. The most rewarding thing for us is to see people into the crowd during the concert with closed eyes and the mind floating.
One last question: what makes Geometric Vision unique?
GV: Nothing, because we are a band that sounds like many other bands around the world who play music that they love with the right spirit. Everything, because we are a band that sounds like many other bands around the world who play music that they love with the right spirit. The previous question of black & white, remember?? :-)
Thanks so much and looking forward to see you at the Ceremony Festival in May!
GV: Thank you for this great interview, Belgium, we are coming and we cannot wait to be there!!!
Pascal VERLOOVE
21/03/2015
---