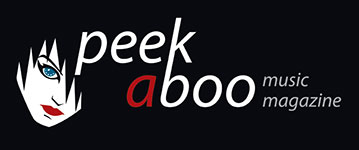 like this interview
---
THE SPECTORS
Song writing should be spontaneous.
10/03/2015, Didier BECU
photos: © Eva Vlonk
---
Love at first sight, it still exists. When I heard The Spectors, I knew that Belgium had another great band in its league, simply because these youngsters know what the essence of a good indie noise pop songs is like. They supported My Bloody Valentine (chosen by Mr. Shields himself) and now their debut album is out. Peek-A-Boo spoke with singer Marieke.
Hello Marieke, the first logic thing is that you introduce us to The Spectors. Who or what are you?
This is such a hard question to answer! We go soooooo deep. :-)
Of course everybody will refer to Phil Spector when hearing the band's name, but I was actually more thinking of gorgeous 60's pop like The Supremes or The Ronettes. So tell us, why that name?
When I first started writing songs for The Spectors in the summer of 2012, my ex-boyfriend suggested two names: The Heliospheres and The Spectors, I chose The Spectors because it sounds awesome and Phil has the same birthday as I have. Naturally, the girl group influences started showing in the lyrics and the vocal harmonies.
When listening to your CD, I thought it would be easy to describe your sound, but after a while I discovered so many layers in your music. There is that 60's feel, but there is shoegaze in it, there is a C86 touch (bands like The Primitives) and yet you have a contemporary sound!
Yes! It is funny how 4 decades of pop music can be compiled into an album, and we still sound like The Spectors. We definitely didn't do it on purpose. When I write songs, it just sort of happens, as soon as I feel that I need to force the process, I just quit writing the song and start something new. Song writing should be spontaneous.
Let us go back to the past, those early days. When I read your biography, I think: she dared doing things others don't. I mean, who sends his bathroom demos to PIAS?
The funny thing is, our publisher discovered our bathroom demo's on YouTube, and PIAS kind of followed, so we never begged them to sign us! :-)
Some will say that it has something to do with PIAS, but how did you get in touch and especially, how was it to work with someone like Chris Urbanowicz?
We got in touch with Chris through our publishing agent, you know the one I just talked about. And he mailed our demo's to Chris! Chris helped us with the first EP and later on we did the album. We had a great time working with him 'cause he knows his stuff and he also has a very sarcastic sense of humor!
There was also the support of My Bloody Valentine, who are indeed one of the most groundbreaking bands ever. How does it feel to be part of that universum, I mean they are part of musical history!
That was probably one of the coolest gigs we played. Kevin Shields picked us out of the list of support acts that the AB proposed. We felt very proud!
I must admit, I have heroes and I think idolism is a healthy thing. Am I right that you like heroes too? There is your band's name, but you also wrote a tune named Nico.
Yes, I'm into weird and interesting people. I very recently wrote a song about Bonnie and Clyde, the song is called 'Clyde and Bonnie'. So yes, I like icons, good ones and bad ones.
I want to ask you something about the structure of your songs. They are all catchy, short and kind of poppy. Is that a Spectors-rule?
Oh yeah! Just like the recipe of every Motown hit.
And now there is your debut. No need to ask you if you are proud of it, but do you think that this is your definite sound?
Nothing is definite.
We're an international magazine, so we are forced to ask if there is interest from abroad or not.
Definitely, we have a lot of American and Latin American fans on Facebook!
Let us end with two questions I always ask. What is your favourite album of all time and please state why.
It is so hard to choose one, there are so many. But maybe an album that inspired me is Light Stays Close. Back to Black by Amy Winehouse has the same kind of lovesongs and Amy is such a big example to me!
With whom wouldn't you mind to be alone in an elevator for 8 hours and what would you do then?
Being alone in an elevator for 8 hours, I would go nuts probably.
Didier BECU
10/03/2015
---