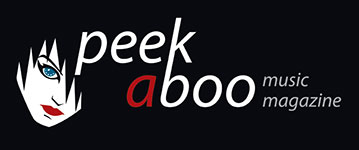 like this interview
---
AHRÁYEPH
In Belgium, music always seems to come second or even further down the list of priorities. But not with me. Music always came first and it still does.
28/02/2015, Jurgen VANVLASSELAER
photos: © Tanja Maes
---
7 years after their debut - Marooned On Samsara - Belgian gothrockers AHRAYEPH announced a few weeks ago that a new album will be released very soon. A little bit out of the blue I have to say, cause the band had its ups and downs the last few years. After we received this great news, we decided to have another chat with mister AHRAYEPH himself :
Welcome, Raf. Our last interview took place in november 2011. A lot has happened with AHRÁYEPH since then.
Thanks, Jürgen. Yes, yes it has. Lots of downs and a few ups, and here we are again.
After that interview, I saw you perform a few times live (Porta Nigra festival in Aarschot and in JH Coma in Bruges) and I always enjoyed it , but I remember you were never satisfied and very critical about the performances. It was like you barely enjoyed those gigs.
It is hard to put into words what it is like being a perfectionist. I am critical of every flaw in my own performances, even more than I am of those in others, even if those others won't see it that way, haha. I just can't give myself a break, I have to be as good as I can be, which causes a lot of stress in me and I become hypercritical. And that comes out right after the gig. I want 100%, every time; 90% is OK, but 80 isn't. So if Ahrayeph is not represented in the best possible way, I can't enjoy that. I have grown a bit milder over the years, but I can't help to keep striving for excellence, both in myself and in those who are playing with me. It is part of who I am, and it can become very stifling at times. I'm in a never abating struggle with myself on that front.
The other 2 band members, Xavier and Ness, have left the band in the meantime. Why?
Ness needed to make her private life a priority and stepped back, which was understandable, but a blow to me, personally as well as musically, because she was a real friend and a dependable and able musician. A professional too, even if this was her first experience being in a professional band. She will always be missed.

Xavier... He was never any of those things. Only in it for his own advancement and pleasures. And that wouldn't have been so bad in itself, had he put in the effort. But he didn't, and effectively sabotaged our gig at the 2012 Wave Gotik Treffen, which could have been a big break, but instead was just about the worst performance to date, because after two years in AHRÁYEPH, he apparently was unable to play any of his parts anymore at that gig. A strange time to develop stage fright, but then he always was the weakest link on stage, as well as during rehearsals, because he flat out refused to practice the songs by himself. He also repeatedly said he didn't want to be part of a band and hung that over my head several times to get his way, but when he didn't, one of his arguments to deride me was 'this isn't being run like a band', because, with him not wanting to be part of a band, I call all the shots. You can't complain about AHRÁYEPH not being a band, if you choose it not to be. Make up your mind. I tried everything to placate him, in order to get him to do what he was there for: I gave him credit when he wasn't due any in interviews, I tried involving him in the recording process for this album, tried constructive band talks after he fucked up another gig in order to motivate him positively... All to no avail. In the end, when he came around complaining again about something or other he felt entitled about, I made his mind up for him. Good riddance.
After that last gig in Bruges and the departure of Xavier and Ness it became very quiet around the band.
Well, all of this grief, keeping things afloat all on my own, or at least trying to, just wore me down to the point of a burn out. I mean : Xavier was not an exception. I have always been working with people whom I wouldn't call musicians, because their priorities always lay elsewhere. And because of that kind of mentality, they ended up hurting AHRÁYEPH. I have had people going back on their promises just to go skiing with their girlfriends in the summer, people passing up one shot opportunities because they didn't want to reschedule their holidays, and who laughed in my face when I wrote detailed e-mails to keep everyone informed, but when throw in my face, I'm a bad communicator and all of a sudden I'm tired of their shenanigans and fire their asses. It surprised me that a musician like Luc Van Acker has had the same kind of experiences too many times as well. I had a chat about that with him a few years ago, and I was baffled by some of the things he told me he has been through. So if anyone out there feels my words don't carry too much weight, Luc's certainly do, because he has been around the block more than a few times, and he has worked with people who do know how to do their jobs professionally, so he knows the difference. And of course, we are perceived as being 'difficult' to work with, when we only strive to represent the music in the best way possible and expect everyone who works with us to have that same attitude. In Belgium, music always seems to come second or even further down the list of priorities. But not with me. Music always came first and it still does. But years of that kind of adversity, along with all the other 'normal' obstacles that come with being a musician, especially in this country, plus some events in my personal life, had worn me down. That burn out had been brewing for a long time, years, even. But one day, after Ness had told me she needed to leave, I woke up being unable to accomplish anything and feeling, well, completely drained, completely wrung out. It is not a good sign if you wake up after a long sleep and feel like going right back to sleep, and have that feeling continue day after day after day. You hope for it to get better, but it doesn't. You basically become this sentient vegetable, unable to do anything but exist.

I didn't want to acknowledge the burn out and kept setting goals for myself in order not to let it beat me, but I was already beaten at that point. And so I just stopped. I quit everything. I even quit being social on any level, total withdrawal from the world. My health was not good, my mental state was not good and my doctor had already warned me several times over the years that I had one foot in the grave if I kept living the way I did, and I'm not exaggerating things, trust me. And it wasn't about alcohol or drugs, those days are long gone; it was about unhealthy living, an unhealthy mind in an unhealthy body. I put the demos for the next album online, and as far as I was concerned, that was it, until I could find a way out of that burn out. I just couldn't do anything anymore. I finally ended up getting help, which I had avoided for too long, changed to a healthier way of living, and here we are: mens sana in corpore sano.
I remember you also performed as a guest with a few other bands.
Just the one, actually. Last year in March, I played a festival in Berlin with my mates of NFD. I had gotten to know former Nefilim/Fields of the Nephilim bass player John Carter back in the days when Myspace was still all the rage. We shot messages back and forth for a few years, built up a mutual respect and we had gotten to the point where we both wanted to help the other out with our projects. So when he got asked to join NFD for this gig, and he heard James McIlroy (who is also one of Cradle Of Filth's guitar players) couldn't make the gig due to his severe neck problem and impending surgery, he suggested me to cover for James. Since Bob and Chris knew me from when we had been billed together at the first AHRÁYEPH gig here in Leuven back in 2007, they knew who I was, so Bob got in touch with me and I went to Berlin with them. It was funny for them having me stand in for James, as he also has Flemish roots.

I'm really grateful for John having suggested me, and for Bob, Chris and Luca taking me in and treating me very well. No complaints at all, except for the technical fuck up that marred the gig, but these things happen. I still keep in touch with them, and as you know, NFD released a great new album after several years of inactivity.
And then, a little bit out of the blue, you came with the great news that a new AHRÁYEPH album will be out very soon. Tell us all about it. When will it be released?
Well, by the end of last summer I got into a position which enabled me to finally record and release 'AnimAElegy', AHRÁYEPH's intended second album, properly. Over the years, I have had several people asking me when a new album would be coming out, but I never was in a position to do so. I did get offers from record labels, but the contracts they sent me were all so appalling in terms of having to relinquish control over my music, as well as having to pay for their costs in advance myself, which I couldn't anyway, so I declined all of them. I reasoned that if I had the money they asked me to put into those contracts, I could easily pay for the release myself, retain all control and still break even on it. So when that opportunity came along, after carefully weighing the pros and the cons, I felt I should do it. Not for myself, but for the fans who have been asking for a new release for a long time.

It will be a limited release, only 500 copies, because that is all I can afford, but it will be beautiful, both musically and in terms of packaging. I'm not leaving anything to chance. I have already previewed a version of the album artwork, which was nice and simple and which I loved. But then I kept on tinkering with that and ended up with something that looks even more awesome, but I won't preview it until the album is off to the factory. But it looks amazing. I'm looking at it right now, because I made it my laptop's desktop background. That is how much I love it.

It will also be an augmented release, as it will not only consist of the songs that were initially slated to be on the album, but will also have four previously unreleased songs, and as if that wasn't enough, there will be another song on offer as a free download for all those who pre-order the album. This album is all about getting your money's worth. I have also tied in an exclusive T-shirt offer, but the premise of that is that it will only get made if I get a minimum of 100 pre-orders for it. I guarantee that if that shirt will be made, it will be strictly limited to the people who pre-order the album and the shirt. Nobody else will be able to buy it.

I'm still in the thick of it right now, actually, recording and mixing stuff, working on the artwork. Alex Martin, who also drummed on John Carter's XII album, recorded drums for the album three weeks ago, but it takes a longer time than I expected to edit and mix all of that, as there were so many takes, and I have to choose the best bits. Also, I first said I wouldn't re-record the vocals, but a few exceptions aside, I decided to do that, too, because I still need to record vocals for the four unreleased songs and the free download anyway, and I feel I can do better on some of the songs that already have vocals. And I have been working on a promotional CGI video to promote the album as well, which is rather labour intensive. All of this takes a lot of time, which is why the deadline is extending a bit. Originally, I estimated 'AnimAElegy' to be out mid-March, early April, but that may now be mid-April, early May. So still not too much of an extension, I feel.
In 2011 you made a clip for White Square II , an old demo that you reworked, but never released. Will that track be on the new album as well?
Yes, it will. That track was, as you said, an old Crucifire demo, which all of the band loved at the time. So it just made all the sense in the world to do it justice. When the new version was released, a few months before the video, I first went to visit Crucifire's old guitar player, Peter, for the first time in many, many years, and he was very happy with it. And since I'm not going to do anything weird to it now, just re-record the guitar and bass parts, it will not change, just sound even better than the 2011 version that everyone knows.
That clip was made by Sandy Nijs from Hybryds. I remember there were vague plans to do something together. Did that ever happen?
Well, there was this song we collaborated on back in 2012, for which Sandy supplied the lyrics and I wrote the music for and sang on, called 'Walk With Me'. It was slated to be used in a short film we were both involved in, but it wasn't used in the end. It was my little homage to Phil Spector's Wall Of Sound production and the French Yé Yé scene of the 60's; you know: Gainsbourg & Bardot, Françoise Hardy, stuff like that. Mick Harvey and Anita Lane had done an album like that in the 90's, which inspired me a lot as well. So, I brought in my Finnish friend Anne Maarit Kahelin, who is an amazing singer, and we made it a duet. I still love that song, it turned out exactly how I envisioned it.
I have to confess a more intense collaboration with Sandy hasn't happened yet, because of my own stupid forgetfulness. Sandy asked me to come over and jam last summer, and we actually set a date, but in the weeks that followed, I got so immersed in my schedule, and forgot the date entirely. It was only a few days later that I realised I was supposed to go to Sandy's and jam, so I immediately got in touch with him and apologised profusely. I'm relieved to say he accepted my apology. I hope we will be able to do it after all eventually, because Sandy's a great guy and an inspired and inspiring musician.
Did you build a new band around you? Or is AHRÁYEPH just you these days.
It is kind of in between now. Alex is part of AHRÁYEPH, as far as I'm concerned, but there is nobody else at the moment. I did ask Simon Cardwell, who used to be in Rhombus and played with James Ray, to play on the album, but he backed out at the last minute, which I thought was weird, because he was really enthusiastic when I first asked him. And there was this bass player I asked, who wanted some time to think it over, as he had other responsibilities as well, and then never got back to me, which I guess also answers that question. Oh well... anyway, I'm all about finishing the album at the moment, so I'm not concerning myself with finding band members right now. The present focus is on 'AnimAElegy', and that is where it should be.
Are there already any plans to perform live again ?
Alex and I would love to take 'AnimAElegy' on the road, but, as you can discern from my previous explanation, the thing is finding band members to get a full line up status. You may think finding a bass player and lead guitar player shouldn't be too hard, but experience has taught me otherwise. We will see, but I hope we can get back to doing live gigs sooner rather than later, because I miss playing live.
Final word?
I would like to thank the AHRÁYEPH fans, without whom there would be no 'AnimAElegy'. Aside of the financial aspect, it is their perseverance that made this happen. And I hope you will all pre-order the album and the shirt, and help to make this album a real success. I know it is what every musician and band says about their new albums, but it really deserves to be heard. And you deserve to be seen in that shirt, too. Go to http://www.ahrayeph.be/goods.html and see for yourself. AnimAElegy is coming!
Thank you Raf, we are very looking forward to the new album and hopefully we can see AHRÁYEPH soon on stage again.
Jurgen VANVLASSELAER
28/02/2015
---