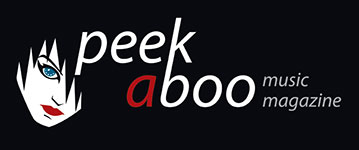 like this interview

---
LISA MORGENSTERN
If I could, I would marry my piano
01/03/2015, Wim GUILLEMYN
photos: © (2) Markus Werner ; (3) Miguel Murrieta ; (4) WieGlas
---
A few years ago, the young and talented Lisa Morgenstern opened for Henke during their German tour. Meanwhile, she released an album and several EPs, she has a devoted group of fans in Germany, and during live concerts, she is assisted by Benni Cellini on cello and Katharina Parczyk on violin, always resulting in an impressive event. The following Easter weekend she/they will be able to do this for the first time in Belgium. Time for an interview...
Hi, how would you describe the musician Lisa Morgenstern to someone who does not know you yet?
To describe my own music is more than difficult. I think that is a phenomenon that every musician is familiar with. All I can say is that I'm playing piano combined with strings and electronics. We are tumbling around somewhere between avant garde, neo-classical and a good portion of dark pop. My voice and my lyrics are mostly sad and it always creates a witches brew of intense and deep emotions.
You are at a festival where you obviously stand between different bands. How will you handle that? Do you adapt your set compared to a regular room gig?
I don't really like to play on festivals, because usually I can't get the right mood for my own music. But in this case it is something different: I can identify with the line up as a part of my personal past. Yes, I have to adapt our live show a little on some points, but not much more than every other band. And of course there are a few things that make it a really different situation – there are more people backstage and everything has to go much faster. But that is good, because I'm always struggling with moments when I have to sit and wait. I get more and more excited and go crazy and I have thoughts like: 'what could go wrong?' – and that is never helpful.
Is Lisa Morgenstern a real band or is it more a project of yours with support...?
That is a good question. Now we are three people on stage. Benni Cellini (violon/cello/e-Cello), Katharina Parczyk (violin, second voice) and I (piano, vocals, electronics). I love to try out things with other musicians while recording in the studio. But first I'm writing the songs and then I figure out who and what else is needed. In the end the head is still my own name 'Lisa Morgenstern' - but I feel like I would be nothing without my fabulous accompaniment and ever since I met them, I don't want to miss being a band on stage.
You have worked with Thomas Manegold to unite literature with music. Was it difficult? Was it for once?
Why should it be difficult? I think combining the different kinds of art is something really important. Music, paintings, dance, literature - everything – put it all together as much as possible! I have often combined music with literature and spoken lyrics. And I think there is nothing more natural than that. Words have a clear rhythm and colour, you can translate them into music very well. On the other hand I think that the transformation in the opposite direction - filtering words out of instrumental music - is more difficult, because it is the more abstract and a less concrete language which is needed to fill out all the space, where words sometimes miss to fill in expression.
Who or what are your main musical influences?
In terms of classical music maybe Debussy and Chopin. Susanne Sundfor is my strongest excuse to dare real pop songs. And I feel strongly related to Soap & Skin. But of course the list is much longer and complex, as I am addicted to finding new and different music, especially when you need more time to understand it. I love those moments when a song suddenly opens a door and you dive into another universe, which is perhaps more real, than what we are aware of in daily life.
Are there any bands on Black Easter where you are looking forward to?
I'm very excited to meet Rosa Crvx. I'm totally mad about their art since many years. I think they are completely unique and I love the unspoiled ritual mood they create.
Last year, you released the interesting Metamorphosis EP. Is there new work on the shelf?
On the shelf are... bills to be paid. But I don't care so much since I can say that composing has a higher priority. I had and still have problems with one hand and was not really able to play piano in the last months. But instead I found other instruments, like synthesizers and analogue modular systems. So I am still in a developing process. Well yes, I already feel that good kind of pressure to get new things ready. And fortunately my hand is better now and my main instrument and I are reunited. Honestly - If I could, I would marry my piano. But the better solution would be to bring out new music as fast as possible. For now nothing is clear enough to give a prediction.
To what extent can we recognize the person Lisa through your compositions?
I would say completely. Composing for me, is something like cleaning my soul. And that is a process that will never end, never mind if somebody is interested in listening to my music or not. So, there is enough material. I don't have to invent something new.
What is your favourite album or song of all time? Why So?
That question is awful. More precisely – it is pure torture. For sure one possible answer could be: the whole ballet music of Prokofiev, 'Romeo and Juliet' and also 'L'Oiseau de Feu' and ' Le Sacre du Printemps' by Stravinsky.
Which band or composer should people know for sure?
That is easy for now: Arvo Pärt, Amon Tobin, Scott Walker. But I'm sure tomorrow I would add somebody else to that list.
I am looking forward to see you on stage.
Wim GUILLEMYN
01/03/2015
---