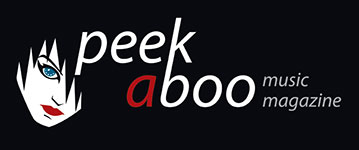 like this interview

---
PERVERTED BY LANGUAGE
Years ago, someone asked me what I wanted to achieve. I said I wanted to make an album that I would buy. And he said: 'You're mad.'
16/01/2015, Xavier KRUTH
---
An interview with Perverted by Language... It just had to be, for their debut CD 'Boxers' was one of the best releases of 2014 for me. I met them in their rehearsal space, in the rue de la Dyle in Brussels. I have walked past this bulding many times and I never suspected that there was a gigantic music centre hiding behind one of the doors, where dozens of groups can rehearse. I find out what the group all cooked up for the coming months. I can not tell you everything, but they will forgive me if I say that they will soon be making a video on one of the tracks, and that several major concerts are planned. The rest, they will have to tell you themselves...
You just released 'Boxers', your debut CD. You really had excellent reviews so far. Are you happy with the reactions?
Everyone: Yes! Very!
Jeremy (vocals): We're more surprised than happy. We were surprised that it turned out so well.
Ronan (guitar): We have been a bit shy to release it. At some point, we were asking: should we release it or not? Then we released it and we had very good reactions. We were quite surprised by it.
Jeremy: It was one of the reasons to go out the studio, to find out what we sounded like. When you are on stage, you're missing out a bit. You're focussing on what you're doing and you don't have an overall view of things. What are we actually supposed to sound like?
But you were very confident about the CD, no?
Ronan: No! Not rReally. We were shy to release it.
Guy (guitar): We were confident about the result for ourselves, though. We think these are brilliant songs. And the result was good. It took some time to get the mix right, but in the end we had a brilliant one. And you never know who is going to pick it up. And surprisingly, many people did…
So you met the expectations about the right mix. What were other expectations?
Francesco (drums): It was the first time that we could really listen to the songs in the way we imagined them. Practicing in the studio or playing live is one thing, you don't always have a good sound. We had the songs in mind, but we could never really listen to the songs in the way we imagined them. That was the best for me.
Elise (bass): Jeremy once said that we never tried to sound like anything, and I think this is something you can hear on the album. You ask about expectations... I think everybody had some kind of expectation. But still the result is surprising for us.
If we go back to the start of Perverted by Language in 2007 - not all of you were there - can you recall how the band came into being?
Jeremy: When I first met Ronan…
Ronan: He came to my place. And I saw that incredible guy, coming out of a Dickens book or something… (laughs) We started playing, and it was just obvious that we had to play together.
Jeremy: The initial idea was something quite Depeche Mode-like, and it just didn't work. It didn't happen. We started messing around with the guitars and we realised that we needed a drummer. It wasn't going anywhere, so we said 'fuck this, let's find a drummer'. The drummer came with another guitarist: Vasilis. The first night we played, with the four of us… there was something there… It was a noise, but it was just fantastic. And then Elise came in because… I'm not the best bass player, so I thought I'd better concentrate on singing. Well, everybody took part in the decision, really (laughs).
Elise: It was complicated doing both. That's the main reason.
Jeremy: And Elise is a much better bass player than I am. That was it, really. At a certain point Vasilis left, I've got no idea where he went. We put an advertisement in Humo (Flemish magazine), and two people replied. One of them was Guy. He replied with two sentences, and I knew that he would be the right person for the job (laughs).
It must have been in 2010, I guess…
Guy: Yes, it was probably in 2010.
Back to the CD. The songs were written over a period of 7 years, if you started in 2007. Was it easy to reconcile the songs that were written over such a long period of time?
Jeremy: Well, we tend to work slowly (laughs). That's just the way it goes.
Guy: Yes, but the songs evolved. When you listen to the early recordings of the songs and the actual registration on the album, you hear a change. They have matured in a way.
Just today, I listened to the Kinky Star record (2011) and to the new record, and you can hear an evolution in the songs…
Francesco: The good thing is, we are all coming from very different musical backgrounds. That was the case before with Vass and has that way remained with Guy. We all like different music. We have some things in common, but there is not one band that everybody likes. When people listen to the album, they find many influences, but they can't say: that's a band that sounds like… The mix works well. In those seven years, there was also a timing element, and it all worked well. That is why it looks like a mature album. Although it is just released, it took seven years to make. It is a mature album compared to other debuts. We recorded this demo five years ago, you remember? And there were two songs already on the CD The Box and… Elephantine, I think…
Jeremy: No, it was All of My Mother's Favorite Nightmares…
Francesco: Exactly, and these songs have also changed.
I was just going to ask a question about the first demo. You were not so happy with the sound of that record…
Francesco: No. I think we were not assertive enough at that time to say what we wanted. The problem is, when you are recording, either you find someone who thinks exactly like you, either you are able to say what you want. At that time we just followed the advise of the guy who recorded our music. We were not mature enough to say: 'we don't like this.'
Elise: One thing that is not so common in bands is that we work as a democracy, somehow. I experienced other bands where there was really one frontman, one leading person. We are different. (Turns towards Jeremy) I'm not talking about you… (laughs) Probably that slows down the process, but it's also what makes the sound so rich. That is what makes us who we are.
Jeremy: That is why we have held together for so long. Everyone is involved. Everyone is investing.
Ronan: The great thing about music is… at the end of a song we just look at each other… 'did you like it?', 'Did I play right?' I'm asking that all the time. I need a lot of feedback. I think everybody is doing the same. This is how we build things.
Jeremy: If it was a dictatorship, we wouldn't get the best out of people. We would have one person putting everything in, and it wouldn't be the collective effort that it is now.
In 2011, you staged the concert at the Kinky Star. I guess you liked the live intensity of that record more than the demo record…
Jeremy: It has more energy to it, yes.
Francesco: The demo was recorded properly: every instrument on it's own. We didn't have any live feeling. It wasn't us. That was the big change when we went to record the album. We knew we were going to record it live.
You did record the album live?
Jeremy: We recorded it in two days.
Ronan: And we had someone who could do it. We went to Studio Pyramide with Renaud Houben. He knows exactly what he does. When he puts a mic somewhere, you know that the mic is well placed; you don't have to move it. He might move it, but you should not. He just gets the best out in a very short time.
Francesco: We didn't want to record ten songs. We just started with four, and than we went on.
Ronan: We told him: we want a picture of the band. We are going to play songs. We don't know how many… We want a picture of the group, right now. This is how it is. And he did a great, great, great job.
Francesco: We were super happy with what he did. If we could do it again, we would. It was really what we wanted. We wanted a live feeling. He gave us advice and let us do what we wanted.
Ronan: Everything that guy said was right. Sometimes he is just mad, he is just crazy with the sound or whatever. He comes to the studio: 'it's not OK, you have to change this and this and this'. Sometimes we didn't listen to what he said. (turns to Guy) When your sound was a bit distorded… sometimes it was not right, we had to do another take for two songs. It was what we wanted since the very beginning. And the mixer was just brilliant. There was a lot of production work on the album. I liked the raw recordings, but they don't sound at all like what we hear on the CD. The name of that guy is Fred Hyatt, and I really want to mention this guy because he did a great job.
Guy: You know, we really went for the first mix, for that mix was the most raw. We asked a couple of guys to do the mastering, and then we went back to Fred because it was just what we wanted.
Francesco: The recording with Renaud, the mix with Fred… Then we did the mastering and we had three different versions. One of these was Fred's. So we went back to Fred for the mixing and the mastering.
Once you played - I think also in 2010 - with Chameleons. Jeremy, you organised that concert. (nods) I guess you consider them an important influence. I think about them when I hear you, because of the twin guitars - two guitars playing melodic parts. What do you think about it?
Francesco: I think we are a guitar-led band. This is one of the connotations of the band. We do like to be really taken by the guitars, and the guys here work well together. They are different guitar players, but they are both very good. It is the same with Chameleons, but also For Against is not very different in that respect. We've been so lucky to play with these great bands, and it would be great to do it again now, because I think we are more mature. If we get the possibility to play with Chameleons again, it would be great. Now we are more mature, we would enjoy the experience even more than then.
Ronan: Also with For Against if they come back. I love that band…
Just a question about one song. Amandine sticks out because Elise is singing it. I think the song is very good. I would like to know what you think of it?
Jeremy: I went to see Eden House at the Fantastique.Nights. They were absolutely fantastic. They had these two girls. Amandine Ferrari and Evi Vine. That is why the song is called Amandine. I came back and I basically wrote something, for them… That is why I can't sing it. It is not written for me at all. But the guys insisted that we would do it, and so I insisted that Elise would sing it, which she did…
Elise: Which I was honoured to do…
Francesco: Also, yes, it is the only song on which Elise sings at the moment, but we liked the idea of Jeremy doing the backing vocals. That makes the song special.
Something I recognise in several tracks is the build-up of the track. It starts with melodic guitars, and it ends with… yeah, a lot of guitars… (laughs)?
Ronan: (points at Francesco, the drummer) It is his fault! Because we follow him, and he likes to play a lot of cymbals. Then we have to put more guitar at the end…
Jeremy: Francesco really likes explosions in the sky.
Great, that's the secret! So I know the secret of Perverted by Language…
Francesco: It's true. What is nice is that the drums in Perverted by language are not technical at all. There is not much technique; it is more the expression of it. That is the cvase with all the instrument, but also with the drums. My added value to the band is this emotional level in the drums, that sometimes is represented by the cymbals, but also by the variation in the tones and everything. That is why the drums are really adding something to the emotional feeling of the whole thing.
Ronan: When Jeremy met Francesco, he phoned me and said: 'I have found the right drummer for the project!' I asked why. 'He plays the drums like an opera!' (laughs) And that is exactly what he does.
The cover of the CD is rather unconventional, I would say. I would like to know if there is a story behind the picture on the cover.
Francesco: That is up to Elise to tell, because she did all the artwork on the album.
Elise: I was responsible for the artwork. I found these pictures at the Place du Jeu de Balle (in the Marollen part of Brussels, xk). I have a collection of old pictures. I worked on them a lot when I was in art school. Perverted by Language was the perfect opportunity to put that in an object, somehow. I enjoyed doing it. What do you think?
I like it. It's surprising in a way…
Jeremy: It also has a very strong visual identity.
You recognise the picture right away. If you see it, you know that it's Perverted by Language.
Elise: I like pictures of kids. You have got that distance. In old photographs, most often, the people in the picture are dead. When you look at photograph nowadays, there is something quite fascinating about it. Using old pictures is something… 'anodin' (soothing).
Guy: I like the idea that it is an actual person. We don't know if he is alive or dead. It's a boy, yes…
Elise: It's about natural history…
Ronan: Someone could pop up and say: 'hey, that's me'. We just don't know…
Guy: There is a life. There is a history. He's a kid, he's got parents, he's got friends… There is a whole history hidden in that picture that we don't know about. It is estranging.
Francesco: All the pictures in the album are very peculiar, but at the same time very human. This is real life, from the main picture of the kid to the pictures of the dog, maybe with the cat. They are all very human.
Next Saturday is the launch party of the new CD, that is already out since I think four month, or three months….?
Ronan: Well… I think it was ready for one year or so… (laughs)
Guy: We work slowly…
Francesco: If we took one year to release the album, then five months for a release party is anice period (laughs).
I heard you also will be playing new stuff. So you wrote new songs since the release of the album, or since the two years that it is ready... (laughs) What can we expect?
Francesco: It is different in a way. Saturday will be first of all a gift for our fans and friends, people who have been waiting for a long time. It is a gift to them. There will be songs of the album of course, because it is the release of the album. But we also want to show where we are going. There is a change, but it is also a continuation.
Ronan: (points at Guy) I think most of the songs on the album have been written before you came. Guy is bringing a lot into the band. Guy is sending a lot of new stuff by e-mail. He has a very subtle way of playing songs that we used to play before. We are moving. He is bringing a lot of new things, and enthusiasm also.
These were my questions. Do you want to say something more?
Francesco: Apart from Saturday, what's important is that we now have many gigs scheduled. We have this gig now, and we play in Februari in Braine-Le-Comte. We will probably have gigs in March, April and May.
Jeremy: We potentially have some quite big things coming on, but not confirmed yet.
Francesco: We hope it will be a big year.
Guy: It is part of our DNA. We are really DIY. We are doing everything ourselves. We did the production - well, together with Fred - we craft the songs ourselves, we do our own booking, our own PR. We don't have a booking agent, we don't have a manager. I don't know if i is good or bad, but it is how we are.
Elise: Times like these allow us to do that, because ten or fifteen years ago, it would not have been so easy. You have social media and so. Now it is so easy to make a record or a demo by yourself. We try to surf on these opportunities, and we like that.
Guy: It is not easy. We want to play in the same venues where all the bands play that have a booking manager, promotion, etcetera…
Jeremy: And you need people to listen to it. Tha i's the hardest part of it all. The crap you hear on the radio… It is not going to change, because radio is getting more and more conservative, playing the things that they think people want to hear…
Playing the same twenty records over and over…
Francesco: That's one aspect that I like about this band. What you get is what we are and what we like. We are not making compromises. We know that many people don't like our music, and that is fine. We know that some people don't like the way Jeremy sings, or the way I play the drums, or the way we sound. But this is what we are, and we want to communicate that. It really is an expression of art. We are doing this as a way of expressing ourselves. Even at our level, in the Brussels scene, it is a big dilemma. You want to play music and make it listenable, to have more gigs and so. We have been pretty straightforward. We are not going to compromise on that. Which means that we don't have so many gigs, we are not played on the radio… It is also a concept of the way we play music.
Jeremy: Years ago, someone asked me what I wanted to achieve. I said I wanted to make an album that I could buy. And he said: 'You are mad.' And I said: 'You are a loser' (laughs). Well, I didn't tell him that to his face… but, I have done it. We have done it! I would buy this album.
I think that's a great conclusion. Thank you for the interview.
Everyone: Thank you!
Xavier KRUTH
16/01/2015
---