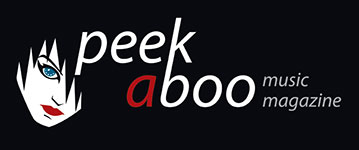 like this interview
---
COCKSURE
I would like to think people see the humour in what I write
15/12/2014, Benny CALUWE
---
One of the headliners of this year's BIMFest is of course Cocksure! Peek-A-Boo was glad to have them on the (virtual) couch!
I suppose you chose Cocksure as a reference to Revolting Cocks. The translation I found for Cocksure is completely sure or self-confident. But has Cocksure a positive or a negative connotation?
CHRIS: I suppose it depends if you like cocks or not!! No-we thought it was in keeping with the original spirit of the Revolting Cocks without leaning on it too hard.

When I first heard Klusterfuck Kultere (from your debut KKEP) I was surprised by the rapping vocals, which is quite uncommon in the electro-industrial scene over here. Did the rapping came natural with your music and why did you choose for this style?
CHRIS: I don't think it is unusual for MY brand of music, listen to the classic Revolting Cocks songs "beers steers and queers""crackin' up""stainless steel providers". I think it is a progression though, I personally listen to rap music and I love it a lot.

You both played in bands that are metal orientated (Ministry and Acumen Nation). On TVMALSV you sometimes hear guitars, but not prominent or dominant. Was there a need for change? Or is it to distinguish Cocksure from your other projects?
CHRIS: There just are no guitars really, just one song. Metal was introduced into industrial rock at some point, but it was not there before, there are very few guitars on "big sexy land", but -and Jason can talk more about the music -if they were needed, we would have had them, we did not write any rules.
JASON: The guitars on this track are a fun story actually… my band Czar was on tour with Killing Joke in the states in 2013 and every night I would listen to their guitar tech ring out Geordie's guitar during the sound check. Fans of Killing Joke will understand how magical this might have sounded every night! Anyway, the tech (Diamond Dave Simpson) happens to be a great guitar player himself and I fell in love with a melody he would play during the check, so we agreed to record it on the last night of the tour on my little Protools system. Out of nowhere he plays this new riff unexpectedly and it immediately set up the idea for the rest of the song. Fun fact: that's Geordie's famous Gibson on the track, recorded on stage at the Henry Fonda theatre in LA!

Talking about Ministry … a few months ago I read that Al Jourgensen went to rehab to deal with his alcohol problem. How is he doing now?
CHRIS: That's Al's business, generally if he has something to report, he'll organize some global press conference, so you'll find out.

When musicians are involved in several projects, I always wonder which project tye will be most focused on. Will the main focus be on Cocksure in the near future?
JASON: I think that's up in the air right now. The wind blows one way and bam, all your attention is needed on a project. But both Chris and I are fairly fast and furious with several projects, in fact I started a label 12 years ago on the advice of Martin Atkins just to get a fucking umbrella over all these bands! Chris has a new solo record coming out next year as well as my other project Czar, but I do see us getting to work on a new Cocksure album fairly soon!
CHRIS: I guess you focus on what is in front of you at the time, it can get very busy, but I like it that way.

You recently released the single TKO Mindfuck (with guest vocals from Front 242's Richard23) and the album TVMALSV. Could you explain where the abbreviations TKO and TVMALSV stand for?
JASON: Funny, I think we took for granted people would understand it in the states, but even here we have to explain it: TVMALSV is the darkest rating you can give television shows here, stands for "TV Mature Audience" and then adds a nice healthy dose of "language, sex and violence" to make sure you know what you are in for! And TKO is "total knock out", a boxing term. It was an honour and a pleasure to work with Richard on that track, we had written it a while ago and before Chris wrote anything I kept hearing that voice in my head, that iconic call to arms with ½ note delay of Richard's and he was kind enough to acquiesce!

The lyrical subjects are crime, (dealing) drugs, transvestites, …iIs it a goal to be disquieting and offensive? Or is it just the way society is today?
CHRIS: I don't find these subjects offensive at all, I LOVE transvestites!! I would like to think people see the humour in what I write. For the most part, my inspirations for Cocksure are humorous, as if it's the crime, sex & drugs you see portrayed in a Tarentino movie: look at it this way. When I am writing the lyrics, I go into character, this swaggering, cocksure (Scottish) moron who keeps trying to pull off these idiotic petty crimes and keeps fucking shit u wherever he goes….

How do you look back on 2014?
JASON: Well in terms of Cocksure, fucking A-plus. We put this idea together in June of 2013 and in 18 months now have written and released 17 tracks in total, including remixes, on 3 different labels, got to play with Front 242 and now in Belgium, with more wonderful stuff on the horizon. And with the current state of horrid affairs in American society and politics, there is a massive catalogue of targets to take aim at, and I for one, cannot wait!
CHRIS: Same here, it was inspiring to work on, in the truest sense of the word, I had a great year musically and I need to do more of the same.
Cocksure will play an excusive one-off European show at BIMFEST 2014 with Borghesia, Die Form, Agent Side Grinder, The Force Dimension and many more!
More info on www.bimfest.be
Benny CALUWE
15/12/2014
---