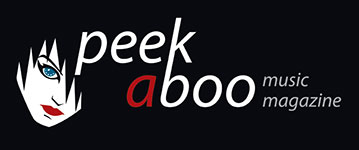 like this interview
---
BACIO DI TOSCA
Choosing a lyric often happens when I read old poetry and find a poem that deeply touches me.
02/12/2014, Xavier KRUTH
---
Bacio di Tosca released a new and excellent album called 'Was ich liebe (ist seltsam und krank)'. It's their fourth, and lovers of neoclassical music received it with a lot of attention. That may be surprising, because Bacio di Tosca is by no means easy listening. Both music and lyrics - most often coming from classical poetry - are very demanding. Dörthe Flemming and Joerg Knieschewski were friendly enough to answer our questions on their inspiration, their way of working and their ambitions.
Congratulations on your new cd 'Was ich liebe (ist seltsam und krank)'. We really love it. It looks like you get more and more success and recognition with each CD you produce. Do you share this point of view? And what could be the cause?
Dörthe: I really appreciate that you like the CD. Talking about success: Honestly - I'm afraid that my music will always be an insider's tip, but that's fine for me. It's simply that there are not many people out there who are interested in old poems and ambitious content. It's a pity, but the majority of people like more simple music: three chords, a drum line and some distorted vocal pieces seem to be sufficient … it's definitely not for me, but if this makes them happy – fine with me!
Poetry holds a very important place in your project. Almost all of your songs are set to poems of German romantic poets. How do you choose the texts you want to compose on?
Dörthe: From an artistic point of view, I am drawn especially to the Romantic era. Today I see certain parallels with the many people who are attracted by mysticism as an alternative to the realistic "digitalized" world. Choosing a poem often happens when I read old poetry and find a poem that deeply touches me, because it perfectly describes what I feel myself, or something I have already experienced by myself. This emotional relation is the criterion for me to write music on these lyrics.
The new CD contains a lot of innovations. For the first time, 'Was ich liebe' has lyrics of your own. What made you decide to write and use your poetry?
Dörthe: Originally, Bacio di Tosca is dedicated to the romantic art song (Kunstlied) where it's typical to use poems. In the past I have already written lyrics for my former band 'Charitona', so this was not new to me. But since a while I had the idea of an album in the style of "Chanson Noir", songs with my own lyrics. The two songs of the current album are like a test balloon. I'm very curious about the reactions to these songs... maybe there will be more of this type of songs in the future!
I especially like 'Bleib bei mir'. It was composed and performed by the pianist Rainer Bielfeldt. I also love 'Die Eichen', with live piano and cello. I think you should play with other musicians more often. What do you think of it? Do you have plans in that direction?
Dörthe: Since the very beginning, Bacio di Tosca is a music project where Joerg and I are the only constant. We both like to work with guest musicians and therefore this project is and always will be open for cooperation with other musician. In the case of the song 'Bleib bei mir', the collaboration with Rainer was not planned. I accidently met him on a poetry contest where he composed a song as a template. I wrote a text for his song and after it was finished, both of us found the result very appealing, so I decided to include it on the album. In this case I did the lyrics and someone else composed the music – a very new but good experience for me!
Other innovations are the relief-CD - on which you seem to have worked two years - and the shows at M'era Luna (instead of one big concert, you performed every hour at your stand on the market). You seem to always question the way things are done and permanently seek new ways of doing things. Would you agree with this description? What motivates you to do so?
Joerg: The motivation is always to try new things that no one did before! A good example is the Relief CD (patent-pending) that makes it possible to attach embellishments to the CD surface. Each CD comes decorated with a dark red sparkling Swarovski ™ stone that makes it really unique! Another example is our booth at the M'era Luna festival, where Dörthe performed several short live sets during the day as a "silent concert". The music could be listened to through headphones. This made it a touching experience as all disturbing noises were damped, as to give a perfect sound to everyone – we call it "democracy for the audience"!
I think the concept of the new CD was most daring. For two years, you made your own documentaries about literature and culture on Bacio di Tosca TV. Each movie was accompanied by a new composition related to the subject of the documentary. That must have been a lot of work?
Joerg: That's true! It's not just recording the track and video. We put lots of hours in the post processing and in the preparation! Sometimes, the way we managed all of this surprises me. I think it's pure dedication to this project!
And how do you feel about sharing these movies and compositions for free?
Dörthe: Only the first 100 downloads are for free – so you need to be quick to get a free download! As this limit is typically reached quickly, we decided to make a complete album with these songs. We had lots of requests! For this album, we spent a lot of time reworking the songs that where often recorded in a rush. We also got them professionally mastered. But this was not enough for us. We decided to add some specials like the club track and the Chansons. As a special gift to everyone who has donated at least 5 EUR to us on Bacio di Tosca TV, we sent them the album two weeks before the official released, free of charge!
How do you make a living? Are you a professional musician?
Dörthe: I graduated as a classical singer and worked for three years at the theater. The work at the Theater was very interesting but also not satisfying enough, as you cannot bring your own ideas to life. After my two kids were born, I decided to leave the Theater and start the Bacio di Tosca project. Honestly - it's very tough when you try to live from your profession.
Bacio di Tosca is a mix between a very intellectual mindset and a DIY attitude. Still, it seems to be quite successful for such a demanding art. What are your hopes for Bacio di Tosca? And for humanity?
Dörthe: 'intellectual mindset and DIY attitude' – love that! Sounds great to me! My hopes for Bacio di Tosca: it would be nice if we can continue in the same way and people enjoy what we are doing. My hopes for humanity: I still hope that mankind will learn from its mistakes and make the earth an enjoyable place for all of us and our children!
PS: At this very moment, a contest is running to make a video for the song 'Liebe' on the last album. Bacio di Tosca has recorded some film fragments, and you can make your own video with them. The winning video will be selected by the public at a screening of all the videos. Are you interested? Read the conditions on Bacio di Tosca's website.
Xavier KRUTH
02/12/2014
---