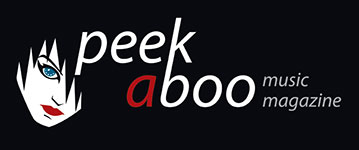 like this interview

---
SAIGON BLUE RAIN
Gothic with hints of color and light in a global dark universe
26/10/2014, Pascal VERLOOVE
---
Saigon Blue Rain are a French duo that was formed two years ago, but they have already released a five titles EP last year, and their first full length and brilliant album What I don't See a couple of weeks ago.
Their music is a subtle and very delicate mix of post-punk, cold wave, ethereal wave and dream-pop.
Yes, that is a lot of qualifiers but one word would definitely not be enough to describe the variety of atmospheres that one can find on What I don't See.
Some lucky folks have had the chance to see them recently playing their new album, at the latest "Fantastique Night" in Brussels, so we took this opportunity to ask Ophelia and Franck a couple of questions about all this.
Just a couple of months before you released your debut album, you have chosen to rename yourselves, from "Stupid Bitch Reject" to "Saigon Blue Rain".
You said that you felt this name change was necessary to better reflect the atmosphere of the music you are playing now – a statement I fully agree with.
Rather than explaining why you changed the name, could you tell us why you had opted for "Stupid Bitch Reject" in the first place, as this sounds very aggressive compared to the music you are playing now? Similarly, while you changed the name you kept the initials "SBR": do those three letters mean something special to you?
Ophelia: At the very beginning of the project, we were searching for a name for the band we wanted to create and we found that Stupid Bitch Reject sounded catchy and punk. Our musical influences are varied and before starting to compose the tracks of our EP, we didn't really know what musical direction to take, the first tracks we've even composed were more nervous but a few tracks later, we finally found our style and it became like an evidence that we had to change the band's name.
Franck: To us, the three letters SBR are like a magical combination that brought us luck from the beginning. We wanted to keep them for superstitious reason.
When a new band starts it's easier for everyone to compare them to existing ones, so one can easily spot you somewhere on the big "rock map". Some names frequently associated to you are: The Cure, Cocteau Twins, And Also the Trees or All About Eve. Some of them you actually acknowledged as being influential to you.
My personal feeling is that, amongst all those bands, All About Eve is the closest to you, because of Ophelia's voice probably, but also because of that "folk / dream pop" atmosphere that one can feel on many of your songs. Would you agree with this?
Ophelia: Actually, people often compare us to All About Eve and we're very flattered by this comparison because we like this band, but at the same time, we think that it's a bit simplistic to say that Saigon Blue Rain sounds like All About Eve or Cocteau Twins just because of the female vocals. These bands may be part of our conscious or unconscious influences, but we surely have our own identity.
Franck: I want to name also Crime and the City Solution and their Six Bells Chime, which opened for me the door do this whole post-punk scene when I saw them first in Wings Of Desire. It's the band that converted me.
One last question about your name and influences, I have read that you said that your name was a reference to cold wave bands inspired by Asia. Should I understand that you were referring to Japan?
SBR: Japan wasn't especially the band we were thinking of. It's more a general reference to this Asian exoticism that cross all the punk/post-punk movement in the lyrics, artworks, melodies or sonorities, like for example China Girl, Hong-Kong Garden, Japanese Whispers or even Indochine.
Your debut album shows such a high degree a maturity for a band that was created just two years ago.
I am very impressed by the quality of the compositions and the production. Is Saigon Blue Rain your first project or did you play in other bands before?
SBR: Saigon Blue Rain is our first serious project. What we did before doesn't really deserve to be mentioned.
Saigon Blue Rain seems to be a duo, but when you are on stage you look like a cohesive rock band of four people. Could you introduce us Gilles and Mathieu who are playing with you?
Gilles: I've spent the last decade touring around Europe, playing guitar in a ska-punk band. But my roots are definitely not Jamaica but cold-wave / post-punk because I've learned music playing Simon Gallup's bass line. That's why I've decided to finally come back to those roots and I answered a cold wave band announcement for bass player. Lucky me, it was not any post-punk band announcement, it was Stupid Bitch Reject announcement and I immediately loved the songs, their sound and their maturity. I think Ophelia and Franck have a real talent for composition and I'm very impressed by their job so far. So here I am: a finally happy old bass player!
Ophelia: Mathieu is our second guitarist, he's 26. Besides cold-wave, he also likes to play other styles: before SBR he used to play in the pop rock band Clare from Rennes. We consider that Gilles and Mathieu are full members of SBR, musical understanding has been perfect since we found them, they know how to bring energy on stage, and now we couldn't go without them anymore!
The cover of your album is a beautiful black and white picture showing an animal skull and more generally all the album imagery (i.e. the writing, the serious black & white pictures of you …) link you to the cold wave / gothic scene. Do you see yourselves as a gothic band?
SBR: Actually, we feel as gothic as The Cure and Depeche Mode can be, with hints of color and light in a global dark universe. We also feel close to Bat For Lashes, who is not really considered as gothic.
Marie-Line Pochet, who also directed our two videos for Inside my Asylum and L'Offrande, made all the artwork, she's a real artist, she's very sensitive, each time she works for us, the result is in perfect cohesion with our music and the feelings we wanted to express through our music. We can say that she's a bit our Anton Corbijn :)
On several tracks the guitar is predominant, while some others (What I Don't See, Break the Disease) have a more "electronic" structure. Could you tell us more about your creation process? Do you compose together? Is Franck composing more on the guitar and Ophelia on synthesizers?
SBR: We mainly compose together, we don't have a precise way to create nor precise roles, each one brings something as soon as an idea emerges.
Your band name, the album name and nearly all the titles are in English. Even on Corps Astral and L'Offrande, you sing in English, Ophelia. Do you feel more comfortable writing lyrics in English or do you think you may sing in French in the future?
Ophelia : Actually, I also write in French but as far as I'm concerned, I think that French is a beautiful language to be read, but not to be sang (except in the case of Alcest, a French band whose I'm a big fan of, who manage to do it). I've always preferred the smooth and melodious English sonority in songs, French is more nasal so I wouldn't feel comfortable if I decided to sing in my language. And in the case of L'Offrande, or Corps Astral, I thought that the titles just sounded better in French.
I picked up one word in each of the ten songs of the album: Die – Cold – Mortal – Frozen – Kills – Tears – Shadows – Faith – Wreck – Grave. OK, I admit, this was not exactly a random pick.
Is it you, Ophelia, who is writing the lyrics? Are you writing texts that fits with the music you compose or are those things that you really need to express?
Ophelia: Yes, I write all the lyrics. Sometimes, I already have ideas of subjects which cross my mind, even before the phase of composition, inspired by thoughts, feelings, books or movies, and I tell myself that it could be a good subject of writing. And sometimes, we compose the music, and the atmosphere which gets out of it inspires me some haunting images, colors or landscapes that I need to stick on the music.
A last one about the lyrics. In Break the Disease you finish the song with "Your Conformity is your weakness", being different is then a strength?
Ophelia: In Break the Disease, I question myself about the human behavior, some people only seem to exist to be the clone of their neighbor, they follow what society waits from them like a religion. They consider the marginal one as the stranger whereas they are the strangers lost in the mass.
When you played in Brussels recently, you shared the stage with another excellent French band, Soror Dolorosa. Which other active French bands do you listen to those days?
Franck: I think that beside Soror Dolorosa, the only French band we listen to is Alcest. Their last album is brilliant. We play it quite often.
I suppose you are not earning a living in music yet? Do you feel like sharing what you are doing when you are not Saigon Blue Rain?
SBR: Not yet but maybe someday, we knock on wood :)
Ophelia: When we are not Saigon Blue Rain, Franck is a sound engineer and I'm a make-up artist.
Your mainly focus at the moment is probably promoting and playing What I Don't See. Have you already started working on new material?
Franck: We are currently working on a cover of the track Goodbye Horses, due to be released at the end of the year on a Cold Insanity Music compilation. We'll start working on new material after that.
Thanks a lot for and we hope to see you again very soon!
Pascal VERLOOVE
26/10/2014
---