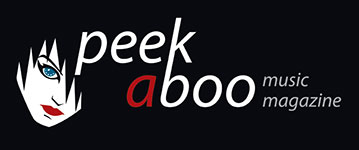 like this interview
---
SAIGON BLUE RAIN
We think that it's time to let new bands prove that they can bring a new breath to this ageing goth and dark wave scene.
23/03/2016, Didier BECU
photos: © Marquis(pi)X
---
Saigon Blue Rain from France is hailed by many dark wave fans as one of the bands to keep an eye on. Because they play at Black Easter 2016, but also because we love them, Peek-A-Boo spoke with Ophelia and Franck.
Hello. Can you introduce Saigon Blue Rain to our readers ?
Ophelia: Hello, so Franck and I (founding members of the band) like to say that Saigon Blue Rain is a gothic band with hints of color and light in a global dark universe. We started the project at the end of 2012 quite unexpectedly after we composed and wrote a song to the memory of my grandparents who died a few days before. We thought that it was a good cold wave/dream pop track, so we composed a few other things in the wake and that's how our first EP Stupid Bitch Reject was born. Later, our sound turned more ethereal, we've been more precise about what we wanted to create, then we released our first album What I Don't See at the end of 2014. We've done a few gigs to introduce our universe and promote our work. And now, here we are with our second album Noire Psyché, which will be out in a few days.
You started as Stupid Bitch Project. Why did you change the name? How did you come up with Saigon Blue Rain and has it any meaning?
Ophelia: At the very beginning of the project, we were searching a name for the band and we thought that Stupid Bitch Reject sounded catchy and punk. Our musical influences are varied and before starting to compose the tracks of our EP, we really didn't know what musical direction to take, the first tracks we composed were more nervous. But a few tracks later, we finally found our style and it was evident that we had to change the name of the band.
Franck: To us, the three letters SBR are like a magical combination that brought us luck from the beginning. We wanted to keep them for superstitious reasons.
Saigon Blue Rain is a French band. There are many good French bands around like Soror Dolorosa, that give the dark scene some new breath. How is the scene in France nowadays ?
Indeed, the French dark scene is rich nowadays with band that are unfortunately (we have to say it) underrated. Here in France, and particularly in Paris, most of the promoters of gothic nights don't care about new bands. Always the same old bands over and over again (however, we don't deny the quality), but we think that it's time to let new bands prove that they can bring a new breath to this ageing scene.
Maybe it's typical Belgian, but over here it's quite hard to attract a young audience for goth or dark wave music. How is the situation in France?
It's certainly not typical for Belgium. In France, we see the same phenomenon. However, the reasons are certainly different from country to country. In France, it brings us back to what we were talking about in the previous question. The dark scene is stuck in the past and there's no chance to attract a younger audience if those people that hold the reins don't allow younger people to be part of it.
Many people categorize you as dark wave (or sometimes even goth), but on our pages, a reporter suggested both Zola Jesus and Bat For Lashes. Can you see the link?
Well, we know Zola Jesus (we're listening to one of her songs right now to make the comparison). On the other hand, we know Bat For Lashes, we like a lot her music and she certainly is one of our many sources of inspiration. This reporter is not wrong in his analysis.
You played with bands like The Underground Youth. Has this opened doors for you outside France?
Yes, it was a great gig with a great band, but it didn't opened more doors than other gigs we did.
How were the reactions to your debut album What I Don't See?
Actually, we've been pleasantly surprised by the reactions of the audience. You know, as we are not signed to a label, we make everything ourselves from A to Z. What I Don't See (and it's also the case for Noire psyché) is recorded, mixed and mastered at home, we worked with our good friend Marie-Line Pochet on the artwork... All these stages constitute a huge work, so when people tell us that they like our album, that's the best reward we can dream about.
Soon a new album will be released (Noire Psyché). Can you tell us something about it and can it be compared with your first one?
Noire Psyché has been more intensive, it needed more work to make it what we wanted it to be. Musically and technically it is richer, so it was also more complicated to make it sound as we wanted. It's also more introspective and personal. What I Don't See was an ode to the immaterial, but Noire Psyché is kind of its opposite, an exposure of our feelings, of our souls and also of our bodies.
In the autumn you will tour with The Beauty Of Gemina. How did that happen? I guess Michael Sele loves your music?
Yes, The Beauty of Gemina is a band that we've listened to for at least 6 years, before the existence of SBR, so you can imagine that it's a bit like a dream coming true. We've been invited to play in London by promoter Stephen Kennedy from The Velvet Sheep who also works with Michael Sele. Following this amazing gig, we were proposed to support The Beauty Of Gemina on the Minor Sun-tour. It's gonna be a blast !
I read on your Facebook page that you started a crowdfunding project to collect the money for this support tour. At the moment of this interview, it seems like you are going to reach your goal….
Well, we knock on wood! Indeed, we've decided to launch this crowdfunding campaign to help us to cover the costs of this tour. This campaign is a necessity because everything will be paid by us and we won't get any support of any kind (label or tour promoter). In any case, We are very grateful to the people who helped us and supported so far. It's so precious to have such great fans/friends.
Apart from your music, you also give a lot of importance to visuals like video clips. But of course all these things cost money. Sometimes it seems like a hell, the costs are only rising, but no one buys CDs these days. How do you deal with such things?
We have the chance to have exceptional and very talented friends whom we've worked with on our video clips and on all the visual aspect of the band. Of course, It would have been financially impossible without them.
What's your favorite record of all time and please state why.
Ophelia : it's a very difficult choice, but my favorite album of all time is certainly Ecailles de Lune by Alcest. This is not a classic, it's quite recent, it's not a gothic album, but I've to say that it deeply overwhelms me each time I listen to it. The music, the atmosphere, the lyrics have something special and talk to my soul.
Franck : One of the most recent albums I've been listening to a lot is The Messenger by Johnny Marr, I love everything about it. It is certainly the best album I've heard for a long time, the melodies are really catchy. The kind of songs you can't get out of your head.
With whom wouldn't you mind to be alone in an elevator for 8 hours and what would you do then?
Ophelia : I wouldn't mind to be alone with Martin Gore and Dave Gahan in an elevator, actually, It would even be a dream. I would prove them that they need female vocals on their next Depeche Mode album.
You soon play at Black Easter. What can we expect of Saigon Blue Rain?
An invitation to the dream, that's what we want to offer the audience each time we are on stage. If people who come to listen to us have the feeling to drop out of reality, then they caught the meaning of our musical universe.
Are there any bands you want to see yourself?
We'll be particularly delighted to see Evi Vine and She Past Away.
Didier BECU
23/03/2016
---
Saigon Blue Rain komt uit Frankrijk en wordt door heel wat darkwavefans bejubeld. Omdat deze band op Black Easter 2016 speelt, maar natuurlijk ook omdat we van ze houden, sprak Peek-A-Boo met zanger Ophelia en Franck.
Hallo. Kan je Saigon Blue Rain aan onze lezers voorstellen?
Ophelia: Franck en ik zijn de oprichters van de band. Zelf zeggen we wel eens dat Saigon Blue Rain een gothicband is met een sluier van kleuren en licht in een donker universum. We zijn met het project begonnen eind 2012. Dat was geheel onverwacht. We schreven een lied ter nagedachtenis van mijn opa en oma die een paar dagen eerder waren overleden. We dachten dat het een leuke coldwave-/dreampoptrack was, dus hebben we een paar andere songs gecomponeerd en zo ontstond onze eerste ep Stupid Bitch Reject. Snel bleken onze composities meer etherisch te worden. We wisten ook echt wat we wilden creëren, vervolgens namen we ons eerste album op einde 2014. We heb een paar optredens gedaan om ons werk voor te stellen. En nu hebben we ons tweede album Noire Psyché uit.
Je begon als Stupid Bitch Project. Waarom ben je van naam veranderd? Hoe kwam je op de naam Saigon Blue Rain en heeft het een betekenis?
Ophelia: Aan het begin van het project waren we op zoek naar een naam voor de band en we dachten dat Stupid Bitch Reject punky en catchy klonk. Onze muzikale invloeden zijn gevarieerd en voordat we onze ep opnamen, wisten we echt niet welke muzikale richting te nemen, de eerste nummers waren eerder wat nerveus samengesteld. Maar een paar nummers later, vonden we eindelijk onze stijl en als bewijs daarvan, wilden we de naam van de band veranderen.
Franck: Voor ons waren de drie letters SBR als een magische combinatie die ons vanaf het begin geluk bracht. We wilden die om bijgelovige redenen behouden.
Saigon Blue Rain is een Franse band. Er zijn tegenwoordig veel goede Franse bands zoals Soror Dolorosa, die de donkere scène nieuwe adem geven. Hoe is de scène tegenwoordig in Frankrijk?
Inderdaad, de Franse donkere scene doet het tegenwoordig zeer goed, helaas zijn alle bands zwaar onderschat. Hier in Frankrijk, en dan vooral in Parijs, geven de meeste concertorganisatoren van gothevents geen moer om nieuwe bands. Het zijn altijd dezelfde oude bands die terugkeren (waarmee we hun kwaliteit niet willen ontkennen), maar we denken dat het tijd is om de nieuwe bands te laten bewijzen dat ze voor een nieuwe adem in deze verouderde scène kunnen zorgen.

Misschien is het typisch Belgisch, maar hier is het heel moeilijk om een ​​jong publiek voor de gothic of dark wave aan te trekken. Hoe is dat in Frankrijk?
Het is zeker niet typisch iets Belgisch, hoor. In Frankrijk merken we hetzelfde verschijnsel. De redenen verschillen echter van land tot land. Wat Frankrijk betreft moeten we naar de vorige vraag teruggaan. De donkere scène zit vast in het verleden en er is geen kans om een ​​jonger publiek aan te trekken. De mensen die de teugels in handen hebben willen gewoon niet dat jongere mensen een ​​deel van het publiek worden.
Veel mensen categoriseren jullie als dark wave (of soms zelfs gothic) , maar op onze pagina's verwees één van onze journalisten naar zowel Zola Jesus als Bat For Lashes toen hij jullie cd besprak. Kun je deze link zelf zien?
Nou, we kennen alleen Zola Jesus van naam (we luisteren er nu naar om de vergelijking te staven). Bat For Lashes kennen we wel, haar muziek is zeker een van onze inspiratiebronnen. Jullie journalist heeft dus een goede analyse gemaakt.

Je speelde met The Underground Youth. Opende dit concert deuren voor het buitenland?
Ja, het was een geweldig optreden met een geweldige band, maar het opende niet meteen meer deuren dan op andere optredens, hoor.

Hoe waren de reacties op jullie debuutplaat What I Don't See?
Eigenlijk waren we aangenaam verrast door de reacties van het publiek. Je weet wel, we zitten niet bij een label, en alles is van A tot Z door ons gedaan. What I Don't See (en dat is ook het geval voor Noire Psyché) is thuis opgenomen, we hebben het zelf gemixt en gemasterd, we werkten samen met onze goede vriend Marie-Line Pochet voor het artwork. Al deze fases vormen één groot werk, dus als mensen ons vertellen dat ze graag ons album horen, dan is dat de beste beloning die we kunnen dromen.

Binnenkort brengen jullie een nieuw album uit: Noire Psyché. Kun je ons daar iets over vertellen en kan het worden vergeleken met het eerste?
Noire Psyché is intensiever, het heeft ons ook meer werk gekost dan het vorige. Muzikaal-technisch is het rijker. Het is ook introspectiever en persoonlijker. What I Don't See is een ode aan het immateriële, maar Noire Psyché is het tegenovergestelde, een blootstelling van onze gevoelens en onze ziel en ook van ons lichaam.
In het najaar ga je op toer met The Beauty Of Gemina. Hoe is dat? Ik veronderstel dat Michael Sele wel van jullie muziek houdt?
Ja, The Beauty of Gemina is een band waar we toch al minstens 6 jaar naar luisteren, dus voor dat Saigon Blue Rain bestond. Kan je je dat voorstellen en nu komt die droom uit. We werden in Londen uitgenodigd voor een optreden door promoter Stephen Kennedy van The Velvet Sheep, die ook met Michael Sele werkt. Naar aanleiding van dit geweldige optreden, werd ons voorgesteld om de support van The Beauty Of Gemina tijdens de Minor Sun-toer te doen. Dat zal wat geven!
Ik las op je Facebook-pagina dat je het nodige geld voor deze toer via crowdfunding inzamelt. Terwijl we dit schrijven, lijkt het alsof je je doel zal bereiken...
Laat ons hopen! Inderdaad, we besloten om deze crowdfundingcampagne te lanceren om de kosten van deze tour te dekken. Deze campagne is een noodzaak, omdat wij geen steun van welke aard dan ook (een label of een toerpromotor) krijgen. In elk geval zullen we de mensen nooit genoeg kunnen bedanken die ons tot nu toe hebben gesteund of geholpen. Zulke grote fans en vrienden zijn kostbaar.

Jullie hechten ook veel belang aan de visuals zoals bijv. videoclips. Natuurlijk kosten al die dingen geld. Soms lijkt het een hel, de kosten stijgen alsmaar, maar niemand koopt vandaag nog cd's. Hoe ga je om met zulke dingen?
We hebben het geluk dat we uitzonderlijke en zeer getalenteerde vrienden hebben die meewerkten aan onze videoclips en alle andere financiële aspecten. Natuurlijk zou dit financieel onmogelijk geweest zijn zonder hen.
Wat is jouw favoriete plaat aller tijden en waarom?
Ophelia : Dat is een zeer moeilijke keuze, maar mijn favoriete album aller tijden is zeker Ecailles de Lune van Alcest. Dit is geen klassieker, zelfs vrij recent, geen gothicalbum, maar elke keer als ik ernaar luister overweldigt het me. De muziek, de sfeer, de teksten... het is iets speciaals dat mijn ziel aanspreekt.
Franck: Een van de meest recente albums waarnaar ik veel luister is The Messenger van Johnny Marr. Ik hou van alles wat erop staat. Het is zeker het beste album dat ik sinds lange tijd heb gehoord, de melodieën zijn echt catchy. Liedjes die je niet uit je hoofd kan zetten.
Met wie zou je het niet erg vinden om 8 uur alleen in een lift te zitten en wat zou je dan doen?
Ophelia: Ik zou het niet erg om alleen met Martin Gore en Dave Gahan in een lift te zitten, het is zelfs een droom. Ik zou ze bewijzen dat ze vrouwelijke vocalen op de nieuwe Depeche Mode nodig hebben.
Binnenkort speel je op Black Easter; Wat kunnen we verwachten van Saigon Blue Rain?
Je uitnodigen voor een droom, dat is wat we het publiek willen bieden elke keer als we op een podium staan. Als mensen erin slagen om uit de werkelijkheid te geraken, dan hebben ze ons muzikaal universum begrepen.
Zijn er bands die jezelf wil zien?
We kijken vooral uit naar Evi Vine en She Past Away.
Didier BECU
23/03/2016
---