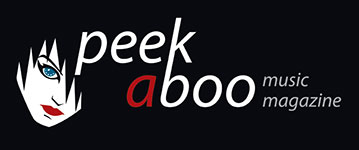 like this interview
---
KRIISTAL ANN
Of course the inspiration doesn't fall from the sky as many believe. We need to provoke it. It's something that is similar to flirting.
18/03/2016, Jurgen BRAECKEVELT
---
Kriistal Ann is a Greek artist and solo artist, but Anna is also involved in other projects such as Paradox Obscur. Peek-A-Boo listened to her personal story...
Anna, you play in three bands/projects: Kriistal Ann, Paradox Obscur and Sine Silex. Why do you need those?
It is a question that I ask myself. So, to answer this question, I reflected on my own personality. I came up with some truths: I'm bored by monotony, I like diversity, I abhor habit, I love the contacts with people who offer me new experiences at a level of consciousness. Moreover, from the time you decide to actively get involved with art, you find new paths and fellow travelers.
You started solo with Kriistal Ann. Afterwards, in 2014, Paradox Obscur was formed. What's the biggest difference in the way you perform in those different bands?
As I stated previously in my resume, I did not start to be actively involved with music when creating the project Kriistal Ann. Essentially this nickname I have since we started our first multidimensional project Resistance Of Independent Music with my partner Toxic Razor in 2007, it is based on various art forms, and it is inspired by literature and cinema. After several years on this project, I felt the need to deal with something very personal in which I could give a thoroughbred structure of my existence. So I created the solo project under the existing name Kriistal Ann.
The cause of many common things that tie us with Toxic Razor, made us create a new project that is driven by our indignation regarding the music industry which welcomes digestible products, thus destroying the critical and aesthetic thought of the audience for the benefit of financial gain. The difference in approach of these two projects is clear, I think. In my solo project, the interpretations are softer, with a fragile and a more forgiving approach to current topics, while in the Paradox Obscur project, one can discern a more sharp tongue, a more immediate and acute targeting of the theme.
What is unique for you in the work you do with Kriistal Ann?
This is probably more a question for my audience than for me. The biggest difficulty I encounter in this project is the grammatical structure. The rich Greek vocabulary is almost impossible to translate into English, it's hard to expressgive the exact emotion or meaning I want to express. Another element that might make this project unique is the strongly emotional interpretation that sometimes works as a double-edged sword in terms of public sobriety. But anyway, every artistic approach can be unique because of its uniqueness which permeates human nature. The key is to deal with the uniqueness in a careful way, not allowing yourself to join the masses or to give in to vanity.
There are several issues you sing about. Some lyrics are quite heavy. Are they based on your personal inner life?
It would be a lie if I told you that I cut my personal life from the sphere I live in. Everything is a reality: I laugh, I feel happy or I cry. Everyday life, my experiences, the culture in which Ι live and the people with whom I socialize: all these elements form the cornerstone of my internal quality. About the heavy lyrical: I don't one should give something that is ready made. A creation must be an aesthetic delight, thought-provoking, with an awareness that focuses on plans that are not realized.
You already made three solo albums. Is there a kind of evolution, a change in your inner self?
After the completion of each album, I am able to understand what I could do better, from music to lyrics. One is able to discover bugs or small wonderful inspirations that lead to the birth of a little musical miracle. When I'm in a productive stage, I do not have that opportunity because I am living in my imagination, a deep utopian plan inside me.
How do you write songs? What comes first: the tune or the lyrics?
Of course the inspiration doesn't fall from the sky as many believe. We need to provoke it. It's something that is similar to flirting. It is a process of flipping the forefinger to grab the catch. It's like creating a fertile ground to flourish enchanting flowers. There must be a decoy, which is the world in which we live. So yes, collecting all this information can become a song. Sometimes, it is easy to do this and at other times I find it hard. It depends on the psychological state I am in. When I'm tense, things come more easily to me. Many times I challenge myself. I have something on my mind, which primarily conveys me to the musical field and then I start writing the lyrics.
You collaborated with Schonwald on the CD Cultural Bleeding. How did that happen? And with whom would you really like to work together in the (near) future.
Alessandra and Luca are loveable people. I had the luck to meet them last year at Waveteef in Belgium where we played together on the same day. A few months later, when I started writing songs for the album Cultural Bleeding, I created a song and I thought it would be wonderful to add guitars to the minimalist atmosphere. Initially, I asked Factice Factory to play a theme. Unfortunately, for personal reasons, they were unable to do that. I was sad. Generally, I don't ask others to do something for me. After several thoughts about who could help me, I thought about Schonwald. To my great pleasure, they immediately gave a positive response and in a short period we worked on the song with great result. I had several collaborations so far and we created many great songs together. Recently with Aidan Casserly on the wonderful album Muse. With Mode In Gliany, a great French artist on the Liquid State EP. With the Belgian Unidentified Man on the album Dissociative Identity and believe me, it is worth to check out the music!
We will! What's the ultimate goal you want to achieve with your music?
If you try to achieve goals in art, then you are losing the game. You should maintain your authenticity, it should be free of any kind of vanity. The bottom line is to do the best you can. Of course all people love recognition, the positive impact and interaction with the public. Especially the interaction is a necessary element for the evolution of an artist. Nowadays it is hard to get. The media network offers a lot of information, there are many interests and people decide what is valuable enough to be displayed or not on the social media. On the other hand, there is a great lack of aesthetic education, allowing people to suck up the taste of others. Everything seems like a marketing game.
There is a revival of synth wave and minimal. Any idea what the reason may be?
The revival of minimal music is connected with the technological progress in recent years. Some artists who still have analog aesthetics are real virtuosos when handling all those synthesizers and they provide a truly 80's atmosphere to the songs. Perhaps music and photography received the biggest blow from the technological revolution. Now everyone, without knowledge, can write music or make photographs. That is why the work of a real artist loses value. Not many people know that I am in a synth wave project called ToyoTomi that is influenced by 80's hard rock and the synth scene, most of the tracks are instrumental and driven by lead solos and lush atmospheres.
You live in Greece, how is the scene over there?
In Greece there is no scene. There are some artists, young and old, who are dedicated to this style of music, but there is no public to support them. A small majority in Athens, perhaps in Thessaloniki too. For Greek bands of the dark underground scene there aren't many prospects in Greece. They must open their horizons or just write great music for themselves.
You are also involved in photography and poetry. Is that a way of expressing the feelings in different ways?
Everyone should follow his heart. Art has no definition and can't be mounted in a frame. The existence of art has a meaning, to satisfy our craving for creation. No matter which way you follow, you have to follwo your inner truth. Naturally all art forms interact with each other. From childhood I loved many forms. One talent alone is not enough. I always look for something that stimulates my mind and feelings. Something that will give me this wonderful kiss of life, so I can meet the needs of survival.
Do you have any plans to visit Belgium?
It would be a great pleasure to visit Belgium again. I was quite skeptical and insecure with what I would face there, but I must admit that I had not experienced such a warm audience before. I would love to go back there, but for the moment we have no proposal to play a concert. Perhaps the distance is a problem as we live in Rhodes. I really do not know. For now, we have a concert in Athens on 23rd April with Paradox Obscur together with Schonwald at Death Disco. It is organized by Die Seele Radio, the only web radio station in Greece which supports foreign and Greek bands that are involved in dark music.
Jurgen BRAECKEVELT
18/03/2016
---
Kriistal Ann is een Griekse kunstenares en een solo-artieste, maar Anna is ook betrokken bij andere projecten zoals Paradox Obscur. Peek-A-Boo peilde naar haar verhaal...
Anna, je speelt in drie bands/projecten: Kriistal Ann, Paradox Obscur en Sine Silex. Waarom heb je ze alle drie nodig?
Het is een vraag die ik mezelf ook stel. Om deze vraag te beantwoorden, moet ik in de eerste plaats mezelf begrijpen. Ik botste op een aantal waarheden: monotonie verveelt mij, ik hou van diversiteit, ik verafschuw de gewoonte, ik hou van de contacten met de mensen die mij nieuwe ervaringen bijbrengen. Vanaf het moment dat je betrokken bent bij kunst, zoek je nieuwe wegen en lotgenoten die met je mee willen gaan.
Je begon solo met Kriistal Ann. Daarna, in 2014, richtte je Paradox Obscur op. Wat is het grootste verschil tussen de bands?
Zoals ik al eerder in mijn biografie heb vermeld, was muziek niet het eerste wat ik als Kriistal Ann deed. Ik kreeg deze bijnaam al met ons eerste multidimensionaal project Resistance Of Independent Music, dat ik in 2007 met mijn partner Toxic Razor begon. Dat was op basis van verschillende kunstvormen, geïnspireerd door literatuur en film. Na een paar jaar voelde ik de behoefte om iets heel persoonlijks te doen, iets dat een structuur aan mijn bestaan ​​kon geven. Zo ontstond het soloproject Kriistal Ann. Veel zaken binden mij met Toxic Razor, ook met de oprichting van een nieuw project. Zo waren we verontwaardigd over de muziekindustrie die wegwerpproducten maakt en waardoor het kritische en esthetische gedachtengoed van het publiek vernietigd wordt ten behoeve van financieel gewin. Het verschil in aanpak van deze twee projecten is duidelijk, denk ik. In mijn solowerk zijn de interpretaties zachter, fragieler en meer vergevingsgezind. In Paradox Obscur hebben we een scherpere tong.

Wat maakt Kriistal Ann zo uniek?
Ik denk dat je dat eerder aan mijn publiek moet vragen dan aan mij. De grootste moeilijkheid in dit project is de grammaticale structuur. De rijkdom van de Griekse woordenschat kan je bijna onmogelijk in het Engels vertalen, en dus is het moeilijk om de emotie of de betekenis die ik er echt aan wil geven uit te drukken. Een element dat dit project uniek zou kunnen maken is de sterke emotionele interpretatie, ook al werkt die als een tweesnijdend zwaard. De sleutel is uiteindelijk dat je met uniciteit kan omgaan en dat je geen onderdeel van de massa wordt of dat je voor ijdelheid bezwijkt.

Sommige teksten van je zijn vrij zwaar. Zijn die op je persoonlijke innerlijke leven gebaseerd?
Ik zou liegen als ik je zou zeggen dat ik mijn persoonlijke leven en de sfeer waarin ik leef gescheiden houd. Alles is een realiteit: medelijden, de periodes waarin ik lach of me gelukkig voel, of wanneer ik huil. Mijn interne kwaliteit wordt nu eenmaal gevormd door het dagelijkse leven, mijn ervaringen, de cultuur waarin ik leef of de mensen met wie ik een praatje maak. Over die zware lyrische aanpak: ik denk niet dat een artiest kant-en-klare kunst moet brengen. Een creatie moet een esthetisch genot zijn dat tot denken aanzet, ze moet het bewustzijn op gang brengen en zich richten op plannen die niet eerder gerealiseerd zijn.

Je hebt al drie albums gemaakt, merk je een soort van evolutie?
Na het maken van ieder album ben je in staat om te begrijpen wat beter zou kunnen: van de muziek tot de teksten. Je merkt onvolledigheden of je voelt plots een inspiratie die alweer naar de geboorte van een klein muzikaal wonder leidt. Als je in een productiefase zit, heb je deze mogelijkheid niet, simpelweg omdat je volledig in je fantasie vastzit.

Hoe ontstaan de liedjes, eerst een melodie en dan de teksten?
De inspiratie valt niet uit de hemel zoals velen geloven. We moeten het provoceren, het lijkt op flirten. Je moet eerst een vruchtbare grond hebben vooraleer er bloemen op bloeien. En er is ook een valstrik, in dit geval de zintuigen en de wereld waarin we leven. Dus ja, uiteindelijk zal al deze informatie uitdraaien op een lied. Soms is het gemakkelijk om te doen, dan weer moeilijk. Ook de psychologische toestand waarin je je bevindt speelt een rol. Zelf merk ik dat als ik gespannen ben, alles gemakkelijker is voor mij. Ik daag mezelf uit. Als er iets in mijn geest zit, dan maak ik daar muziek van, en vervolgens de teksten.
Je werkte samen met Schonwald op je cd Cultural Bleeding. Hoe gebeurde dat? Met wie zou je heel graag in de (nabije) toekomst willen samenwerken?
Alessandra en Luca zijn echt lieve mensen. Ik had het geluk hen vorig jaar te ontmoeten op Waveteef in België, waar we op dezelfde dag speelden. Een paar maanden later begon ik met het schrijven van Cultural Bleeding en ik dacht dat het geweldig zou zijn om aan die minimalistische sfeer wat gitaren toe te voegen zodat je een pittige smaak krijgt. In eerste instantie vroeg ik het aan Factice Factory die ik ook persoonlijk ken. Helaas ging dat om persoonlijke redenen niet door. Ik was verdrietig. Over het algemeen ben ik niet iemand die gemakkelijk vraagt ​​aan anderen om voor mij iets te doen. Plotseling dacht ik aan Schonwald. Het was een groot genoegen toen ik een positieve reactie op mijn voorstel kreeg en in een korte periode werkten we de track af met een geweldig resultaat. Ik had ondertussen al een aantal andere samenwerkingen. Zo doe ik mee met Aidan Casserly op het prachtige album Muse. Ook met Mode In Gliany, een grote Franse kunstenaar op de Liquid State-ep. En tevens met het Belgische Unidentified Man, het is zeker de moeite waard om hun muziek te checken!

Dat zullen we doen. Wat is het doel dat je wilt bereiken met je muziek?
Als je in kunst een doel wil bereiken, ben je verloren. Het gaat erom dat je de echtheid ervan behoudt, het moet vrij zijn van elke vorm van ijdelheid. Je moet doen wat het beste voor jezelf is. Natuurlijk houden alle mensen van erkenning, de positieve effecten en de interactie met het publiek. Vooral de interactie is een noodzakelijk element voor de ontwikkeling van een kunstenaar. Tegenwoordig is het moeilijk om te winnen. De medianetwerken bieden veel informatie en op de sociale media heeft iedereen een opinie die bepaalt wat waarde heeft en wat niet. Aan de andere kant is er een groot gebrek aan esthetische opvoeding. Alles lijkt op marketingstrategie.

Ik zie een revival in de synthwave en minimale scène. Enig idee waarom?
Het is allemaal verbonden met de technologische vooruitgang van de laatste jaren. Er zijn kunstenaars die nog met analoge geluiden werken en echte virtuozen zijn als ze met synthesizers werken waardoor er een jarentachtigsfeer ontstaat. Muziek en fotografie kregen de grootste klap door de technologische revolutie. Nu kan iedereen, zonder speciale kennis, muziek schrijven of fotograferen. Dat is de reden waarom nu het werk van een echte kunstenaar zijn waarde verliest. Veel mensen weten niet dat ik bij het synthwaveproject Toyo Tomi zit dat is beïnvloed door hardrock uit de jaren 80, het zijn voornamelijk instrumentale tracks die gedreven zijn door solo's en weelderige geluiden.

Je komt uit Griekenland. Is er daar een scène?
In Griekenland is er helemaal geen scène. Je hebt wel een aantal kunstenaars, jong en oud, maar er is geen publiek om ze te ondersteunen. Een klein beetje in Athene, misschien ook in Thessaloniki. Maar daar stopt het. Er is weinig perspectief in Griekenland. De meesten besluiten dan ook om hun horizon te verbreden door naar het buitenland te gaan of gewoon goede muziek voor zichzelf te schrijven.

Je bent ook met fotografie en poëzie bezig. Is dat een manier om de gevoelens die je in je muziek niet kwijt kan toch te uiten? Iedereen moet in zijn leven zijn hart volgen, Het bestaan ​​van kunst heeft een betekenis. Het maakt niet uit welke weg je volgt, zolang het maar de weg naar de innerlijke waarheid is. Uiteraard zijn alle kunstvormen wel op de één of andere manier met elkaar verbonden. Vanaf mijn jeugd had ik een aangeboren talent voor heel wat dingen, maar talent alleen is niet genoeg. Ik zoek altijd naar iets dat mijn geest en gevoel stimuleert.

Zijn er plannen om naar België te komen?
Het zou ons plezieren om opnieuw in België te spelen, het was echt geweldig. Ik was nogal sceptisch en onzeker, zo'n warmte van het publiek heb ik nog nooit meegemaakt. Ik zou het leuk vinden om daar weer te spelen, maar op dit moment hebben we nog geen voorstellen gehad. Misschien ligt het aan de afstand, wij zijn van Rhodes. Ik weet het echt niet. Ons volgende concert is in Athene op 23 april met Paradox Obscur samen met Schonwald in de Death Disco. Het is georganiseerd door Die Seele Radio, het enige webradiostation in Griekenland dat buitenlandse en Griekse bands steunt die betrokken zijn bij duistere muziek.
Jurgen BRAECKEVELT
18/03/2016
---