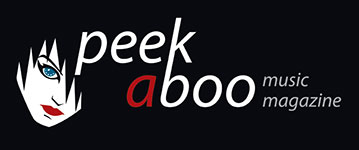 like this interview
---
ASH CODE
The second album is always more difficult. We thought about the possibility of being able to disappoint our audience, but we were driven by the desire to try to propose something different, while remaining ourselves.
29/02/2016, Didier BECU
photos: © Marquis(pi)X
---
The newest album Posthuman by Ash Code is (as expected) a perfect opportunity to talk with the band!

Hello, in short time Ash Code has become one of the most popular new wave and post punk bands. I guess this popularity has thrown your life completely upside down. When you recorded your first singles, did you know that Ash Code could reach this level of popularity?
Alessandro: First of all, thank you for the nice words. Our lives have become definitely more strenuous, because the group takes a lot of time. When we released the first two songs on Soundcloud, we did not expect this would happen.

It almost looks as if you found the golden formula: creating dark tunes that are danceable. How would you describe an Ash Code songs yourself?
Claudia: The first important thing for us is certainly the beat, after that, we focus on the rest. The synth melody must be effective, the bass must have a good groove/melody. In the end the voice completes everything. Each track of Ash Code is done more or less in that way.

You surely have a very own sound, but what and who inspires you?
Alessandro: Our main influence is music. Then surely the books we read, the movies we watch, the places we visit and the events that we experience. We draw inspiration from everything and make it into the music.

Ash Code is part of the Italian scene, and yet I don't think you sound like any other band of that scene. Right?
Adriano: In Italy there aren't many bands that play our kind of music, concerning the ones that play it, we think they are valid. Surely each one has its own peculiarities, everyone has a very strong personality.

Oblivion did very well, and it's a classic. I guess it must have been quite difficult to create a second one as fans want you to reach that same high level?
Alessandro: The second album is always more difficult. We definitely thought about the possibility of being able to disappoint our audience, but we were driven by the desire to try to propose something different, while remaining ourselves. We worked a lot on the sounds, trying to add something new, we sincerely hope to have succeeded.
I really do think Posthuman is a lot darker than Oblivion. What's your opinion, I mean a song like Alone In Your Dance was not included on your debut?
Claudia: I can't say if Posthuman is darker than Oblivion, our intent was only to improve. Alone In Your Dance is about a difficult inter-personal relationship, the title is a chance, you're right it is very dark song.

Why do you start your album with a song that's called Time To Face The Abyss?
Alessandro: It's a song about a man who awakens after years behind a TV screen. An awareness of modern decadence without any hope...
Another great song is Insensitive. Excuse me if I'm wrong, but I hear some minimal elements…even some early Human League in it!
Claudia: Insensitive is different from the rest of the album, it's another dramatic song (but it was fun to record our first duet). Yes, it's very minimal, we like this direction, but the comparison with the Human League... I don't know... thanks anyway!
You surely need to explain the meaning of the cover!
Claudia: The cover was made by Sandra Roczeń, who is now one of our fixed collaborator. The idea is inherent in the album title, the posthuman point of view analyzes the subject's relationship with modernity, and proposes a new way of relating to the complexity of the world around him, like technology, politics, society. Very important for us is the issue of respect for nature and animals. The cover represents a human being that blends completely with them. Sandra's work is brilliant as always.

I described Ash Code as drugs. Once it's in your body, it's impossible to get it out… Can you agree on that?
Adriano: Being an Ash Code member, I can't see it from that point of view, but thank you very much for the interesting metaphor. The fact that people appreciate our music is one of the most important things to us.

The band got an enormous help from Valerio of Swiss Dark Nights. How did it all start?
Adriano: It's true, Valerio helped us and helps us constantly. We met him because his label produced our friends of Geometric Vision and we started a great relationship with him.
I know it's a strange question for a band, but with the growing popularity, don't you think the stress factor might be too high… I mean, that's the reason why many genius bands become crappy. What's your weapon against it?
Alessandro: Surely, the genesis of Posthuman was more complicated than Oblivion, just because we have played a lot in the last two years. But to be honest, many of the places we visited and the people we meet are a great source of inspiration. If we had not received much love everywhere, maybe I would not be here talking to you. This may be our weapon, the ability to transform all the experiences into music, always trying to keep the quality high, because if you stay sincere, people will feel it and appreciate it.
You soon will play in Belgium on Waveteef. What can we expect?
Adriano: We have wonderful memories of the Belgian public, our gig in Brussels in December 2014 probably was the best one. We look forward to return to your country, hoping that our gig will excite you and make you dance again.
And the last question! With whom wouldn't you mind to be alone in an elevator for 8 hours and what would you do then?
Alessandro: In an elevator, for 8 hours? Probably, we would die... we are patient enough with all kinds of people, but I can't bear the selfish and racist... anyway, we have plenty of time to find a solution to the problem...
The last words are yours!
Thank you, your great magazine supported us since the beginning.
Didier BECU
29/02/2016
---
Zoals verwacht is het nieuwste album Posthuman van Ash Code ronduit subliem en dus hebben we alle redenen om met de band te praten!
In korte tijd is Ash Code uitgegroeid tot een van de meest populaire newwave- en post-punkbands. Ik denk dat deze populariteit jullie leven volledig op zijn kop heeft gezet. Toen jullie de eerste singles opnamen, wist je toen dat Ash Code dit niveau van populariteit zou kunnen bereiken?
Alessandro: Allereerst bedankt voor de mooie woorden. Ons leven is er zeker vermoeiender door geworden, omdat de groep veel tijd kost. Toen we onze eerste twee nummers op Soundcloud uitbrachten, hadden we nooit verwacht dat dit zou gebeuren.
Het lijkt bijna alsof je de gouden formule hebt ontdekt: het creëren van donkere melodieën die dansbaar zijn. Hoe zou je zelf een Ash Code-song omschrijven?
Claudia: Het allerbelangrijkste is voor ons de beat, daarna richten we ons op de rest. De melodieën van de synths moeten doeltreffend zijn, de bas moet een goede groove hebben. Op het einde moet de stem alles afronden. Elke song van Ash Code is min of meer op deze manier gemaakt.
Je hebt zeker een heel eigen geluid, maar wat en wie inspireert je?
Alessandro: Onze belangrijkste invloed is muziek. Dan de boeken die we lezen, de films die we zien, de plaatsen die we bezoeken en de gebeurtenissen die we ervaren. We putten inspiratie uit zowat alles.
Ash Code maakt deel uit van de Italiaanse scène, maar toch denk ik niet dat je klinkt als een andere band uit die scène.
Adriano: In Italië zijn er niet veel bands die onze soort muziek spelen. Degenen die we kennen vinden we evenwel goed, omdat ze allemaal een eigen identiteit hebben.
Oblivion deed het erg goed, het is zelfs een klassieker. Ik denk dat het heel moeilijk moet geweest zijn om een ​​tweede album te maken, want de fans wilden natuurlijk dat je datzelfde hoge niveau zou bereiken, niet?
Alessandro: Het tweede album is altijd moeilijker. We hebben nagedacht over de mogelijkheid dat we ons publiek zouden kunnen teleurstellen, maar tegelijkertijd waren we gedreven door de wil om iets anders te proberen en toch onszelf blijven. We werkten veel aan de geluiden, in een poging om er iets nieuws aan toe te voegen, we hopen echt dat we daarin geslaagd zijn.
Waarom begin je je album met een track die heet Time To Face The Abyss?
Alessandro: Het is een lied over een man die een jaar later ontwaakt achter zijn tv-scherm. Het is het besef van de moderne decadentie zonder enige hoop...
Een ander geweldig nummer is Insensitive. Excuseer me als ik het mis heb, maar ik hoorde heel wat minimalinvloeden... zelfs de vroegere Human League!
Claudia: Insensitive is inderdaad anders dan de rest van het album, het is een dramatisch lied (maar het was tegelijkertijd leuk omdat dit ons eerste duet is). Ja, het is zeer minimaal, we wilden dat ook zo, maar de vergelijking met de Human League... ik weet het niet, hoor... maar bedankt!
Leg eens de betekenis van die speciale lp-hoes uit!
Claudia: De cover is gemaakt door Sandra Roczen, die nu een van onze vaste medewerkers is. Het idee is inherent aan de albumtitel, het posthumane standpunt analyseert de relatie van het onderwerp met de moderniteit en stelt op een nieuwe manier voor hoe je met de complexiteit van de wereld omkan gaan: technologie, politiek of gewoon onze samenleving. Voor ons is het respect voor de natuur en de dieren van groot belang, de hoes toont een mens die volledig bij ze past. Sandras werk is altijd briljant.
Ik beschreef Ash Code als drugs. Als het eenmaal in je lichaam zit, dan is het onmogelijk om het eruit te krijgen... Ben je het daarmee eens?
Adriano: Ik speel zelf bij Ash Code, dus ik kan dat niet zo zien, maar heel erg bedankt voor de interessante metafoor. Het feit dat mensen onze muziek waarderen is een van de belangrijkste dingen voor ons.
De band kreeg enorm veel hulp van Valerio van Swiss Dark Nights. Hoe is het allemaal begonnen?
Adriano: Dat is waar, Valerio hielp ons en helpt ons nog voortdurend. We ontmoetten hem omdat zijn label onze vrienden van Geometric Vision had gedaan en we begonnen meteen een goede relatie met hem.
Ik weet dat het nogal een vreemde vraag is voor een band, maar met de groeiende populariteit, denk je niet dat de stressfactor te hoog kan worden... Ik bedoel, dat is nou net de reden waarom zo veel geniale bands uiteindelijk rommel worden. Hoe wapen je je daartegen?
Alessandro: De geboorte van Posthuman was in ieder geval ingewikkelder dan die van Oblivion, alleen maar omdat we in de afgelopen twee jaar veel hebben gespeeld. Maar om eerlijk te zijn, veel van de plaatsen die we bezochten en de mensen die we ontmoetten waren een grote bron van inspiratie voor ons. Overal kregen we veel liefde, mocht dat niet zo zijn, dan zou ik hier niet zijn om met je te praten. Dit kan ons wapenen, de mogelijkheid om alle ervaringen in de muziek te transformeren, altijd proberen om de kwaliteit hoog te houden. Als je oprecht bent, voelen mensen dat en waarderen ze dat meestal.
Binnenkort speel je in België op Waveteef. Wat kunnen je verwachten?
Adriano: We hebben prachtige herinneringen aan het Belgische publiek, ons optreden in Brussel in december 2014 was waarschijnlijk één van de beste. We kijken ernaar uit om terug te keren naar jullie land, in de hoop dat jullie het concert zullen lusten.
En de laatste vraag! Met wie zou je het niet erg vinden om in een lift 8 uur vast te zitten?
Alessandro: In een lift, 8 uur? Waarschijnlijk zouden we dan sterven... we zijn geduldig genoeg met allerlei mensen, maar zelfzuchtige en racistische kan ik niet verdragen, in ieder geval hebben we de tijd om rustig te bespreken hoe we eruit geraken!
De laatste woorden zijn die van jullie!
Dank u, Peek-A-Boo was er steeds van in het begin voor ons!
Didier BECU
29/02/2016
---