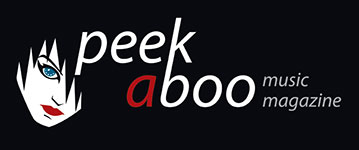 like this interview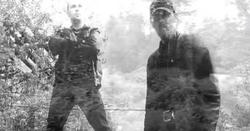 ---
KNK
The term of death is perfect for dark music, and in a way it's a sort of sarcasm too.
07/03/2016, Didier BECU
---
One of the most interesting black events in Belgium is Coalescaremonium. Peek-A-Boo follows this festival, and most of the bands that are included in the line-up, will be interviewed. Let's start with the Belgian duo KnK.
Hello, KnK is a brand new band, so I'd say: introduce yourself!
KnK is K1 + K2. K1 is Koenraad Vercammen aka Deejee Ko-ën and K2 is Koen Vanderstappen aka Koen Van Dappernest, or sometimes DJ Pallias. We are two friends who share a passion for dark music. Together we have 60 years of experience in music, and 16 of them we did together.
It's kind of funny. When I first heard the term dead body music, I thought it was the right description, but it's so weird that you're the first to come up with that term, not?
We just like to play with words, especially dark ones. It was in the summer of 2015 while we were at a party. We drank some beer and suddenly we thought "Electronic Body Music, Dead Body Music", how nice, and of course we were aware of the fact that we're the first ones who found it, so we decided to use it immediately! The term of death is perfect for dark music, and in a way it's a sort of sarcasm too.
Dead Body Music, the term is creepy. Where does your fascination for dark things comes from?
K2: It's funny, but I never saw a dead body in my life!
K1: I did, but I really don't want to sing about flowers or happy days in spring! We both grew up with dark music. K1 was involved in new wave, while K2 was keen on metal. Meanwhile, we love both the two genres. You know, a text with quality is one about inner feelings, so not what the masses want. Even if we add some funny things, it has to fit within the concept. We laugh about things most people find shocking (especially girls, young and innocent").
KnK is K1 en K2. That's quite abstract! Why did you choose pseudonyms, do you want to be anonymous?
I guess most people who are familiar with us know who we are. In fact, in our daily life we use these names, just because Koen is such a common name in Belgium. There are so many of them. And when starting KnK, we just thought it was a logic thing to do. I really like simplicity a lot, that's also why our CD covers are simple. And you know, even when we're drunk and someone asks our for an autograph, we're able to make one!
I can imagine that! Anyway, you're veterans. What's the difference between now and then?
I guess the quality. We used to work day in day out, and then you produce too much. Now we see each other every 2 or 3 weeks with a clear idea that we want to develop, or throw away. Of course we're more experienced, so we know more. For instance, I remember those days when the machines made a sound that we liked and used, but we never could repeat it! Now we know the sound we like to make and most of the times it works!
I compared your music with The Klinik and Liquid G. I really do hear ice cold industrial sounds that radiate fear. Do you agree?
Sure, next time we see you, you get a beer!

Soon you will release a new album. Tell us about it!
When the first mini album was finished, we had a problem: too much inspiration. Immediately we decided to worked on a sequel: Dead Body Music II. Simplicity rules, and no one will wonder which CD is the last. The second mini album will be slower, more rough, black humor and even a glimmer of hope (but not too much!). Musically, we aim for a wider sound. We maintain an obscure character, but the difference between I and II will be obvious.
Where do you get your inspiration from? When I hear your music, I would say: feelings!
Death, sex and religion. Betrayal and fear. Hope and new opportunities. KnK was founded when K1 was single again, and K2 wanted to offer him a shoulder to cry on. Many friends knew this would cause some new musical violence. Noise was needed, and it's much better now. Music is therapy for us.
A few days after the release of your new record, you will play at Coalescaremonium. Do you have experience on stage or is this your first time?
We never were on stage together, but we often supported each other (during the Fear the Light festivals). We won't shiver and shake, that's for the public now ( "Victims are everywhere..." - "Nobody gets out alive").
What can we expect during the concert?
Short, deep and hard. Dark, black and white. Perhaps we play a cover to make it not that hard!
Can you explain us who does what in terms of making new tracks?
When we meet, K1 has written on paper some impressions, he jams with K2. K1 works on the texts, and the rhythms that fit with the song. Normally we have a basic demo within an hour. Of course the song has to be developed, that usually takes a few weeks. We know each other very well and we feel each other. It could have been a perfect love, but nature built us in a different way ("since we are not free, we will never be").
What are your musical dreams?
Making 50 CDs or so ( "I hunger for more"). If we can recover all costs and release the music we want to, then we are very satisfied. KnK is the result of our friendship, and we hope to continue, and of course increase the number of loyal fans ( "No fear, no hatred - this is where we all belong").
What 's your favorite record of all time and why?
The focus of our taste varies from month to month, week to week, day to day. If you ask to name some favorite records, we have a problem, I mean we have so many that it'll cost Peek-A-Boo a fortune to print them all!
With whom would you not mind to be in an elevator for 8 hours and what would you do then?
With each other, as that gives 3 or 4 new songs.
We are friendly people, so you have the last word.
We want to thank all our fans for the support, especially Wesley of Coalescaremonium. We love our hobby, but you are the ones who give a meaning to it.
Didier BECU
07/03/2016
---
Een van de opmerkelijkste festivals waarbij Peek-A-Boo stil wil staan is Coalescaremonium in Brussel. Zet je schrap voor een rij interviews met de bands die je dan op het podium kan zien. De eerste in het rijtje is het Vlaamse duo KnK.
Hallo heren. KnK is nieuw, dus ik zou zeggen: stel jullie maar eventjes voor.
KnK is K1 en K2. K3 hoort er niet bij. K1 is Koenraad Vercammen aka Deejee Ko-ën en K2 is Koen Vanderstappen aka Koen Van Dappernest, ook wel DJ Pallias. We zijn twee kameraden met een gezamenlijke passie voor donkere muziek. We hebben samen 60 jaar ervaring in de muziekwereld en zijn nu 16 jaar daarvan in elkaars vaarwater bezig.
Als omschrijving kozen jullie voor dead body music. In alle eerlijkheid dacht ik: het klinkt zo verschrikkelijk waar, maar waarom vonden andere bands de term niet eerder uit? Hoe zijn jullie daar op gekomen?
Wij houden van woordspelingen, vooral de donkere. In de voorzomer van 2015 waren we op een feestje bij vrienden en tussen pot en pint dachten we: "Electronic Body Music, Dead Body Music", leuke woordspeling. En we dachten ook letterlijk "dat daar nog niemand op is gekomen, hahaha! Gebruiken dus." Het thema van de dood is goed bruikbaar in donkere muziek en er zit een zekere vorm van sarcasme in, dat houdt het wat luchtiger.
Dead Body Music, het klinkt als een lugubere term. Vanwaar die fascinatie voor dat donkere?
K2: Ik heb eigenlijk nog nooit een lijk gezien. Raar, he.
K1: Ik wel, en ik schrijf niet graag over bloemetjes en vrolijke lentedagen. We zijn allebei opgegroeid in de zwarte muziekscène. K1 vooral in de new wave en K2 aanvankelijk in de metalscène. We houden intussen allebei wel van beide dingen en de correlatie ertussen. Een kwalitatieve tekst gaat bij ons vooral over gevoelens en het innerlijke. Dus niet voor VTM-kijkers, we zeiden eerder al dat K3 er niet bij hoort. Als we dan iets grappigs doen, dan moet het ook nog in het kader passen, dus dan lachen we vooral met dingen die anderen choqueren ("especially girls, young and innocent").
KnK is K1 en K2. Abstracter kan bijna niet. Waarom kozen jullie voor deze pseudoniemen. Mag de wereld niet weten wie er achter KnK schuilt?
We denken dat al wie ons kent wel weet wie we zijn. We noemen elkaar eigenlijk al 15 jaar zo, door het overaanbod aan Koenen in ons sociaal leven. Vooral bij KnK mag de vermelding van deze pseudoniemen niet achterblijven, he! Simpliciteit is zo mooi, dat is ook de reden voor deze eenduidige benamingen, en ook het feit dat onze cd-hoezen zo simpel zijn. Het is ook meegenomen dat we zelfs in de meest beschonken toestand een goede handtekening kunnen zetten.
Alle gekheid op een stokje. Jullie maakten al decennia terug samen muziek. Wat is het verschil tussen vroeger en nu?
Vroeger werkten we elke dag met 100 % gedrevenheid en weinig ervaring (overproductie). Nu komen we twee- tot driewekelijks samen met een duidelijk idee dat we zo lang mogelijk willen laten narijpen (of –rotten). De ervaring zorgt er uiteraard voor dat de muziek een pak meer uitgewerkt wordt. Vroeger lieten we bijv. de apparatuur willekeurig een geluid maken dat we later niet meer konden nadoen. Nu weten we op voorhand hoe het moet klinken en we krijgen het er ook uit.
Ik heb jullie muziek met The Klinik en Liquid G. vergeleken. Op het eerste gezicht deed ik dit gemakshalve, maar hoe meer ik naar jullie werk luister, hoe meer ik dat beaam. Ijskoude indusgeluiden waarin tevens angst verscholen zit. Kunnen jullie je daar in terug vinden?
Ja. Bij de eerstvolgende ontmoeting krijg je een pint van ons.
Binnenkort brengen jullie een tweede album uit. Vertel eens…
Toen de eerste mini-cd klaar was, zaten we met een probleem: nóg inspiratie. We hebben dus meteen doorgewerkt aan een opvolger Dead Body Music II. Simpliciteit voorop, en niemand zal zich afvragen welke cd nu de laatste nieuwe is. De tweede mini-cd zal trager zijn, maar de wanhoop trekt zich stilaan terug om plaats te maken voor ruwheid, zwarte humor en zelfs een sprankeltje hoop (maar niet te veel!). Qua muziek gaan we iets breder in geluiden en composities. Het gevoel blijft even duister, maar het verschil tussen I en II zal duidelijk zijn voor iedereen die luistert.
Waar halen jullie je inspiratie vandaan? Als ik de muziek hoor, zou ik antwoorden: de gevoelens!
Dood, seks en religie. Verraad en angst. Hoop en nieuwe opportuniteiten. KnK werd opgericht toen K1 weer vrijgezel was en K2 een troostende schouder wilde bieden. Veel bekenden uit de omgeving fluisterden al over de waarschijnlijkheid dat er nieuw muzikaal geweld van zou komen. Lawaai was nodig en het gaat al veel beter nu. Muziek is voor ons therapie.
Een paar dagen na de release van jullie nieuwe platen, staan jullie ook op Coalescaremonium. Hebben jullie eigenlijk podiumervaring of is dit jullie eerste keer?
We hebben tot nu toe nog nooit samen op een podium gestaan, maar hebben wel elkaar al vaak bezig gezien (destijds in elkaars voorprogramma gestaan op de Fear The Light-festivals). We bibberen niet meer, misschien is deze rol nu weggelegd voor het publiek. ("victims are everywhere…" – "Nobody gets out alive").
Wat mogen we verwachten tijdens het concert?
Kort, diep en hard. Donker, zwart en wit. Wij. Misschien een cover om het luchtig te houden.
Kunnen jullie eigenlijk vertellen hoe een KnK-compositie tot stand komt. Wie doet wat?
We spreken af om samen te komen en zetten de apparatuur aan. K1 vraagt een kladpapiertje en noteert wat indrukken bij de jam die K2 doet. K1 dreunt zijn teksten door de ritmes en zo komen ideeën tot stand. We komen meestal binnen het uur tot een basisdemo die dan in enkele weken tijd verder wordt uitgewerkt. We kennen elkaar door en door wat betreft onze muzikale voorliefdes en we voelen elkaar ook aan. Het zou een perfecte liefde zijn, maar de natuur heeft ons zo niet gebouwd ("since we are not free, we will never be").
Wat zijn jullie muzikale dromen?
Een 50-tal cd's uitbrengen ("I hunger for more"). We moeten niet kunnen leven van onze muziek, maar als we de kosten terugverdienen (zoals tot nu toe) zijn we zeer tevreden. KnK is voor ons vriendschap, en we hopen die te kunnen blijven delen door het aantal loyale fans te blijven vergroten ("No fear, no hatred – this is where we all belong").
We sluiten af met twee traditionele vragen. Wat is je favoriete plaat aller tijden en waarom?
De focus van onze smaak verschilt van maand tot maand, van week tot week, van dag tot dag. Als je vraagt om een aantal favoriete platen te noemen, zitten we nog altijd met een probleem. De gezondheid van de productiekosten van jullie magazine zijn belangrijker dan dit antwoord vermoeden we.
Met wie zou je het niet erg vinden om samen in een lift te zitten gedurende 8 uur en wat zou je dan doen?
Met elkaar, dat geeft 3 of 4 nieuwe nummers.
We zijn vriendelijke mensen, dus jullie hebben het laatste woord.
We willen al onze fans bedanken voor de steun tot hier toe, en vooral Wesley van Coalescaremonium. Wij beoefenen onze hobby, maar jullie zijn degenen die er betekenis aan geven.
Didier BECU
07/03/2016
---