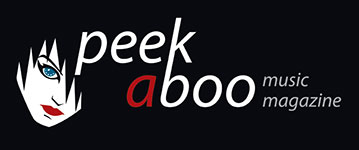 like this interview
---
CANTERRA
You don't have to think long when you get the chance to support Lacrimosa.
01/02/2016, Didier BECU
---
February is a very important month for Canterra as this female goth metal band is the support act of Lacrimosa on the Unterwelt Tour 2016. Apart from many German shows, Canterra also is the support act of the Belgian show on 27th February. Peek-A-Boo spoke with singer Korinna.

Hello, the first question is obvious! Who is Canterra and how would you present yourself?
We are a gothic metal band from Germany (Leipzig). We play gothic metal with female vocals, with a dark, but positive sound. We use two guitars. The lead guitar is played by Harry who is our main composer, Hannes plays the rhythm guitar. We have Tom on bass, Max on drums and I sing. We focus on strong melodies on a dark metal and rock base. Concerning the lyrics, we use English nearly all the time, because I feel much more comfortable when singing in English. But sometimes we sing in German too.

In 2010 you released your first demo and now there's a first album. I know it's quite hard for beginning bands, but why wait so long?
It really took some time to do our first album. Indeed, we thought we could do it much faster. We searched a very long time for a good constellation. Everything has to fit. On the one hand we had problems with the drummer and bass position and on the other hand we had to do some rehearsal room changes. We did everything on our own, which is not always easy and we wanted to do it good, and not just fast. None of us was in the music business before and we had to learn all the production steps. So we were very happy to have good friends, like Andy Schmidt of Disillusion, who helped us through the process. Sadly, we all have normal jobs during the day, so in the end we only have the weekends and the evenings to make our dream come true. As for making music and playing live, we started to build networks for the production process and so on and on. At the end of 2014 the time was finally right and we decided to work on our first album. We built Canterra up out of nothing and we are very proud of our first full CD.

You originally began as Avatar. Canterra is a much better choice! I guess you find a million other bands that were naming themselves Avatar, not?
We are very happy with our name, it fits quite good. Indeed, there is a big Swedish Band named Avatar, and of course there is the movie. But the main decision to change the name was that it was just not the right name for our project.
You are from Leipzig. I really want to ask you if it's easy for a goth (metal) band. Leipzig is the goth city, but I guess there are so many bands that it is difficult to get some attention, not?
That is difficult to say, because I can't compare. Sure, you have more musicians interested in goth music and candidates to join the band. But indeed, in Leipzig you will find much more active bands in that genre than in any other city with the same size, but you have more goths too. So you have to be on a good level to get heard. So in the end I guess it's more an advantage than a disadvantage. And of course there is the famous Wave & Gothic Treffen where we could play several times. Thumbs up for Leipzig!
In your case you're noticed by Tilo Wolf by Lacrimosa. Explain that!
When our album was nearly ready, I sent Tilo some of our new songs and he answered quite fast! And then, he said that he liked it a lot and offered us the possibility to support Lacrimosa on the tour. The time was perfect with our release plans and you don't have to think long when you get such a chance! And in addition to that, I really have to say that the contact with Tilo was very amicable. You feel that he knows how dofficult it is to start a band.
I guess this will open many doors for you, not?
I hope so. We want to spread our music, and for this we need to play as much as possible in many different places. The support of the Lacrimosa tour is a dream come true. But above of all, the music must please the audience. But if you don't hear the music, you can't like it either. So you need a chance to play, which is not so easy, and this is the perfect opportunity. Thanks to Tilo for taking us with Lacrimosa on tour! So let's go and hit the road!
With Lacrimosa you will play for a quite large audience. Is this the first time for you?
We usually play in small clubs. We already played at bigger venues too, but not that often. In bigger venues you usually have a better sound and you have more space to move on stage, which we like a lot. More people also means more emotion.
Of course one of the main attractions is Korinna's voice. I guess people will label you as female fronted goth, and in a way you are, but it's so much more than that.
Thank you so much!
Are you classically trained, Korinna?
A little bit. I haven't studied singing, but I take classical lessons for some years. Right now I practice Händel and I love it a lot. It is important for me to train my voice in different music styles, to get new input and thoughts. If you don't do this, things will get boring soon. Sometimes I use some classical techniques in Canterra songs, but not always, cause I love to play with my voice and try to vary a lot.
What's your favourite record of all time and please state why.
There are so many. Some always are in my CD player. One record I played a lot is Wild Honey by Tiamat. It just catches me again and again.
With whom wouldn't you mind to be alone in an elevator for 8 hours and what would you do then?
There are many good friends, whom I could talk with for hours and it would not be boring. Once I was stuck in an elevator with 6 guys and it was 35°C. That was hard, it was just a short time though and they were all good friends (laughs).
The last words are yours…
We invite you to join the Canterra world. Just listen to our new record and visit one of our concerts and let the music live. We hope you like it.
Didier BECU
01/02/2016
---
Februari is een zeer belangrijke maand voor Canterra. Deze gothmetalband speelt het voorprogramma van Lacrimosa tijdens de Unterwelt Tour 2016. Naast vele Duitse shows, doet Canterra ook het voorprogramma van de Belgische show op 27 februari. Peek-A-Boo had een gesprek met zangeres Korinna.
Hallo, de eerste vraag lijkt ons logisch! Wie is Canterra en hoe zou je jezelf aan de wereld voorstellen?
Wij zijn een gothicmetalband uit Duitsland (Leipzig om precies te zijn). We spelen gothicmetal met vrouwelijke vocalen, met een donker, maar positief geluid. We maken gebruik van twee gitaren. De hoofdgitaar wordt door Harry gespeeld die tevens onze componist is, Hannes speelt op de slaggitaar en Tom is er op de bas, Max doet de drums en ik zing. Wij richten ons vooral op sterke melodieën met donkere metal en rock als basis. We zingen bijna altijd in het Engels, want ik voel me daar veel meer comfortabel bij. Soms zingen we ook in het Duits.
In 2010 brachten jullie een eerste demo uit en nu is er een eerste album. Ik weet dat het heel moeilijk is voor beginnende bands, maar waarom zo lang wachten?
Het duurde een hele tijd vooraleer we ons eerste album opnamen. We dachten inderdaad dat het sneller kon. We zochten een hele tijd een goede constellatie. Alles moet passen. Aan de ene kant hadden we problemen met de drummer en de bas, aan de andere kant waren er wat problemen met de repetitieruimtes. We deden alles zelf, wat niet altijd gemakkelijk is en we wilden het vooral goed doen en niet alleen vlug. Niemand van ons zat eerder in de muziekbusiness en we moesten alle productiestappen leren. We waren dus erg blij om goede vrienden te hebben, zoals Andy Schmidt van Disillusion die ons enorm hielp. Helaas hebben we allemaal een normale job tijdens de dag, dus uiteindelijk hebben we alleen maar de weekends en de avonden om onze droom waar te maken. Ook voor het maken van muziek en optredens moesten we een netwerken opbouwen, en ga zo maar door. Op het einde van 2014 was de tijd rijp en besloten we om aan ons eerste album te werken. We bouwden Canterra op vanuit het niets en we zijn erg trots op onze eerste cd.
Oorspronkelijk begonnen jullie als Avatar. Zelf vind ik Canterra een veel betere keuze! Ik denk dat er wellicht miljoenen bands zijn met de naam Avatar, niet?
We zijn erg blij met onze naam, want die past heel goed bij ons. Er was inderdaad al een grote Zweedse band met de naam Avatar, en natuurlijk is er ook de film. Maar de belangrijkste reden om de naam te veranderen was gewoon dat Avatar niet de juiste naam was voor ons project.

Jullie zijn van Leipzig. Is het gemakkelijk voor een goth (metal) band? Ik bedoel, Leipzig is de gothstad bij uitstek, dus ik denk dat er meer bands zijn en dat het dus ook moeilijk is om aandacht te krijgen?
Dat is moeilijk te zeggen, want ik kan niet vergelijken. Natuurlijk zijn er meer muzikanten geïnteresseerd in gothmuziek en vind je meer kandidaten die bij de band willen. Maar inderdaad, in Leipzig vind je meer bands in dat genre dan in welke andere stad ook, maar je hebt ook meer goths. Dus moet je wel op een goed niveau zitten om gehoord te worden. Uiteindelijk denk ik dat het meer een voordeel is dan een nadeel. En natuurlijk is er ook Wave & Gothic Treffen waar we al meerdere keren konden spelen. Leve Leipzig!
In jullie geval zijn jullie opgemerkt door Tilo Wolff van Lacrimosa. Leg dat eens uit!
Toen ons album bijna klaar was, stuurden we Tilo een aantal tracks en hij antwoordde heel snel! Toen zei hij dat hij het erg leuk vond en bood hij ons de mogelijkheid aan om met Lacrimosa te spelen. De timing paste perfect met de releasedatum van onze plaat en je hoeft niet lang na te denken als je zo'n kans krijgt! Ik moet echt zeggen dat het contact met Tilo zeer vriendschappelijk verliep. Je voelt dat hij weet hoe moeilijk het is om een ​​band te beginnen.

Ik denk dat dit toch veel deuren zal openen, niet?
Ik hoop het. We willen onze muziek verspreiden en dat moeten we doen door zo veel mogelijk in veel verschillende plaatsen te spelen. De Lacrimosa-tour is een droom die uitkomt. Maar vooral moeten de mensen je muziek goed vinden. Maar als ze ze niet horen, kunnen ze ze ook niet leuk vinden. Als je zo'n kans krijgt, moet je ze nemen. Dus bedankt Tilo dat je ons meeneemt op de Lacrimosa-tour!
Met Lacrimosa spelen jullie voor een vrij groot publiek. Is dit de allereerste keer?
Meestal spelen we in kleine clubs. We hebben wel al op grotere podia gespeeld, maar niet zo vaak. In de grotere zalen heb je meestal een beter geluid en heb je op het podium meer ruimte om te bewegen. Meer mensen betekent ook meer emotie.

Natuurlijk is Korrinas stem een belangrijke factor. Ik denk dat mensen je daardoor zullen bestempelen als female fronted goth metal, en dat is ook zo, maar het is zo veel meer dan dat.
Heel erg bedankt!

Ben je klassiek geschoold, Korinna?
Een beetje. Ik heb niet leren zingen, maar ik volg sinds enkele jaren klassieke lessen. Op dit moment ben ik met Händel bezig en ik vind dat top. Het is belangrijk om mijn stem in verschillende muziekstijlen te trainen, zo krijg ik nieuwe ideeën. Als je dat niet doet, zal alles snel saai worden. Soms gebruik ik een aantal klassieke technieken voor Canterra, maar niet altijd, want ik hou ervan om verschillende dingen uit te proberen.
Wat is jouw favoriete plaat aller tijden en waarom?
Er zijn er zo veel. Sommige zitten altijd in mijn cd-speler. Een mooi voorbeeld is Wild Honey van Tiamat. Het grijpt me iedere keer bij de keel.

Met wie zou je het niet erg vinden om 8 uur alleen in een lift te zitten?
Er zijn veel goede vrienden met wie ik uren kan praten zonder dat het saai wordt. Onlangs zat ik in een lift met 6 jongens vast en het was 35 graden. Leuk was anders, maar het duurde maar eventjes en ze waren allemaal goede vrienden (lacht).

De laatste woorden zijn die van jou …
Wij nodigen je uit om de wereld van Canterra te betreden. Luister naar onze nieuwe plaat en kom naar een van onze concerten en laat de muziek spreken. We hopen dat je het leuk vindt.
Didier BECU
01/02/2016
---