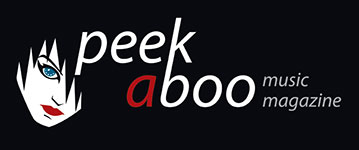 like this interview
---
ORANGE SECTOR
'...we hope to play or release something special this year.'
18/01/2016, Britta Tabrit
---
Peek-A-Boo had the opportunity to talk to Lars and Martin of Orange Sector, one of the German EBM bands of the 1990s that is still around.
Thanks you for your time! First of all, did you have great holidays during Christmas and New Year?
Lars: Yes, we did it in a contemplative way with our families. 2015 was not such a good year, because lots of sad things happened. My parents passed away both within three months. Friends and relatives passed away too, so we enjoyed the contemplative time with our kids. It's a reason to focus more on the important things in life….live the day!!!
2015 has been an interesting year. Orange Sector released a new album (Night.Terrors). Please, tell our readers how you write music. How long does it take to finish the album?
Martin: I begin with transforming the first ideas into sounds. I compose the demos. Lars listens to them and starts writing the lyrics. Sometimes we exchange the lyrics per e-mail for a few times, it's like a brainstorming and I fill the words with different ideas. That is really creative and the song starts changing. After that we begin with the recording in the studio.
The second single taken from Night.Terrors is called Monoton. What's the meaning behind this track?
Lars: This word is important for our style of music. I am not sure if monotone has the same meaning in English like it has in German. But you can transfer this word in your life and then it is in a negative way. The style of EBM is monotonous, but that doesn't mean that you refuse new ideas or doesn't move your ass and change something… so, we played with this word and let space for your own interpretation. We put some names of the most important Orange Sector-songs into the lyrics of the song Monoton. We liked this idea… it was an experiment.
In September you announced live gigs in 2016 after more than one year. How does that feel? And, of course, where are you going to play?
Martin: It feels good to go back on stage. We will play at E-Tropolis-Festival in Oberhausen.
2016 is also the year of the band's 25th anniversary. Anything planned already?
Lars: Damn yes, 25 years…crazy. Not yet, but we hope to play or release something special this year. We will let you know.
Can you tell something about future releases already? Singles, videos, etc…
Martin: We released the Monton EP as part one of a 3 EP-collection. So the second part will follow in the next 3 months. Today, we talked about the ideas for a new video.
If you had the chance to work with one of your personal heroes in music business who would it be and why?
Lars: Mike Patton (Faith No More) because of his crazy ideas and he has the sickest voice on earth.
Which album was the last one you bought and can you give us your opinion.
Lars: Depeche Mode – Live in Berlin (5-Disc-Box). Lately I listen a lot to heavy music, mostly metalcore. I didn't hear that much electronic music until I saw this concert on German television. I love it, because Depeche Mode sounds like a rock band on it. I know that Martin does not understand why I love this album! But that is what makes Orange Sector so interesting. Different kind of styles and prospects come together and make it special.
Please, choose one fruit out of these: banana, apple, orange, melon, strawberry or cherry
Lars: I have to choose the orange, right? But I choose the banana!
At the end of our interview: which are your personal goals for 2016?
Lars: To keep well and fit, that 2016 may be a much better year than 2015, make more music, save the animals and the oceans… and make this world a bit better!
Thank you very much for your time and see you in Oberhausen!
Britta Tabrit
18/01/2016
---
Peek-A-Boo had de gelegenheid om met Lars en Martin van Orange Sector te praten, één van de Duitse EBM-bands uit de jaren 1990 die nu nog steeds bezig is.

Zeg eens, heb je een geweldige vakantie gehad tijdens Kerstmis en Nieuwjaar?
Lars: Ja, we hebben een leuke tijd gehad met onze families. 2015 was niet zo'n goed jaar, omdat er veel droevige dingen zijn gebeurd. Mijn beide ouders zijn overleden in drie maanden. Vrienden en familieleden overleden ook, dus we genoten van de tijd met onze kinderen. Het is een reden om je op de belangrijke dingen in het leven te richten....geniet van elke dag!
2015 is een interessant jaar. Orange Sector bracht een nieuw album uit (Night.Terrors). Alsjeblieft, vertel onze lezers hoe je muziek componeert. Hoe lang duurt het om een album te maken?
Martin: Ik begin met mijn eerste ideeën in geluiden om te zetten, daarna componeer ik de demo's. Lars luistert ernaar en schrijft daarna de teksten. Soms wisselen we de teksten per e-mail een paar keer uit, het is als een brainstorm en daarna vul ik die nog wat aan met andere ideeën. Dat is echt creatief, zo verandert het nummer. Daarna beginnen we met de opnames in de studio.
De tweede single van Night.Terrors heet Monoton. Wat betekent dat nummer?
Lars: Dit woord is belangrijk voor de stijl van onze muziek. Ik ben niet zeker of monotoon dezelfde betekenis heeft in het Engels als in het Duits. Maar als je het gebruikt in de betekenis van het leven, dan is dat op een negatieve manier. De stijl EBM is eentonig, maar dat betekent niet dat je nieuwe ideeën hoeft te weigeren! We spelen met dit woord en laten ruimte voor eigen interpretatie. We hebben de titels van de belangrijkste Orange Sector-nummers in de tekst van Monoton verwerkt. Wij vonden dit een leuk experiment.

In september heb je voor 2016 na meer dan een jaar nieuwe optredens aangekondigd. Waar ga je zo overal spelen?
Martin: Het voelt goed om terug op een podium te kunnen spelen. We staan op het E-Tropolis Festival in Oberhausen.
2016 is ook het jaar waarin de band 25-jarig bestaat​​. Al iets gepland?
Lars : Inderdaad ja , 25 jaar... hoe gek. Neen, nog niet, maar we hopen om dit jaar iets bijzonders te kunnen doen. We laten het je weten.
Kun je iets over de toekomstige releases zeggen?
Martin : De Monton-ep is nu uit, het is het eerste deel van onze 3 ep-collectie. Het tweede deel zal in de komende 3 maanden volgen. Vandaag hebben we het ook over een nieuwe video gehad.

Als je de kans zou krijgen om te werken met één van je persoonlijke muzikale helden, wie zou dat zijn en waarom?
Lars: Mike Patton (Faith No More) vanwege zijn gekke ideeën en hij heeft de meest krankzinnige stem die er bestaat.
Welk album kocht je laatst en vertel iets daarover.
Lars: Depeche Mode - Live in Berlin (5-Disc-Box). De laatste tijd luisterde ik veel naar zware muziek, vooral metalcore. Veel elektronische muziek hoorde ik niet, totdat ik dit concert op de Duitse televisie zag. Ik hou ervan omdat Depeche Mode als een rockband klinkt. Ik weet dat Martin daar net niet van houdt! Maar dat maakt Orange Sector zo interessant. Verschillende stijlen maken het bijzonder.

Welke fruit heb je het liefst: banaan, appel, sinaasappel, meloen, aardbeien of kersen?
Lars: Ik moet de sinaasappel kiezen, niet? Maar ik kies de banaan!
Laatste vraag, welke persoonlijke doelen voor 2016 heb je?
Lars: Om goed en fit te blijven, en dat 2016 een beter jaar zal zijn dan 2015, meer muziek maken, hou wat rekening met de dieren en de oceanen... en maak deze wereld een beetje beter!

Hartelijk bedankt voor uw tijd en tot ziens in Oberhausen!
Britta Tabrit
18/01/2016
---