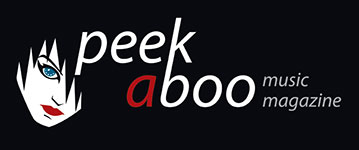 like this interview

---
WINTER SEVERITY INDEX
As long as I will have something to say with my music, I will do that.
19/01/2016, Didier BECU
---
On 6th February, Winter Severity Index is part of the newest edition of Fantastique Nights. Peek-A-Boo was thrilled to talk with Simona Ferrucci, one of the founders of this Italian dark wave gem.
When people see your biography, they're overwhelmed with the many styles you use: post-punk, cold wave, new wave, dark wave…you name it! Was it always an option when you started to have such a wide horizon?
We really don't care about labeling our music and we never thought it's directed to a particular target. I mean, it's not our specific task, we are musical, we aren't reviewers or marketing managers. We only follow our mood and play the music we like. In this sense, your own personal horizon is the widest you can consider and it's quite difficult to define it in a single word.

Already from the early start, the band did well. And six years later you're still here. When you recorded your EP in 2009, was it your goal to be a long lasting band?
I can only say that as long as I will have something to say with my music, I will do that.
Let me go back to the past. Originally Winter Severity Index were four women, and it later was reduced to a duo. Why was that? In any case, the magic of your music only became bigger!
Principally, Winter Severity Index has always been my own project, but I decided to share this experience with four special friends I've always appreciated very much as musicians. But of course, we are four people with their own lives and issues. There wasn't a specific artistic reason for this changing in the line-up, it just happened for personal issues of the original members. Things in our life can change, that's all.
This is probably a question everyone wants to know: the album Slanting Ray was a hit. But how about a new one, are you working on some new material?
We are recording a new LP these days. I can say we are very satisfied with the results, more news about it will come very soon.
When I reviewed your first EP, an Italian wave band surely wasn't a common thing. Apart from household names like Kirlian Camera or The Frozen Autumn, there weren't many bands around. Six years later it seems like all good bands come from Italy. How do you explain that?
I think the matter is very easy: the main reason for this apparent exploit is the massive spread of web communication. Today, it's easier to be on the spotlight for anyone truly interested in making music. In Italy there's always been a huge and interesting new wave scene. This updated interest for Italy is also pointed towards bands from the early 80s and it's not a surprise that also foreign record labels reissued some old Italian amazing works. So, new bands, old bands, lot of good stuff. Maybe Italians still haven't got a sense of how much our music production is valuable (and it's always been). We always underestimate ourselves, it's a real pity.
And talking about Italy. Is there really a big scene or is it just a bunch of great bands that aren't connected?
Musicians are truly connected, we all care a lot about this new Italian artistic consideration. A bunch of true interested promoters always tries to keep the flame alive, organizing events, sometimes with a very low budget. I think the main problem is the audience. There's a lack of interest for live events and the main reason is the cultural disaster we're facing in our country the last fifteen years. Things are getting worse and worse from this point of view and recession is the smallest part of the problem. I could talk hours about it, but this is not the right circumstance.

On the next Fantastique Nights-edition you play with some great Italian bands: Schonwald, Starcontrol, Phantom Love and Il Pulsivo. Do you know each other?
Of course we do and we estimate each other! And as you may know, Valentina Fanigliulo a.k.a. Mushy, a.k.a. Phantom Love was a member of Winter Severity Index until 2013.
What bands had a great influence on you personally and what inspired Winter Severity Index?
As far as I can remember, I've always been a music addict. So lots of influences merged in my music. I can't exactly say in which percentage my favorite music inspired me during the years, but I can surely affirm my strongest music passion was for new wave from the early 80s. So, I can mention Joy Division and most of the Factory Records productions, as well as 4-AD, Cocteau Twins in particular. I can surely add The Chameleons, The Sound but also the early U2, Simple Minds... I'm sure Alessandra would name the same bands. We both love Kraftwerk, Brian Eno, Cluster, Tangerine Dream, Massive Attack, Sigur Ros, GSYBE, Björk, Aphex Twin, Pet Shop Boys, PJ Harvey, David Bowie, Japan...
The lyrics aren't quite uplifting. They contain a lot of pain, anger, anxiety and even some anguish. In which way may we conclude that they're introspective?
All I wanted to communicate is in the lyrics themselves. So, yes. They are very introspective.
In your career you played a lot of gigs in many places. Which one do you consider to be the most memorable?
All concerts were memorable for some reasons, so I can't choose one in particular. We found amazing people everywhere and I think this is the best part of touring, meeting amazing people and share the same passion with them.
What's your favourite record of all time and why?
I can't give a good answer. Too many favorite records. Sorry.
With whom wouldn't you mind to be alone in an elevator for 8 hours and what would you do then?
I would faint if I only think about it…I'm claustrophobic. But maybe a very nice guy to spend some hours with would be Peter Hook. I recently read his book and it is interesting, and also very amusing.
You soon play in Brussels during Fantastique Nights. What can we expect?
Good music, of course. We don't care about anything else.
The last words are yours.
No labels, just music. Enjoy it.
Didier BECU
19/01/2016
---
Op 6 februari speelt Winter Severity Index in de Brusselse Botanique tijdens een nieuwe editie van Fantastique Nights. Peek-A-Boo had een gesprek met de oprichtster Simona Ferrucci van deze Italiaanse darkwaveband.
Als de mensen jullie biografie lezen, dan zullen ze zonder twijfel overweldigd zijn door de vele stijlen die jullie opnoemen : post-punk, cold wave, new wave, dark wave... noem maar op! Vanwaar die brede kijk?
Het labelen van onze muziek interesseert ons echt niet. Ik bedoel, dat is onze taak niet, we zijn muzikanten, geen recensenten of marketingmanagers. We volgen alleen onszelf en spelen de muziek die we willen. Je eigen horizon is de breedste die je kunt hebben, en ik kan dat moeilijk in één woord definiëren.

Vanaf het prille begin deed de band het goed. Toen jullie de ep in 2009 opnamen, hadden jullie gedacht dat jullie er zes jaar later nog zouden staan?
Ik kan alleen maar zeggen dat zolang ik iets te zeggen heb met mijn muziek, dat ik dat zal doen.

Laten we terug gaan naar het verleden. Oorspronkelijk bestond Winter Severity Index uit vier vrouwen, en later werd dat teruggebracht tot een duo. Waarom was dat? In ieder geval, de magie van de muziek werd er alleen maar groter door!
Eigenlijk is Winter Severity Index altijd mijn eigen project geweest, maar ik besloot om deze muzikale ervaring met vier speciale vrienden te delen. Ik heb die als musici altijd sterk gewaardeerd. Maar natuurlijk, we zijn vier mensen met een eigen leven en problemen. Er was geen specifieke artistieke reden voor deze wissel. Het gebeurde gewoon door persoonlijke kwesties. Dingen die ons leven veranderen, dat is alles.

Dit is waarschijnlijk iets dat iedereen wil weten: Slanting Ray was een hit. Werk je aan nieuw materiaal ?
We zijn een nieuwe lp aan het opnemen. Ik kan zeggen dat we zijn zeer tevreden zijn met de resultaten, spoedig weet je er meer over.

Toen ik jullie eerste ep besprak was er van Italiaanse wave geen sprake, behalve grote namen als Kirlian Camera of The Frozen Autumn, was de rest zo goed als onbekend. Zes jaar later lijken alle goede bands uit Italië te komen. Hoe verklaar je dat ?
Ik denk het zeer eenvoudig is. De belangrijkste reden waarom we vandaag zo sterk staan is gewoon omdat we onze muziek via het web kunnen verspreiden. Vandaag is het makkelijker om in de spotlight te staan en kun je mensen die interesse hebben voor muziek eenvoudiger bereiken. In Italië is er altijd een grote en interessante new wave scène geweest. Er is opnieuw belangstelling voor Italiaanse bands uit de vroege jaren 80. Het verbaast me niet dat buitenlandse platenmaatschappijen deze platen heruitbrengen, sommige oude Italiaanse platen zijn gewoon subliem. Misschien zijn de Italianen er zich gewoon niet van bewust hoe waardevol onze muziekscène wel is. Dat is altijd zo geweest. We onderschatten onszelf altijd, echt jammer.

Over Italië gesproken. Heb je daar nu echt een scène of zijn het gewoon een stel fantastische bands?
De muzikanten zijn echt verbonden, die nieuwe Italiaanse golf is voor ons echt belangrijk. Heel wat geïnteresseerde initiatiefnemers doen hun best om de vlam te laten branden, ze organiseren evenementen soms met een zeer laag budget. Ik denk dat het belangrijkste probleem gewoon het publiek is. Er is een gebrek aan belangstelling voor de optredens en de belangrijkste reden is de culturele ramp waarmee ons land de afgelopen vijftien jaar is geconfronteerd. Dingen worden steeds erger en erger en de recessie is het kleinste deel van het probleem. Ik kan daar uren over praten, maar ik denk niet dat jullie dit willen horen.

Jullie spelen op de volgende Fantastique Nights met andere Italiaanse bands: Schonwald, Starcontrol, Phantom Love en Il Pulsivo. Kennen jullie elkaar?
Natuurlijk en wij houden van elkaar! Zoals je wellicht weet zat Valentina Fanigliulo aka Slappe, aka Phantom Love tot 2013 bij Winter Severity Index.

Welke bands hadden een grote invloed op Winter Severity Index?
Voor zover ik me kan herinneren was ik altijd een muziekverslaafde. Dat zijn dus veel invloeden! Ik kan niet precies zeggen over welk percentage het precies gaat, maar ik kan zeker zeggen dat mijn sterkste passie naar de new wave uit de vroege jaren 80 gaat. Joy Division dus en de meeste van de Factory-groepen, net als 4-AD, vooral Cocteau Twins. Je moet er zeker The Chameleons, The Sound, maar ook de vroege U2 of Simple Minds bijvoegen. Ik ben er zeker van dat Alessandra dezelfde banden zou noemen. We houden allebei van Kraftwerk , Brian Eno, Cluster, Tangerine Dream, Massive Attack, Sigur Ros, GSYBE, Björk, Aphex Twin, Pet Shop Boys, PJ Harvey, David Bowie, Japan...

De teksten zijn niet echt vrolijk. Ze bevatten veel pijn, woede en zelfs angst. Op welke manier zijn ze introspectief?
Alles wat ik wilde zeggen zit in de teksten. Dus ja. Ze zijn erg introspectief. Zo ben ik, inderdaad.

In je carrière deed je een heleboel optredens in vele plaatsen. Welke vind je de meest memorabele van allemaal?
Alle concerten waren onvergetelijk om verschillende redenen, dus ik kan er niet zo maar één uitkiezen. Overal zagen we fantastische mensen en ik denk dat dit het beste deel van het toeren is, je ontmoet geweldige mensen en je deelt je passie met ze.

Wat is jouw favoriete plaat aller tijden en waarom?
Ik kan geen goed antwoord geven. Te veel favoriete platen. Sorry.

Met wie zou je het niet erg vinden om alleen 8 uur in een lift te zitten en wat zou je dan doen?
Ik val flauw als ik alleen maar aan het idee denk! Ik ben claustrofobisch. Misschien is Peter Hook wel een aardige vent om enkele uren mee in een lift te zitten. Ik las onlangs zijn boek en het is interessant, maar ook zeer vermakelijk.

Je speelt binnenkort in Brussel tijdens de Fantastique Nights. Wat kunnen we verwachten?
Goede muziek, natuurlijk. De rest kan ons niet schelen!

De laatste woorden zijn die van jullie.
Geen labels, alleen muziek! Geniet ervan.
Didier BECU
19/01/2016
---