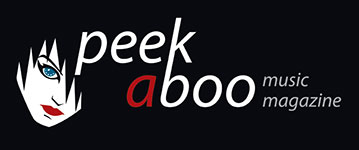 like this interview
---
VITA NOCTIS
We always want to do our best, but the spontaneous character is important too. We immediately feel a click, or don't...
17/12/2015, Didier BECU
---
Agreed, it came unexpectedly, but the best minimal synth of this year (again) comes from Belgium. No Place For You by Vita Noctis is probably the best album of 2015 you haven't heard yet, so Peek-A-Boo decided to invite Kris and Martine.for a virtual tea party.
Hello Kris and Martine, I realize that it is a terrible cliché to start with, but why after all this time did you decide to make music again?
Well, the trigger came in 2011 with the release of our double album Against The Rule (a collaboration between Dark Entries Records by Josh Cheon and Minimal Maximal by Dirk Ivens). We always followed the scene, so we still know what's going on in the genre. We had a bass guitar, a drum machine and a Korg MS-20, although unfortunately the drum machine and the Korg didn't stands the test of time. Actually, we quickly started to compose some songs, just for ourselves, which we later posted on Soundcloud and some reactions came. And the rest is history!
No Place For You sounds great. Wonderful minimal synth from the 80s, but it has a very spontaneous feel. I mean, I don't hear musicians who are forcing themselves to sound like this, it is just the way you are. Right?
We always had our own style, but I think we sound different than in the 80s, simply because of the fact that we no longer have the original instruments. We use less guitars. (Martine does not like them!) We kept the structure, or the lack of it, and the style, so it remains recognizable. We usually start from the same concept every time: the base (drum + bass) and vocals. At that moment you immediately know: "this sounds good", "this can be better." or "this is for the trash bin". When we both like the base, then everything is refined and certain kinds of sounds, effects or additional vocals are added. We always want to do our best, but the spontaneous character is important too. We immediately feel a click, or don't...
The title No Place For You can be interpreted in different ways, has it something to do with the current refugee drama?
No, the title has nothing to do with that. Usually, our texts have no meaning. We don't want to spread a message via our texts, neither tell a particular story. It often happens that when a song is composed, the lyrics make no sense, but we love the sound of the words. For us, the voice is an additional tool.It should sound good and fit the mood of the song.
Previously, bands had a minimal sound because they had no money to buy expensive instruments. Today you're considered to be better if you use cheap material. I suppose this makes you laugh?
Some instruments of the past are now collector's items and much more expensive than before. However, the nature of the instrument is less important than what is being done with it.
Besides, what do you think of the minimal wave revival, or is Vita Noctis a world in itself?
Vita Noctis is not a world in itself. During all those years, we were interested in new wave and its subgenres. We went (and still go) to see concerts everywhere. These are indeed the places where you can find inspiration and learn things. We really enjoy a show every time we look forward to it.
Dirk Ivens also plays an important role. Please explain.
Previously we occasionally played with The Klinik and so we knew Dirk Ivens. We have not been in touch for years, until one day he contacted us, asking if we still had some old recordings. Along with Josh Cheon of Dark Entries Records, Dirk released our double album. Later he asked if we had any new material. He was excited and wanted to release a new Vita Noctis CD.
When mentioning Dirk Ivens, you also end up with Eric Van Wonterghem. Eric also worked on the album, and you can hear that! What a sound!
We mixed all our songs with Dirk Ivens. We are grateful for his time and efforts. It's always interesting when someone listens objectively. Eric mastered the CD and he came up with a powerful sound. We are extremely pleased with the result. It is a pleasure and an honour to work with people who are very passionate.
Let's go back to the past! Maybe I'm wrong, but it is true that Vita Noctis was completely ignored and later rediscovered by music lovers who thought that the band is genius?
We never thought about that. When our record was released on Mad in Belgium Records in the 80s, we were invited once for an interview with Gust De Coster (the John Peel of Belgium-ed.) This was, as far as we know, the only airplay we ever had on Belgian radio. The interview was arranged by Eric Didden, who was the manager of Mad in Belgium Records, and who is the manager of the mainstream band Triggerfinger now. Perhaps we miss the needed X-factor to become popular (bursts out laughing).
Was it so much easier in the 80s as some say?
Of course in the 80s new wave was the music genre! Every week, in every village, there was a show or a new wave party and these venues always were like sold out! A great time, for sure! In terms of music, a lot of things have changed since. Now you have more options (computer programs, advanced equipment, projections,...). I tell you a funny story: we wanted to create a smokescreen on stage. To do so, we had to crawl on our hands and knees in the dark to launch a smoke bomb that we bought in a carnival shop. Then we had to return on stage, just as cool as possible, pretending that the smoke came spontaneously! I think these days it's harder for the festival organizers now, because back then new wave was the music genre, while today the group of fans is very limited.
Vita Noctis didn't play many concerts. Any plans to change that?
That is a difficult question. In 2012 we did a gig in Beveren (Belgium-ed.) and we weren't satisfied. Despite our age, we have a lack of experience, and those nerves! And yet, it felt good and exciting, so we exclude nothing, but there are no concrete plans.
What's your favourite record of all time and why?
Martine: I don't have a favourite record of all time. Music and tastes evolve. At this time it is Sangre by Volkova. Full of passion and I love to listen and dance to it!
Kris: It's impossible to pick out one record, because there are so many good records made, but if I had to choose one, then I'd say From The Lion's Mouth by The Sound.

With whom you would not mind to be alone in an elevator for 8 hours, and what would you do then?
Sorry, claustrophobia! (laughs).

The last word is yours!
We would like to thank Dirk Ivens and Josh Cheon because they gave us the drive to make music again!. Also Eric Van Wonterghem, Peter Mastbooms, Zoltan Freitag and Stephan Barbery we want to thank them for their contribution on our new CD. We also wish to thank Peek-A-Boo for the attention.
It is our duty to spread the word!
Didier BECU
17/12/2015
---
Toegegeven, het kwam geheel onverwacht, maar de beste minimal synth komt dit jaar (opnieuw) uit België. Omdat No Place For You van Vita Noctis wellicht het beste album van 2015 is dat je nog niet hebt gehoord, besloot Peek-A-Boo om op virtuele theevisite bij Kris en Martine te gaan.

Dag Kris en Martine, ik besef dat ik begin met een verschrikkelijke clichévraag, maar waarom besloten jullie na al die tijd om opnieuw muziek te maken?
Wel, eigenlijk kwam de trigger om opnieuw muziek maken na de release in 2011 van onze dubbel-lp Against The Rule (een samenwerking tussen Dark Entries Records van Josh Cheon en Minimal Maximal van Dirk Ivens).
We zijn de scène altijd blijven volgen, dus het genre zijn we nooit uit het oog verloren. We hadden nog een basgitaar, een drummachine en een MS Korg-20, hoewel de drummachine en de Korg jammer genoeg de tand des tijd niet hebben doorstaan. Eigenlijk zijn we dan vrij vlug nummers beginnen te maken, gewoon voor onszelf, die we nadien op Soundcloud hebben gepost en waarop wel wat reactie is gekomen. En we waren vertrokken…
No Place For You klinkt fantastisch. Prachtige minimal synth uit de jaren 80, maar wat mij opvalt is dat het zeer spontaan klinkt. Ik bedoel, ik hoor geen groep die er absoluut alles aan doet om zo te klinken, jullie zijn gewoon zo. Klopt dat?
We hebben altijd al een eigen stijl gehad, maar vinden toch dat we nu een beetje anders klinken dan in de jaren 80, alleen al wegens het feit dat we niet meer in het bezit zijn van de originele instrumenten. We maken ook minder gebruik van gitaren. (Martine houdt niet van de gitaar!) De structuur, of het gebrek eraan, en de stijl blijven echter behouden en dus blijven we herkenbaar. We vertrekken meestal vanuit hetzelfde concept: de basis (drum + bas) met zang. Op dat moment voel je onmiddellijk: "dit wordt wat, het klinkt goed", "is het voor verbetering vatbaar?" of "is het voer voor de vuilnisbak?". Als wij beiden de basis zien zitten, dan wordt alles verfijnd en worden er bepaalde geluiden, klanken, effecten of extra zang toegevoegd. We doen veel moeite om het beste uit onze nummers te halen, maar we hechten veel belang aan het spontane ontstaan ervan. We hebben er onmiddellijk een klik mee of niet.
De titel No Place For You kun je op verschillende manieren interpreteren, heeft het iets te maken met het huidige vluchtelingendrama?
Neen, de titel heeft niets met het vluchtelingendrama te maken. Om eerlijk te zijn: wij hechten weinig belang aan titels of teksten. Onze teksten hebben meestal geen betekenis. We willen geen boodschap brengen via onze teksten of een bepaald verhaal vertellen. Vaak wordt de eerste zang (met soms teksten die geen steek houden) behouden juist wegens de klank van de woorden. De zang is voor ons een extra instrument. Het moet vooral auditief goed klinken en natuurlijk ook passen bij de stemming van het nummer.
Vroeger klonken groepen minimal omdat ze geen geld hadden om die peperdure instrumenten te kopen, vandaag ben je net beter als je die goedkope dingen wel gebruikt. Ik veronderstel dat jullie daar al eens om hebben gelachen, niet?
Sommige instrumenten van toen zijn nu collector's items en veel duurder dan vroeger. De aard van het instrument is echter ondergeschikt aan wat ermee wordt gedaan.

Trouwens, volgen jullie heel die minimal wave revival, of is Vita Noctis een wereldje op zich?
Vita Noctis is geen wereldje op zich. Onze interesse is al die jaren blijven uitgaan naar new wave en al zijn subgenres. Regelmatig gingen (en gaan) wij naar optredens in binnen- en buitenland. Dit zijn trouwens ook de plaatsen waar je inspiratie kan opdoen en dingen kan leren. Wij kunnen enorm genieten van een optreden en kijken er telkens naar uit.
In ieder geval kwamen jullie bij Dirk Ivens terecht. Hoe gebeurde dat?
Vroeger traden we af en toe met The Klinik op en zo leerden we Dirk Ivens kennen. We hebben jarenlang geen contact meer gehad, tot hij ons op een dag contacteerde met de vraag of we nog oude opnames hadden liggen. Dirk heeft dan onze dubbel-lp uitgebracht, samen met Josh Cheon van Dark Entries Records. Een tijdje later vroeg hij of we nog nieuw materiaal hadden. Hij was enthousiast en hij wilde een cd van ons uitbrengen.
De stap van Dirk Ivens naar Eric Van Wonterghem is natuurlijk vrij vlug gezet. Ook Eric werkte mee aan de plaat en dat hoor je! Wat een geluid! Ik veronderstel dat Erics inbreng ook niet te onderschatten is?
Wij hebben samen met Dirk Ivens al onze nummers gemixt waarvoor onze hartelijke dank voor de tijd en moeite die hij deed. Het is altijd interessant als iemand de nummers eens objectief beluistert. Eric heeft daarna de cd gemasterd en ervoor gezorgd dat alles gestroomlijnd en krachtig klinkt. We zijn uitermate tevreden met het resultaat. Het is een plezier en een eer om met mensen te mogen samenwerken die enorm gedreven zijn.
Terug naar vroeger! Misschien heb ik het verkeerd voor, maar is het juist dat Vita Noctis destijds compleet werd genegeerd, maar later werd opgevist door muziekfanaten die begrepen dat Vita Noctis eigenlijk geniaal was?
Wij hebben ons daar nooit vragen bij gesteld. Toen onze plaat bij Mad in Belgium Records werd uitgebracht in de jaren 80, werden we één keer voor een interview uitgenodigd bij Gust De Coster (Radio 2). Dit was voor zover wij weten de enige keer dat we airplay kregen op de nationale radio. Het interview werd geregeld door Eric Didden, die toen manager was bij Mad in Belgium Records en nu de manager is van de mainstreamband Triggerfinger. Misschien ontbreekt het ons aan de nodige portie X-factor om bij een groter publiek bekend te gerake. (schiet in een lach).

Jullie hebben de twee periodes meegemaakt. Was het vroeger zo veel gemakkelijker als men beweert?
Natuurlijk waren de jaren 80 het walhalla van de new wave. Wekelijks was er in ieder dorp een optreden of was er een newwavefuif en die zalen zaten vol. Zalige momenten natuurlijk. Wat betreft muziek maken is er nu natuurlijk veel veranderd. Je hebt nu meer mogelijkheden (computerprogramma's, geavanceerde apparatuur, beeldmateriaal, projecties,…). Nog een grappige anekdote:we wilden voor ons optreden een rookgordijn creëren en daarvoor moesten we in het donker op onze handen en knieën een rookbommetje (gekocht in een carnavalswinkel)! aansteken om daarna zo "cool" mogelijk het podium op te stappen en te doen alsof die rook spontaan was ontstaan. Ik denk dat de festivalorganisatoren het nu veel moeilijker hebben dan vroeger, omdat new wave het muziekgenre van toen was, terwijl vandaag de groep aanhangers zeer beperkt is.
Vita Noctis was geen groep die je vaak op het podium zag. Komt daar met de nieuwe plaat verandering in?
Dat is een moeilijke vraag. We hebben in 2012 al eens een optreden gedaan in Beveren en we waren daar zelf niet tevreden over. Te lang geleden, ondanks onze leeftijd te weinig ervaring, en zenuwen! Toch hebben we er een goed en opwindend gevoel aan overgehouden. Het blijft spannend, dus we sluiten niets uit, maar er zijn geen concrete plannen.
Wat is je favoriete plaat aller tijden en waarom?
Martine : Een favoriete plaat aller tijden heb ik niet, muziek en smaak evolueren Voor mij is dat op dit ogenblik Sangre van Volkova. Vol passie en heerlijk om naar te luisteren en op te dansen.
Kris : Het is onmogelijk om er één plaat uit te pikken, want er zijn zo veel goede platen gemaakt, maar om er toch eentj te nemen, zou ik The Sound kiezen met From The Lion's Mouth.

Met wie zou je het niet erg vinden om 8 uur in een lift te zitten, en wat zou je dan doen?
Sorry, claustrofobie! (lacht)
Het laatste woord is natuurlijk aan jullie!
Wij willen graag Dirk Ivens en Josh Cheon bedanken omdat zij de drive waren om muzikaal opnieuw actief te zijn. Ook Eric Van Wonterghem, Peter Mastbooms, Zoltan Freitag en Stephan Barbery willen we bedanken voor hun bijdrage aan onze nieuwe cd. Jullie wensen we ook te bedanken voor de aandacht.
Graag gedaan, het is onze plicht om het woord te verkondigen!
Didier BECU
17/12/2015
---