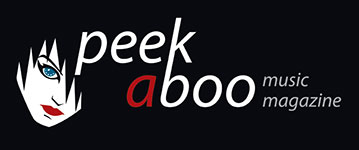 like this interview
---
THE GURU GURU
The story of The Guru Guru has become originality, creativity and a close friendship that is indestructible.
16/12/2015, Wim GUILLEMYN
---
The Guru Guru is a young Flemish band that released a 7 "and 10" (along with Brutus) in October. Because the music sounds quite promising, Peek-A-Boo wanted to know more!

First of all my compliments for both releases. How did the idea arise to work with Brutus?
We know each other for quite a while, as friends, and we found it a good idea to record something together, so you get the different characters of the bands. Musically, there's a totally different way of how we write or play, but when you hear these two bands in your head, then you get a pretty impressive synthesis in which you easily find everyone's identity. If The Guru Guru is madness, then Brutus is the devastation that fits.
When I saw you were covered Troy by Sinéad 'O'Connor, I frowned the eyebrows as it's not exactly what you call an obvious choice. But you did a good job!
The idea was to choose a song that was far away from our influences. There were several options, but Troy was one that stood out. That song has such a restrained power! We wanted to enlarge the original and make it extreme without loosing the original concept. We are very proud of the result and we hope that it's a nice tribute to the incredible work of Sinéad 'O Connor.
Can you tell something about the origin of the band?
We wanted a band that can't be put in one category. Spontaneous creation is the engine of music, and nowadays artists forget that sometimes. The aim was to put different talents in a rehearsal room: a place where we could work on individual ideas. We are all inspired by a wide range of artists, (which you can hear, I think) but the writing of the songs is apart from that. Ultimately, the story of The Guru Guru has become originality, creativity and a close friendship that is indestructible.
You began in 2012, but it wasn't until 2014 that you really started. What did you do between 2012 and 2014? Searching for the right musical direction?
I think we were mainly concerned with defining what we wanted to project on the outside world. Internally, the vibe was good and we knew where to go, but because our music is quite visual, we had trouble to put that in our recordings. This works better now. We're different on stage and on record (which of course makes it all interesting).
Did you always have the same members?
Yes. If anyone of us stops, then The Guru Guru stops. The heart of the band is the identity of each individual.
Not so long ago you played at Pukkelpop (a huge festival in Belgium-ed.). It goes quite fast, right? How did you end up at Pukkelpop?
Gosh, what is quickly anyway? In 2014 and in the spring of 2015 we played 70 shows, including Sziget in Hungary, Incubate in Tilburg, Roulements the Tambour in Rennes, so I think our gig at Pukkelpop has something to do with that. Obviously, that is a very great experience, but we always try to keep everything in perspective. That does not mean that we aren't ambitious. We have our targets, but in the first place we are very grateful and amazed that we get a big warmth from people who like our music, that's the biggest compliment a band can get!
The structured madness sometimes makes me think of Pixies (to name just one example). Are you also unpredictable in everyday life?
I think all of us have a certain restlessness which naturally gets into the music. The nice thing is that everyone in The Guru Guru has a diverse personality. Hopefully we evolve when getting older.
I really love your 7 " Backdoor, it's a class song. What is the song about?
The song is a dialogue between the night manager of a hotel and a permanent resident who reads a very obscure list of supplies. In a psychotic/drug-induced assault he killed a prostitute and he now is asking for ways to keep the memory of her.
Hole In The Ground is a real live stunner I think, not?
Hole In The Ground is one of the first songs in which we experience the evolution of the band. This track is in contrast to the songs of our first EP. It really is a combination of all the elements that are in The Guru Guru without sacrificing our rawness and intensity that we consider as extremely important. We notice, especially on stage, that Hole In The Ground forms a perfect symbiosis with the rest of the songs.

What can we expect in the future?
We are busy writing our debut album that we hope to release in 2017. Perhaps with a non-Belgian producer who helps us to get the band's vision on record. In the meantime, we write and rehearse, and in 2016 we'll play a lot of shows. We are working very hard, but we're not going to rush anything, The Guru Guru is a band that is spontaneous and we won't make compromises that are inferior for the music.
Thanks and good luck!
Definitely! Thank you!
Wim GUILLEMYN
16/12/2015
---
The Guru Guru is een jonge Vlaamse band die in oktober een 7" en een 10" (samen met Brutus) uitbracht. Omdat de muziek veelbelovend klinkt, wilde Peek-A-Boo wat meer weten!
Vooreerst mijn complimenten voor beide releases. Hoe is het idee ontstaan om samen met Brutus te werken voor die 10"?
We kennen elkaar al een hele tijd als vrienden en we vonden het geen slecht idee om de verschillende karakters van de bands op plaat vast te leggen. Muzikaal gezien is er een totaal andere manier van schrijven en spelen, maar als je die twee in je hoofd hoort, krijg je een vrij imposante synthese waaruit je ieders eigenheid kan halen. Als The Guru Guru waanzin is, dan is Brutus de verwoesting die daarbij past.
Toen ik zag dat jullie Troy van Sinéad 'O Connor hadden gecoverd, fronste ik toch even mijn wenkbrauwen. Het is niet meteen een voor de hand liggend nummer om te coveren. Maar jullie hebben daar goed je ziel in kunnen leggen. Hoe is dat idee ontstaan?
De bedoeling was om een nummer te kiezen dat ver van onze invloeden lag. Er waren meerdere opties, maar Troy was er eentje die er uitstak. Dat nummer heeft zo een ingehouden kracht die ervoor zorgt dat je continu op het puntje van de stoel zit. We wilden dat uitvergroten tot in het extreme zonder dat idee te verliezen. We zijn ontzettend fier op het resultaat en we hopen dat het een mooi eerbetoon is aan het ongelooflijke oeuvre van Sinéad 'O Connor.
Even over het ontstaan van de band: hoe is dat gegaan?
We wilden een band die je niet zomaar in hokjes kon stoppen. De spontane creatie is de motor van muziek en soms gaan artiesten daar tegenwoordig iets te licht over. Het opzet was om verschillende talenten in een repetitiehok te stoppen. Een plek waar we konden werken aan losse ideeën. Wij zijn allemaal geïnspireerd door een uitgebreide waaier van artiesten (wat hoorbaar is, denk ik), maar het schrijven van de nummers gebeurt daar volledig los van. We zullen het een trip naar de essentie van onze eigen persoon als muzikant noemen. Uiteindelijk is het verhaal van The Guru Guru er een geworden van originaliteit, creativiteit en een hechte vriendschap die vrijwel onverwoestbaar is.

Jullie zijn ontstaan in 2012, maar het duurde tot 2014 voordat jullie echt uit de startblokken kwamen. Wat deden jullie tussen 2012 en 2014? Op zoek naar de juiste muzikale richting?
Ik denk dat we vooral bezig waren met het definiëren van wat we wilden projecteren op de buitenwereld. Intern zat de vibe goed en we wisten waar naartoe, maar omdat onze muziek ook vrij visueel is, hadden we moeite om dat karakter ook in de opnames te stoppen. Dit is iets wat ondertussen beter lukt, maar we gaan altijd een band blijven die live nog verder is dan in de studio (wat het natuurlijk allemaal zo boeiend maakt).
Hadden jullie meteen van in het begin de huidige bezetting?
Ja. De bezetting staat los van de muziek, als één iemand van ons stopt, dan stopt ook The Guru Guru. Het hart van de band draait om de identiteit van ieder individu.
Jullie zijn nog niet zolang bezig en toch stonden jullie al op Pukkelpop. Het gaat snel, niet? Hoe zijn jullie op Pukkelpop geraakt?
Goh ja, wat is snel… In 2014 en het voorjaar van 2015 hebben we een zeventigtal shows gespeeld (waaronder bijv. Sziget in Hongarije, Incubate in Tilburg, Roulements de Tambour in Rennes), dus ik denk dat onze plaats op Pukkelpop daar wel iets mee te maken heeft. Uiteraard is dat een heel aangename ervaring, maar we proberen altijd in alles het perspectief te bewaren. Dat neemt niet weg dat we heel ambitieus zijn. We hebben onze doelen, maar in de eerste plaats zijn we enorm dankbaar en verbaasd dat we zoveel warmte krijgen van mensen die onze muziek echt goed vinden, dat is het grootste compliment dat je als band kan krijgen.
De gestructureerde waanzin doet mij soms aan Pixies denken (om maar één voorbeeld te noemen). Zijn jullie in het dagelijkse leven ook een beetje onvoorspelbaar?
Ik denk dat ieder van ons binnen de groep een bepaalde rusteloosheid heeft, wat natuurlijk in de muziek kruipt. Het mooie daaraan is dat iedereen in The Guru Guru een diverse persoonlijkheid heeft. Die onvoorspelbaarheid en spontane creativiteit merk je in de nummers. Hopelijk blijft dat evolueren naarmate we meer spelen en ouder worden.
Jullie 7" is erg geslaagd. Backdoor vind ik een topnummer. Het is heel erg goed opgebouwd. Jullie houden ook de waanzin goed in de hand. Waarover gaat dat nummer eigenlijk?
Het nummer is een dialoog tussen de nachtmanager van een hotel en een vaste bewoner die een zeer obscure lijst van benodigdheden voorleest. In een psychotisch/druggeïnduceerde aanval heeft hij een prostituée het leven ontnomen en hij vraagt nu naar middelen om de herinnering aan haar te bewaren.

Hole In The Ground is een echte liveknaller, denk ik…
Hole In The Ground is één van de eerste nummers waarin we zelf de evolutie van de band ervaren. Dit nummer is in tegenstelling tot de nummers van ons allereerste ep echt een geheel van alle elementen die in The Guru Guru zitten zonder dat we inboeten op de rauwheid en de intensiteit die we sinds het begin hoog in het vaandel dragen. Dat merken we live enorm, omdat Hole In The Ground een perfecte symbiose met de rest van de nummers vormt.
Wat zijn de volgende objectieven? Of zijn jullie daar niet meteen mee bezig?
Ondertussen zijn we bezig met het schrijven van een debuutalbum dat we in 2017 hopen uit te brengen met een al dan niet buitenlandse producer die meehelpt om de visie van de band op plaat te krijgen. In tussentijd wisselen we het schrijven en repeteren af met een heleboel shows in 2016 die worden geboekt door Bjorn van Ampersand Music om nog wat meer buzz omtrent The Guru Guru te creëren. We werken daar ontzettend hard aan, maar we gaan niks overhaasten, The Guru Guru is een band die spontaan is en die geen compromissen sluit die ten koste gaan van de muziek.
Bedankt en succes!
Jullie bedankt!
Wim GUILLEMYN
16/12/2015
---