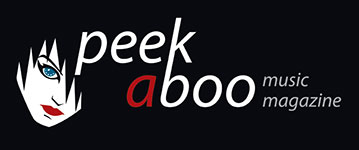 like this interview
---
IAMX
After my dark period it was easy to write lyrics for my songs. In that way it was a blessing.
24/11/2015, Wim GUILLEMYN
photos: © Marquis(pi)X
---
IAMX was at Brussels to present the new album Metanoia. A few hours before the concert, Peek-A-Boo was invited to have a chat with Chris Corner.

Hello Mr. Corner, how are you?
Please say Chris, fine thank you, I have a jetlag, but apart from that I'm well.
How is the tour going? And how are the new songs live?
Fantastic, wonderful, super! I feel that the new songs are now doing very well. It was a bit difficult to find the right flow to bring them on stage. You know, finding the right way so that they sound good on stage as well. It is electronic music and it takes some efforts to convert it into a live arrangement. We work with a live drummer and that gives more energy on stage.
I wonder how the new songs will sound on stage, as I remember from the previous tours that many songs had a lot of energy while Metanoia is rather an introverted album
Yes, but there is a difference between a song live and on an album. Playing a song on stage is for me the chance to explore the different sides of the track. I like it more this way than repeat what is on the record. I like to play with a song, for example making other arrangements or so. I spend a lot of time in a studio and I heard the final studio version so many times, that I like to do something else on stage. And it is also true that sometimes we are required to perform the song live differently, I mean in a pure practical way.
I see a big musical evolution between your debut Kiss and Swallow and your last album. There is more variation and complexity in your songs. The debut sounds more direct and more basic.
It sounds more mature, I hope so anyway. For the last album, I decided to make it a bit easier than on the albums before. In a way, it's a bit made like Kiss and Swallow: me and my computer. In this sense, the production process is the same, but of course I evolved too.
The new songs have synths that sound minimal and electro 80s like Northstar and Happiness. Was that intentional?
In a way, yes. I put some of the memories of what I heard during my childhood in these songs. We all do like thinking back of those things. It wasn't meant to sound retro or so, but these sounds and music touch me. They are simple basic sounds that I use with a melody and a strong rhythm, and that result sounds a bit like the 80s. It is not conscious, it's just grown like that.
The songs are modern and refer to the 80s, but it definitely does not sound retro.
Absolutely correct!
The new songs are introverted and the melody lines are rather subdued.
I wanted to keep it a little easier to convey the message more directly. The tonality is also somewhat easier to play live. I was actually in a fairly stress-free, relaxed stage when I was making the album and I just experienced a long period of depression and insomnia. I was recovering, and became stronger during the making of the album, you hear that.
It's a rather dark album. It feels like you wanted to end your difficult time through music.
Yes, it is true. I had gone through a difficult psychological period, and when I started, most of the work was already done. It was one of the easiest albums to make because I knew exactly what I wanted to write. That difficult period was in fact a blessing when I started writing the songs. It really gave me a lot of clarity, inspiration and strength as well. I would certainly not say that I was pleased with that black period, but in a way, I became stronger.
Have you made music during that dark period?
At that time I was very frightened, disturbed by insomnia. Creative periods are periods when you're out of balance. You let yourself guide by your creativity and emotions. I could not handle it. All I wanted was to be more balanced and feel better. At that moment I felt my music was a bit like my enemy. So I stopped making music at that time.
Do you always work alone when composing songs?
Yes, on all my albums I work alone.
Is it true that for this new tour you have a new live band?
Yes, partly. The album is more electronic. This time we do not have a guitar player, but an additional keyboard/synth player. I use many vocoders and now I can concentrate on my voice and singing. That is fairly new to me. I have a keyboard with me as well, but that's more to control the sound effects
I suppose playing without a guitar also has some implications for the songs you choose to play live?
Yes that's right. We've had some work, especially the older songs, replacing the guitar with synth parts and be careful that they have the same sound and impact. That took some time. But it sounds refreshing. And with the live drums, combined with the drum machine, and sometimes a live bass, we try to keep it alive. It is difficult to create a live vibe with an electronic drum only.
What are your favourites on Metanoia? Or songs with a special meaning?
It depends a bit. Look Outside is a song that is close to my heart. It's more a ballad. It was written when I was in the desert. I have a little chalet there. The environment inspired me tremendously and I wanted to pour that into a song. That atmosphere, feeling one with nature, being in balance. It is the most hopeful song too, I think.
The album has strong lyrics and you must listen with an open mind to it, and it's completely different compared with your previous work.
Thanks, that's nice of you to say!
You worked again with Pledge Music. Is that the most convenient way for you?
It is one way. We found a way where we could combine things: crowdfunding and a label distribution deal. I'm not very fond of the music industry and with crowdfunding we can speak directly to the fans. It takes some work, but ultimately it gives you great satisfaction. Another advantage is that you don't have to make compromises. You have control over your project and you can do whatever you want, as long as you have the support of your fans. Fortunately, I do not complain at all. Crowdfunding helps to get the attention of labels and distribution companies.
I look forward to the show, success!
Oh, you come tonight too? Fantastic!
Click here for the concert review, and here to see the pictures of Xavier.
Wim GUILLEMYN
24/11/2015
---
Naar aanleiding van het concert in de AB waar IAMX zijn nieuw album Metanoia kwam voorstellen, had Peek-A-Boo enkele uren voor het concert een gesprek met Chris Corner.
Goedendag mijnheer Corner , hoe maakt u het?
Zeg maar Chris, fijn dank je, ik heb wel wat last van een jetlag, maar anders gaat het goed.
Hoe loopt de tour? En hoe doen de nieuwe songs het live?
Fantastisch, wondermooi, super ja. Ik heb het gevoel dat de nieuwe songs het nu heel goed doen. Het was een beetje zoeken naar de juiste flow om ze live te brengen. Om ze om te zetten in de juiste manier zodat ze live goed overkomen. Het is elektronische muziek en het vraagt wat handigheid om die in een live-arrangement om te zetten. We werken met een livedrummer en dat geeft meer energie op het podium.
Ik vraag mij af hoe de nieuwe songs zullen klinken, want ik herinner mij van de vorige tours dat er heel wat opzwepende nummers passeerden die een hoop energie uitstralen terwijl Metanoia toch eerder een introvert album is?
Ja, maar er is een verschil tussen een song live brengen en op een album. Een nummer live spelen is voor mij de kans om een andere zijde van een song te verkennen. Ik hou daar meer van dan hetzelfde te doen zoals op de plaat. Ik hou ervan om met een song te spelen, in andere arrangementen te stoppen, etc. Ik spendeer zoveel tijd in de studio en ik hoor zoveel keren de definitieve studioversie dat ik het leuk vind om er live wat anders mee te doen. En het is ook zo dat we soms vanuit praktisch opzicht verplicht zijn om het nummer live anders te brengen.
Ik zie toch muzikaal een grote ontwikkeling tussen jullie debuut Kiss and Swallow en je laatste album. Er zit meer variatie en complexiteit in de je nummers. Het debuut klinkt directer en meer basic.
Het klinkt meer volwassen, dat hoop ik toch. Voor het laatste album heb ik toch de beslissing moeten nemen om het weer iets eenvoudiger te maken dan op de albums ervoor. Het is opnieuw een beetje gemaakt zoals in de tijd van Kiss and Swallow: ik en mijn computer. In die zin is het productieproces hetzelfde, maar natuurlijk ben ikzelf intussen geëvolueerd.
De nieuwe songs bezitten wat minimal klinkende synths, eighties' electro klinkende nummers zoals bijv. Northstar en Happiness. Was dat de bedoeling?
Op een bepaalde manier wel, ja. Ik put wat uit de herinneringen van wat ik tijdens mijn kinderjaren hoorde. We houden er allemaal wel van om die dingen weer op te roepen. Het was niet de bedoeling om retro te klinken, maar het zijn wel deze geluiden en muziek die mij raken. Het zijn simpele basisgeluiden die ik gebruik met een melodie, en een sterk ritme erbij, en dat resultaat klinkt een beetje zoals de 80s. Het is niet bewust, het is gewoon zo gegroeid.
De songs zitten wel modern in elkaar en er zitten elementen in die refereren naar de jaren 80, maar het klinkt zeker niet retro.
Helemaal juist!

De nieuwe songs zijn grotendeels introverter en de melodielijnen zijn eerder ingetogen.
Ik wilde het wat eenvoudiger houden om zo te boodschap directer te kunnen overbrengen. De tonaliteit is ook wat eenvoudiger om live te brengen. Ik was eigenlijk in een vrij stressloos, relaxed stadium toen ik het album aan het maken was en ik kwam juist uit een lange periode van depressie en slapeloosheid. Ik was herstellende en sterker bij het maken van het album, maar dat alles hoor je.
Je hoort het inderdaad wat in de muziek, het is een eerder donker album. Het voelt aan alsof je aan die periode een einde wilde maken via je muziek.
Ja, het is ook zo. Ik was door een moeilijke psychologische periode gegaan en toen ik met album begon was het grootste werk al gedaan. Het was één van de gemakkelijkste albums om te maken omdat ik precies wist waarover ik moest schrijven. Door die moeilijke periode gaan was in feite een zegen toen ik de nummers begon te schrijven. Het gaf me eigenlijk veel helderheid, inspiratie en sterkte ook. Ik wil zeker niet zeggen dat ik blij was met die zwarte periode, maar op een bepaalde manier kom je er ook sterker uit.
Heb je in die periode geen muziek gemaakt?
Inderdaad, in die periode was ik erg bang, ontregeld door slapeloosheid… Creatieve periodes zijn periodes waarin je balans niet evenwichtig is. Je laat je leiden door je creativiteit en je emoties. Ik kon dat niet aan. Het enige dat ik wilde was meer in evenwicht zijn en beter worden. Me goed voelen. Op dat moment voelde mijn muziek een beetje als mijn vijand aan. Zo ben ik in die periode gestopt met muziek maken.
Werk je altijd alleen aan je nummers?
Ja, voor al mijn albums werk ik alleen aan de nummers.
Klopt het dat je voor deze tour met een nieuwe liveband werkt?
Ja, gedeeltelijk. Het album is meer elektronisch. We hebben ditmaal geen gitaarspeler meegenomen. Maar wel een extra keyboard/synthspeler. Ik gebruik veel stemvervormers en ik kan mij nu meer concentreren op mijn stem en zang. Wat vrij nieuw voor me is. Ik heb nog een keyboard bij me, maar het is meer om de soundeffects aan te sturen.
Zonder gitaar heeft het ook gevolgen voor de songs die je kiest om live te brengen?
Ja, dat klopt. We hebben wat werk gehad om, vooral bij de oudere songs, de gitaarpartijen te vervangen door synthpartijen die hetzelfde klinken en dezelfde impact hebben. Er kroop wel wat tijd in. Maar het klinkt op die manier wel weer levendig en verfrissend. En met de livedrums, in combinatie met de drumcomputer, en soms livebas, proberen we het levendig te houden. Met alleen een elektronische drum is het moeilijk om een livevibe te creëren.
Welke songs uit Metanoia zijn je favorieten? Of hebben een speciale betekenis?
Het hangt er een beetje van af. Maar Look Outside is wel een track dat me nauw aan het hart ligt. Het is meer een ballade. Die is geschreven toen ik in de woestijn zat. Ik heb daar een kleine chalet staan. De omgeving inspireerde me enorm en ik wilde dat in een song gieten. Dat gevoel één te zijn met de natuur, in e"venwicht zijn; dat wilde ik in die tack steken. Het is het meest hoopvolle liedje ook, denk ik.
Het album heeft sterke teksten en die moet met een open geest luisteren zonder teveel te vergelijken met je vorig werk.
Bedankt, het is tof dat je dat zegt!
Je werkte weer via Pledge Music. Is dat voor jou de geschiktste manier?
Het is één manier. We vonden een manier waarbij we dingen konden combineren: crowdfunding, label, distributiedeal… Ik ben niet erg gek van de muziekbusiness en met de crowdfunding kunnen we direct de fans aanspreken. Het betekent wel wat extra werk, maar uiteindelijk geeft het je wel veel voldoening. Een ander voordeel is dat je geen compromissen hoeft te sluiten. Je hebt de controle over je project en je kan maken wat je wilt zolang je de steun van je fans hebt. Gelukkig mag ik daar helemaal niet over klagen. Crowdfunding helpt om de aandacht van labels en distributiemaatschappijen te krijgen.
Ik kijk uit naar de show vanavond, succes!
O, kom je vanavond ook? Fantastisch!
KLik hier voor het concertverslag, en hier voor de foto's van Xavier.
Wim GUILLEMYN
24/11/2015
---