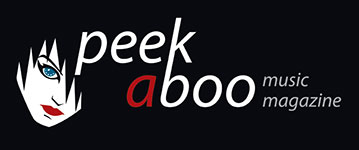 like this interview
---
GHOSTS IN THE GRAVEYARD
I like to call it Electronic Shock Rock. We have a retro sound, and a theatrical quality, with a strong horror influence. Every word has meaning, every song tells a story, and it all ties together
20/11/2015, Britta Tabrit
photos: © Alexander K. Harris
---
Are you ready for some horror from Seattle?! Come with me and meet Byron Miller who, after being member of God Module, realized his very own electro shock rock project, called Ghosts In The Graveyard. We talked about the band, influences, plans, fear and the meaning of being "goth".
So please, introduce yourself to our readers. Who are you and where are you from? When was your project Ghosts in the Graveyard brought to life?
I'm Byron Miller, the lead singer and lyric writer for the band. I'm from Owensboro, KY, and also lived many years in Orlando, FL, before moving to Seattle, WA, where I have resided for the last 9 years. For 8 years I was in the dark electro band, God Module. I'm also a film maker and have directed two feature films (Night, and The Anatomy of Monsters), along with a number of music videos and shorts. Ghosts in the Graveyard is an idea that's been in my mind for many years. In the spring of 2014, I started talking to some musician friends about collaborating on the project, and Paul Morgan really latched onto the idea and made three demo tracks that perfectly captured the essence of the project. We officially started the band in June of 2014.
What kind of music can the world expect?
I like to call it electronic shock rock. We have a retro sound, and a theatrical quality, with a strong horror influence. Every word has meaning, every song tells a story, and it all ties together.
So what kind of music do you prefer yourself? Any favourites?
I love all kinds of music, usually in the darker side of things. Some of my favourites include: Alice Cooper, The Afghan Whigs, Billy Idol, Nine Inch Nails, IAMX, Hocico, Aesthetic Perfection, God Module, Marilyn Manson, David Bowie, White Lies, Misfits, Gary Numan, The Cure and Depeche Mode.
Are there new releases planned?
Our first single Better in Black is now available on iTunes, Spotify, and Amazon. The bloody music video is up on our YouTube page. We're nearly done with our first album Monsters for the Masses. It's a powerful album with a lot of diversity in songs, while always clearly recognizable as our sound. I'm very proud of it and can't wait to share with the world!
And what about live shows?
Our first live show is in Seattle on Halloween! Our shows will take you on a theatrical journey, immersing you into the story and the music. I love to put on a good show and am really excited!
Would you like to play abroad one day, like in Germany or elsewhere?
We definitely would love to play abroad! I want us to play at WGT in Germany! I want to play in Mexico and South America, Canada, all of Europe, Australia, Japan, everywhere!
Tell us, what scares you the most?
My biggest fear is of the supernatural; ghosts, demons, unstoppable killers, the dark. It's that idea that something beyond our understanding is waiting out there to harm us.
What's your favourite movie and why?
As a movie freak, that's a tough one to answer, but if I had to pick one movie it would be the Director's Cut of Richard Stanley's Dust Devil. That film, entrenched in South African folklore, about a demon serial killer living in the body of human man, fills me with a strange delight. I connect with its esoteric and existential themes in an oddly personal way, and I am entranced by its hypnotic beauty.
Your latest concert?
My most recent concert was Die Sektor and God Module. It was a great show, and always good to see Jasyn and the gang. God Module is touring the U.S. for all of October and most of November, along with Mexico City at the end of November. If you get a chance, go see this show. It's powerful stuff!
What comes to your mind when you hear the word "goth"?
A sea of beautiful human beings dressed in black having the time of their lives! When I was in high school, still living in Owensboro, KY, in the early 90s, I was obsessed with Halloween, horror movies, The Crow, Nine Inch Nails, The Cure, Marilyn Manson, My Life with the Thrill Kill Kult and vampires. I was dressed in black and sometimes wearing vampire makeup. I remember a friend telling me I looked like a "goth", and I asked him what it meant. He said it was someone who painted their face. He didn't really have a defined explanation, and I really didn't learn that it was a real thing until I moved to Florida. After all of these years, I haven't changed so much. I still love all of those things and so much more, and on the weekends it's fun to get all gothed up and go to a spooky club. I know there's the "doom and gloom, depressed" stigma that goes with the title, but I never thought of it that way. I love this creepy stuff because it's fun and makes me happy. There are plenty of gothic, industrial, and horror people that are well adjusted and the nicest, kindest, happiest people you'll ever meet. That's something I love about the WGT festival. It's a whole city of goths hanging out and having so much fun!
Thank you so much Byron for doing this interview with Peek-A-Boo and stay gothed and shocking!
Britta Tabrit
20/11/2015
---
Ben je klaar voor horror uit Seattle? Kom dan met me mee, we hebben namelijk een afspraakje met Byron Miller, die nadat hij lid was van God Module, zijn eigen project Ghosts In The Graveyard oprichtte. We spraken over de band, zijn invloeden, de plannen, angst en de betekenis van "goth".
Stel jezelf voor aan onze lezers. Wie ben je en waar kom je vandaan? Wanneer werd Ghosts In The Graveyard opgericht?
Ik ben Byron Miller, de zanger en tekstschrijver van de band. Ik kom uit Owensboro, KY, en woonde vele jaren in Orlando, Florida, voordat ik naar Seattle, WA, verhuisde waar ik de laatste 9 jaar heb gewoond. Ik zat 8 jaar bij God Module. Ik ben tevens een filmmaker en regisseerde twee speelfilms (Night en The Anatomy of Monsters), ik maakte ook een aantal muziekvideo's en wat kortfilms. Het idee van Ghosts In The Graveyard zit al jaren in mijn hoofd. In het voorjaar van 2014 praatte ik met een aantal bevriende muzikanten over het project en Paul Morgan zag het echt wel zitten en hij maakte drie demotracks die perfect de essentie van het project weergaven. We begonnen officieel met de band in juni 2014.
Wat voor soort muziek kunnen we verwachten?
Zelf noem ik onze muziek electronic shockrock. We hebben een retrogeluid, er is sprake van theaterkwaliteit en de horrorelementen hebben een grote invloed. Elk woord heeft een betekenis, elk nummer vertelt een verhaal, alles heeft een band met elkaar.

Welk soort muziek hoor jij het liefst? Favorieten?
Ik hou van alle soorten muziek, meestal met een donker kantje. Sommige van mijn favorieten zijn: Alice Cooper, The Afghan Whigs, Billy Idol, Nine Inch Nails, IAMX, Hocico, Aesthetic Perfection, God Module, Marilyn Manson, David Bowie, White Lies, Misfits, Gary Numan, The Cure en Depeche Mode.
Zijn er nieuwe releases gepland?
Onze eerste single Better in Black is vanaf nu beschikbaar op iTunes, Spotify en Amazon. De bloederige videoclip is ook op onze YouTube-pagina te zien. We zijn bijna klaar met onze eerste album Monsters For The Masses. Het is een krachtig album met veel diversiteit in de nummers, terwijl ons geluid toch steeds herkenbaar blijft. Ik ben er erg trots op en ik kan niet wachten om onze muziek met de wereld te delen!

En hoe zit het met eventuele optredens?
Onze eerste liveshow speelden we in Seattle op Halloween! Onze show is een theatrale reis, je wordt in het verhaal ondergedompeld, alsook in de muziek. Ik hou ervan om een goede show op te zetten. Tja, ik ben echt enthousiast!
We gaan ervan uit dat je graag in het buitenland zou willen spelen, Duitsland misschien?
We zouden zeker graag in het buitenland spelen! Ik wil wel op WGT spelen hoor! Maar ook in Mexico, Zuid-Amerika, Canada, heel Europa, Australië of Japan, overal eigenlijk!

Waar ben je het meest bang van?
Mijn grootste angst is het bovennatuurlijke; spoken, demonen, moordenaars die niet te stoppen zijn, het donker. De gedachte alleen al dat er iets of iemand bestaat die je wil doden!
Wat is je favoriete film en waarom?
Als filmfreak is het echte een zware dobber om deze vraag te beantwoorden hoor, maar als ik een film moet kiezen, dan is dat de director's cut van Dust Devil van Richard Stanley. Die film lijkt wel op Zuid-Afrikaanse folklore, maar het gaat over een demonische seriemoordenaar die zich in het lichaam van een mens verschuilt, het geeft me een vreemd genot. Ik verbind de esoterische en de existentiële thema's op een vreemde persoonlijke manier, en ik ben betoverd door de hypnotiserende schoonheid.
Wat was je laatste concert?
Het laatste concert dat ik zag was Die Sektor en God Module. Het was een geweldige show, en het is altijd fijn om Jasyn en de rest van de bende te zien. God Module is momenteel aan het toeren in de VS, ook in Mexico. Als je de kans krijgt, moet je echt naar een optreden van hen!
Wat komt er in je hoofd op als je het woord 'gothic' hoort?
Een zee van mooie mensen die in het zwart gekleed zijn en de mooiste tijd van hun leven beleven! Toen ik op de middelbare school zat in Owensboro, Kentucky, tijdens de vroege jaren 90, was ik geobsedeerd met Halloween, horrorfilms, The Crow, Nine Inch Nails, The Cure, Marilyn Manson, My Life With The Thrill Kill Kult en vampiers. Ik was in het zwart gekleed en soms droeg ik wat vampiermake-up. Ik herinner me dat ik een vriend had die er 'gothic uitzag, en ik vroeg hem wat het betekende. Hij zei dat het iemand is die zijn gezicht beschildert. Hij had niet echt een bepaalde uitleg ervoor, en voor ik naar Florida verhuisde, wist ik ook niet waarover het ging. Na al die jaren hou ik nog steeds van al die dingen en nog veel meer, in het weekend is het gewoon leuk om goth te worden en naar een of andere club te gaan. Ik weet wel dat het vaak als depressief gestigmatiseerd wordt, maar eigenlijk heb ik dat nooit zo ervaren. Ik hou van griezelige dingen, het is leuk en het maakt me gelukkig. Er zijn tal van goths die de mooiste, vriendelijkste, gelukkigste mensen zijn die je kan ontmoeten. Daarom ben ik zo gek van het WGT-festival: een hele stad die wordt overrompeld door goths!
Dank je Byron voor dit interview met Peek-A-Boo, blijf goth en choqueer ons!
Britta Tabrit
20/11/2015
---