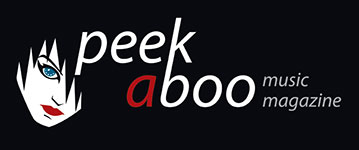 like this interview
---
STATIC DAYDREAM
I'd be doing myself and our fans a disservice if I changed what I do, simply based on fear of critics or something. I just try to make music that I'd like to hear.
05/11/2015, Didier BECU
---
Recently, Saint Marie Records released the debut album by Static Daydream, and we only have two words to describe it: superb shoegaze pop. The rest will be explained by Paul and Jamie... We know, we're just too lazy!
Well, let's begin with introducing the band. So, tell us who you are!
Paul :We're Static Daydream, and my name is Paul Baker. We've enlisted my friend Andrew Cooke to join us for possible shows in the future, but we're still working on that.
Jamie: My name is Jamie Casey and I sing sometimes. Most of the album was done before I got involved, but I hope to sing more in the future!

Shoegaze fans know that Paul used to play in Skywave and Ceremony, what did you do Jamie?
Jamie: This is my first real musical endeavor, other than singing in school and in my car, thanks to Paul's encouragement.
Of course you're going to say that Static Daydream is the best band you ever have been in, but apart from the fact that you form this band with Jamie, what are the main differences, musically?
Paul: Haha, sure. I think musically it's along the same lines, but maybe this time I've been trying to use technology a little bit more. Clearly, having Jamie's wonderful vocals adds another element, but I don't think the overall musical sensibilities have changed very much, even since the days of Skywave in the late 90s and early 2000s. It's hard to say, though, because I soak up things I hear and am probably influenced by things when I don't even realize it. Maybe I've felt a little more free to do things I wouldn't have done in Ceremony, simply because with Static Daydream I never had any intention of playing live, so it really didn't matter if what I was recording could be reproduced in a live setting. Now I'm starting to second-guess that, I suppose.
Jamie: This is the best band I've ever been in!
You're in real life a couple too. Isn't that a bit weird? Before you know, you will become the John & Yoko of the shoegaze scene!
Paul: I don't think it's weird at all, except that Jamie and I are both pretty shy people who aren't especially great at mingling in crowds, or talking ourselves up. I love music, but I'm not comfortable with chatting people up about our group.
Jamie: We were a couple for a while before I got involved in the music, so when Paul asked me to sing, it seemed to just be a natural progression in our relationship. The John and Yoko analogy has sort of a negative connotation to it, but I think that everything we do is with love and respect for each other.
You released a quite fine debut on Saint Marie Records. It seems like this label is really doing a great job in the genre, not?
Paul: Thank you very much. I would say that Saint Marie Records and Moon Sounds Records have been great to us, and they're both doing lots of cool things. It's wonderful to be in the company of so many like-minded, independent bands and people.
I hope you won't be offended, but when I hear Static Daydream, then I hear your examples, but you do something very personal with these influences…
Paul:No offense taken. It's probably pretty clear to many listeners who many of our influences are, and it's up to them to decide if they like what we're doing. I'd be doing myself and our fans a disservice if I changed what I do, simply based on fear of critics or something. I just try to make music that I'd like to hear.
I have a bit of a sick fantasy, I must say. But if I ever would be in a band, I would hide myself behind a wall of noise. Is that the reason why you are so loud?
Paul: Are we loud? I'm not sure. I do enjoy fuzz and feedback, but I really can't tell what's loud anymore. Maybe I only go to loud gigs... Really, some things should be loud and some things shouldn't be so loud. There's no reason for a folk group to be loud, but on the other hand it's ridiculous to be trying to play powerful rock music when a sound engineer is telling you to turn it down so much on stage that you can hear the audience talking over your guitar. I've never been in a group with huge stacks of amps or anything like that, so again, I don't really know how people perceive loud.
I noticed you soon will appear on a Psychocandy tribute. Can you tell us something about it?
Paul: My friend, Renato Malizia, from The Blog That Celebrates Itself, decided to do a tribute for Psychocandy's 30th anniversary, and we were very honored to contribute a song for it. It was released on Renato's birthday, and it's full of great cover versions of songs from one of the greatest albums ever, as far as I'm concerned.
These days all shoegaze bands seems to reform. Do you think that's a good thing? Sometimes when you hear them, you tend to think "leave us with the memories" and let's concentrate on the new talent…
Paul: I think it's great if the bands are really into it. Jamie and I saw Slowdive last year and thought they were amazing! We saw The Jesus and Mary Chain last month and they were also fantastic, so, I'm not complaining.
Let's end with two questions I always ask. What's your favorite record of all time and please state why!
Paul: I don't know. My answer to this changes often, but it usually comes down to three albums: Psychocandy by The Jesus and Mary Chain, Disintegration by The Cure, and Souvlaki by Slowdive. I realize that they're all older albums now, and I've loved lots of things that have come out since, or came out before, but maybe those three most inspired the way that I hear and play music.
Jamie: Souvlaki is one of my favorites, but I honestly couldn't choose just one. I listen to lots of different music, depending on my mood.
With whom wouldn't you mind to be alone in an elevator for 8 hours and what would you do then?
Paul: Other than Jamie, I'd have to say Mitch Hedberg, RIP. If he didn't run out of jokes I'd be good to go.
Jamie: Other than Paul, I would say David Attenborough just because it would be impossible for me to ever get tired of listening to him speak. I kind of wish he was my grandpa.
The last words are yours.
Paul: Thanks for this opportunity, and all the best to you and to anyone reading this.
Jamie: Thank you for these questions and your interest in our music! I am honored to be involved at all, really.
Didier BECU
05/11/2015
---
Onlangs bracht Saint Marie Records het debuutalbum van Static Daydream uit, en we hebben slechts twee woorden om hun muziek te beschrijven: schitterende shoegazepop. De rest vragen we gewoon aan Paul en Jamie... We weten het, we zijn gewoon lui!

Nou, laten we beginnen met te vertellen wie jullie zijn…
Paul: We zijn Static Daydream, en mijn naam is Paul Baker. We hebben aan mijn vriend Andrew Cooke gevraagd of hij het zag zitten om in de toekomst mee te doen voor optredens, maar we zijn er nog steeds mee bezig.
Jamie: Mijn naam is Jamie Casey en soms zing ik wat. Het merendeel van het album werd gedaan voordat ik betrokken was bij de band, maar ik hoop in de toekomst meer te zingen!

Shoegazefans weten natuurlijk dat Paul bij Skywave en Ceremony zat, wat deed jij Jamie?
Jamie: Dit is mijn eerste echte muzikale uitdaging, vroeger zong ik wat op school of in mijn auto, dankzij Pauls aanmoediging kwam ik bij de band terecht.
Natuurlijk zul je me vertellen dat Static Daydream de beste band is waar je ooit in hebt gespeeld, maar behalve het feit dat je deze band met Jamie vormt, wat zijn de belangrijkste muzikale verschillen?
Paul: Haha, dat is het zeker. Ik denk dat je muzikaal dezelfde lijnen kan trekken, maar misschien heb ik nu geprobeerd om wat meer de technologie te gebruiken. Het is duidelijk dat de prachtige zang van Jamie voor een ander element zorgt, maar ik denk niet dat er muzikale veel is veranderd, zelfs niet met Skywave, die uit de late jaren 90 en de vroege jaren 2000 komt. Het is moeilijk om te zeggen, maar ik geniet van wat ik hoor en ik ben waarschijnlijk beïnvloed door dingen die ik niet eens besef. Misschien ben nu wat vrijer en doe ik dingen die ik niet bij Ceremony deed, simpelweg omdat ik met Static Daydream nooit de intentie heb gehad om live te spelen, dus het maakte niet uit of ik dat op een podium zou kunnen doen of niet. Nu ben ik aan het twijfelen of ik dat toch wil doen….
Jamie: Dit is de beste band waar ik ooit in heb gespeeld!
Jullie zijn in het dagelijkse leven ook een koppel. Is dat niet een beetje raar? Voordat je het weet worden jullie de John & Yoko van de shoegaze!
Paul: Ik denk niet dat dit raar is, behalve dat Jamie en ik erg verlegen mensen zijn die zich niet graag in de menigte mengen, of die over zichzelf praten. Ik houd van muziek, maar ik voel me niet goed om daar met anderen over te praten.
Jamie: We waren al een tijdje bij elkaar voordat ik betrokken raakte bij de muziek, dus toen Paul me vroeg om te zingen, leek dat gewoon niet meer dan een natuurlijke vooruitgang in onze relatie. Jouw John en Yoko-analogie voelt wat negatief aan, maar ik denk dat we het doen uit liefde en respect voor elkaar.
Jullie brachten jullie schitterende debuut op Sint Marie Records uit. Het lijkt wel alsof dit label een geweldige job in het genre doet, niet?
Paul: Hartelijk dank. Ik zou zeggen dat Saint Marie Records en Moon Sounds Records geweldig voor ons zijn geweest, en ze doen allebei veel leuke dingen. Het is ongelooflijk tof om met gelijkgestemde, onafhankelijke mensen en labels te kunnen werken.

Ik hoop dat ik je niet beledig, maar als ik naar Static Daydream luister, dan hoor ik je voorbeelden, maar je doet iets heel persoonlijks mee...
Paul: Ik ben niet beledigd hoor. Het is waarschijnlijk vrij duidelijk voor de luisteraars welke onze invloeden zijn, en het is aan hen om te beslissen of ze dat zien zitten of niet. Ik zou mezelf en onze fans een slechte dienst bewijzen, mocht ik alles uit angst voor kritiek gaan veranderden. Ik probeer alleen maar muziek te maken die ik zelf zou willen horen.
Wellicht heb ik last van een zieke fantasie, maar mocht ik ooit in een band spelen, dan zou ik me wellicht verschuilen achter een muur van geluid. Is dat de reden waarom jullie zo luid klinken?
Paul: Zijn we luid? Ik weet het niet zo zeker. Ik geniet van fuzz en feedback, maar ik kan echt niet zeggen wat luid is en wat niet. Misschien ga ik alleen maar naar luide optredens... Sommige dingen moeten luid zijn en andere dingen weer niet. Ik zie geen reden waarom een folkgroep luid zou moeten spelen, maar aan de andere kant is het belachelijk als je krachtige rockmuziek wil spelen en dan haalt de geluidstechnicus je geluid naar beneden zodat je op het podium het publiek kan horen praten. Ik vrees dat ikzelf niet eens weet wat luid is en wat niet…
Binnenkort doen jullie mee op het Psychocandy tribute album. Kun je daar iets over vertellen?
Paul: Mijn vriend, Renato Malizia, van The Blog That Celebrates Itself, besloot om iets te doen voor de dertigste verjaardag van Psychocandy, en we waren zeer vereerd om hieraan mee te werken met het leveren van een ​​nummer. Het werd uitgebracht op Renato's verjaardag, en het staat vol leuke covers van nummers uit een van de allerbeste albums ooit, ten minste dat denk ik toch!
Tegenwoordig lijken alle shoegazebands terug te zijn. Denk je dat dit een goede zaak is? Als je ze hoort, denk ik soms "laat ons de herinneringen" en laten we ons concentreren op het nieuwe talent...
Paul: Ik denk dat het geweldig is als ze het voor de muziek doen. Vorig jaar zagen Jamie en ik Slowdive en die waren geweldig! We zagen ook The Jesus And Mary Chain vorige maand, en ze waren ook fantastisch, dus ik klaag niet.
Wat is jouw favoriete plaat aller tijden en waarom?
Paul: Ik weet het niet. Mijn antwoord verandert steeds, maar meestal komt het neer op drie albums: Psychocandy van The Jesus and Mary Chain, Disintegration van The Cure en Souvlaki van Slowdive. Ik weet wel dat het oudere albums zijn, en ik hou ook van dingen die nu uitkomen, maar misschien hebben die drie mij het meest geïnspireerd.
Jamie: Souvlaki van Slowdive is een van mijn favorieten, maar ik kon eerlijk gezegd niet ééntje kiezen. Ik luister naar veel verschillende dingen, een beetje afhankelijk van mijn stemming.

Met wie zou je het niet erg vinden om 8 uur in een lift te zitten en wat zou je dan doen?
Paul: Behalve met Jamie, zou ik zeggen Mitch Hedberg zaliger. Zo lang hij grapjes blijft vertellen zal alles wel goed gaan.
Jamie: Behalve met Paul, David Attenborough, van die man krijg je nooit genoeg. Ik wou dat hij mijn opa was.

De laatste woorden zijn de jouwe.
Paul: Bedankt voor deze gelegenheid, en al het beste aan iedereen die dit leest.
Jamie: Dank u voor deze vragen en uw interesse voor onze muziek! Ik ben vereerd dat ik er helemaal bij betrokken ben, echt.
Didier BECU
05/11/2015
---