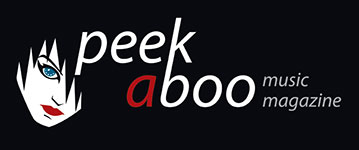 like this interview
---
THE POODLES
We have the luxury to play every night and to do what we loved to do.
29/10/2015, Wim GUILLEMYN
---
Peek-A-Boo had an interview in the tourbus of The Poodles before their gig at De Kreun in Kortrijk (Belgium) with singer Jacob Samuel and guitarist Hendrik Berqvist.
So, tell us, how is the tour going?
Jacob: It's also promo, but usually we wake up around noon, sometimes 14 o'clock.
Hendrik: Yeah, it depends on the trip you have to make. You intend to get some sleep while the bus moves, but suddenly the vehicle stops and you're awake. Then it's time for a little walk in the city where we will be playing. Looking at the surroundings, having a cup of coffee…
Did you have time to visit the city today?
Jacob: yeah, I had an hour and a half, and I walked around the station and some streets here...
How did you decide to name the band The Poodles?
Jacob: Now, that's a very good question!
Hendril: That must be the question that is asked most (laughs). But it has some history, it goes back to the previous time of the current band. The band started as a kind of a show band/tribute band focused on the repertoire of heavy metal/hard rock bands of the 80s. And when it was time to form a real band and to make a song for the Eurovision contest,we needed a name. And in Sweden the band already had made some name in the club circuit, so, we decide to keep the name. In Sweden it has some tongue in cheek meaning to it. In the US not so much, they don't understand the connection, it's called hair bands/hair metal there. But yesterday in Weert (The Netherlands), they understood that reference.

Jacob: And you never will forget the name once you've heard it.

I thought it was a little bit ironic? No? Or am I wrong?
Jacob: No, and that's the sad part of it, because people think it's ironic. We have a distance to what we do, but it's certainly not ironic.
Hendrik: We're not a humour band like Steel Panther, you know. But we're aware of our history and we can effort to do some humoristic things sometimes as well. But it's never meant to be that way!

Didn' t you wish that you were born a few decades earlier when this kind of style was booming?
Johan: But we were born in those days (laughs). I understand what you mean, but we have a much better time now than in those days. I was around in the 80s and 90s and I was playing in several bands. I had a good time then, but now it's much better. A lot of things in the music industry were easier in the past, but some things are better now.

Hendrik: It's basically a difference with what mainstream metal/hard rock was and that opened a whole range of possibilities. The origin of that genre is divided in different subgenres now and there are enough people who are interested in what we're doing.
The advantage might be that people are interested in your music now because they really like it and not because it's hip?
Hendrik: Exactly.
Johan: We had both worlds. We have been mainstream in Sweden since 2006. Due to the Eurovision Contest we were on everybody's lips, but in Europe we are part of that subculture called hardrock/heavy metal. And things come and go and in our opinion, we're doing a quality thing. We try to do our best.
Hendrik: If we wanted to be mainstream, we would have to be Avicci and that's nothing to us.
In the music of Devil In Details I hear catchy and melodic songs. I hear two influences: the 70s and the 80s like Led Zeppelin. Just like the single The Greatest that has a very catchy chorus with 70's riffs.
Hendrik: Well, our roots are there. That's where we come from. We're not a retro band, but we like that kind of music. I love to write classic stuff.
But it's modern sounding…
Hendrik: Yeah, that's good, that's a good description. That's what we're aiming at.

Which songs are you going to play live from the new album?
Johan: If we had an hour more, then we would play them all, but when you already have six albums, then you have to play some songs from other albums too. So, we play a good show for people who know us for a long time, people who don't know us very well or those who never saw the band before. So, a show with new songs and some hits, we're grateful to have them.
Hendrik: And also some older stuff we did not play much. So, it's fun for us too.
You have a busy schedule, a gig almost every day. How do you survive?
Hendrik: I guess you get a sort of routine. We try to take some extra rest. Not every evening, but it has to stay healthy, eat well, sleep as much as we can and have some fun in between.
Johan: There's no guarantee that you hold on, but we 're in a pretty good shape for our age (laughs).
Who writes the songs, actually?
Johan: Both, Hendrik and I are writers. I obviously write the biggest part because that's what I do when we're not on tour, but Hendrik is a great writer too. Sometimes we write stuff together as well. I work mainly with our producers and songwriters and try to put some fresh blood in our music. So, that's the creative process. That's something we always aimed for!
Hendrik: We have some long time collaborators like Jonas, Reingold... and others. They are very important for The Poodles. Talented people, and we would be idiots not to use them to make better songs. It's not a coincidence that people think we're a developing band. That is also their input. I remember some people saying when we released Sweet Trade that it was not like the first album. I like the first album, but we never try to make the same album twice.
That would be a little dull to do. Need to Believe has a riff that reminds me of Led Zeppelin?
Hendrik: When you dig in that treasure of classic guitar riffs, then it's easy to associate with. A lot of people will say it's very Led Zeppelin, because they were the first band to play like that, like Kashmir. But you hear that kind of riffs from so many bands like Whitesnake, Kingdom Come and many others. That kind of progression is a part of the core, you know. It depends a little on what you do with it. I think it works for the song. It's a song in a song with a cool epic vibe in it.
When are you happy tonight?
Johan: We're already happy, we have the luxury to play every night and to do what we love to do.

Thanks guys and success!
Wim GUILLEMYN
29/10/2015
---
Peek-A-Boo had een interview met met zanger Jacob Samuel en gitarist Hendrik Berqvist van The Poodles, net voor hun optreden in De Kreun in Kortrijk.

Vertel ons eens, hoe gaat de toer?
Jacob: Het is natuurlijk ook wat promo, meestal worden we wakker rond 12 uur, soms om 14 uur.
Hendrik: Ja, het hangt af van de reis die je moet maken. Je bent soms van plan om wat te slapen, maar plotseling stopt de bus en ben je weer wakker. Dan is het tijd voor een kleine wandeling in de stad waar we spelen. We kijken naar de omgeving, drinken een kop koffie...

Heb je tijd gehad om een kijkje te nemen vandaag?
Jacob: Ja, ik had een uur en een half, en ik liep wat rond het station en sommige straten daarrond.

Waarom heten jullie The Poodles?
Jacob: Dat is nu eens een heel goede vraag!
Hendrik: Die vraag stelt men ons steeds. Maar het heeft een geschiedenis, het gaat terug naar ons verleden. De band begon met die naam als een soort tributeband die gericht was op het repertoire van de heavy metal-/hardrockbands uit de jaren 80. Toen we aan het Eurovisiesongfestival deelnamen, was er behoefte aan een echte naam. In Zweden had de band al wat naam in het clubcircuit, dus besloten we maar om de naam te houden. In Zweden heeft dat wat betekenis. In de VS begrijpt men het niet, daar spreekt men van hairmetal. Maar gisteren in Weert (Nederland) begrepen ze de link.
Jacob: En je zal nooit meer de naam vergeten eens je hem hebt gehoord.

Ik vond het een beetje ironisch? Of zie ik dat verkeerd?
Jacob: Nee, en dat is het nadeel, mensen denken dat het ironisch is.
Hendrik: We zijn geen humorband zoals Steel Panther. Maar we zijn ons bewust van onze geschiedenis en soms doen we wat humoristische dingen. Maar het is nooit de bedoeling om zo te zijn!

Zou je niet een paar decennia eerder willen geboren zijn, toen deze stijl echt populair was?
Johan: Maar we zijn geboren in die dagen (lacht). Ik begrijp wat je bedoelt, maar nu is het een veel betere tijd dan toen. In de jaren '80 en 90 speelde ik in verschillende bands. Ik had een goede tijd toen, maar nu is het veel beter. Een heleboel dingen in de muziek industrie waren gemakkelijker in het verleden, maar sommige dingen zijn nu gewoon beter.
Hendrik: Toen had je gewoon mainstream metal/hardrock en dat is nu een hele waaier geworden. Dit genre is nu onderverdeeld in verschillende subgenres en er zijn genoeg mensen geïnteresseerd in wat we doen.

Het voordeel zou kunnen zijn dat mensen nu geïnteresseerd zijn in de muziek en niet omdat het hip is?
Hendrik: Precies.
Johan: We hebben beide werelden gekend. Sinds 2006 zijn we mainstream in Zweden. Door het Eurovisiesongfestival waren we opeens bij iedereen populair, maar in Europa waren we gewoon een deel van de hardrock-/heavymetalscène. En dingen komen en gaan en we doen dat met kwaliteit, dat vinden wij toch! We hebben geprobeerd om ons best te doen.
Hendrik: Als we wilden mainstream zijn, dan moesten we maar Avicci zijn, maar dat is niets voor ons.

In Devil In Details hoor ik catchy en melodieuze songs. Ik hoor twee invloeden: de jaren 70 en de jaren 80 zoals Led Zeppelin. Net zoals de single The Greatest?
Hendrik: Nou onze wortels liggen daar. Dat is waar we vandaan komen. We zijn geen retroband, maar ik ben dol op het schrijven van klassieke dingen.

Maar het klinkt modern…
Hendrik: Ja, dat is goed, dat is een goede omschrijving. Dat is waar we naar streven.

Welke nummers ga je uit het nieuwe album live spelen?
Johan: Als we een uur meer zouden krijgen, dan zouden we ze allemaal spelen, maar als je al zes albums hebt, dan moet je een aantal nummers uit de oudere platen spelen. Dus we maken een goede show voor een publiek dat ons al lange tijd kent, maar ook voor mensen die ons minder kennen of zelfs voor degenen die nog nooit van The Poodles hadden gehoord.
Hendrik: En ook sommige oudere dingen die we niet vaak spelen. Dus is het ook voor ons leuk.

Je hebt een drukke agenda, bijna elke dag een optreden. Hoe overleef je?
Hendrik: Ik denk dat het een soort routine is. We proberen om wat extra rust te nemen. Niet elke avond, maar gewoon proberen om gezond te blijven, goed eten, slapen zoveel je kunt en wat plezier ook.
Johan: Er is geen garantie dat je het volhoudt, maar we vertoeven in vrij goede vorm voor onze leeftijd (lacht).

Wie schrijft de liedjes?
Johan: Zowel Hendrik als ik. Ik schrijf uiteraard het grootste deel, want dat is wat ik doe als ik niet op tournee ben, maar Hendrik is ook een groot schrijver. Soms schrijven we samen. Hoofdzakelijk werk ik met onze producenten en songwriters om zo wat vers bloed in onze muziek te brengen. Dat is de creativiteit, en waar we altijd naar gestreefd hebben!
Hendrik: We hebben al een lange tijd medewerkers zoals Jonas of Reingold. Ze zijn erg belangrijk voor The Poodles. Getalenteerde mensen en we zouden idioten zijn om hen niet te gebruiken. Het is geen toeval dat de mensen denken dat we als band evolueren. Dat is ook hun inbreng. Ik herinner me dat sommige mensen ons nog zegden dat Sweet Trade toch niet klonk als het eerste album. Ik hou van het eerste album, maar we hebben nooit geprobeerd om twee keer dezelfde plaat te maken.

Dat zou een beetje saai zijn. Maar de riffs van Need To Believe doen mij aan Led Zeppelin denken…
Hendrik: Als je graaft in de rijke schat van de klassieke gitaarriffs, dan is het gemakkelijk om iets nieuws aan iets ouds te koppelen. Veel mensen zullen zeggen dat het op Led Zeppelin lijkt, zij waren de eersten die een nummer als Kashmir speelden. Maar dat soort riffs hoor je ook bij Whitesnake, Kingdom Come of vele anderen. Het hangt er een beetje van af wat je ermee doet. Ik denk dat het in deze song werkt. Het is een nummer in een nummer met daarin een epische sfeer.

Wanneer ben je gelukkig vanavond?
Johan: We zijn al blij, we hebben de luxe om elke avond te spelen en te doen wat we graag doen.

Bedankt jongens en succes!
Wim GUILLEMYN
29/10/2015
---