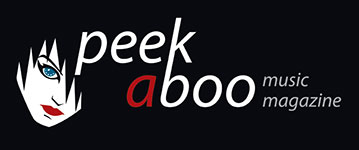 like this interview
---
AMARANTHA LABLANCHE
'When all the crazy shit like touring and traveling is over I just really want to come home.'
29/10/2015, Britta Tabrit
---
Today you're going to meet a very interesting young woman: Amarantha LaBlanche, a model and live performer for Nachtmahr

First of all, please, introduce yourself shortly to our readers!
I'm Amarantha LaBlanche, a product of Dutch and Irish parents, living in Holland. Ýou may know my face, either from fetish movies, perhaps you got lost on a fetish event and caught my show, or you recognize me as that angry looking redhead from Nachtmahr.
I saw some really awesome photos of you. But you don't consider yourself a model, do you? So, what describes you best?
I don't really like to call myself a model as it it is a bit pretentious. I consider myself more as a performer (both on stage and video) who sometimes does some photo shoots too. I enjoy dolling up for a photo session, but I rather go for real action, so I chose to do video and stage work. I don't model, I express myself and get to share my experiences with the world this way. I'm a latex girl with dreams and use my work to get the opportunity to wear and use the most amazing outfits and gear. Also, I strictly do whatever the hell I want to do, hence that I am a performer at heart.
When did you start performing in front of cameras or people?
I have been in the spotlight performing for crowds and judges almost my whole life, starting when I was 5 years old. For about 19 years I've been drilled into the life of a professional gymnast. Ballet class, gymnastics class, baton twirling class, flexibility class, dance discipline and showmanship class, those were the essences of my life. I always have enjoyed it, although, when I grew up, I realized that my life was a lot different from my classmates. They played after school, had sleepover parties, school parties, went out on trips. But not me, I wasn't 'one of them' and my mother would have gone crazy if I'd have asked to skip a class. Sports were always very important in my family. After all, I feel grateful for the discipline, flexibility and determination that it brought me. These days, I manage to use my dancing and acting skills for a kinkier purpose than my parents had in mind for me back then. I'm pretty sure this wasn't their intention, haha!
In your pictures you prefer rubber and latex. Tell me, what do these artificial fabrics mean to you personally?
It's all about transformation, not only do you look different, but you also feel different when wearing it. First of all, it hugs your body tightly, showing off your curves in the best way possible. I prefer latex over naked skin. A bum looks so much sexier in shiny latex leggings than just... well... like that.
Wearing it makes me feel sexy, strong, empowered. Who doesn't like to feel that way? Also, latex feels like a second skin, almost your own skin, but then glossy and more perfect. Touching or getting touched in latex feels amazing! When I was 15, I bought my first latex cat suit. Of course this was my biggest secret ever, every weekend I layered up in big sweaters and changed my clothes somewhere outdoor, so my family would never find out about this. They would have disowned me. I guess I was pretty young when I started developing my kinks.
Besides being a model, you perform on stage with Nachtmahr. What's your part in their shows and how did you get the job?
For the album Veni Vidi Vici, Thomas Rainer (Nachtmahr) asked me to model for the artwork. We successfully shot the content and after the shoot he asked me to join him on stage, just for 'standing there' like the old Nachtmahr girls had done before. I arranged one of my best friends (Nicque, who is also part of Nachtmahr) to join as well. It's probably a bit embarrassing to say, but until that show I had never heard a song of Nachtmahr. We did our 'standing as still as possible' with a grumpy-cat face and Thomas asked us to join for more shows. I told him I was willing to, but under one condition: no more mannequin dolls, we would get our own show. He was intrigued by my ideas and together we decided to combine his musical talent with my fetish work. Quickly we became part of the band more and more, and now we are responsible for carrying the full visual experience of the concert and do our own thing. For some songs we play the drums, to others we do sexy and quite violent shows. The Nachtmahr girls used to be static dolls, random faces without a name. And I'm happy to say that we managed to give them a voice and brought them to life.
2015 is nearly over. Any highlights whatsoever?
This year was really full of amazing things. With Nachtmahr we played really big shows that left us speechless, for example the Agra Halle at WGT and Mera Luna, where the (huge!) crowd was going crazy. Being on stage and watching everybody lose it to your show is indescribable. Also I have met my boyfriend, I became the aunt of a cute little boy, I got to work on cool projects and I spent a lot of time on the road with the NachtFam (that is how we call our crew cause we feel like one big family). I guess it's safe to say that 2015 was one big highlight.
2016 is waiting. Any plans, hopes…?
Sure thing! A new Nachtmahr album is coming up, I've got kickass shoots planned, I want to do more cosyplay shoots as well. I'd love to improve my drumming skills and take them to a more serious level, perhaps even pick up my old bass again at some point. Alright, this starts to sound more like making new year's resolutions now. Aside of all that, a more life changing thing is going to happen: I'll be moving to Berlin together with my boyfriend. This means learning German, changing base and finding jobs in Berlin as well, and most of all it means starting an even happier life. I really cannot wait for 2016 to kick off!
Are you an adventurous girl or do you prefer secureness?
I'm both. I love adventure and spontaneous, impulsive actions but at the same time I really need secureness and emotional comfort. When all the crazy shit like touring and traveling is over, I just really want to come home. I think the balance between all the things is the key. It's just perfect to have the time of your life on stage and then come home to the love of your life and fall asleep together.
Please, choose a drink: Guinness, Diet Coke, Long Island Ice Tea, water or hot chocolate.
Ooooh.. my weapon of choice is not even on the list! Everyone who knows me a little, knows that I'm an energy drink junkie. I can even tell brands apart from smell and taste! But if I'd have to pick one from the above, I'd say hot chocolate. I drink a lot of chocolate milk, that is when I'm not drinking energy drinks. Super healthy model diet, you see!
Thank you very much Amarantha for your detailed answers! It was lots of fun doing this interview with you! So, I hope your plans and wishes will all come true real soon!
Britta Tabrit
29/10/2015
---
Vandaag ga je een zeer interessante jonge vrouw ontmoeten : Amarantha Lablanche, een model en liveperformer bij Nachtmahr.

Stel jezelf eens voor aan onze lezers!
Ik ben Amarantha Lablanche, een product van Nederlandse en Ierse ouders, woonachtig in Nederland. Je kent mijn gezicht misschien wel uit fetishfilms, wie weet raakte je ooit eens verdwaald op een fetishfeestje en zag je mijn show, of misschien herken je mij als de boze roodharige uit Nachtmahr.

Ik zag een aantal echt geweldige foto's van jou. Maar je ziet jezelf niet als een model, of toch?
Ik hou er echt niet van om mezelf een model te noemen, want dat is een beetje pretentieus. Ik beschouw mezelf meer als een performer (zowel op het podium als op video) die af en toe fotoshoots doet. Ik geniet van een fotosessie, maar ik ga toch liever voor echte actie, dus koos ik ervoor om video- en toneelwerk te doen. Ik druk mezelf uit en op deze manier deel ik mijn ervaringen met de wereld. Ik ben een latexmeisje met dromen en door mijn werk krijg ik de kans om de meest fantastische outfits te dragen. Ik doe wat ik wil doen, een artieste in hart en nieren.

Wanneer ben je begonnen met je fotowerk?
Ik ben heel mijn leven in de schijnwerpers geweest, reeds toen ik 5 jaar oud was. Ongeveer 19 jaar lang ben ik opgeleid tot een professionele turnster. Ik kreeg balletles, gymnastiekklas, ik werd opgeleid met de baton, ik leerde dansen. Dat was de essentie van mijn leven. Ik heb daar altijd van genoten, maar toen ik opgroeide realiseerde ik me dat mijn leven toch een stuk anders was dan dat van mijn klasgenoten. Na school gingen ze spelen of gingen naar feestjes en trokken op reis. Maar ik niet, ik was niet 'één van hen', maar mijn moeder zou gek geworden zijn indien ik haar zou gevraagd hebben om een ​​klas over te slaan. Sport was altijd heel belangrijk in mijn familie. Nu goed, ik ben dankbaar voor de discipline, flexibiliteit en vastberadenheid die het me opbracht, ik kan mijn dansvaardigheden goed gebruiken voor kinky doeleinden, maar ik ben er toch vrijwel zeker van dat dit niet de bedoeling van mijn ouders was (lacht)!

op je foto's draag je graag rubber- en latexpakjes. Waar komt die liefde voor deze kunstmatige stoffen vandaan?
Het draait allemaal om verandering, niet alleen zie je er anders uit, maar je voelt je ook anders bij het dragen ervan. Allereerst knuffelt het je lichaam en kan je met je rondingen op de best mogelijke manier pronken. Ik geef de voorkeur aan latex over de naakte huid. Een kont ziet er zo veel meer sexy uit in glanzende latexleggings! Het dragen ervan maakt me sexy, het geeft me kracht! Wie houdt er niet van om zich zo te voelen? Latex voelt aan als een tweede huid, het is bijna je eigen huid, maar dan glanzend en meer perfect. Aangeraakt worden of aanraken als je latex draagt voelt geweldig aan! Toen ik 15 was kocht ik mijn eerste latexkattenpakje. Natuurlijk was dat mijn grootste geheim, elk weekend ging ik naar buiten in grote truien en veranderde mijn kleren ergens zonder dat mijn familie het ooit te weten kon komen. Ze zouden me hebben verstoten. Ik denk dat ik vrij jong was toen ik met die kinky kledij begon.

Naast model, sta je ook op het podium met Nachtmahr. Wat is je rol in hun shows?
Voor het album Veni Vidi Vici vroeg Thomas Rainer (Nachtmahr) mij als model voor het artwork. Dat ging zeer vlot, en na de fotoshoot vroeg hij me mee op het podium, maar gewoon om daar te staan zoals de oude Nachtmahr-meisjes dat eerder deden. Ik zorgde ervoor dat een van mijn beste vrienden (Nicque, die ook deel uitmaakt van Nachtmahr) mee kon doen. Het is waarschijnlijk een beetje gênant om het te vertellen, maar tot voor de show had ik nog nooit een Nachtmahr-nummer gehoord. We deden onze show (heel de tijd stil staan dus) zo goed mogelijk en Thomas vroeg ons om meer shows te doen. Ik vertelde hem dat ik daar toe bereid was, maar onder één voorwaarde: geen mannequinpoppen meer, we moesten een eigen show krijgen. Hij was geïntrigeerd door mijn ideeën en samen besloten we om zijn muzikale talent te combineren met mijn fetishwerk. Al snel werden we meer en meer een deel van de band, en nu zijn we verantwoordelijk voor de uitvoering van het volledig visuele aspect van het concert en we doen ons eigen ding. Voor sommige songs spelen we nummers op de drums, voor andere ontwikkelen we een sexy of gewelddadige show. Ik ben blij om te zeggen dat we erin geslaagd zijn om de Nachtmahr-meisjes een stem te geven en ze tot leven hebben kunnen brengen!

2015 zit er bijna op. Wat zijn de hoogtepunten?
Het was een jaar vol verbazingwekkende dingen. Met Nachtmahr speelden we echt grote shows die ons sprakeloos maakten, bijv. de Agra Halle op WGT of Mera Luna, waar het publiek gek werd. Op een podium staan en beseffen dat iedereen naar je kijkt is onbeschrijfelijk. Ik heb ook mijn vriend ontmoet, onlangs werd ik tante van een schattige kleine jongen, ik werk aan leuke projecten en ik ben vaak onderweg met NachtFam (zo noemen wij de crew omdat die aanvolet als een grote familie). Ik denk dat ik mag zeggen dat 2015 een hoogtepunt was.

2016 staat voor de deur. Wat zijn de plannen?
Een nieuw Nachtmahr-album komt eraan, ik heb geweldige shoots gepland, ik wil meer cosyplayfoto's doen. Ik zou graag mijn drumtechniek wat verbeteren en naar een serieuzer niveau brengen, misschien haal ik mij mijn oude basgitaar wel weer uit de kast. OK, dit klinkt meer als het maken van nieuwjaarvoornemens. Los van dat alles gaan er belangrijke persoonlijke dingen gebeuren: ik verhuis naar Berlijn om er samen te wonen met mijn vriendje. Dat betekent dat ik Duits moet leren, een nieuwe woonplaats vinden en ook werk moet zoeken in Berlijn, maar het betekent ook de start van een nog gelukkiger leven. Ik kan echt niet wachten tot 2016 begint!

Ben je een avontuurlijk meisje of zoek je geborgenheid?
Beide. Ik hou van avontuur en spontane, impulsieve acties, maar tegelijkertijd heb ik geborgenheid en emotionele troost nodig. Na het toeren en reizen wil ik gewoon thuiskomen. Ik denk dat de sleutel het evenwicht is tussen al die dingen. Het is gewoon perfect om wat tijd van je leven op het podium door te brengen en dan naar huis te komen voor de liefde van je leven en dan samen in slaap vallen.

Kies een drankje: Guinness, Diet Coke, Long Island Ice Tea, water of warme chocolademelk.
Ooooh.. mijn keuze staat zelfs niet op de lijst! Iedereen die me een beetje kent, weet dat ik verslaafd ben aan energy drinks. Ik kan zelfs de merken raden door de geur en de smaak! Maar als ik zou moeten kiezen, dan zou ik zeggen: warme chocolademelk. Ik drink veel chocolademelk als ik geen energy drinks heb. Supergezonde voeding, zie je?

Dank u Amarantha voor uw gedetailleerde antwoorden! Het was een plezier dit interview te doen! Dus ik hoop dat uw plannen en wensen snel uitkomen!
Britta Tabrit
29/10/2015
---