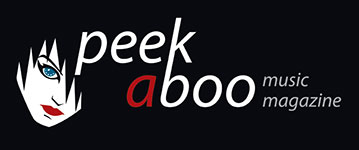 like this interview
---
MASSENHYSTERIE
We are definitely kinky
11/10/2015, Dimi BRANDS
photos: © Wojtek Grzymala
---
Massenhysterie is definitely a band you're going to hear in the dark scene. We were absolutely excited to hear their first EP, and thus it was logic to interview Joanna.

Massenhysterie is a new musical project. Can you tell us a little more about it?
When Stephan of Lost in Desire got his new Dave Smith Tempest (analog drum machine/synthesizer), we were hanging around, programming some beats and melodies. At some point we were like "wow, this sounds so awesome, this is going to cause mass hysteria". Then we had some text snippets in our heads and suddenly we had a song ready, without any intention to start a band, but we liked it so much that we kept working on it.

Is this your first step in the musical world, or were you in the past already busy making music?
I've been promoting music for a very long time and also shooting music videos. I've also been through the whole creative process with Lost in Desire and music has always been very important to me. However, I don't play any instrument and I've been kicked out of the school choir three times, so in the beginning I was not very confident about my voice, performance or even the fact that I was going to be the front woman of a band, but thanks to the support and amazing feedback, I'm now totally confident about what I'm doing and sometimes I feel like calling my music teacher and telling him "see?, I've made it although you never believed in me".

You are also manager of Music Obscure, a promotion company, can you give us some more info about this company you manage?
Again, I founded it together with Stephan of Lost in Desire. When he started Lost in Desire, he was fed up with record labels with whom he worked previously and other projects, so he wanted to be in charge of everything. We had to build everything from scratch. One day, Stephan said to me "I need a music video. You do it". I've never held a camera in my hand before, but I didn't want to give up before I had tried it. The first video was a mess, but I continued to learn and try new things, so now I can say that they are even quite okay, although there is still so much more to learn.

Except for Massenhysterie, ther is also Lost In Desire, which you promote with Obscure Music, are there still other bands you promote?
Absolutely! The Italian post punk band Der Himmel über Berlin, Austrian goth'n'roll Exit To Eden, the Austrian indie punk It's The Lipstick On Your Teeth and the Austrian singer/songwriter Alien Hand Syndrome.

To be honest, I hear a lot of Grausame Töchter in Massenhysteries music. Are you a big fan of Aranea and her group, and can we say Massenhysterie is your tribute to their music, or is it just the music you like, and more an coincidence that you both have a lot in common?
I have to admit that I've never heard of them, before people compared Massenhysterie to Grausame Töchter. When I get the chance, I'd definitely go to see their show.

I saw Grausame Töchter live earlier this year, and a lot of people are still talking about that show which features live pissing on stage, lots of blood, and a cigarette that has been pushed out on the body of the bass player. What can we expect from Massenhysterie live, also a kinky set-up?
We are definitely kinky, but we don't do a S&M show on stage, neither would I ever seriously harm or hurt anyone. I love to play with the aesthetics and I propagate liberating yourself from any restraints and doing what you love, but Grausame Töchter is on a different, more extreme level and I'd even assume that some people go to their gigs to see that kind of performance. My focus is clearly on the music and my message is being a modern libertine and being free of any shackles society wants to impose on us. It seems I'm more a rebel with a kinky, playful touch than a real dominatrix.
Are there any plans to play in Belgium in the near future (and if not, you can maybe tell promoters who are interested, how to book you)?
We are working hard on our album at the moment which is to be released early 2016. We are planning a release tour in the spring of 2016 and we definitely would love to play in Belgium, so anyone interested in booking us can get directly in touch with us at jo@massenhysterie.camp

Massenhysterie breaths a kinky fetish atmosphere, how important is the fetish lifestyle for you? Or is it just a gimmick?
The term 'fetish' has acquired a very narrow definition and is mostly used in connection with whatever the porn industry propagates, like latex or stockings. Actually it is simply about feeling attracted to details, paying attention and finding beauty in little or uncommon things. It's also not about appealing to others or satisfying their fantasies, but also a lot of self-perception. I myself am totally passionate about many things, I'm also definitely a kinkster and I'm curious about everything.

Are there already plans, after the EP, to record a full album? And if so, when can we expect that?
Right now we are recording the album and it will be out early 2016, so make sure to follow us and be among the first Massenhyterics to know!

Are you ready with the new material, or will the songs of the EP also appear on the debut album?
The EP was strictly limited and is almost sold out, so all the songs will also appear on the album in a slightly different version. We're done writing the other songs, but we still need to properly record and produce them. There is a lot of work ahead, but we are totally excited!

When looking at your Facebook page, I see you have a PhD degree, and you have studied a lot. Can you tell us about your education?
I studied English literature and right now I'm working on my PhD thesis. However, as busy as I am, it might take some more years before I'm done.

You are a manager, you have your own band, and you make video clips, so you're quite busy. Do you have still time to do other things, or is your agenda fully booked? Or, are there other things, you would like to do, but don't find the time for?
I even have a regular job as an editor for music magazines! So yes, I'm mostly very busy, but no matter how much I have to do, I always find time for the people I love and I also need a couple of hours of working out per week. Of course it would be nice to have more time for just listening to my own thoughts and turning them into a more creative output, but right now everything works out perfectly for me.

Which artists have been an influence for Massenhysterie and for Joanna in general?
80s NDW like DAF, modern German electro punk/pop like Großstadtgeflüster, Schwefelgelb, Die Selektion, but also Rammstein or hip hop like Die Antwoord and of course the queen Lady Gaga.

How were the reactions of the audience on the EP?
The feedback is overwhelming. We had the first bookings after the first single was out without writing a single e-mail. People came to us and asked if we wanted to play at their shows, which is definitely not the common practice when hardly anyone knows you.

Can you tell us about the stories behind the songs on the EP?
Each song tells a different story. 1000 rote Rosen is a love-hate-revenge-punishment song, Jesus Christus narrates the crucifixion of Jesus from Pontius Pilates perspective, Weiber regieren die Welt is about powerful and strong women, Hart ist der Stiefel is an ironic ode to boots and Massenhysterie is the anthem of liberation.

The song Weiber regieren die Welt has a title that sounds feministic.
Saying that, I can't be a feminist because I like to wear latex and am very confident about my sexuality and its appeal would be totally absurd. Feminism is about equality, about being who you want to be. Some "feminists" tend to condemn the fact that women are being sexualized. Thank God they are! Everyone is a sexual being and there is nothing wrong about longing for a body, this has nothing to do with disregarding women's minds. I just think that it should also work the other way around, women speaking openly about whom and what they want. Of course respect is not an option, but an obligation. However, I'm so fed up with the shaming of what could also be regarded as a compliment, for instance a look or some nice words. Apart from that, I don't feel that the world is necessarily ruled by men - at least here in Europe. Often it's the girls decisions not to pursue their dreams because they don't dare to speak out. Maybe I've been particularly lucky, but I've never encountered any discrimination or limits just because I'm a woman. For me, dominance is also about speaking out and not being insecure about one's wishes, and I think every woman should do that.

Joanna, you also seems to be a very dominant person, not only your Massenhysterie character, but also your function as a manager. Can we say that you like to have control and to hold the reins?
I definitely have a dominant personality, I need to have my say in everything and mostly also to have the last word, but equally I sometimes indulge in letting go and trusting other people. Nothing is ever just black or white.

The song Massenhysterie sounds anthemic, if this was an anthem, whose anthem would it be?
As I said before, it is actually meant to be an anthem. It is for all those who want to liberate themselves from any of society's restraints. It is supposed to encourage people, dare to be who they want to be and to do what they want to do, to be 'hysteric'. So get out there and join the hysteria!
Dimi BRANDS
11/10/2015
---