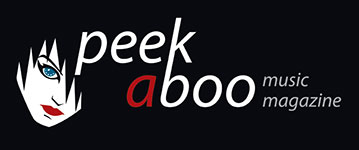 like this interview
---
THE IMAGINARY SUITCASE
I've regularly been told it's not fair that I'm not more famous but hey, there is no such thing as fairness in show business... And it doesn't prevent me from sleeping well.
11/10/2015, Xavier KRUTH
photos: © Alexandre Brull (BLACK SUN Act)
---
The Imaginary Suitcase has a new album out - Fake Blood from Real Wounds - and you should absolutely listen to it. Not only because of the delicious melancholy folk from this solo project of Laurent Leemans, but also because of the sharp and profound lyrics of Leemans, in which he mixes everyday observations with philosophical considerations. Last year, we asked Leemans to give more explanations on the lyrics of Driftwood, now we do the same for the new Fake Blood from Real Wounds.
Don't. For dignity's sake, don't.
Now, everyone who has ever heard of me knows I like to write songs about relationships that go awry, but I hate the weepy 'The sun ain't gonna shine anymoooore' stuff... I spent a lot of time and effort into this one. I first thought of an elaborate arrangement with strings, layer upon layer of 12 strings guitar and autoharp and 3 vocal parts, but I was never satisfied. It was always too much and not enough at the same time... One day, I deleted all previous versions and recorded it with just vocals and acoustic guitar. I chose it as album opener as a wink to the blood, sweat and tears I put into it to finally end up with a very simple and uncomplicated track.
Het dorp (The Village)
A moment of nostalgia about my childhood in the early eighties, when everything seemed so simple. It is the result of a demand by the association Be.Brusseleir, that tries to keep the Brussels dialect alive. They called on bands through the Flemish music portal vi.be to write songs in the dialect (with the help of their language experts who helped those who needed help in translating from regular Dutch to dialect). Here is the version in Dutch. The dialectal version will appear on a compilation album which will be released on 14th November. There will also be a showcase that same day at the Ancienne Belgique with yours truly and the other bands involved (Airplane, Tommy Green & the Blues Machine, Angström, Shaman Festival, Aubin, Stefan Dixon).
Demain est un autre jour
A song in French. In Belgium, you have to watch out for language balance. On this one I invited Eva Genniaux (harp) and Anna Amigo (fiddle) aka Formiga & Cigale, to add some more colour to the song. We met when I organised a party for the departure of the manager of the pub La Porte Noire in Brussels (a place which is particularly dear to me) and I invited many musicians who had played there in the past. They are really adorable people and brilliant musicians. They play what I would call 'lady of the lake music with a Monty Python twist'. And before I forget, the song is about a shy guy who dares not confess his feelings to his crush.
Run like the devil
A simple and straightfoward shoutout against bullshit in general. I tried to write it in a way that could apply to a former lover, your boss, the government, God or whoever is trying to drag you down because it's the only way he can ease his own misery and mediocrity.
When I see you
A moment of softness. This song is for and about my three daughters, who are the only thing I love more than making music. I can have understanding and even compassion for almost everything, but a parent who willingly causes his/her own child harm, is the one thing that could awake a death penalty supporter in me, because the bond between a child and his parent is holier than God itself.
It's not you, it's me
OK, I hope everyone understands this is slightly ironic (not obvious in the age of Twitter-hysteria)? I've regularly been told it's not fair that I'm not more famous, but hey, there is no such thing as fairness in show business... And I have to say, it doesn't prevent me from sleeping well. It is also a bit of leg-pulling towards the only one I consider a true idol: Morrissey and his never ending "nobody loves me and I'm soooo misunderstood" lament.
Long live love
Another song featuring Formiga & Cigale and also vocals by Cécile 'Seesayle' Gonay. Cécile lives in a quite remote part of the Ardennes and we can't meet as often as I'd like to, but among musicians, she's my soul sister. And I think our voices really blend beautifully together. One day, we have to record something together, our Isobel Campbell & Mark Lanegan album will become reality someday.
Half of heaven
It is always a bit awkward for a man to write a feminist song. So, I added a hint towards John Lennon's 'Woman is the nigger of the world' in the first verse, as a way of putting myself under his protection, sort of. Sexism remains the first, the most deep-rooted and the most overlooked form of racism throughout the world. And - like all embodiments of racism - it makes the world such a sad, grey, disappointing and uninteresting place, also for men. I need feminism because jailer was never my calling. So, here is my two pennies of tribute to all women who are treated as less than cattle.
She's like the swallow
A well worn traditional from Newfoundland. A rather classic story of impossible love that ends with the girl's death, as usual. I guess we lads are not that frail. I have mixed emotions about that kind of songs, songs in which the girl is seduced and inevitably murdered by her lover. Laïs sung many of them with great talent, but it is so obvious it's propaganda to scare girls and keep them obedient. 'If you follow your heart, you'll end up in the morgue or some place worse. Now, my child, you'll be better off with the husband your parents, the priest and our lawyer have chosen for you'. But I must admit I totally love the melody.
Mary
A song about the perils of procrastination in matters of love. All the uncool kids who think of incredibly complicated tricks to attract the attention of the prettiest girl in school and who one day finally muster enough fortitude to tell her about it but when they see her that day, she's busy kissing a more daring guy, will know what I'm talking about. That's very much the story of the teenage me, and I'm not sure if it is any better today... Nobody loves me and I'm so misunderstood.
Aangespoeld (Washed)
This one is originally by Flemish folkband Donder in 't Hooi, from Damme. I met Mieke and Johan when my former band Ceilí Moss shared the bill of a festival with them, and we became pals. I've wanted to sing that one for quite a while because I find the melody superb and Johan's lyrics about an immigrant and all the hardships she's facing are so moving, full of compassion but without a drop of ideology or inanity. But I couldn't find any arrangement that would do the song justice without sounding too similar to the original, so I put it in the fridge for a while. The recent refugees crisis in Europe made it pop back in my head and I almost improvised the a capella in one evening.
Matty Groves
I always wanted to play this English traditional. I'm particularly fond of Paul Roland's version (well, I'm a big fan of everything Paul Roland has done) and its influence is probably noticeable. Hopefully with a personal touch though.
The Imaginary Suitcase is touring, never boring throughout a series of dark bars and pubs in Belgium. Here are the dates:
10/10: Brussels, Le Renard Noir
16/10: Mechelen, Zennegat 13
22/10: Antwerp, Podiumcafé AMI
23/10: Chimay, Les Etangs Gourmands
5/11: Ghent, Muzikantenhuis Tini
7/11: Liège, Péniche Legia
14/11: Brussels, Ancienne Belgique (in het kader van BrusselsTUUB)
9/12: Genval, La Clef de Verre
10/12: Brussels, La Porte Noire
19/12: Zinnik, MJ Neufvilles
Xavier KRUTH
11/10/2015
---