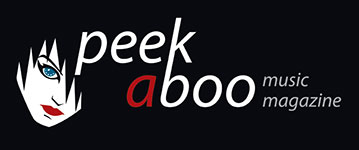 like this interview

---
HONEYMOON COWBOYS
Eurorock was our first gig and we were very satisfied with the result, also with the reactions of the public.
03/10/2015, Benny CALUWE
---
Their name might say nothing to you, but this band features both Klaas Hoogerwaard of Siglo XX and Tom Van Troyen of Spiral Of Silence. Anyone who saw them at Eurorock knows that the audience can expect some Siglo XX-songs, so you better be at BIMFEST XIV this year.
Antonio Palermo (guitars) and Klaas Hoogerwaard (drums) are known from Siglo XX. Tom Van Troyen was the vocalist of Spiral Of Silence. Where do Thomas François (keyboard) and Kris Dries (bass) come from? Is Kris related to former Siglo XX vocalist Erik Dries?
Kris Dries (the youngest brother of Erik) played additional guitar on the Lords of Acid Voodoo-U album and was also involved in several bands like De Krabbers, Fruitcake Freddy, Hohn Tennis... as singer, bass guitarist and guitar player. Thomas François (keyboard, piano, harmonica) has played in several bands. He was the front man of Blue Train (blues rock), best known in Genk. He also plays in The Pundits, a neo-sixties band with songs that are inspired by the 60s.
When came the Honeymoon Cowboys together?
Two years ago.
The last Siglo XX album Under A Purple Sky was released in 1989. Were Klaas and Antonio involved in other musical projects since then?
Klaas performed from'91 till 94 as a drummer/percussionist in live projects of Maurice Engelen (Praga Khan, MNO and Lords of Acid) and he did several gigs in France, Germany, Great Britain, New York and even Tokio. Antonio did some projects of his own and has regularly accompanied Spiral Of Silence during live gigs and recordings. Further, he was involved in the project Yawar (street theatre with migrant youth 1991–2009). They did several performances in Belgium, Germany, England, Spain, Japan, Peru and Cuba.
The last Spiral Of Silence album Decadent was released in 2002. Was Tom involved in other groups?
Spiral of Silence has recorded one more single in 2002 (Souls), and performed a few times, even last year. Two years ago an album was written by Tom (Crowd puller with a static display) that was recorded by Mob CTRL (Tom, Gert Moerenhout , Jeke Pelgrims and Marc Goris). Tom also performs in a local cover band. It is still the intention to record and release new material with Spiral Of Silence.
On Discogs.com Antonia Palermo is named as one of the producers of Spiral Of Silence's Decadent album? Did that contact lead to this co-operation?
Yes, and also because Antonio and Tom became good friends.

Talking about Discogs.com … On the website some Siglo XX discs are quite valuable. Are there any plans for re-releases them or maybe make a new compilation? Maybe Honeymoon Cowboys can record some Siglo XX classics? Or are you aiming for an album with brand new songs?
There are plans for Siglo XX releases in 2016. It will be a mixture of re-releases, live-recordings with covers and 'specials' and also one finished studio track that didn't fit into the concept at that time. Honeymoon Cowboys will only perform Siglo XX songs on stage, not in thestudio. We are aiming for an album with brand new songs in 2016.
Altough Siglo XX ceased to exist a long time ago, the fans never forgot them. In past years Individuality and Dreams Of Pleasure were voted in the New Wave Top 100 of Bunkerleute (Leuven). Individuality was a B-side on the 7" The Naked And The Death, and even was picked up by Prada for a commercial video. How did that happen?
The production company contacted us via Facebook and we agreed to it. The producer discovered our song on a compilation album with several bands of the 80 s which was released two years ago in the UK. We always have been controversial and in this case isn't the irony great? Every time I watch the commercial I think of the lyrics "I will spit on your values" (laughs).
Honeymoon Cowboys performed at Eurorock? How was it? Were you happy with your performance and with the reactions to the new tracks?
Eurorock was our first gig and we were very satisfied with the result, also with the reactions of the public.
On Friday 18 December you will play at BIMfest2015 in Zappa, Antwerp. What can the fans expect?
We hope it's gone be a big party for everyone. We will play 50% Honeymoon Cowboys songs and 50% Siglo XX with guest musician Dirk Chauvaux on bass.
In October Honeymoon Cowboys will also perform at Geleen Calling, a post punk festival in The Netherlands? Are there other shows coming up?
No, we will focus on our recordings for a new release.
Check out the Honeymoon Cowboys @ BIMFEST XIV on December 18th - Zappa - Antwerp - B
More info & full line-up : www.bimfest.be
Check-in on the BIMFEST Facebook event
Benny CALUWE
03/10/2015
---