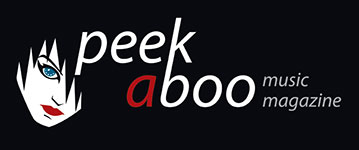 like this interview
---
LEAETHER STRIP
If people didn't cover music, imagine how much music would be lost forever, and now many composers would have been forgotten.
23/09/2015, Didier BECU
---
Leaether Strip has just released the new single Such A Shame. Sounds familiar? Of course it's the Talk Talk song. We decided to go back with Claus Larsen to the decade in which Kim Wilde sang about some kids in America and a German woman was dreaming about 99 red balloons.
Hello Claus, we interviewed you several times, but this time we want to talk about the 80s. First question, an obvious one, what do the 80s mean to you?
In that decade I went from the age of 13 to 23, so I did a lot of growing up in those 10 years. The world also went through a lot of changes. A decade with a lot of fear for the future, the whole AIDS epidemic and the start of the end of the "evil" east and tearing walls down. But it was also the most colourful time for art and music, and the artistic underground was in full blossom. It's like when the world's going to hell, that humans have a survival instinct and many turn to art and culture for answers. I was the "rebel" in my school. The only punk among 1000 kids, most of them with highly conservative and rich parents. Mohawk, leather jacket, torn jeans and with a little scared gay boy underneath all that armor. But it all turned out well in the end, mainly cause I had two very loving parents who let me be who I was, and because I'm basically a good boy. I just needed an outlet for my frustrations and in 84 that happened when I bought my first synth.
Your newest single is a cover of Such A Shame and Hate by Talk Talk. Why Talk Talk?
I have, since their first album, loved that band. Not as much as Depeche Mode and Soft Cell, but their music, especially their first album, really fueled my imagination like no other band had ever done and they have always had their own unique sound. I always felt that they really put their full soul into what they were creating and their songs and production still stand out to this day. So since I made tributes/covers of many other of my heroes, it was time to honor Talk Talk.
It's only a single, I guess a full album of Talk Talk-covers is just an impossible dream, not?
The main reason for that is that I was approached by the Italian label Palace of Worms that launched the idea of a special limited single release, with covers of one of my favorite bands, so I then had the chance to do it. My Last album Æppreciation has also covers, so another full album of covers would be a bit too much, I think. But I could easily find enough Talk Talk songs that I love for a full album, just not this time.
If you start to make a cover of such a classic song, what do you try to avoid and what has to be done?
I always and only do covers of songs I love or find interesting or just fun, and I do them to honor the band and the original song. I try not to think too much about it and go about it as I would when writing one of my own songs. I always try to stay true to the original, so the listener will recognize the song, and me too for that matter, I'm not trying to change it. It's all about the love for the song and the band, and never an attempt to make it "better". I know many people who hate cover versions, but for me it's a matter of keeping something amazing alive for people who weren't there back then, being annoying teens singing along to all these masterpieces. Music that isn't listened to is nothing. So, the people who say "oh, I like the original, it's much better", they haven't got a clue what it's all about, because I never tried to make it better.
I won't say yours is better than the Talk Talk version as they are too much of a favorite. But do you know covers which are better than the original?
No, one is asking you, and my version is not better, it's different, and with my sound. I love to listen to covers of past favorite songs, to hear new sides of a song. If people didn't cover music, imagine how much music would be lost forever, and now many composers would have been forgotten. Scares me just to think of it.
Talk Talk is a weird band as they decide to commit commercial suicide. At the peak of their success, they released an album (Spirit Of Eden) which drove the people at EMI completely mad. It takes a lot of balls to do something like that. Can you understand that?
Yes, I remember clearly when they announced that. I was very sad about that back then, and I still wonder what they would sound like today if they never stopped. But I fully respect their decision. They were simply done. As I was back in 2000, and it took me almost 5 years to sit down and write another song, because it was the only way I was going to stay on this earth. It brought me out of a deadly depression, and speaking for myself, I need to write songs and create music as much as I need to be loved, eat, and breathe. The music business is nasty and hard for fragile souls sometimes, but I took back control and I'm staying for as long as there are people who want to listen.
Back to Leaether Strip and the 80s! Which covers have you already sung in the bathroom, but the fans haven't heard yet, and any change that they get a release! And no, Claus, we are not waiting for those bathroom sessions!
But I sound amazing in the shower, don't we all? There will be more covers from my hand for sure, It's my hobby. I would very much like to do one more Soft Cell tribute, that's what I have in mind at the moment. But first I need to find a label that releases my next Leæther Strip album titled Spæctator. All the songs are done for it, so It's just a matter of time.
Sometimes people say that some songs are too precious to cover. Do you think all songs are fit for interpretations or is there music aroundthat you better not touch?
Heard that "blahhhh" many times from fans of the bands I covered over the years, especially when I cover Depeche Mode, but that's plain bullshit. I'm too old to give a shit. Music is there to be interpreted and to live forever, and the only way that will happen is if musicians around the world keep playing these songs. I am always touched and honored when some bands cover my songs. I never dreamt that that would happen in a million years. I think if you asked any songwriter in the world, he would feel honoured to be covered too.
In our series about albums that change the life of people, Leaether Strip is a very common name. How does that feel?
Fu**ing Great!!! This is what that insecure little kid was dreaming about when he was writing little songs on his Moog prodigy and a beat box in 84. It was his only dream, and now it's reality. Sure I might have to work hard to make ends meet, but this respect from my fellow musicians and listeners is just the best and what I have been dreaming about, and I'm not done.
Let's play back to the future! For once I can send you back in time, but only in the 80s! Where and when will you be? And…do you want to come back?
I want to go back in time and tell a 14 year old Claus that he's OK and a good boy, and to be who he really is, because living a lie for the next many years will almost destroy you.
Didier BECU
23/09/2015
---