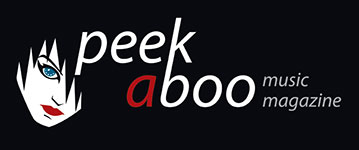 like this interview
---
ME THE TIGER
I would say that Me The Tiger is a part of the 80s, a part of the 90s and a part of the present.
17/09/2015, Didier BECU
---
I admit I do love pop. And believe me, Me The Tiger is pop. This Swedish synthpopband has just released its newest album on Repo Records and I guess they're like the female Covenant. I even hear something of Tatu in them, some Kim Wilde or, if you want a darker name, L'Ame Immortelle. Jump, scream, sing and join the tiger!
Hello, Me The Tiger is a Swedish band. You recently have released your debut on a German label. How come? I mean, this gives it immediately an international appeal, not?
Bella: Yes, we did. Well, because Repo Records contacted us and we thought that they had a good deal for us and seemed to be nice people.
Jonas: They have connections and contacts that will be very valuable for us, and we for them. We aim for a win-win.
Why that (at least for me) strange band's name?
Tobias: The band's name comes from an old Swedish proverb that is virtually impossible to explain if you don't understand Swedish. You will not get the point... But let's try (laughs). During the first half of the 1900s the Swedish government was afraid that the wrong information could end up in enemy hands. They simply asked the Swedes to shut up. They also created a symbol/illustration based on that, depicting a blue and yellow striped tiger. Over the years, this became part of Swedish culture. One should not talk so much, and to be satisfied with what he has, without questioning. At least not in public. This has, according to us, resulted in widespread dissatisfaction in silence. Outwardly you are satisfied and happy, but at the kitchen table, or in front of the computer screen, you start to show the real you. We believe that it is better if people dared to stand up for their beliefs and values, even in public. Otherwise, society will crumble from within.
I guess the boys will agree that Gabriella's outstanding voice is one of the strongest factors of the band, not?
Jonas: Yes, absolutely. But I also think that the whole she-bang is kinda strong.
Tobias: Yes, Bella is an amazing singer and she is an excellent front person on stage. But I like Jonas as well (laughs).
In fact, how popular are you in Sweden?
Bella: We are not so popular in Sweden - at least not famous or anything like that. We have got a few hardcore Swedish fans, but I wouldn´t say that we are famous.
Tobias: As Bella say, we are still pretty much underground, but we gain listeners every day. Sweden is a rather small country, and it's hard to reach out to a wider crowd when you're not in the mainstream line.
Why does Sweden has all the best poptunes?
Bella: Maybe It´s in our blood!?
Jonas: Ehhrm, I don't really know. We have a very strong music scene, with a lot of help from different "organisations" so to speak. Sweden is a really music encouraging country to live in.
I really liked your electropop a lot and the album is in its genre even one of the best of this year, but I heard a lot of 80s influences. Mind you, that's not a bad thing at all (at the contrary!). Were the 80s an inspiration?
Jonas: Thanks. We were all three born in the 80s and I guess we are marked for life.
Tobias: Thank you! Yes, there was a lot of good music done in the 80s, and I guess I'm a bit influenced by that era. I would say that Me The Tiger is a part of the 80s, a part of the 90s and a part of the present.
Perhaps the 80s is not a coincidence at all. Do you also have the feeling that 2015 feels like 1983? There is war everywhere, even the Russians might attack us!
Jonas: The present is horrible in many ways. To mention one thing - we have racists on important positions in governments. That is very, very bad and people must reconsider or we will head on in to a much darker world.
Tobias: Yes, it's an extremely hard world. In many ways. On the other hand we must remember that besides all warmonger the world is actually getting better in many places. More children than ever are in school, more people can read and write, and the proportion of poor in the world has never been smaller. But yes, the differences between the poorest and the richest have never been greater and the problems are growing in some parts of the world. And this despite the fact that we never had so much resources to share as today.
You said that the band is 50% music and 50% social messages. That needs explanation!
Bella: Well, we love to play music but we also love to help people. For example we like to raise money for people in difficult situations, like the Swedish "musikhjälpen" (Music Aid) or do gigs to raise money for medical research.
Jonas: I think music is a strong amplifier, which reaches many ears. And it is our duty to spread the word about, and fight, for a warmer, more equal society.
Tobias: I consider myself lucky. I have family and friends who supports me in who I am and in what I do. I don't go hungry and I have a roof over my head and a warm bed. I think I have a responsibility to give something back. To help those who are in need. If each of us contributes just a little, we can do very much together.
You're also worried about the situation of your own hometown Falun, not?
Jonas: Unfortunately, there are people who are being left out in many ways, even in our hometown.
Tobias: Even if Sweden is a healthy country, there are a lot of things that aren't going that well. Our welfare is slowly cracking and more and more of the elements that used to belong to the society are now days in the hands of greedy capitalists. This has resulted in, for example, poorer health care and education. And many young people have lost faith about their future.
Of course I think that the world needs to wake up, but aren't you afraid that people might think you're too much of a preacher?
Bella: Yes, maybe, but we don´t care about that.
Tobias: Yeah, so let us preach! (laughs).
Any plans to play outside Sweden?
Bella: Yes, we´re going to Germany in the fall and we hope to go on tour in other parts of Europe soon as well.
What's your favourite record of all time and please state why!
Jonas: Ohh, tough question. There are so many. Placebo is probably my all time favourite band in all categories and I have to go with Placebo – Without You, I'm Nothing (1998) today. I've been listening to them since early 1996. They are probably my greatest source of inspiration when it comes to pop and rock – melody-wise and lyrics-wise. I used this album as medicine when I was younger. Every song has its own meaning and effect on me and I even have this album/song title tattooed on my arm.
Tobias: I would say Nirvana – In Utero. Since I heard Nevermind for the first time, Nirvana got me hooked. I love Nevermind as well, but In Utero has a blackness and a roughness that captures me. The album was released for over twenty years ago, but nothing since then has made a bigger mark in my heart.
With whom wouldn't you mind to be alone with in an elevator for 8 hours and what would you then?
Jonas: Brian Molko, singer of Placebo. Talk about life. He seems like a very nice person and I think he has many interesting stories to share.
Tobias: It's either Barack Obama or Vladimir Putin. It would have been so interesting to have a longer talk with these two guys and find out more about who they really are, when the TV-cameras are off. What do they really aim for, what do they dream of, what does power taste like, do they like football, what do they know about aliens, are they proud when they go to bed, do they cry, have they listened to Nirvana…
Yeah, we're sure that Putin is wearing a Kurt Cobain T-shirt when he's alone! The final words are yours….
Tobias: Thank you for showing interest in what we do and who we are. Hope to see you at a Me The Tiger concert in the future!
Didier BECU
17/09/2015
---