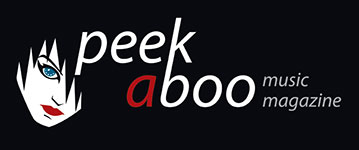 like this interview
---
SOLAR FAKE
We just have the best fans ever!
15/09/2015, Didier BECU
---
After having a career in the legendary gothbands Dreadful Shadows and Zeraphine, the German musician is now completely focusing on Solar Fake. And with success, his band is getting bigger and bigger and was recently signed by Out Of Line. Soon Sven and André Feller will release their fourth album. The first single All The Things You Say sounds very promising, and so Peek-A-Boo wanted to know what more there is to expect!
Hello guys, you already exist for 8 years. That's quite a long time after all, how would you describe this time?
Actually, I doesn't feel like 8 years, on the other hand the first album seems to be ages ago… It's been a great time for me. In the beginning, Solar Fake was just a test, like a side project beside my main band Zeraphine, but since the last Zeraphine album in 2010 it has become more and more important to me, and since the 2nd album Frontiers it has become my most important musical project of all time. We've played so many shows with so many great other acts, we've released 3 albums so far, played in many countries and we just have the best fans ever!
During all those years lots of things have changed, even the scene has become smaller. But you always kept on going, and it feels like after all, that was a right decision as Solar Fake is becoming more and more popular.
Yes, absolutely. I think our audience is not only the scene. Of course, it's an important part of it, but I know a lot of people who like our music without them necessarily being dressed in black. And we have fans of all ages. I think most are between 20 and 35, but we also see younger, as well as older people who are coming to our concerts.
It might be a tricky question, but does it help that you're on Out Of Line, as after all they're the biggest in the scene…
Well, since we just started working together, I don't know yet. I'm sure they are doing a great job and my first experiences with this company are absolutely positive, they're all very professional and effective and honest. Things I really like (laughs). I think Out of line and Solar Fake are trying to give their best together to make it all work…
With Dreadful Shadows and Zeraphine, Sven has a real goth background. Although Solar Fake is quite dark, it is something completely different too.
Yes, I agree. It's electro, it's fun, has become very cynical, it's entertaining, but it's not platitude. There's always something to think about and even music students (as I have been) will find some tricky harmonies which sound very simple… But mainly it's fun for us and for the people.
You just have released your newest single which is an appetiser for the new album. Please tell us something about it…
It's one of the pop songs on the album. We already shot a video for it last year, so it's also one of the first songs that has been written for the new album. And we already played it live and the audience response was awesome… I let the record company pick the single, so it was not my decision, but I think it's a good one. By the way, the girl on the cover is the actress from the video clip. There will be a second part of this clip. It's already shot too, but I still don t know yet, when we will release it.
It'll be your 4th album, and of course all artists say that their last is the best one! Is it?
Absolutely. Everything has improved on this album. The songwriting, the lyrics, the production, simply everything. And without leaving the path we're on… you definitely hear that this is Solar Fake, but better than before… at least this is what I think (laughs again).
There are very varied remixes, from Rotersand to Lord Of The Lost and that gives the band a varied sound too. In fact, what do you want to achieve with Solar Fake music wise?
I don't have a certain plan, so I just see where the path leads me. I just want to make exactly the music I love without a compromise, that's it!
Musicians want to play, of course. Is it easy to get a gig these days in Germany and for non-Germans: will you be playing elsewhere?
Oh we've already played all over Europe and in Mexico, unfortunately our only show in Belgium was rather private... At the moment our booking agent is scheduling our German tour dates and then we try to find dates in other countries.
What's the most weird place you ever played?
Well, 2 years ago we played in Tel Aviv, which was a phantastic experience and our gig in Mexico City was also outstanding. But I think the most unusual place I played was with Dreadful Shadows in Beirut, where we headlined an open air festival at a beach club in the middle of all the destructed buildings… It was a great experience too.

Well, we end with some funny questions. What's your favourite record of all time and please state why!
Oh this is not easy to answer… I think it's Pornography by The Cure'. This record opened the door to dark music for me, so it's one of the most important albums for me. And I still love to listen to it.
With whom wouldn't you mind to be alone with in an elevator for 8 hours and what would you then?
Oh, there are very different scenarios I could imagine, but I won't tell (laughs).
Didier BECU
15/09/2015
---