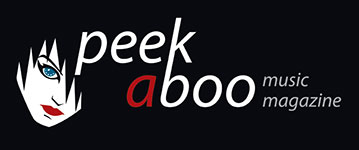 like this interview
---
BILL AND MURRAY
You might say we are dreamers (but we're not the only ones).
08/09/2015, Didier BECU
---
We're sorry that we have to disappoint you, but this is not an interview with Bill Murray. But no worries, if you put an "and" between it then you got delicious dreampop from Israel. The band just released their album on Other Voices Records and that is of course a reason to interview them…
Hello I am afraid that I have to start with some questions you answered before. Are you such a big fan of Bill Murray that you're wanted to be named Bill And Murray?
We are big fans, but we just thought it sounds good and might fit our vibe.
Suppose you meet him, what would you say?
Bill, come join our band!
And then the other clichés. You're a band from Israel, and apart from the mighty Minimal Compact and Sophia, I can't think of any other Israelian band. I guess I'm quite wrong, not?
We don't know who Sophia is, but Tel Aviv has a cool music scene. A lot of different genres. A lot of the bands even tour the world and have gained some success (Asaf Avidan, Tiny Fingers, Vaadat Charigim and many more), but it's not easy to stand out in the global market.
Your music is different, so I guess it is very different in Israel. How do locals react if they hear synth dreampop?
The Israeli Synthpop scene is realy tiny, actually most things in Israel are kind of tiny. We live in Tel Aviv, and it's different to the rest of Israel, in Tel Aviv there are enough people who like our music so that we can perform once in a while and have a good turn up, but it still feels like there is not much room to grow here.
I hear so many influences, from Cocteau Twins to Ladytron to even Pet Shop Boys. How would you describe it and who and what are your inspirations?
We love Cocteau Twins and also Ladytron and Pet Shop Boys are great. These bands along side some other cult artists such as New Order, The Cure, The Stone Roses, Gary Numan, My Bloody Valentine, The Jesus and Mary Chain all had an influence on our sound, but we also found inspiration in some newer bands such as The Chromatics and Glass Candy.
This question may only be answered by Stella! Why do you have such a sexy voice?
Stella: I worked hard for this voice. Years and years of training. Now i just can't control it.
You're having an album out on Other Voices Records, so I guess there's interest from other countries too. Any plans to play outside Israel?
Definitely. We already toured Eastern Europe last summer and we've been to London, Dublin and Toronto and we had a blast. Now that our first album is out, we are sure to set some dates out of Israel very soon.
In fact, how did you came in touch with Other Voices Records?
A good friend of ours who we met in one of our shows, is a big collector of new-wave/synth-pop/industrial music and some of the vinyls he showed us were released on Other Voices, so we reached out and got a positive and enthusiastic answer.
I really like your album A New Kind Of High. But, I noticed that it has such a diverse style. I guess this is how you wanted it to be?
It took us 3 years to finish this album. When we started recording our songs we didn't really think about making an album, We just wanted to document the music we were creating. As time past on, we wrote more songs and kept recording them, in a very chaotic way, In different home studios, fixing old recordings again and again, until we felt we had something whole that works together. So we guess you can hear the result of all that in the album and really we love it. We actually already recorded our next album and, unlike "A New Kind of High", it was recorded live in one day. A totally different approach. We like to explore and try different things and see what happens. We already can't wait to release the next album.
I thought it was great that it has the length of a real popalbum. I mean, not an album of 70 minutes! Was that also part of a plan?
Sort of. We don't like long shows and we don't like long albums. We prefer to leave the listener with a taste for more. We always think about what we would enjoy and 8 songs felt just about right.
I think you're making dreampop, are you dreamers?
You might say we are dreamers (but we're not the only ones). We believe that great and beautiful things can happen even if the odds our against it. We love dream pop and dream rock since it can take us for a trip through a different and surreal world just as dreams do.
Well, we end with some funny questions. What's your favourite record of all time and please state why!
We are three people so we don't all have the same "favourite record of all time" but we all love PJ Harvey because she's simply the best.
With whom wouldn't you mind to be alone with in an elevator for 8 hours and what would you then?
We wouldn't mind to be alone with PJ Harvey in an elevator for 8 hours and we'd try to make her our buddy and/or our lover.
Didier BECU
08/09/2015
---