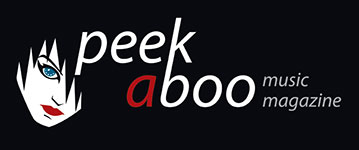 like this interview
---
APRIL FOOLS
We grow up in the 80s surrounded by so many creative bands. What else could we play?
27/08/2015, Didier BECU
---
Any band that plays post-punk gets my interest, and every band that is inspired by The Chameleons, gets my huge interest! It is as simple as that, and that's why Peek-A-Boo interviews April Fools from France!
The first question is an obvious one. Who are you and how would you describe your music?
We are a band of four guys, deep into the 80s, because we were teenagers then. So, we lived this crazy and creative era from the inside. Post-punk, new wave, whatever you call it, we are proud to belong to this family. Our line-up is unusual with a vocalist (Laurent), a drummer (Daniel) and two bass players (Thierry and Bruno).
In a way the band's name reminds me of The Cure…. Right, or completely wrong?
Completely wrong! Laurent (vocal) is born on a 25th of april and I am born on a 25th of april – not the same year- so we thought the name April could be a good start. Then our first rehearsal was on April 1st. So, it was obvious the name had to be April Fools. This story is absolutely true.
What inspires you and who or what influences your music?
Mainly influenced by the English scene from the late 70s (post-punk, new wave, gothic, some disco songs (Giorgio Moroder productions) to nowadays bands like Frustation, Artic Monkeys, Blur, Poni Hoax, Franz Ferdinand and The Strokes. Daniel (drums) is fond of Fab Moretti (The Strokes' drummer).
It is a simple question, but the answer always intrigues me, why did you decide to make music?
Mostly because of punk music. The end of the 70s offered the opportunity to everyone to play an instrument without knowing any music theory. I remember starting a band at school just asking my friends: who wants to play the bass?, the synthesizer?, the guitar? and the vocal? Then the second step was to buy the instruments to play in a garage with a TR808 drum machine, which was a nightmare to program.
You worked together with Yves Altana. How was that and how did you get in touch with him?
At the very beginning, I wanted to share a song with Mark Burgess and I first contacted Yves. I wanted him to help me to convince Mark, but Mark was writing his book at that time, so no extra time to spend. In 2012 with April Fools, we invited The ChameleonsVox to play in Toulouse and during breakfast Mark told me how brilliant Yves was. And he was right, in September 2013 we recorded our 6 tracks with a very talented guy. We are friends now.
Altana also worked with Mark Burgess. Has Mark heard your music and what was his reaction?
As I said, The ChameleonsVox was at Toulouse in 2012, but in 2014 Thierry (bass) and I (bass) came to Manchester to see Mark and Yves playing in a pub in York. They played some Invincible and Chameleons songs… what a night!. We were in York with them in the same van, we all slept in the pub in York and we stayed a few days at Tony Skinkis's place (the manager) in Middleton (Home of The Chameleons). Mark's reaction about our music? To be honest he never gave any feedback.
You play post-punk, so I guess your roots are in the 80s.
We grew up in the 80s, surrounded by so many creative bands. What else could we play?
You have an album out. Any plans for a next one?
Yes, we definitely plan a new one, the songs are almost finished. We would like to do it again with Yves. You remember, the talented guy!
What's your favourite record of all time and please state why!
Script of the bridge by The Chameleons. Power, intensity, emotion.
With whom wouldn't you mind to be alone with in an elevator for 8 hours and what would you then?
Bruno: as I don't know very much about Bowie, I would give a go for 8 hours with him.
I give you the choice between underground or stardom. What do you choose and why?
Underground… the real oxygen to be alive.
The final words are yours….
Who are you Didier? And why did you decide to be involved in Peek-a-boo magazine?
Because otherwise life would be empty! And click here if you wanna see.
Didier BECU
27/08/2015
---