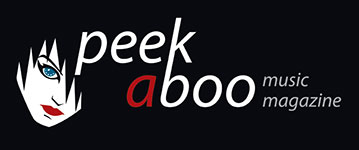 like this interview
---
JANREVOLUTION
We don't make the world better, but we're happy to see you smile.
20/08/2015, Didier BECU
---
In our never ending search for new talent, we came accross JanRevolution. Times are busy for them as they will be part of the upcoming tour with L'Ame Immortelle. Before you catch them, you better know who they are, not?
The first question is an obvious one. Who are you and how would you describe your music?
Hi, we are JanRevolution. We would describe our music as new Generation of Synth-Electro pop. That doesn't mean we are reinventing the wheel. But we interpret some things in a new way.

Why should anyone listen to your music?
They miss the melodic synth sounds of old days with emotional hooklines and clear vocals? Hey, look right here at our music! We tranfer it in the present.
What inspires you and who or what influences your music?
Oh, many things: situations, people, other songs, own thoughts. Anything can inspire to do anything. Sometimes you read a book and get an idea for lyrics, the other day you hear a strange sound while you are driving in your car and thinking 'oh it's a nice beat, lets try it in the studio'.
It seems very difficult to reach an audience these days, not?
We do the same things as all other bands. We post news, songs, photos, ect. You're right, nowadays it isn't easy to get focus for what you do. But in past times, you didn't have the internet and it was difficult to catch the people too, 'cause you don't have the technical options to do that. So, every time needs a other road to success. And we will find a way for us or we won't, who knows... Important is to stay behind what you do all the time and do more than all others. You must kick yourself forward (laughs).
Some consider physical albums on cd or vinyl quite useless in this digital age. What's your opinion?
We're a lil bit old school, If I really like something, I must have the CD at home! Vinyl was not my time, but I like it too. It has its own charm. I use mp3 in the car or on tour and everywhere I just need good headphones and my I-pad.
It is a simple question, but the answer always intrigues me, why did you decide to make music?
This question isn't difficult... Because I can't live without making music. I believe my first song was written when I was 10 years old. My first concerts I had as a child in nursery on a "Triola". I think this music genes I got from my grandfather.

Musicians want to play, of course. Is it easy to get a gig these days or is it a struggle every time again?
Sometimes it happens quickly without doing anything: you get a gig. And sometimes you try and try to get a slot on a cool festival without success. So you take what you get... There are many gigs if you know someone. In all these years you meet so much people and sometimes it helps. You must go out to meet other bands and have enough patience.
What are the future plans for the band? Where do you want to be as a band in a few years?
Hmmm, thats really difficult to say... sure we have aims, but we see this all as an experience. All what we get, we are happy and grateful for. Our tour together with L'ame Immortelle and Metallspürhunde for example, that's a big surprise and a big gift at the same time. That's a big chance to showcase JanRevolution in the scene and get a lil bit of attention. That we can use to get a label deal and make a bigger album release.
What's your favourite record of all time and please state why!
Hmm, I heard so much good music, it's hard to determine for one, OK, one song that touched me is "You are loved" by Josh Groban. This song is so outstandingly brilliant and I love his voice.
With whom wouldn't you mind to be alone with in an elevator for 8 hours and what would you then?
Haha, that's a funny question... I'm a man, OK no, not this answer! Okay seriously, I think with Celine Dion. I would write a duet with her in 8 hours and present that afterwards at Madison Square Garden. I think that would be a real challenge!
The final words are yours….
We thank you so much for your support and say thanks to all those who read this interview with interest.
Hope to see you one day on a concert or where ever."We don't make the world better, but we're happy to see you smile".
Didier BECU
20/08/2015
---