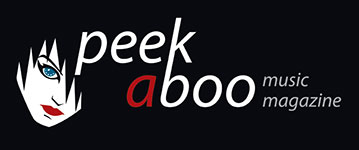 like this interview
---
ANTHONY DONOVAN AND JOHN 03:16
All I know is, we just need to get on with it, doing what artists have always done... putting our art out there, in search of a receptive audience.
10/07/2015, William LIÉNARD
---
Anthony Donovan en John 3:16 released a new album recently and we asked them to sit down on our sofa for an interview. This is the result.

Would you please introduce yourself to our readers and tell us about your past activities and your former work (together/apart), about the genres that you both are interested in and about your influences?
Anthony Donovan: Hello, my name is Anthony Donovan, an artist working across several disciplines, based in England, probably best-known, if at all, for my Murmurists project and the label which I founded and I co-run, Classwar Karaoke. I've been a musician in one way or another for over 30 years - starting with Post-Punk and Prog, eventually taking in aspects of Free Jazz, Industrial, etc., always combing or moving between composition and improvisation. I began as a bassplayer, but, by now, I utilise anything from guitars, keyboards, percussion and voice to homemade instruments and electronics, plus the usual laptop shenanigans. In my late-20s, I entered the University system, studying visual art, eventually to doctoral level. When I emerged from that happy hermitage, in about 2005, the world had been transformed by the internet; and the collaborative things I had been studying and had always favoured were now absolutely possible. By the by, I got into sharing my work via youtube and myspace, and from there via all kinds of other outlets as they became readily available. I began Murmurists as a solo project, which then took in contributions by others, notably voice-artists, and is now a live project, too, with 11 members. I began Classwar Karaoke in 2008 as a kind of netlabel. Jaan Patterson joined me in 2010; and CWK is by now a huge affair, with large-scale quarterly surveys, album releases, gigs and mini-festivals, involving many 100s of participants from all over the world. I've worked live and on projects with the likes of John Zorn, Bryan Lewis Saunders, John Hyatt (The Three Johns), Jochen Arbeit (Einstürzende Neubauten), Geoff Leigh (ex-Henry Cow), Sharon Gal, Damo Suzuki (ex-Can), Ernesto Tomasini and Steve Beresford.

Philippe and I met via Classwar Karaoke, eventually collaborating on a piece at my invitation. I'm pretty sure I learned of Philippe and his JOHN 3:16 project via our mutual friend Robert L. Pepper, of Pas Musique, who co-runs Alrealon with Philippe. Alrealon released my first Murmurists album. We liked working on the collaborative piece and discussed the idea of making an album. The result was Of the Hex and Its Likenesses. Making that was a joy; being artistically intense but with the sense of ease and lack of ego that I always look for in those I work with. It was an honour for me, as Philippe creates beautiful music and is a tireless and enthusiastic networker. We're just beginning work on the follow-up, and I can't wait to get into it.

Music has been a major part of my life since my early teens. I got into Post-Punk and Prog first, from there widening my tastes, now encompassing pretty much any so-called genre. For me, there is Scott Walker and then there is everything else. Most of my influences come from outside of music, though – particularly from literature and film.

Philippe Gerber: Hi, I'm Philippe Gerber aka JOHN 3:16. I started my JOHN 3:16 project in 2007 while I was still recording and playing live with the London-based trio Heat From a DeadStar (Ace of Hearts Records, Boston). After HFADS disbanded in 2009, JOHN 3:16 became my main focus. As JOHN 3:16, I released a bunch of tracks, remixes, EP's and one full length album (Visions of The Hereafter) via White Label Music (UK), Alrealon Musique (USA), Trace Recordings (UK), 75orLess (USA), Sirona Records (France), P6M Records (USA) and Midnight Radio (Germany). Over the years, I had the chance to collaborate with a lot of talented artists including Robert L. Pepper (Pas Musique), Michael Durek (theUse), Chris Gilmore (FluiD), Carolyn O'Neill (Rasplyn), Philippe Petit, Mark Harris, Christopher Glasklinge, BLK TAG and now Anthony Donovan. I started playing shows at an early age, around 13 years old. I played guitar and bass in local Punk/Hardcore bands before I started writing music (at 14) for my own projects. I started listening to different types of music when I was 10: Electronics, Dance, Hip-Hop, Techno, Industrial, Rock, Psychedelic, Classical, Shoegazing, Ambient, Black-Metal, etc. Artists like David Bowie, John Cale, John Carpenter, Coil, Muslimgauze, John Frusciante and Miles Davis have a big influence on my work.

I was very happy to work on a full album with Anthony. He's a great musician. He can play pretty much anything. Recording and mixing has been very challenging and I think 'Of The Hex and Its Likenesses' is the best album I/we released so far. I was also glad that James Plotkin agreed to work on the masters. He did an awesome job with the tracks.

Anthony Donovan: I totally agree about James' role. He helped bring the thing to life. Fantastic job.

What are the ideas behind the recent album?
Anthony Donovan: 'Of the Hex and Its Likenesses' happened organically, over time, piece by piece. I'm not sure we had a hard and fast 'idea', as such. If anything, it became about melding the sumptuous, kind of Post-Rock elements we both brought to the table, but which Philippe excels in, with the more abstract qualities, which maybe were my greater preoccupation. This juxtaposition animated the pieces, I think, and the album has a kind of elusive quality for me, without being aimless. The songs have an individual integrity; rather than being sections cut from the same continuous cloth. Philippe impressed me first, I think, with his fantastic ability to draw out the melodic possibilities lying in or beneath a seemingly abstract passage. He harmonised these, even into riffs, bringing structure and direction, and a pleasing and welcome Rock-like direction and toughness, to parts which might otherwise have been languid and somewhat amorphous. Personally, I'm always searching for narrative, structure, some kind of story, and I shy away from shapeless ambience and drone. So, I could see immediately that, though unsaid and not discussed, we were both intuitively on the same page. We became friends during the making of the album; which is for me the real point of working with others. Making these things under those conditions is like spending time with someone you like. A certain thematic consistency definitely emerged, I think; and I was prompted to add vocals to a few pieces to provide further direction and greater narrative. I'm no singer, and I didn't see my contribution as that, to be honest. I wanted the physical sense of the voice to lie a little under the proceedings, and for tiny phrases and the odd word to be understood. The words themselves are drowsy, but, like the music, not without didactic imperative. Philippe's kind encouragement here fed the fire, and I definitely want to add more to the next album we make.

Philippe Gerber: The idea behind this collaboration was to build something we'd be proud of, something we wouldn't be able to do on our own. We've both played in different projects, played hundreds of shows all over the globe. We've spent a good amount of time in recording studios. We both knew what we wanted for this album. We didn't have to talk a lot about it, things just happened. Anthony said it: it happened organically. We both played guitars and bass on the album and when I listen to the tracks, it's hard for me to say what I really recorded at the end. There are so many different layers for each song. I think I recorded 4-5 different guitar parts for each of them. It was easy to mix though, because the whole thing sounded so much in harmony. We had no issue with the production. There is a Drone aspect to the album, because the lows have been carefully spread all over the tracks. The collaboration worked perfectly, because we never had to argue about the sound, the lyrics or the artistic aspect of the whole thing. I also learned a lot from it. It gave me some ideas for the next JOHN 3:16 releases. And I have to thank Anthony for that. 'Of the Hex and Its Likenesses' made me evolve as a musician and a composer.

I had problems with the noise and distortion at the end of Orphite and Orphan (for the rest an excellent composition). What is the idea behind it?
Anthony Donovan: Ha ha.... Well, that was probably my fault, if you see that section as uncomfortable and incongruous. I love it, personally; as I love all those sections on the album. I like how the listener is afforded the opportunity for a kind of disorientation at times - that part being the most extended of those instances. It's a wake-up call, one might say; and, for me, the discomfort was both needed and intentional. Think of the title of the piece - itself a conflation of terms separated by 'and', the latter indicating a kind of detachment. Orphites were themselves orphans. It's why I chose that title. Similarly, I like many forms of music - in a way I like all forms of music, albeit not equally - including pretty extreme forms. I see no divide between genres and attitudes, and the best and most interesting things are often hybrids. I suppose, in the strict context of the album, it stands out as somewhat different from the bulk of the material, but, in the greater scheme of things, for me, it lies well within the 'limits' Philippe and I set ourselves. I prefer zoning in than zoning out, I suppose. But I can see why some listeners might latch onto the relative brutality of that section.

Philippe Gerber: 'Orphite and Orphan' is one of my favorite tracks. It's the perfect combination of our writing skills. We are both influenced by different types of music, including Experimental, Noise, Ambient and Drone, and this track really shows that. The song starts nicely, and it would have been easy to keep the same mood all along, but the abrupt change of pace is taking the listener to a different musical sphere.

Your future plans?
Anthony Donovan: Well, for Philippe and I, as I said earlier, we definitely plan another album. I'm sure this will be as enjoyable as the previous one was to create. Maybe, if we can make it happen, we might play this material live at some point, too. Living on opposite sides of the Atlantic makes it a little difficult, obviously. But, over the years, I've met up with and played with many people I've discovered via internet collaboration. So, it remains a welcome possibility. For me personally, I'm continually involved in Classwar Karaoke, as we publish huge surveys every three months, together with running a crowdfunder aiming at producing a compilation CD of Classwar Karaoke contributors. I'm developing Murmurists as a live ensemble, with several UK gigs coming up, as well as working on a third Murmurists album. The second Murmurists album is due out as a CD on the excellent Polish label, Zoharum, in the near-future. I'm finishing a major project of John Zorn game-pieces, at Zorn's invitation, which will be released eventually by Tzadik. This came from the now defunct Vultures Quartet, and features musicians associated with that project, as well as a host of others. I'm constantly collaborating with others, and all kinds of things emerge from such activities.

Philippe Gerber: 'Of The Hex and its Likenesses' is the first of a long series. I'm hoping to include more organic elements into our music. As Anthony said, I'm hoping we can play live together at some point. Since our album has been released on Flood Records (Tokyo), we were thinking we could plan a tour in Japan first.

I'm working on a full length with Ambient artist Mark Harris. Three tracks are already wrapped up and I have to say I'm really proud of what we accomplished so far. I'm also working on a split with the Californian band PORCH (Ex-Primus, Ex-Today Is The Day). I'll give more information about it soon. I'm releasing a new EP towards the end of 2015, followed by the second JOHN 3:16 album titled 'The Sun Shall Be Turned into Darkness, and The Moon into Blood...' (mid-2016).

What about making music and albums in a decreasing/rapidly changing market?
Anthony Donovan: Like anyone involved in music, not least involved in releasing music, including that of other people, I've pondered and discussed this issue, naturally. There is no real answer, I'd say; nothing pat, anyway. Things are in flux, in transition, but they've been that way now for a couple of decades. So, perhaps flux and transition are the new permanent. All I know is, we just need to get on with it, doing what artists have always done... putting our art out there, in search of a receptive audience. The scene I work in - vaguely Experimental - is largely participatory; we all make things at the same time as being fans of the work of others. Often, this occurs between friends - and without being merely amateur and recreational, too. There's a kind of economy because of that, I have found. The scene is small, but it's proven itself to be tenacious and progressive. The hard work and generosity of others often blows me away. Take a large-scale music-publishing project like suRRism-Phonoethics, run by my great friend Jaan Patterson... Jaan simply dedicates himself to releasing work by others, promoting it, forging associations on top of that. With over 200 releases to-date, all facilitated without payment and in his free-time... what can beat that? Such releases, like those of Classwar Karaoke, attract tens of thousands of hits. The participatory and non-hierarchical model many of us in the non-mainstream scene use, is not only directly at odds ideologically with the marketised mainstream, it is, I feel, superior to it, in being not so prone to the fickle nature of fashions, including those borne by technology. So, whilst something like the CD might be on the wane in the mainstream, it remains a perfectly feasible format for us outside of that. In our scene, all I see is expansion, not a decrease. The DIY culture an old Post-Punk like me used to dream of is here now, I'd say.

Philippe Gerber: I can't complain. Over the years, as JOHN 3:16, I managed to build a solid fan base. I have a good relationship with my audience and it makes things easier for me. I know my music gets heard, and that is the most important thing to me. For Alrealon Musique, it's another story. Sales are really low right now. Regarding physical releases, we have been selling less and less copies the last 2-3 years. CD's in particular are a tough sale. Digital is becoming our best seller. It's a shame, because we never intended Alrealon to become a digital label. We have to change a couple of things, we have to be smart about the whole thing. The idea is to offer something unique or to convince people Alrealon is THE experimental label you have to follow. We have a couple of things we want to try over the next couple of years. Our next release for example is an EP from Jan Swinburne (Toronto) called 'Consensual Enigmas' (ALRN056). We are offering an ultra-limited edition (CD-R in a DVD case) and Jan worked on videos you can stream on Youtube and Vimeo. The combination between the physical/digital release and the visuals make this EP pretty unique.

Where can you be seen and heard live this summer or autumn? Is there a chance to see you in Benelux or in neighbouring countries?
Anthony Donovan: I have gigs with Murmurists over the next six months, with vague plans for things in Europe, which would likely mean Germany and France, maybe Poland, for 2016, if I can arrange things. I love Belgium, and have been there a couple of times for holidays, played in The Netherlands, but no plans for live dates, sorry. Of course, if you know of some opportunities, just let me know! I've played across northern Europe several times, and those have been amongst my very favourite shows.

Philippe Gerber: For now, I'm focusing on my next recordings. I'm working on getting some shows in Mexico, Japan, Korea, India and Europe in 2016. Brussels is one of my favorite places, so I think the EU tour will include a couple of gigs in Belgium. I'm hoping to go back to Israel as well. I had a great time there. I'd love to play some gigs in Lebanon as well. More info soon!

Thank you very much for your time!

Album review : Of the Hex and his Likenesses
William LIÉNARD
10/07/2015
---
Anthony Donovan en Johannes 03:16 brachten onlangs een nieuw album uit en we vroegen beide heren om op onze sofa plaats te nemen voor een interview. Dit is het resultaat.

Wil je jezelf introduceren aan onze lezers en ze vertellen over jullie eerdere activiteiten en jullie vroegere werk (samen/apart), over de genres die jullie interesseren en over jullie invloeden?
Anthony Donovan: Hallo, mijn naam is Anthony Donovan. Ik werk in verschillende disciplines. Ik woon in Engeland en ik ben waarschijnlijk het bekendst, of helemaal niet, vanwege mijn Murmurists-project en het label dat ik heb opgericht en co-run, nl. Classwar Karaoke. Ik heb muzikant en op de een of andere manier ben ik dat al meer dan 30 jaar - te beginnen met Post-Punk en Prog, later Free Jazz, Industrial, etc. Ik begon als bassist, maar nu maak ik gebruik van gitaren, keyboards, percussie en stem op zelfgemaakte instrumenten en elektronica, plus de gebruikelijke laptops. In mijn late jaren 20 studeerde ik beeldende kunst aan de universiteit en behaalde een doctorstitel. Toen ik omstreeks 2005 klaar was met mijn studie, was de wereld in de ban van het internet en de collaboratieve dingen die ik had bestudeerd, waren nu absoluut mogelijk. Plots kon ik mijn werk via Youtube en Myspace delen en vanaf daar via allerlei andere verkooppunten zodat het gemakkelijk beschikbaar werd. Ik begon Murmurists als een soloproject en vervolgens deed ik een beroep op anderen, met name voice-kunstenaars. Nu is het een live-project met 11 leden. Ik startte met Classwar Karaoke in 2008 als een soort netlabel. Jaan Patterson kwam erbij in 2010. CWK is inmiddels een enorme affaire, met grootschalige kwartaalenquêtes, albumreleases, optredens en minifestivals met vele honderden deelnemers uit de hele wereld. Ik heb live gespeeld en ik was betrokken bij projecten van John Zorn, Bryan Lewis Saunders, John Hyatt (The Three Johns), Jochen Arbeit (Einstürzende Neubauten), Geoff Leigh (ex-Henry Cow), Sharon Gal, Damo Suzuki (ex-Can), Ernesto Tomasini en Steve Beresford.
Philippe en ik ontmoetten elkaar via Classwar Karaoke. Op mijn initiatief hebben we samen een track opgenomen. Ik ben er vrij zeker van dat ik Philippe en zijn JOHN 03:16-project heb leren kennen via onze gemeenschappelijk vriend Robert L. Pepper van Pas Musique, die Alrealon co-runt met Philippe, het label dat mijn eerste Murmurists-album heeft uitgebracht. Wij vonden het samenwerken leuk en we opperden het idee om samen een album te maken. Het resultaat is Of the Hex and His Likenesses. Het maken van dat album was een genot: artistiek intens bezig zijn, maar met een gemakkelijk gevoel en zonder veel ego, wat ik altijd zoek in degenen met wie ik samenwerk. Het was een eer voor mij, want Philippe creëert prachtige muziek en is een onvermoeibare en enthousiaste netwerker. We zijn net begonnen aan de follow-up en ik kan niet wachten om er in te vliegen.

Muziek is een belangrijk deel van mijn leven sinds mijn vroege tienerjaren. Het begon met post-punk en prog, later verbreedde mijn smaak en nu omvat hij vrijwel elke zogenaamd genre. Voor mij is er Scott Walker en dan is er al de rest. De meeste invloeden komen van buiten de muziek, vooral uit de literatuur en film.
Philippe Gerber: Hoi, ik ben Philippe Gerber, aka JOHN 03:16. Ik begon mijn JOHN 03:16-project in 2007 terwijl ik nog opname en live speelde met het in Londen gevestigde trio Heat From a Deadstar (Ace of Hearts Records, Boston). Toen HFADS in 2009 verdween, werd John 03:16 mijn belangrijkste focus. Onder die naam heb ik een heleboel tracks, remixes, EPs en een full length album (Visions of The Hereafter) uitgebracht via White Label Music (UK), Alrealon Musique (USA), Trace Recordings (UK), 75orLess (USA ), Sirona Records (Frankrijk), P6M Records (USA) en Midnight Radio (Duitsland). In de loop der jaren kreeg ik de kans om samen te werken met veel getalenteerde kunstenaars, onder wie Robert L. Pepper (Pas Musique), Michael Durek (theUse), Chris Gilmore (FluiD), Carolyn O'Neill (Rasplyn), Philippe Petit, Mark Harris, Christopher Glasklinge, BLK TAG en nu Anthony Donovan. Ik trad al op toen ik nog maar 13 jaar oud was. Ik speelde gitaar en bas in de plaatselijke punk-/hardcorebands nog voor ik begon met het schrijven van muziek (14) voor mijn eigen projecten. Ik luisterde al naar verschillende soorten muziek toen ik nog maar 10 was: Elektronica, Dance, Hip-Hop, Techno, Industrial, Rock, Psychedelic, Klassiek, Shoegazing, Ambient, Black-Metal, etc. Artiesten zoals David Bowie, John Cale, John Carpenter, Coil, Muslimgauze, John Frusciante en Miles Davis hebben een grote invloed op mijn werk.
Ik was erg blij dat ik met Anthony aan een volledig album kon werken. Hij is een geweldige muzikant. Hij kan vrijwel alles spelen. Opnemen en mixen waren een uitdaging en ik denk dat Of The Hex and His Likenesses het beste album is dat ik/wij tot dusver gemaakt hebben. Ik was ook blij dat James Plotkin zich met de masters bezig wilde houden. Hij heeft iets geweldigs gedaan met de tracks.

Anthony Donovan: Ik ben het volledig eens over de rol van James. Hij heeft het album tot leven gebracht. Fantastisch werk.

Wat zijn de ideeën achter het recente album?
Anthony Donovan: Of the Hex and His Likenesses ontstond organisch, na verloop van tijd en stuk voor stuk. Ik weet niet meer of we harde en snelle 'ideeën' hadden'. Het was een kwestie om de weelderige Post-rock elementen die we allebei ter tafel brachten te versmelten, maar daarin blonk vooral Philippe uit, terwijl de meer abstracte kwaliteiten eerder mijn grote preoccupatie waren. Deze juxtapositie animeerde de composities, denk ik, en het album heeft een soort ongrijpbare kwaliteit voor mij, zonder doelloosheid. De tracks hebben een individuele integriteit in plaats dat het secties zijn, gesneden uit dezelfde continue koek. Philippe maakte indruk op mij met zijn fantastische capaciteit om de melodische mogelijkheden te herkennen die in of onder een schijnbaar abstract passage liggen. Hij harmoniseerde ze, zelfs tot riffs, bracht structuur en richting aan en een aangename en welkome rockachtige taaiheid in onderdelen die anders loom en enigszins amorfe zouden zijn. Persoonlijk ben ik altijd op zoek naar een soort verhaal, naar de structuur, en ik blijf uit de buurt van een vormeloze sfeer en drone. Dus ik zag meteen dat we, hoewel onuitgesproken en niet besproken, allebei intuïtief op dezelfde golflengte zaten. We werden vrienden tijdens het maken van het album; dat is voor mij het echte belang van het werken met anderen. Het creëren van songs onder die voorwaarden is als tijd doorbrengen met iemand met wie je graag omgaat. Er ontstond een zekere thematische consistentie, denk ik, ik werd geacht om vocalen aan een paar songs toe te voegen voor meer richting en een groter verhaal, maar ik ben geen zanger en ik zie dat niet als mijn bijdrage, om eerlijk te zijn. Ik wilde vooral dat de fysieke kant van de stem niet zou domineren zodat de aandacht naar de kleine zinnen gaat en men de betekenis van de woorden begrijpt. De woorden zelf zijn suf, maar ze zijn net als de muziek niet zonder didactische imperatief. Philippe's vriendelijke aanmoedigingen voedden het vuur, maar ik wil zeker zelf meer toevoegen aan het volgende album dat we maken.
Philippe Gerber: Het idee achter deze samenwerking was om iets te creëren om trots op te zijn, iets wat we niet op ons eigen konden doen. We hebben allebei in verschillende projecten en in honderden shows gespeeld over de hele wereld. We hebben een hele tijd in de opnamestudio's doorgebracht. We wisten allebei wat we wilden voor dit album. We hebben er niet te veel over gepraat, de dingen gebeurden gewoon. Anthony zei het al: het gebeurde organisch. We hebben allebei gitaar en bas gespeeld op het album en als ik naar de tracks luister, dan is moeilijk om te zeggen wat ik uiteindelijk zelf heb opgenomen. Er zijn zo veel verschillende lagen in elke song. Ik denk dat ik elke keer 4 à 5 verschillende gitaarpartijen heb opgenomen. Het was gemakkelijk om het materiaal te mengen omdat het geheel toch zeer harmonieus klonk en dus hadden we ook geen enkel probleem met de productie. Er is een Drone-aspect aan het album, want de donkere tonen zijn zorgvuldig verspreid over de tracks. De samenwerking was perfect, want we hadden nooit ruzie over het geluid, de songteksten of het artistieke karakter van de hele zaak. Ik heb er veel van geleerd. Het gaf me ook een aantal ideeën voor de volgende JOHN 03:16-releases. En ik moet Anthony danken, want Of the Hex and His Likenesses heeft me laten evolueren als muzikant en componist.

Ik had problemen met de ruis en de vervorming op het einde van Orphite and Orphan (voor de rest een uitstekende compositie). Wat is het idee erachter?
Anthony Donovan: Ha ha.... nou, het is waarschijnlijk mijn schuld als je dat gedeelte ervaart als ongemakkelijk en onlogisch. I love it, persoonlijk, zoals ik houd van al de onderdelen van het album. Ik geef de luisteraar graag de gelegenheid om zich gedesoriënteerd te voelen. Dit gedeelte is het meest uitgebreide van dat soort. Het is een wake-up call, zou je kunnen zeggen, en voor mij is het ongemak zowel nodig als opzettelijk. Denk aan de titel van het stuk, zelf een samensmelting van termen die gescheiden worden door 'en', waarbij de laatste duidt op een soort van onthechting. Orphites waren zelf weeskinderen. Daarom heb ik die titel gekozen. Op dezelfde manier houd ik van vele vormen van muziek – ik houd trouwens van alle vormen van muziek, zij het niet in gelijke mate - ook van vrij extreme vormen. Ik zie geen kloof tussen genres en attitudes, en de beste en interessantste dingen zijn vaak hybriden. In de strikte context van het album wijkt dat fragment af van de rest van het materiaal, maar in een ruimere context valt het wel binnen de 'grenzen' die wij ons gesteld hebben. Maar ik besef waarom sommige luisteraars problemen hebben met de relatieve brutaliteit van dat fragmentje.
Philippe Gerber: 'Orphite en Orphan' is één van mijn favoriete nummers. Het is de perfecte combinatie van onze schriftelijke vaardigheden. We zijn beiden beïnvloed door verschillende soorten muziek, met inbegrip van Experimental, Noise, Ambient en Drone, en dit nummer toont dat heel goed. Het begint mooi en het zou gemakkelijk zijn om dezelfde stemming vol te houden, maar de abrupte verandering van tempo transporteert de luisteraar naar een andere muzikale sfeer.

Plannen voor de toekomst?
Anthony Donovan: Nou, Philippe en ik hebben zeker plannen voor nog een album. Ik weet zeker dat het even aangenaam wordt als tijdens het maken van het vorige. Misschien kunnen we het material ook live spelen op een gegeven moment. We wonen aan verschillende kanten van de Atlantische Oceaan, wat het een beetje moeilijk maakt natuurlijk, maar in de loop der Jaren heb ik samengewerkt en gespeeld met heel veel mensen die ik via internet heb ontdekt. Dus, het blijft een welkome mogelijkheid. Persoonlijk ben ik voortdurend betrokken bij Classwar Karaoke. We publiceren driemaandelijkse enquêtes en we runnen een crowdfunder gericht op het produceren van een compilatie-cd van Classwar Karaoke-medewerkers. Ik ben bezig met de uitbouw van Murmurists tot een live ensemble, er komen een aantal UK-optredens aan en er is het werk aan een derde Murmurists-album. Het tweede Murmurists album wordt binnenkort uitgebracht als cd op het uitstekende Poolse label Zoharum en ik ben bezig met de afwerking van een groot game-project van John Zorn, op uitnodiging van Zorn trouwens, dat zal worden uitgebracht door Tzadik. Het is een productie van het inmiddels ter ziele gegane Gieren Quartet. Ik werk voortdurend samen met anderen, en uit dergelijke activiteiten spruiten steeds nieuwe mogelijkheden voort.
Philippe Gerber: Of The Hex and His Likenesses is de eerste van een lange reeks. Ik hoop om meer organische elementen in onze muziek te kunnen stoppen. Zoals Anthony al zei, ik hoop dat we samen live kunnen spelen op een bepaald moment. En omdat ons album is uitgebracht op Flood Records (Tokyo), meenden we dat we eerst een tournee door Japan konden plannen.

Ik ben ondertussen bezig met een full length album met ambientkunstenaar Mark Harris. Drie tracks zijn al opgenomen en ik moet zeggen dat ik echt trots ben op wat we tot nu toe hebben bereikt. Ik ben ook bezig met een project voor de Californische band PORCH (Ex-Primus, Ex-Today Is The Day). Ik zal daarover binnenkort meer informatie ter beschikking stellen. Tegen eind 2015 hoop ik een nieuwe ep klaar te hebben, gevolgd door het tweede JOHN 03:16-album met als titel The Sun Shall Be Turned into Darkness, and The Moon into Blood... (medio 2016).
Hoe zit het met het maken van muziek en albums in een dalende/snel veranderende markt?
Anthony Donovan: Net zoals iedereen die betrokken is bij de muziek en het uitbrengen ervan, waaronder die van andere mensen, heb ik daarover nagedacht. Er is geen echt antwoord, zou ik zeggen, of ten minste geen eenvoudg antwoord. De dingen zijn in beweging, in de overgang, maar dat is al een paar decennia zo. Dus misschien is dat de nieuwe permanentie. Wat ik weet is dat we aan de slag moeten gaan, dat we muziek moeten maken en uitbrengen en op zoek gaan naar een ontvankelijk publiek. De scène waarin ik werk - vaag Experimental - is grotendeels participatief; we maken allemaal muziek en tegelijk zijn we fans van het werk van anderen. Vaak speelt het zich af tussen vrienden. De scène is klein, maar ze is vasthoudend en vooruitstrevend. Het harde werk en de vrijgevigheid van anderen blaast me vaak van de kaart. Neem nu een ​​grootschalig muziekuitgeversproject als suRRism-Phonoethics, gerund door mijn grote vriend Jaan Patterson... Jaan zet zich n voor het uitbrengen en bevorderen van werk van anderen, het smeden van samenwerkingen. Er is ondertussen sprake van meer dan 200 releases, allemaal mogelijk gemaakt zonder financiële compensatie en in zijn vrije tijd... wat kan daar tegenop? Dergelijke releases, zoals die van Classwar Karaoke, trekken tienduizenden hits. Het participatieve en niet-hiërarchisch model dat velen van ons in de niet-mainstream scene gebruiken, staat niet alleen op gespannen voet met de gangbare marketingmechanisme van de mainstreamsector, het is gewoon superieur want het is niet zo gevoelig voor het wispelturige karakter van trends, inclusief die van de technologie.. Dus, terwijl zoiets als de cd misschien aan belang inboet in de hoofdstroom, blijft het een perfect model voor ons die buiten het system werken. In onze scene zie ik alleen maar uitbreiding, geen inkrimping. De doe-het-zelf-cultuur waarvan oude post-punkers zoals ik droomden, die bestaat gewoon.
Philippe Gerber: ik kan niet klagen. In de loop der jaren ben ik er als John 03:16 in geslaagd om een ​​stevige fanbase op te bouwen. Ik heb een goede relatie met mijn publiek en dat maakt het wat makkelijker voor mij. Ik weet dat mijn muziek wordt gehoord en dat is het belangrijkste voor mij. Wat Alrealon Musique betreft, dat is een ander verhaal. De verkoop is nu echt laag. Wat fysieke releases betreft is er sprake van minder verkochte exemplaren in de voorbije 2 à 3 jaar. Vooral cd's doen het moeilijk in de verkoop. Digital wordt onze beste seller. Het is jammer, want het was nooit de bedoeling om van Alrealon een digitaal label te maken. We zullen een paar dingen moeten veranderen en slim omgaan met de hele zaak. We willen iets unieks aanbieden of de mensen overtuigen dat Alrealon het experimentele label is dat ze moeten volgen. We willen een paar dingen uitproberen de komende jaren. Onze volgende release is bijvoorbeeld de ep Consensual Enigmas (ALRN056) van Jan Swinburne (Toronto). We bieden een ultra-limited edition (CD-R in een dvd-doosje) aan en Jan werkt aan video's die kunnen worden gestreamd op Youtube en Vimeo. De combinatie van fysieke/digitale releases en visuals, maakt die ep vrij uniek.

Waar kunt we jullie live zien en horen deze zomer of in de herfst? Is er een kans dat jullie in de Benelux of in de buurlanden optreden?
Anthony Donovan: Ik heb gigs met Murmurists in de komende zes maanden, met vage plannen voor optredens in Europa, waarschijnlijk in Duitsland en Frankrijk, misschien Polen in 2016, als ik dat geregeld krijg. Ik hou van België en ik ben er een paar keer op vakantie geweest. Ik heb in Nederland gespeeld, maar er zijn geen plannen voor live-dates, sorry. Uiteraard, mocht je weten waar we terechtkunnen, laat het me weten! Ik heb een paar keer in Noord-Europa gespeeld en dat waren mijn favoriete shows.
Philippe Gerber: Voorlopig richt ik mij op mijn volgende opnames. Ik ben bezig met het organiseren van een aantal shows in Mexico, Japan, Korea, India en Europa in 2016. Brussel is één van mijn favoriete plekken, dus ik denk dat de EU-tour ook een paar optredens in België zal bevatten. Ik hoop om opnieuw naar Israël te gaan. Ik had een geweldige tijd daar. Ik zou graag een aantal optredens in Libanon doen. Meer info binnenkort!
Hartelijk dank voor uw tijd!
Album review : Of the Hex and his Likenesses
William LIÉNARD
10/07/2015
---