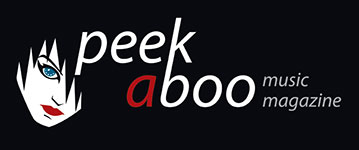 like this interview
---
EXIT STRATEGY
The themes of Exit Strategy vary but all of the material embraces the need for change in the human race and its approach to life on mother earth
20/05/2015, Wim GUILLEMYN
---
For those who don' t know the 'post-punk' band: 'Exit Strategy' is the collaboration of Berwyn Waddon and William Westwater ('Voodoo Bible' is also a band of these two musicians). William Westwater is also the singer of 'Fear Incorporated'. We don' t talk here about the metalband Exit Strategy. Their 'Exit Strategy debut album has been released by Crysella Records a couple of months ago, so I thought this to be a good moment for a little interview with Berwyn Waddon (http://exitstrategy.fourfou)
Hello, the album is out since a couple of months and was currently sold out at Crysella Records. Happy?

Very happy indeed, we weren't really sure whether people would get what we were trying to do with Exit Strategy in terms of genres and the quite lo-fi approach in terms of post-production. The idea behind Exit Strategy right from the beginning was to incorporate many different styles of alternative music and to try to define a sound that was very much our own and unique to Exit Strategy. Completely non-genre specific other than the music would in general be quite dark in it's nature… It seems we have succeeded to some extent and people like what we are doing as the album does appear to be selling very well.

Exit Strategy is a project rather than a (live)band? How come?

Simply due to logistics and time, we are both so busy at present with recording etc., and with myself living in Wales and William in Scotland, the logistics of playing live would be quite awkward for us, but obviously not an impossible task… I hope this situation does get rectified in future though as I think a lot of this music whether it be Exit Strategy, Voodoo Bible or Fear Incorporated would work very well live. I have no doubt that it will happen at some point!

Westwater has a specific voice that matches well with the music that radiates something tragic and desperate.

The vocals are dark and resonant as the messenger of our songs would require it to be. There is an element of tragedy and desperation, but if you listen closer, you will find there is also encouragement for change and hope in the lyrics to the songs too.

How did the songs emerged, grown?

A difficult question to answer really as I/we approach each and every track differently, there is certainly no set formula… For instance the instrumentals are written as instrumentals with no intentions of adding lyrics or vocals at any point, so the approach to writing an instrumental track differs greatly to that of writing a song with lyrics and vocals.

Which songs on the album have a special meaning for you?

A simple answer to this, all of them… I don't see any one song or track as being better than anothers and without wanting to sound too pretentious, they all come from deep within so that, by it's very nature, makes them all personal or special to me at the time they were written as they are an intrinsic part of me.

I'm very fond on 'Rage of Decay', 'A New Decade for New Lies' and 'These Four Walls'. Can you explain what the main ideas behind some of the song on the album are?

The themes of Exit Strategy vary, but all of the material embraces the need for change in the human race and its approach to life on mother earth and also leans towards metaphysical and spiritual aspects and the need for us to mature on a spiritual level and to develop a higher awareness in the lives that we lead. I would also like to add that I kind of like the idea that each and everyone who listens to the album will have his or her own view on what the songs are about and maybe that will make certain songs or tracks special to them also.

How would you define the main differences between 'Exit Strategy' and 'Voodoo Bible'?, both collaborations with William Westwater.

Although both Exit Strategy and Voodoo Bible share the same personnel, myself and William respectively, an entirely different approach is taken to both the writing of the music and the lyrics… From a technical standpoint my main instrument for writing is the guitar, so all the Exit Strategy material naturally centres it's self around this, so it is very much guitar driven. The Voodoo Bible uses far more electronica in its repertoire, which possibly gives it more of a modern sound than that of Exit Strategy, I suppose we cover all the bases between the two bands, old, modern and everything in between… This would not really be possible if we were to just do it all under one band as the music would vary too greatly and would seem unfocused.

For the moment you're busy finishing the new album with 'Voodoo Bible'. How does that progress and when can we expect the release?

The new 'Black Tarot' album is approaching completion and will be released on Venus Aeon Records, a new label which was born out of Latex Records and is occult based in its roster so suits the music and themes more of Voodoo Bible. The album will be released on CD and download most likely in late summer or early Autumn.

Can you already tell us something more about that new album?

'Black Tarot' is a more darker approach to an album than the debut 'Seven Deadly Sins', which was deliberately restricted as regards its theme, but also necessary for outlining the notorious seven sins in dark deadly detail.

The new album gave us more scope for subject matter, which can be occult and arcane at times in nature and again a strong theme of the metaphysical runs through the songs as with most of the Voodoo Bible and Exit Strategy material.

Videos have been made for many of the songs on both albums as with the Exit Strategy debut album to further enhance the mood and atmospheres we create with our music.

Do you see a future for 'Exit Strategy' in making albums?

Definitely, as there is plenty of scope for new material with current world issues, no soul searching for inspiration needed. I will begin writing new Exit Strategy material as soon as "Black Tarot" for Voodoo Bible is finished, which is very close to completion. All I can say about any new Exit Strategy songs is to expect the unexpected as genres never apply when it comes to writing for Exit Strategy… The debut, although a double album, was only a teaser, and only the beginning for Exit Strategy.

Thank you for your time and I already look foreward to the new album of Voodoo Bible.
Wim GUILLEMYN
20/05/2015
---