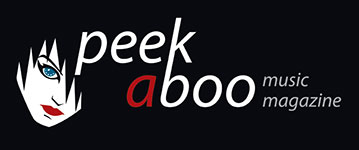 like this interview
---
CUSTOMS
We definitely have a lot of New Wave influences in our music.
28/04/2015, Wim GUILLEMYN
photos: © www.AnnekePeeters.com
---
'Customs' may be a little surprise on the Eurorock festival, but i think they will do well between the other bands. So I asked some questions at Kristof Uittebroek of 'Customs'.
Euro Rock has built a big reputation with some great names. The 2015-edition seems to be succesful with already 6000 tickets sold. Are you familiar with the festival?
In my thirties I knew the old version of Eurorock very well, which was then a roaring name.
The bands on the festival have all something 'dark' or 'wave' in their music like eg. The Fields of Nephilim, Killing Joke, Diary of Dreams… I think you fit into that lineup, because your music cannot be put in one category. Agree?
Yes, I do think so. Definitely our first two albums are filled with new wave influences. Even on our last album 'The Market' you still will find tracks like eg 'She is my Mechanic', that are obvisously inspired by the 80's. We're now children of the 80's, so that runs a little through our veins, I guess.
What can we expect of your performance? Will it be straight forward or will you do something special on stage?
It' s gonna be pretty straight forward indeed, I suppose. But the setlist will be a little different than usual. We will consider the aura and the audience of Eurorock.
The last album was released more than a year ago. Personally I find 'The Market' well done: catchy, melodic and just a little different from the previous work. Still I have the impression that it gets less airplay on eg. StuBru. Correct?
Absolutely true. We don't even understand it, but fair is fair: Studio Brussel doesn't understand the direction we have taken. That's part of the game. We mostly want to make a different album each time instead of more of the same. That is a risk we have to take each time…
Can we expect more singles from "The Market", or do you have other plans?
We're busy working on the new album!
Are their bands on Eurorock you would like to see?
Arbeid Adelt, always entertaining and Front 242, still our Belgian Pride. But I admit that there are a lot of names on the schedule that I do not known.
Thx for the interview and success the 25th!
Wim GUILLEMYN
28/04/2015
---