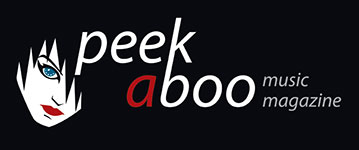 like this interview
---
MARSHEAUX
A glance at their secret garden
26/04/2015, Pascal VERLOOVE
---
Marsheaux is a feminine duo formed in Athens a bit more than ten years ago, when Marianthi and Sophie moved from Thessaloniki to Greece's capital city. Since then, they have not stopped composing and playing candy‐sweet, catchy and sensual electronic pop music, which combines today's rhythms with vintage references to the most influential synthpop groups who topped the charts in the 1980's: The Human League, OMD or Depeche Mode, to name just three of them.
With a second album titled "Peekaboo" (that's a sign!) and having just released their fifth album, which is a complete rework/tribute to Depeche Mode's second album A Broken Frame, it was a perfect timing to talk about this jewel, and a few other things!
Marianthi and Sophie, thank you so much to spend some time to answer a couple of questions for Peek‐a-boo …
To start, let's talk about your latest album, I believe you met at a party in Thessaloniki, where you could only play Depeche Mode tunes, so was it obvious for you that, someday, you would "pay a tribute" to them?
We indeed met in Thessaloniki, at a Depeche Mode party, but never in a million years would we ever think to do something like that, back then. First of all, we never thought of having a band, even less to pay a tribute to one of our beloved and extremely respected bands.
When and how did this idea of completely recording your own version of A Broken Frame grow in your minds? Was it immediately clear for you that it would be this precise Depeche Mode album?
The idea came up when we were on the beach one day, we both had our headphones on, listening to some music. It turned out we both were listening to A Broken Frame simultaneously! We both adore this album, not only the music itself, but also as this is their first sweetly awkward attempt after Vince left, you can sense the instability but also the enormous strength of the album.
At first it was something we began doing just for us, but as it was progressing we thought of sharing it with our fans in our concerts. When we uploaded the snippets though, people complained about not having the opportunity to have it. So we upgraded it and decided to have a proper project.
When I first read that you would release your own complete version of A Broken Frame I was so thrilled! First, because it's one of my favorite DM's albums as well (and as you stated, one of the most underestimated ones) and so I wanted to see how you would pay tribute to this album, with respect, while bringing modernity and freshness, especially with female vocals. While you were recording it did you feel the stress that you might somehow not be up to the job of an album you both loved?
We had no stress because, as told previously, it was just something that we did out of love for this specific album. We worked on it a lot, but with pure joy. It took us about five months to finish it. Then, when we first played the whole work together, we realized that the result was way beyond our expectations! While working, you always do what you love. We worked on it over and over again. What we have in our hands is something we really like. We still would like to do some changes but that happens always, we never are completely satisfied.
So, that's only when you heard the final result that you decided to release it as a normal album as, initially, you just wanted to sell it during gigs, right?
That's true. When we began uploading the snippets though, we got mails from our fans complaining about not being fair to the people that could not attend the concerts. They wouldn't have the opportunity to buy it. So after discussing, we decided to delay our new studio album a while, in order to give A Broken Frame a proper release.
Did you or your label send the album to Depeche Mode and/or did you get any feedback from Dave, Martin or Andrew?
When we decided that we wanted to release it properly, the guys from Undo Records had a meeting with Mute concerning the rights and announced them the project. That's what we have so far, no other information.
We are terribly intimidated though by the thought of what they would think about it. We definitely would like to know their opinion about our version.
One last question about this brilliant exercise. Did you consciously chose which instruments to use, to create the right balance of old analogue synths, to stick to the original album sound, and new machines to bring a modern touch?
What we had in mind from the beginning was to keep the album's "aesthete" and just give it a female touch. We didn't want to make a copy of A Broken Frame in any way. We used the same synths we always use for our albums. We didn't feel we had to use the same synths Depeche Mode used. We used our Korg MS-10, MS-20 and Mono/Poly, quite a few Roland like a Juno-2 and Sh-101 and drum machines like LinnDrum and Oberheim DMX.
Certainly something you would not do now, but if you had to do the same exercise and pay tribute to another legendary synthpop album which one would that be?
For sure this project was one-off. We won't do the same in the future but if your question is rhetorical then we would pick OMD's Dazzle Ships or something from Sparks or Pet Shop Boys' Alternative.
Of course we would never touch Human League's Dare! or both of Yazoo's albums, and none other from Depeche Mode until Ultra, it would be a blasphemy to touch any of the above.
When you hear Andy, from OMD, declaring that he has a soft spot for you, when they (OMD) ask you to remix one of their songs (Sister Mary) or when you see The Human League playing a cover of a title from your second album (What a Lovely Surprise), it's like your "idols" now paying a tribute to you ‐ how does it feel?
This is way too much for us. It's in the sphere of fantasy. All this is really flattering. Andy is one of our heroes and to know that he has this opinion for us is something we would never imagine it could ever happen.
By the way, Philip, Susan and Joanne, of The Human League, have always admitted that they love making music but are incredibly slow and lazy at composing and recording, which led them to release one album every 5 to 10 years in the last decades. If they were to call you for help would you consider helping them?
We don't think Philip needs us to control/produce/finalize a Human League album. In the sphere of fantasy again, we believe we would spend more time with him asking trivia questions we have in mind, about Martin Rushent, the making of Dare! and Love and Dancing, than working on something.
I suppose you are now working on your next album? Could you tell us about the direction, going from Inhale to your current work?
Yes, we're already working on our new stuff. We haven't set our minds in which way exactly we're going to. We are experimenting on different styles. Always electro/pop but different styles. Still, there is a thought of keeping the same direction as Inhale. There are many ideas, but just ideas. Inhale was a very successful album and we haven't decided to change the style yet.
I have noticed that on many photos of you, there's a kind of trick in the photo so that you are somehow hiding: either there's a bright sun between the two of you, or a halo, a soft focus, or you are wearing sunglasses (or a peekaboo mask ;‐) … is there a message here like "focus on the music – not on us"?
What we had in mind from the start was to keep it really low profile concerning our own images. We would love people to focus on the music. But on the other hand, this is a thing we hate to do. Taking pictures and making the videos is a nightmare.
Each time, with every new album, we try and do more shootings, video clips and live concerts. We always prefer working on studio or doing stuff for us than following a promo plan that our company sets us. We know they will be angry but this is the truth. From the beginning we agreed that we would do only music. No shootings, no clips, nothing. This is the only thing we are in constant argument with Undo Records.
In the last couple of years, when people have been hearing about Greece, it was mainly attached with terms like "crisis", "unemployment", "debt" etc. But when we hear your albums or see you, it's like a complete different picture: you are showing the sunny, positive, entrepreneurial side of your country. Do you realize that you are somehow ambassadors, playing a role to enlighten and brighten your home country image?
Actually we never thought of it this way. Come to think about it, it's really great!
It is absolutely true though that there are two sides of Greece. One that is suffering and, believe us, things have changed dramatically here, with unemployment going over 25%, with people still working very hard for pennies and with a national welfare system almost collapsed and yes, with the citizens still alive and kicking!
Creativity has always been the savior. It's funny though that we are better known abroad. The kind of music we are making is not very popular here.
Actually, I have to confess I don't know so many Greek contemporary electro/rock artists or groups, my favorites being Marsheaux and Keep Shelly in Athens. Are there some other Greek artists you like and would like to introduce to our readers?
Of course there are so many really great Greek artists: Mikro, Fotonovela, Tareq, K. BHTA, Sad Disco, Kid Moxie. From the old ones, try Proxies and Statues In Motion. But if you want to discover the real classical Greek composers you would have to go with Hatzidakis, Theodorakis and Xarhakos, they are really superb and their melodies are fantastic.
I've read that one of the reasons why you founded Marsheaux was to prove to our boyfriends that you could make better music than they did. Are they convinced now?
We bet they are. They never admitted it though, they are too selfish!
What is the question you've never been asked in interview but would have loved to answer? And, yes, by the way, what is the answer?
We've never been asked if we cook moussaka the same way we make music.
And the answer is: we make great moussaka!!
Thank you so much! I'd love to taste it one day :-) And we're looking forward to seeing you play in Belgium in the future!
Thank you! We hope so too!
Pascal VERLOOVE
26/04/2015
---