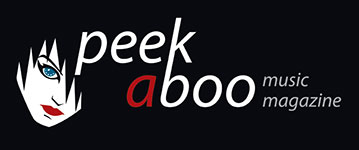 like this interview
---
MOONSPELL
We just tried to connect the passions we have for metal, gothic rock and experimentalism in the best album we could.
26/03/2015, Benny CALUWE
---
A few hours before their terrific concert @Biebob, in Vosselaar, I had the privilege to sit down in Moonspell's tour bus to have a chat with Mike Gaspar. The drummer talked passionately about their new album Extinct.
Tonight you play in the Biebob venue. It is the first time I come here, but I heard it is a small venue.
It might be a small venue, but it is a BIG name. It is a venue with a history, many great bands have played here. So, we like to come and play here. OK, the crowd is smaller, but in a venue like this, you have a better contact with the crowd. There is a better atmosphere. It feels like a club concert. That is also fun.
What I like about Moonspell - same story as Paradise Lost - is that every album is different. But, it still sounds distinctively Moonspell, just differently. What made you decide to go back to the gothic metal style after the recent more extreme, more heavy albums?
The idea started with Fernando. He wanted to approach more his gothic style of singing. We started to talk about that. And also because of our past, the succes we had with Wolfheart and Irreligious. And there are even a lot of fans from the Sin-era. So we tried to do that with Alfa noir and Omega White, by dividing the two passions we had, for metal and also for gothic rock or experimentalism or whatever. But it didn't feel right in a way, because we always ended up playing a lot more of Alfa noir. Songs like New tears eve didn't work well live for some reason. So we tried to just connect the two passions we have in the best album that we could. So we started off with the idea of Extinction and with the lyrics. That is also very important to create some kind of atmosphere, visually and emotionally, that connects everybody in the band. So we started with that and then we contacted Jens Borgen. We knew he was a big goth fan, but he is known for all his metal releases. So, you know, that was also an indication that we were on the right track, we just had to be careful not to make everything "ultragoth". Because this album started with a small process, with most of this goth orientated vocals, we created the structures a bit simplier to find the sweet spot with the music, the tones and the sensitivity. It is a lot easier to do metal some times in that aspect. Because when you use the hard vocals, they can fit anywhere. This process brought the band together. I think Jens did the best in bringing out the both parts. So it is not over the top. I think we had that liberty in the studio. And doing differents album? If you have been with Moonspell for years, you know we are like this. We made The Antidote, then Memorial and Night Eternal. We were getting heavier and heavier... but even on those albums there were tracks like Luna and Scorpion Flower. So, the presence of our gothic side, our more melodic side, has always been there. I am quite excited about this new album.
Recently I read that people produce more than our earth possibly can provide. When I saw the title Extinct the overexploitation of nature and other global themes like war came to my mind. But the lyrics are mainly personal instead, some about love.
There are many ways to approach extinction. When beloved ones die, the emptiness they leave behind and how you try to fill that emptiness, the mourning about that loss and how you cope with it, all this is a form of extinction. Or when your relationship ends, how the person you once loved changes in a totally different person, that is a form of extinction too. Growing older, looking back, those moments of reflection when you notice how much your past changed, those youth friends you don't meet anymore or your old neighbourhood that looks totally different now... There are many angles, you know. One of the things that made us think about extinction is the passing of Peter Steele of Type O Negative. He was a good friend since we toured with them. He was an important influence. He left a big gap. Also important is the new love in Fernando's life: his son. I am the godfather of his boy. I am proud to be, it is an honour. Moonspell is one big family. Also when not touring, when we are just at home, we meet a lot. So, Fernando's son made him reflect about life and extinction. Of course there is overpopulation, climate change, war,... but extinction is also a personal matter. There are many perspectives. On the DVD The Road To Extinction philosophers and some profesors speak about the subject. One of them tries to save the Iberian wolf from extinction. We were thinking how to have an interesting bonus for the fans. So, on the DVD you can see images of how Extinct was made. There are images from the early proces in Portugal and images from the production process in Sweden. Next to that a few scientists talk about extinction.
In the lyrics of Malignia you can find references to Medusa. ("I count the snakes in your head" and "you turn me into stone"). But I didn't find any in the lyrics of Meduasalem?
We liked the image of Medusa, because it is a fearfull image that everybody knows. Jeruzalem, Medusalem. You see? We have played many times in Turkey and have a lot of fans over there. We also have a lot of fans in Israel and the Middle East. We even have many friends there. We don't care about religion and we don't mind what musical style people listen to. We believe in freedom. Freedom of religion and freedom in music. You could even say music is a kind of religion (laughs).
One of our friends helped us out on Medusalem. That guy, Yossi, from Orphaned Land, a death 'n doom band from Israel. He played bazouki, a snare instrument. We also worked togeher with an orchestra, those Turkish strings. It is a group that resides in Istanbul and Tel Aviv. They have duties in both countries. We had difficulties finding an orchestra and asked some help of the fans on Facebook. And they pointed out that string group, so we contacted them. It was great to work with them. They are talented musicians. It was a great addition. On Medusalem you can also hear a Farsi speech. We contacted our friend Mahafsoun for that. She is a belly dancer. A belly dancer that loves metal (laughs). She lives in Canada, but her roots lay in Iran. One day we heard her talk on the phone in her native language Farsi. It sounded cool, mysterious. We thought about that when working on Medusalem. So, we contacted her. She spoke the words and she sent the file from Canada to Sweden, where we were working with Jens. So, we could add her voice. We are happy with the result. You see? We got a lot of help from friends. But Western people tend to distrust the Middle East. Especially with what happened earlier this year in Paris. Our album wasn't released yet then. It was a weird feeling: "Hey, we wrote a song about that".

On Medusalem Fernando sings the verses in a style reminiscent of Andrew Eldritch. A song like White Skies on the Alpha Noir Omega White album sounds very Sisters Of Mercy. Are they an important influence for Moonspell and do you listen to other gothic or new wave?
We listened to the Sisters often. Fenando is a big fan. We also like Bauhaus and Fields of the Nephilim.
You already mentioned Jens Bogren. How was it to work with him as a producer?
It was very important to have someone from the beginging, from the preproduction until the end. And that was Jens, he connected with the music. So when he answered, he said he was a fan of Sin Pecado and that he had a big passion for goth. In a certain time of his life he was really into that. And it is rare to find producers in the metal scene that connect with this period. So when we asked our friends, like the guys from Amon Amarth and Mile from Kreator, they thought he would be perfect for us. Jens is like... a little bit controling. And after more than being 20 years in the same band, it is good to have someone who decides sometimes about the band. You might discuss over certain parts, then it is good to have somebody who overrules as a coach (laughs). We just tried our best. He caried the songs as he felt that would fit perfectly. He said as a fan, that he wanted to hear something that a fan always likes to hear. So we took that chance and the result was very surprising. Sometimes you have to let yourself go and relax and not control so much. I think it is a big deal, someone who can overhear everything. He was already imagening parts for the songs, that we didn't even know about, like the whole orchesra, the Turkish strings. We had an idea what he was talking about, but only in a later process, in the mixing when we got all those files and we heard the whole song and thought: wow, this is realy amazing!
I read that Seth Siro Anton did the cover art for Extinct. He is also the vocalist of Septicflesh, the Greek symphonic death metal band, that you are on tour with. What happened first? The idea for touring togeher or working together for the cover?
It is not the first time we work together with him. He also made the covers for Night Eternal and Alfa Noir/Omega White. In the begining we felt that the cove rart for Extinct was quite harsh, compared to the softer nature of the album. But Seth insisted. And in the end we are happy we let him, 'cause it worked out fine. It is a cool image.
The idea for this tour existed already longer. They are friends for many years. We have a bond with Septicflesh, both being Southern European bands, while the most succesfull metal bands are American, Brittish, German or Scandinavian. We even had to delay this tour because the album wasn't ready yet. Originally we planned to start touring in january, but the album still had to be pressed and had to be released on I-tunes, on Spotify and other platforms. In the meanwhile, my wife Sara was designing the album. She did the layout, which was quite exciting. It all was happening in my place (laughs).
Thank you for your time.
Benny CALUWE
26/03/2015
---