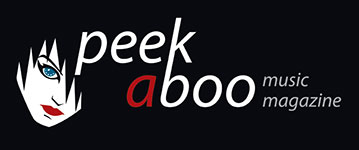 like this interview
---
STAR INDUSTRY
Well, when I read the first reviews and comments, I think that we can be very happy.
19/03/2015, Wim GUILLEMYN
photos: © Marquis(pi)X
---
With the release of a brand new CD and announced for the fifth time (!) at Eurorock, we thought it was a good idea to interview one of the main players of the Belgian gothic rock scene: Star Industry!
Let me begin with congratulating you with your new album, that is both catchy and melodic. Was it meant to be like that?
Thanks a lot. Yes, it was mean to be like this. We worked reallya long time on this album, we had the complete idea in our head, so the stake was high. We had to deliver it. And indeed, the songs are very catchy; after listening once, they easily stay in your mind. I think that is one of the typical Star Industry things.
You previously worked with Luc Van Acker as producer, but this time you have chosen for the young talented Tom Proost?
Working with Luc was of course great. We had a real cool time when we recorded Last Crusades with him. But this time we wanted something else. We wanted a smoother and thicker sound, and Tom was the right man on the right place. He completely understood where we wanted to go with this album, and it worked out brilliantly.
What are your expectations from this album?
Well, when I read the first reviews and comments, I think that we can be very happy. The CD gets positive comments in the media. From "brilliant" to "the best Star Industry CD to date". That is for sure very interesting. We want to play again on all the nice festivals in Europe, and we are planning to go back to the USA and also China. Because that was really cool to do. And it is also maybe time to go to some new places where we never played before. I am thinking of South America, that should be interesting and also something new for us.
Can you tell the fans how a track gets born within the Star Industry-camp?
Sometimes one of the guys comes up with an idea, a riff or simply a drum pattern. And than we sit down and look at it together, Mostly we try different things with such an idea. And it is always the same. There comes a moment that we all say: Hell, yeah, that sounds damn cool. Then we know we have to follow that path. If this moment doesn't come, the song will never end up on a Star Industry CD.
Can you tell us something about the sampled female vocals, as they give the songs an extra touch.
Only in "Selling Icons" we use sampled voices. On all the other tracks where you hear female voices, it is all recorded in the studio. We asked again Annelies Van Dinter to do them. She was also involved in the recordings by Luc Van Acker. Her voice really fits our sound, it is brilliant. Tom, our producer was also blown away by her.
I have the impression that you have chosen for a varied sound on your new album that can't be categorized. I guess that is something you wanted?
Indeed, it was time to do some new things. We worked with a completely new set up, new synths and we also wanted to use other influences than before. Shiver reminds me of VNV Nation meets Killing Joke, which is a great combination. On the other side, there is Revelation, which is more industrial orientated, and reminds me of Nine Inch Nails. But there are also typical Star industry-songs on the CD.
There is also a lot of attention given to the vocals, and they don't have the sound we are used to. A perfect example are songs like For The Lost and Shiver. That surely creates new opportunities?
Yes, I wanted to do different things with my voice this time. It needs to stay exciting for me, so I wanted to do songs like Shiver, it opens new possibilities for me and also for the band. I think we can bring our music to a bigger audience now.
You soon will perform at Eurorock, which is a bit like a homecoming. I guess this gig means a lot to you?
Of course, it will be our fifth concert at Eurorock. We played there on three different editions, one year we played twice, because one band couldn't make it. We love to come back. It was our first big summer festival ever, back in 1998 when it all started for us. And this year there is an incredible good line up.
I guess you will include lots of new material in your set?
For sure we will play new material, but songs line Nineties and Ceremonial will always be included in our set as well.
Are there any bands on Eurorock you absolutely want to see yourself?
There is so much, Fields Of The Nephilim of course. Last time I saw them was when we shared the main stage at Wave Gothic Treffen in Leipzig years ago, and that was one of their brilliant concerts Killing Joke and Front 242. But I also want to see bands like Apoptygma Berzerk, Vive La Fête, Arbeid Adelt!, Diary Of Dreams,….
As we are friendly people, we give you the last word!
We hope to see you all soon at a Star industry concert!! And hopefully you will enjoy our new album.
Wim GUILLEMYN
19/03/2015
---