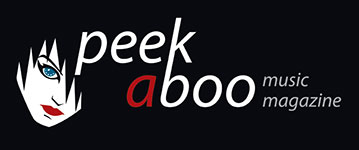 like this interview
---
SCHWARZBLUT
Every show is different, so we are very curious what the public Coalescaremonium will make of it that evening.
03/04/2015, Xavier KRUTH
---
Schwarzblut will play at Coalescaremonium on Saturday, April 11th. With their sophisticated image and their very visual shows, they are the right band at the right place. With a combination of solid electro-industrial and symphonic arrangements, they make music to classic German poems. Their latest album 'Gebeyn all Verdammten' was a beautiful proof of their talent. We had a chat with frontman Zeon.
Hi Zeon. You will play at the Coalescaremonium in Brussels with Schwarzblut. We very much look forward to your appearance. Can you tell me why you have chosen the name 'Schwarzblut?
First of all thanks for looking forward to our concert at Coalescaremonium. We are also impatient for our show at this wonderful event. Our name Schwarzblut stands for the ink used by the old German poets, to entrust their innermost feelings to parchment or paper. We use these words in our music, making them flow through our veins as black blood.

You describe yourself as a 'Goethian music society'. What should we understand by that?
Our full name is 'Die goetheanistische Tonkunst Gesellschaft'. This refers to the poet, philosopher and scientist Johann Wolfgang von Goethe (1749-1832), of whom we used many texts on our first two albums. As a music company, we feel kinship to the 'Sturm und Drang' generation of the 18th century. Goethe was also part of that movement. Our dark and ethereal music is used as a soundscape for their poems against authority and tradition, in favor of freedom, romance and liberalism. Our music is rhythmic and danceable. The powerful words strengthen the music and vice versa.

I find it surprising that you as a Dutch band are singing in German. What are the reactions to that?
Purely positive. After shows in the Netherlands, however, we are regularly approached by members of the public who address us in German or English. This sometimes leads to hilarious surprises on their side, when suddenly it appears that we are Dutch.

Don't you focus too exclusively on a German-speaking audience with this concept?
Music is a language that everyone can understand, when one is open for it.

'Gebeyn aller Verdammten' was released in 2014 by Alfa Matrix. It is your third album. Was there a separate concept or goal behind this CD? And are you satisfied with the results?
This album is an undeniable big step forward. We worked 2 years on it and are very proud of the result. Because of the great orchestras and organic beats, the album received a very dark and cinematic character. But talking about music is like dancing about architecture. Therefore, let your readers listen to the music themselves and form their own opinions. Our website is www.schwarzblut.com. 'Gebeyn aller Verdammten' is available there for anyone to listen to in its entirety.

You work with a very wide selection of writers and poets from various eras. How do you choose the authors and the poems that you want to use? Is there a line in the poems?
Almost all of the poems that we use come from my own book collection. I love to visit antique shops to make new discoveries. I also visit auctions and flea markets, looking for new acquisitions. While reading, I often find poems that inspire me to put music to. At other times, I come across poems that fit perfectly for a piece of music which Herr Sturm or I have already written. In terms of theme, a line usually emerges naturally from the first poems chosen by me. We then translate the music and lyrics into ideas for videos, costumes, photography and artwork.

When I think of bands that make electronic displays of classic German poetry, I think of QNTAL, Helium Vola, Bacio di Tosca... But you obviously distinguish yourself by your hard music, which contains many industrial elements. How do you see the comparison with such bands: as an affiliation or as totally different?
In reviews of our albums QNTAL and Helium Vola are regularly cited to describe our music for the reader. We are admirers of the work of Ernst Horn and Michael Popp, so we see this as a great compliment.

The duality between the hard electro-industrial structures and symphonic passages in your music is also striking. And in a sense, there is another duality between the musical choices and the classic poems that you choose. What do you think of these contradictions or paradoxes?
Life is full of paradoxes. We write music from our hearts, from our experience. So perhaps these 'paradoxes of life' shine through in our music. Personally, I think dynamism and variety is very important in our music. We want to create tension, feeling and depth. A fan once said to me: 'A Schwarzblut concert always takes me on a journey'. I thought that was really a wonderful compliment.

You always make something very particular out of your live shows, with a lot of attention to the staging, the costumes, the atmophere... What can people expect from your passage on Coalescaremonium on April 11?
With our five-piece live band, we will play a number of familiar songs, but also a lot of work from our new album 'Gebeyn aller Verdammten'. During live shows, the emphasis is always on the more substantial and danceable songs. But for Coalescaremonium we will also make room for more modest numbers at the beginning of the evening. Of course we will be there in the fantastic costumes, designed by Rosies Art, and our live VJ has spectacular videos in store again too. Every show is different, so we are very curious what the public at Coalescaremonium will make of it that evening. We are very excited!
Xavier KRUTH
03/04/2015
---