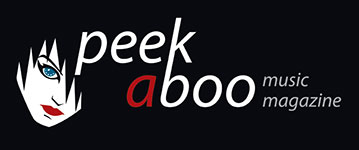 like this interview
---
ABSOLUTE BODY CONTROL
With 4 projects and two labels on top, Daft Records and Minimal Maximal, i have already enough to keep myself busy.
11/05/2015, Benny CALUWE
---
It's not the first time, and we're sure it won't be the last time, but Peek-A-Boo once again spoke with Dirk Ivens, this time about Absolute Body Control.
Absolute Body Control recently played in Mexico. How was it over there?
Dirk Ivens: A very warm welcome and a crazy crowd in the good sense. It's such an unbelievable feeling to play there so very far from home and see people sing along, having a good time and being really gratefull that we come over. We stayed some more days and visited the temples and enjoyed the hospitality and the amazing food.
Last year Shadow Dancers from your other mutual project Sonar was released. The last album Absolute Body Control album, Shattered Illusion, dates from 2011. Are you & Eric writing new material for ABC? Or are you focusing on another project?
Dirk Ivens: Our first opportunity now is to work on Absolute Body Control tracks. But we have to take the inspiration as it comes. We find out that in hectic times we are less productive and in the last months we were so much on the road. However, like always we know that we will do alright and so we are not forcing it. Just wait and see :-)
I believe Eric lives in Berlin. Do you come together regularly for the creative proces or how do you cope with the distance?
Dirk Ivens: When we have ideas then basics are made and when we have enough ideas then we come together. It's easy for me to go to Berlin by car or plane and then we work non stop, no time to waste.
Creative people often express themself in multiple ways, making art, poetry, pictures, photos,... Do you create other things too? Or do you stick to what you do best, making music?
Dirk Ivens: No, with 4 projects and two labels on top, Daft Records and Minimal Maximal, I have already enough to keep myself busy.
You not only perform, you also are involved in Daft Records/Minimal Maximal. The label recently released Deep, a female orientated electro/wave album that you compiled with great bands such as Simi Nah, Keluar, Sixth June, Dark Poem and many others. Do you have a recommandation for our readers? A less familiar name they defintively have to discover?
Dirk Ivens: Simply buy the CD, I don't want to pick any name out because all artist are equal. We received very good reviews and I am really happy with this release, all bands gave an unreleased track, it was a real pleasure to work with them.
Later this month the label also will release Sangre by Volkova, that also has a track on Deep. How did you get in touch with a band from Argentina?
Dirk Ivens: When we played with The Klinik last year in Stockholm, Volkova played before us. As an Argentinian band they sound different than the Europeans and that's the strong point. Two singers in a band and different moods with a lot of variation, yes I really like it. They go on tour soon, so catch them when you can.
In the past you covered some songs of your musical heroes yourself. Did you hear Monica Jeffries'version of Surrender No Restince? It must be a nice recognition, being covered yourself...
Dirk Ivens: That was a really nice surprise, I like that version a lot, it's also special that it's sung by a woman. Looking forward to see them live at Eurorock.
Any last words for the fans?
Dirk Ivens: I know it will be early, around 4pm that we gonna hit the stage, but we will give ourself for 101%, see you there :-)
Benny CALUWE
11/05/2015
---