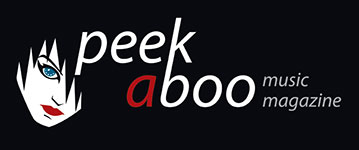 like this interview
---
STIN SCATZOR
Our set on Eurorock will be short, but SOLID.
13/05/2015, Benny CALUWE
---
Stefan Bens started Stin Scatzor in 1990 as a solo project, making harsh electro-industrial. Later Kris Peeters (not the politician!) joined him on guitars. Get ready for some industrogression at Eurorock!
Last year Industremakes was released. Are you satisfied with the way the album was recieved?
Stefan: Difficult, the tracks were completed already for years and played multiple times live before they were released on Advoxya. So most fans already knew the tracks. And of course now there are people who (re)discovered Stin Scatzor with this release.
Kris: It took too long to complete this CD. In the meanwhile we released the Industruction EP because Industremakes took so long. We released Industruction ourselves and it did get some great reactions.
You are already working on a new album. Any idea when we can expect this release?
Stefan: No, not realy, because we don't have plenty of spare time and so it's difficult to estimate the date. The first tracks are already recorded, but you need plenty of tracks to complete an album. And occasionally we have to do remixes for other bands as well.
Kris: This album will arrive more quickly than Industremakes. The first recordings sound promising and that motivates.
Kris joined Stin Scatzor in 2000. On Industrogression he added guitars on your existing tracks. Do you still work that way? Or is Kris involved from the begining when creating new tracks?
Stefan: More or less, I still do the tracks like before, but once the lyrics are there, Kriss can add his guitars. And because we work with the same software now, we can cut and paste in function of the guitars.
Kris: On Industrogression I added guitars on existing tracks, for some tracks it worked very well, for others a bit less. Nowadays I am more occupied with the production, so we can work more flexible. But the basics of the tracks remain electronic and it has to stay that way.
Stefan, when I spoke with you on BIMfest 2013, you hoped that the ressurection of Lescure 13 would result in more attention for Stin Scatzor. Did it work out that way?
Stefan: That is question I will answer later...That was our only gig with Lescure 13 so far. And it's no evidence because of our different styles.
Geert De Wilde of IC434, a respected band in the scene, quit due to the small amount of performances. Do you understand that dicision?
Stefan: Yes, I do, but the real reason you have to ask Geert.
Kris: I can't tell you more about Geert's reasons to quit. It has been quiet a few years for us as well, but that's changing now.
Did you plan anything special to celebrate 25 years of Stin Scatzor? A best of album? A concert?
Stefan: No, nothing special. I thought about that a few times, but because the lack of time, I didn't happen. And for something special you need to find the right people who can work out those plans.
Kris: Maybe next year... Then we might celebrate 15 years Kris in Stin Scatzor.
Soon you'll be returning to Eurorock after all these years.
Stefan: Yes, indeed, the last edition we played there too. We only play a set of 25 minutes. So it will be short, but solid. People who want to see us have te be there early. We play already at 11'o clock in the morning.
Kris: Those who do will be treated on some new songs.
Is there a band you want to see yourself?
Stefan: Lescure 13!? And especially Killing Joke
Kris: Too much to mention. It's a great line-up, That's why the festival is almost sold out.
Benny CALUWE
13/05/2015
---
Stefan Bens startte het rauwe electro-industrialproject Stin Scatzor solo. Later trad Kris Peeters (niet de vice-premier, maar de gitarist) toe. Ben je klaar voor hun agressieve set op Eurorock?
Vorig jaar bracht je Industremakes uit. Tevreden met de manier waarop het album werd ontvangen?
Stefan : Moeilijk, omdat de meeste nummers al jaren af waren en al verschillende malen live gespeeld alvorens ze werden uitgebracht door Advoxya. De meeste mensen kenden de nummers dus al...En nu dat de cd er is, zijn er natuurlijk mensen bijgekomen die Stin Scatzor nu (her)ontdekken...
Kris : Die cd heeft ook net iets te lang geduurd om af te werken, we hebben toen tussendoor de Industruction-ep nog uitgebracht omdat Industremakes te lang begon te duren. Industruction hebben we in eigen beheer uitgebracht en kreeg toch wel goede reacties.
Je bent al volop bezig aan een nieuwe plaat. Enig idee wanneer we ze mogen verwachten?
Stefan : Nee, echt niet. Omdat we niet altijd even veel tijd hebben is het niet gemakkelijk om daar een datum op te plakken. De eerste nieuwe nummers zijn al wel opgenomen, maar om een volledig album te hebben zijn er nog heel wat nummers nodig. Af en toe komen er dan nog eens remixen bij voor andere groepen.
Kris : Hij zal er alleszins sneller zijn dan Industremakes, de eerste opnames klinken al veelbelovend en dat werkt wel motiverend.
Kris kwam erbij in 2000. Op Industrogression voegde hij gitaren toe aan jouw afgewerkte electronische songs. Ga je nog steeds zo te werk? Of is Kris van in het begin betrokken bij de creatie van nieuwe tracks?
Stefan : Min of meer. Nu doe ik de nummers zoals vroeger, maar eens de tekst er is, kan Kris er zijn gitaarsound onderzetten. En omdat we met dezelfde software werken kan er nu al eens meer geknipt en geplakt worden, in functie van de gitaar.
Kris : Op Industrogression heb ik inderdaad enkel gitaren toegevoegd op bestaande nummers, voor sommige nummers werkte dat heel goed en voor sommige minder goed. Tegenwoordig neem ik de productie meer voor mijn rekening zodat er iets flexibeler gewerkt kan worden. De basis van de nummers blijft altijd wel elektronisch en zo moet het blijven ook.
Stefan, toen ik je sprak op BIMfest 2013 zei je dat je via het herrezen Lescure 13 meer aandacht hoopte te krijgen voor Stin Scatzor. Is dat gelukt?
Stefan : Omdat BIM tot hier toe het enige optreden was met Lescure 13, zal ik dat antwoord later weten te zeggen... :-) En het is ook niet gemakkelijk omdat het 2 totaal verschillende stijlen zijn natuurlijk...
Geert De Wilde van IC434, een in bepaalde kringen toch zeer gewaardeerde band, gooide de handdoek in de ring wegens het geringe aantal optredens. Kun je die beslissing begrijpen?
Stefan : Ja, maar voor de echte reden moet je bij Geert zelf zijn, denk ik.
Kris : Over Geerts redenen om te stoppen kan ik ook nietszeggen, vrees ik, wij hebben ook enkele jaren stilgelegen, maar ik heb de indruk dat daar verandering in komt.
Als ik me niet vergis bestaat Stin Scatzor 25 jaar. Is er iets gepland om het te vieren? Een best-of-album? Een concert?
Stefan : Niets speciaal, heb er al wel eens over nagedacht, maar wegens tijdsgebrek is er niets van in huis gekomen. En voor zoiets speciaal moet je waarschijnlijk ook de juiste mensen tegenkomen, die de ideeën kunnen uitwerken...
Kris : volgend jaar misschien, dan is het 15 jaar Kris bij Stin Scatzor ! ;-)
Binnenkort opnieuw op Eurorock na al die jaren. Wat mogen we verwachten?
Stefan : Ja, idd, op de laatste editie stonden we ook op het podium. Omdat het een 25 minuten set wordt, zal het zeker kort, maar krachtig worden. En de mensen die ons willen zien moeten er vroeg bij zijn omdat we 's morgens om 11u op het podium staan.
Kris : Ze zullen dan wel getrakteerd worden op enkele nieuwe nummers.
Tot slot. Is er iets dat je zelf graag wil meepikken op Eurorock?
Stefan : Lescure 13 ?? :-) Maar vooral Killing Joke...
Kris : te veel om op te noemen. Een sterke affiche met voor ieder wat wils, daarom ook dat het bijna uitverkocht is, als ik me niet vergis ?
Benny CALUWE
13/05/2015
---