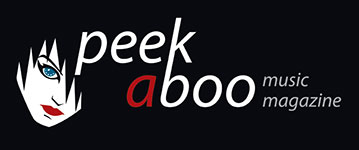 like this interview
---
STIN SCATZOR
Let's hope it's not going to be the last "resurrection"!!!
06/01/2014, Filip VAN MUYLEM
photos: © Benny Serneels
---
Stefan Bens has with his own band Stin Scatzor a brand new cd (and with Lescure13, another ressurection), so I just rushed in as I have known this band for ages and never had the chance to interview him…
To start with: how did you choose this name? I read it had something to do with being bored at school? It must have been a boring school, what kind of school was it?
It just came out of nothing, playing with some words during a boring moment at school... OK, not every class was that boring, some more than others... And it was just an ordinary school, nothing special.
I suppose Stin Scatzor is not enough to pay the bills, what are you doing for a living and is that compatible with music?
Sometimes it's hard to create new songs. I have a job, but most of the time, I arrive late at home. Stin Scatzor is just for fun, that's maybe why it took so long to release a new cd.
The nice thing about Stin Scatzor is the mix between hellektro, harsh voice and guitars. According to me an essential difference with your heroes, no?
My heroes? In the beginning there was Suicide Commando, Notstandskomitee, A.B.C. and Liquid G., bands I discovered on tape, but I also liked Front 242, Neon Judgement, Skinny Puppy, Nitzer Ebb, you know, the good old 80's... the EBM-stuff. In the nineties I discovered the guitar sounds with bands like Die Krupps, Armageddon Dildos, Front Line Assembly,... But somehow I wanted to sound different...
Stin Scatzor ("Industremakes") is out on the Hungarian label Advoxya Records... Can you give us more information about that label?
Advoxya was interested from the very first moment when they got the first demo-tracks. "Not that modern dark electro like, but exactly what I call "industrial music", like they mentioned on their Facebook as announcement. And they do a great P.R. for their bands!
What are the other bands on the label?
On Advoxya you can find (Dark Electro) bands like Asseptic Room, Larva, CycloneB, Dolls of Pain,...
What happened to your previous (Polish) label? Black Flames? How comes you are not on Out of Line? Industrogression is according to me a hell of a fantastic cd, how was the reaction to it?
Black Flames stopped, I don't know the reason... And Stin Scatzor has already been with Out of Line – "Industrology" was released by this label. With Lescure 13, I'm back with Out of Line... For "Industrogression" we had nice reactions, unfortunately we were out of label after that...
One of my all-time favorite songs is 'End of Mankind'. I love the lyrics, but the music is somehow close to The Neon Judgement, no? Never had that kind of remark?
No, you're the first one, but I also found that it is close to the sound of The Neon Judgement. Not with the demo-version, but when Kris put his guitar sound to it, it reminded me directly of NJ!
Somehow I can see that you are not really into Facebook with Stin Scatzor or didn't you do that much with the band the last years?
That's it! We use it only to announce new gigs and new releases, but the last years it was too quiet for us. Now we are going to promote the new cd intensively...
How is it to rework a song like Hellgium? I suppose this song is referring to Belgium as a Hell?
The lyrics and song are from the Marc Dutroux period, when everything was "bad" in Belgium, from that same period there is the song "Let Me Rot"... But I think it's not that bad in our small country ! As long as "tais-toi et sois belge !" :-)
Who is "the one you trust"? (referring to the song)
It depends on the listener's fantasy and/or ideas... Let me return, let me be dust, let me return to the one I trust!
Why did you start to rework them?
I wanted to do those remakes already a long time ago. The original versions are without guitar and I wanted to know how they would sound with a guitar. And it's always fun to do old songs with new sounds. I guess it's the same for Johan when he started to remake those old Lescure 13 songs ! Especially when I have new sounds or machines, I always test them on a known Stin Scatzor sequence...
I remember a lot of good gigs: Eurorock, The Event... a bit sad that a lot of the organizations for which you played in the past do not exist anymore. How hard is it for you in the scene of today compared to back then?
Indeed, those were the days! Now it's even hard to play on a small festival! And these days they already plan festivals for next summer or even further away!
Can you tell us something about the people who joined the remake?
We know most of the bands from our Industrogression period. We have been planning to release this cd since then! Unfortunately it took such a long time because we were out of label, and meanwhile we released the 3" mcd "Industruction". But there are some nice remakes on the new cd! I hope some of the bands will remember they did a remake for us!!
Who is Drone 24-7?
A German band that doesn't exist anymore. They did a strange version of "Inside The Machine" ! It had to be on the cd!
You love punk and rock'n roll. Never thought of creating your own version of the cult hit 'I can't live in a living room'? It seems to be a nice idea to fill it with more anger?
No, not really... I have other songs in mind to do a remake of... Or maybe if someone can send me a midi file of that song ? An industro-version of that cult hit cannot be bad... Maybe when we have the time to do a cd with only covers... "Industrecovered" or "Industrecovery"?
What's your most intense gig ever?
I don't know, every gig is intense, but to pick one out I have to say it was (for me) the gig at the BIM-fest. Everybody was waiting for the reunion of The Klinik and we could play there at 6 PM when it was a full house already...
How was the Hanzel & Gretyl gig, as try out?
Well, great ! We said it was a try-out because it was more than a year we were back on stage again... We saw it as a rehearsal for future concerts... And HuG gave us nice feedback after the show, always fine to hear that from "big names"! (gets a big smile)
Are there more upcoming gigs?
Not for the moment, of course we hope to do more gigs to promote "Industremakes". But we will keep you informed on our FB page...
One of the reworked songs is called 'I Am The Underdog', I think that is somehow your nature, no? I read more interviews of you and it seems clear that you feel better like this?
Ha, it's always good to be the underdog, then you know you have the chance to win ! No one expect the underdog to win. It seems that a lot of people don't know Stin Scatzor when we play, but afterwards people come and say they liked our music, so... From known bands people know it's going to be good, for Stin Scatzor it's mostly "wait and see" (for those who don't know us...)!
Any news about the new Lescure 13-release?
Yes, meanwhile "Too much Motherf***ers" has been released on Out of Line, it's a 2CD, with on the first disc some new and reworked tracks, and on the second disc rarities and songs from the old demo-tapes, remastered. Hoping that it's going to have the same impact as when Lescure 13 was known in the nineties ! But it seems that a lot of people haven't forget this "side-project"! (laughs)
Where you a bit nervous about the BIM gig with Lescure13?
Haha, a bit ?? Since the first day when Johan told me we were going to play at the BIM-fest!!! So, let's hope it's not going to be the last "resurrection"!! But honestly, I was less nervous than expected, maybe because I had a good feeling about the result ? And it was a typical L13-gig ! Chaotic, forgotten lyrics, fallen on stage, but the people were moving, that's important. After the show we really got good reactions, so... I think we are ready for more ! For me personally, it was okay and it was nice to be on stage again with Johan Van Roy after 14 years... Those who didn't know what Lescure 13 was, are up-to-date now ! That's for sure !
Any dream with Stin Scatzor or Lescure13?
Of course, like everyone. But because of daily life and a lack of time I can't realize those dreams...
Last words?
Sorry for the overkill, when "Stefan Bens" is going to be mentioned on the internet more than you want these days... I can't help it that both cd's ("Too Much Mother***ers" and "Industremakes") are about to be released in the same period!
here's the review of the Lescure 13 cd:
http://www.peek-a-boo-magazine.be/en/reviews/lescure-13-too-much-motherf-ckers/
Pre-orders on new Stin Scatzor album "Industremakes" started on 6/1/2014! Cd contains 17 tracks.
Release date is 20/01/2014.

http://www.advoxya-shop.com/modules.php?name=Asers_Shop&s_op=viewproductdetails&lid=375&cid=1
Filip VAN MUYLEM
06/01/2014
---